There's just something so inherently fun about a mismatched pair of cops going on an undercover mission. Hollywood has been long aware of this not-so secret recipe to success. After all, it is hard to go wrong with a buddy cop film. But it is probably way harder to make one stand out in the vast sea of genre clichés. Phil Lord and Christopher Miller, then, teamed up to give us that one film that stands out, and that too through a reboot that nobody knew they needed: '21 Jump Street'.
Lord and Miller reimagined the '80s hit show as an R-rated screwball comedy that not only turned out to be an absolute laugh riot, but it also got itself a cult following. '21 Jump Street' infused all that 80s nostalgia with pop culture to give us something that was simultaneously sharp and silly. The film quickly won itself widespread acclaim from public and critics alike, turning out to be a huge box-office success.
'21 Jump Street' brought to us Schmidt and Jenko; everybody's favourite oddball couple, played hilariously by Channing Tatum and Jonah Hill respectively. The film's success led to a sequel which followed the steps of its predecessor. '22 Jump Street' had Schmidt and Jenko shift gears from high-school to college as they went on an undercover mission to catch yet another criminal. It even improved upon the original with the duo's brilliant bromantic chemistry, and the film's sharp parody of itself and the genre. But it's been around six years since we last saw Schmidt and Jenko. Given the immense success of the franchise we wonder if there could be more in store for us. Read on to find out.
Will There be a 22 Jump Street Sequel?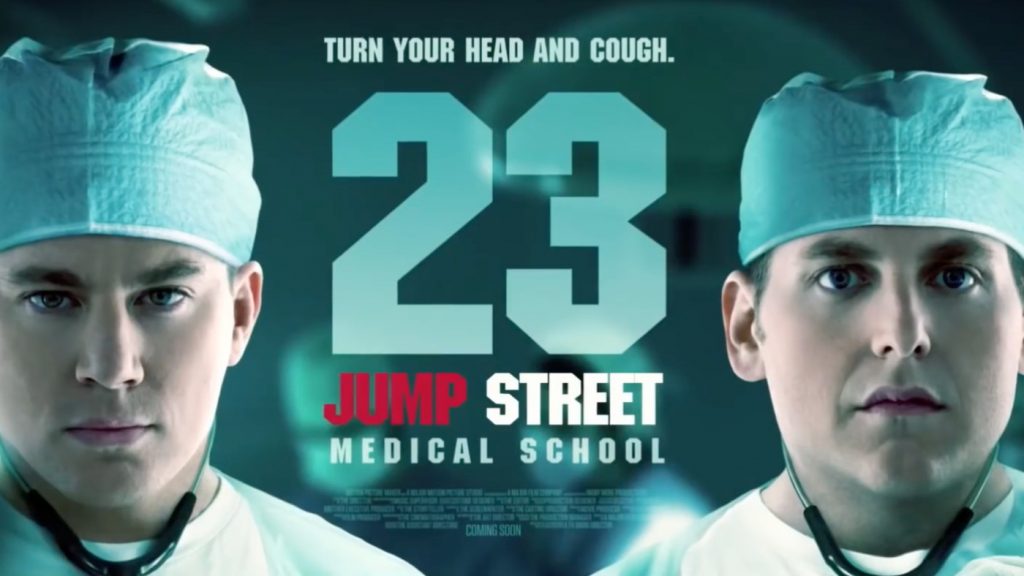 '22 Jump Street' released on June, 2014, and got a positive response with a certified fresh rating of 84% on Rotten Tomatoes. The film also was a massive commercial success, grossing $331 million worldwide. In fact, it has even been claimed to be one of the best comedy sequels of all times by some critics. Given the huge popularity and success of the sequel, it wouldn't be a surprise if Lord and Miller team up once again to give us a 'Jump Street' trilogy.
However, the credits scene of '22 Jump Street' makes fun of its own franchise by giving us a bunch of fictional sequels to the film, and even an animated series and a toys line. It also jokes that '23 Jump Street' will have Schmidt and Jenko going undercover in a medical school. So if there were to be an actual '23 Jump Street' it would almost feel redundant as it would take away the purpose of the joke. This does not mean that the franchise would not have follow-ups. It just wouldn't be what you're expecting. While there is no '23 Jump Street' in store of us in the near future, there are spin-offs being developed.
It has also been revealed that Lord and Miller will reunite for both, along with Rodney Rothman. The first sequel was revealed through a Sony leak back in 2014 that left the public astounded. There were plans to make a 'Jump Street' and 'Men in Black' crossover. However, both Tatum and Hill shared their apprehensions as they believed the stakes were too high and they weren't sure if the same joke could work out thrice. In an interview Hill stated:
"The 'Jump Street' films were so fun to make and the whole joke of them was they were making fun of remakes and sequels and reboots and then now it's become a giant sequel, reboot. It's almost become what we were making fun of and it's hard to maintain that joke when it's so high stakes."
The crossover spin-off, titled, 'MIB 23' eventually fell through. The producer of MIB, Walter Parker revealed in 2019 that it was an "impossible match-up" and though they had intentions of working on it, the two series were not compatible. Lucky for us, there is another spin-off that is much more likely to happen. In 2015, it was revealed that there have been plans of developing a female-centric 'Jump Street' spin-off titled, '24 Jump Street'.
Production Weekly – Issue 1133 – Thursday, February 28, 2019 / 211 Listings – 46 Pages https://t.co/mIt839Maan pic.twitter.com/hdVqqk3V2Y

— Production Weekly (@prodweek) February 28, 2019
It was earlier revealed that Tiffany Haddish and Awkwafina would be starring in the spin-0ff. But in January 2019, it reported that Zendaya would be starring alongside Haddish, and it had also been suggested that they could be playing mother and daughter in their undercover mission. Rodney Rothman was said to be both directing the film and writing the screenplay. While Lord and Miller would be serving as producers.
But this does not mean there is no hope for a '23 Jump Street'. In an interview in 2019, Lord revealed that "We're reserving 23 Jump Street". But whether or not we will get to see Tatum and Hill reunite is another question altogether. If '24 Jump Street' goes into production sometime soon, we could expect it to premiere around 2021. And if at all '23 Jump Street' happens, it would happen only after the spin-off. So we could hope for it to release around 2024 or later.
Read More: Best Buddy Cop Films of All Time