There is nothing better to spend time with than a good old crime drama. If you love watching shows like 'Narcos' and 'Breaking Bad', then '4 Blocks' is sure to please you. This German drama made waves with a story that features the head of a crime family planning to retire from the job. However, an incident involving a family member forces him back and he discovers that the world of crime gets more dangerous when you are planning to leave it. Written by Hanno Hackfort, Bob Konrad, Richard Kropf and Marvin Kren, it is executive produced by Eva Stadler and Karsten Rühle.
Kren, who is known for his work in 'Blood Glacier', 'ABCs of Death 2', 'Tatort' and 'Rammblock', also serves as the director along with Oliver Hirschbiegel. Hackfort has previously been associated with projects like 'You are Wanted' and 'Junimond'; while Kropf is known for his work in 'The Last Cop', 'You Are Wanted', 'Hail', 'Move' and 'One Shot'.
4 Blocks Cast: Who's in it?
The cast of '4 Blocks' involves some of the best German and Lebanese actors. It is led by Kida Khodr Ramadan who plays the role of Ali Hamady. Ali is the head of the criminal gang and has a great influence over a lot of people because of the reputation he has garnered for himself over the years. But now, he wants to get out of this life. Ramadan is known for his work in titles like 'Kebab Connection' and 'Unknown'.
Frederick Lau plays the role of Vince Kerner, Ali's friend whom the crime lord asks for help after his brother-in-law is arrested. Lau has worked in a number of German films and TV shows which includes names like 'The Sinking of Laconia', 'Ihr Auftrag, Pater Castell', 'Doctor's Diary', 'Tatort', 'Der Kriminalist', 'The Captain', 'Victoria' and 'The Wave'.
The role of Abbas Hamadi is played by Veysel Gelin. Abbas is Ali's younger brother. He is impatient and impulsive which has forced Ali to not trust him with the business. The acting credits of Gelin include names like 'Blind' and 'Nur Noch 60 Sekunden'.
Almila Bagriacik plays the role of Amara Hamady. She is Ali and Abbas' sister, and it is her husband, Latif, whose arrest becomes a hindrance in Ali's retirement plans. Bagriacik is known for her roles in 'When We Leave', 'Der Lehrer', 'The Old Fox' and 'Kommissarin Lucas'. The role of Latif is played by Massiv, a German rap artist.
Maryam Zaree plays the role of Kalila Hamady, Ali's wife. She is the one who coaxes him to leave this life of illegal trade and perpetual danger behind and start a normal one. Zaree's acting credits include titles like 'Club Europa' and 'Brüder'.
The role of Ewa Niziol is played by Karolina Lodyga. Ewa is Abbas's wife and has a heavy influence on his ambitions. She becomes a vital character in furthering the rift between Ali and Abbas, encouraging the latter to take a more important role in the organization. Lodyga is known for her role in 'Anna', 'In the Face of Crime' and 'Die Eifelpraxis'.
4 Blocks Plot: What's it about?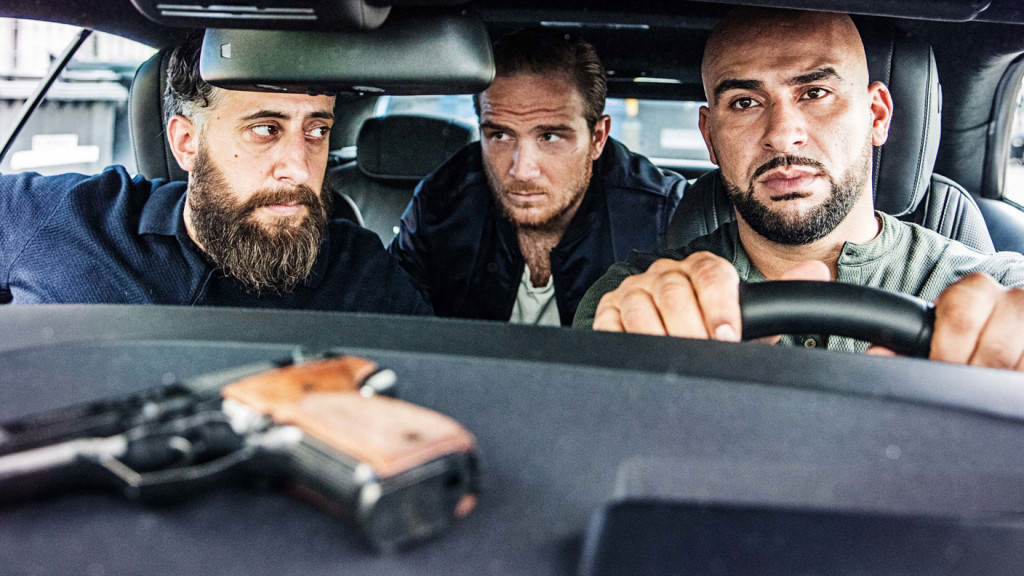 It isn't easy to run a drug cartel, and no one knows it better than Ali Hamady. He has been the head of the Lebanese Drug Cartel in Berlin for too long to not know the dangers that come with his position. His wife knows it too and that's why she wants him to give it all up. She is especially concerned about their little daughter, wondering what kind of environment she'll grow up in. More importantly, how easily she could become a victim of her father's crime. When the sense is finally knocked into Ali, he decides that it is for the better and starts making plans to have a legitimate business that he can turn to after he has cut his ties with the cartel. However, no good thing comes too easy and Ali faces a troubling time when his brother-in-law, Latif, is arrested by the police.
Knowing how problematic it is for the business, and how dangerous it is to him personally, Ali accepts the fact that retirement will have to be postponed. In a normal circumstance, he would have easily found a solution to this problem. But this time is different. He'll need some help, and it should come from someone he can absolutely trust. That's when his old friend, Vince, comes into the picture. While this seems to be a good decision on Ali's side, this new addition enrages Abbas against him. He thinks that after Ali's departure, he should have keys to the kingdom, but Vince's arrival complicates that. Also, they don't know it yet, but Vince is actually an undercover cop.
4 Blocks Season 3 Release Date: When will it premiere?
'4 Blocks' season 2 premiered on October 11, 2018. Just like the first season, the second received critical acclaim. The praise was directed towards aspects like acting, direction and storytelling. The audience too developed a taste for the story and the second season saw an incredible increase in its viewership.
As far as the next season goes, we have good news for the fans. The show has been renewed for a third season. Though on the flip side, the third season of '4 Blocks' is declared to be the final. Our best guess is that '4 Blocks' season 3 will release sometime in October, 2019. We will update this section as soon as we hear more.
4 Blocks Trailer
'4 Blocks' is available to watch internationally on Amazon Prime. You can re-watch all the episodes there. Here is another look at the trailer to remind you how great this show is.
Read More: Best Crime Shows on Netflix