In 2002, Todd Haynes directed the masterful Far from Heaven (2002) which swept the New York Film Critics Circle Awards with awards for Best Film, Director, Supporting Actor and Actress, Screenplay and Cinematography, oddly losing Best Actress. The film had received rave reviews from other national critics, and seemed headed for Oscar glory.
Haynes, long hailed in the industry as an independent director, was openly gay and championed the films of Douglas Sirk — which usually has strong roles for women, gorgeous cinematography and stunning score.
Far from Heaven (2002) felt like a film from another time aside from its very contemporary themes and subject matter. Kathy (Julianne Moore) discovers her husband Frank (Dennis Quaid) kissing another man and decides to stand by him while he gets help, believing the homosexuality can be fixed by a doctor. In the mean time she begins a delicate friendship with her gentle black gardener portrayed with sadness by Dennis Haysbert, a friendship as forbidden as homosexuality and one that will get her in a great deal of trouble with her socially aware friends, bringing genuine danger to her gardner.
'Far from Heaven' seemed destined for Oscar glory with nominations assured for Moore, Haynes, Quaid, Haysbert, and Patricia Clarkson, along with the films costume design, score and cinematography. Yet come Oscar day, the picture was nominated for a mere four Academy Awards: Best Actress, Best Screenplay, Best Score and Best Cinematography. It would go on to win nothing.
Moving into television to make Mildred Pierce –again a film about women, for women — for HBO, Haynes found great success, with Emmy after Emmy for the film, SAG Award and Golden Globes, he could do no wrong. He seemed to have an understanding for women along the lines of Woody Allen…it was uncanny.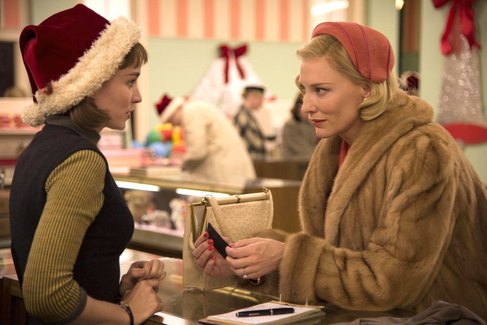 With Carol, the Oscar predictions started last year at Cannes, the film was audacious, had strong performances from Cate Blanchett and Rooney Mara, explored the period to perfection and was handsomely directed by Haynes. Once again it felt like an Oscar shoo in, and for the first time Haynes looked like a sure thing. Yet when the announcements came, there was Blanchett for Best Actress, Mara for Best Supporting Actress, a screenplay nod, costume design, score and cinematography. Nothing for Haynes. No Best Director and no Best Picture.
A few years ago the Academy had the chance to honor Brokeback Mountain (2005) for Best Picture but instead veered off wildsly to honor Crash (2005) an inferior film and one of the worst Best Picture choices ever. In this time of acceptance for all kinds of love, why not celebrate a film that explores the love of two women, and the inevitable issues that would have caused in the time…makes sense to me. But no, once again a gifted director was passed over, and his film was ignored.