Directed by Bartosz Prokopowicz and based on a script by Agata Malesinska, 'A Girl and an Astronaut' or 'Dziewczyna i kosmonauta' is a Polish sci-fi romance drama series. The story revolves around a love triangle between two maverick fighter pilots, Nikodem Borowski (Jędrzej Hycnar) and Bogdan (Jakub Sasak as younger and Andrzej Chyra as older), and the woman they both fall in love with, Marta (Vanessa Aleksander as younger and Magdalena Cielecka as older). In 2022, Niko, Bogdan, and several other Polish fighter pilots train to be selected in a space program organized by the Russian company SkyCom. However, things go wrong, and Niko, who is ultimately selected, vanishes for 30 years. In 2052, Niko is found, and it appears he hasn't aged a day. As Niko seeks the freedom and normalcy of his old life, it is revealed that he is still very much in love with Marta, who is now married to Bogdan.
Following its release, 'A Girl and an Astronaut' received mixed reviews. The Polish series garnered positive responses for the performances and the VFX but received criticism for the plot and cliched romance. If you have watched the first season and want to know whether there will be a second season of 'A Girl and an Astronaut,' we got you covered.
Will A Girl and an Astronaut Season 2 Happen?
'A Girl and an Astronaut' Season 1 premiered on February 17, 2023, on Netflix. It comprises six episodes of 44-52-minute runtime. As for season 2, this is what you need to know. Neither the show producers nor the Netflix executives have yet confirmed the development of a second season.
However, the way the first season ends, it's clear that the story is far from over. Several questions are yet to be answered, and some aspects of the narrative are at a cliffhanger. In the series finale, we learn what really happened on that day in 2022 when Niko went missing. After successfully conducting the stealth procedure, Niko begins the sub-hibernation process, which is supposed to put him in the cryogenic stage for 24 hours, but Niko starts to hallucinate and ends up setting the sub-hibernation for 30 years and turning the stealth mode back on.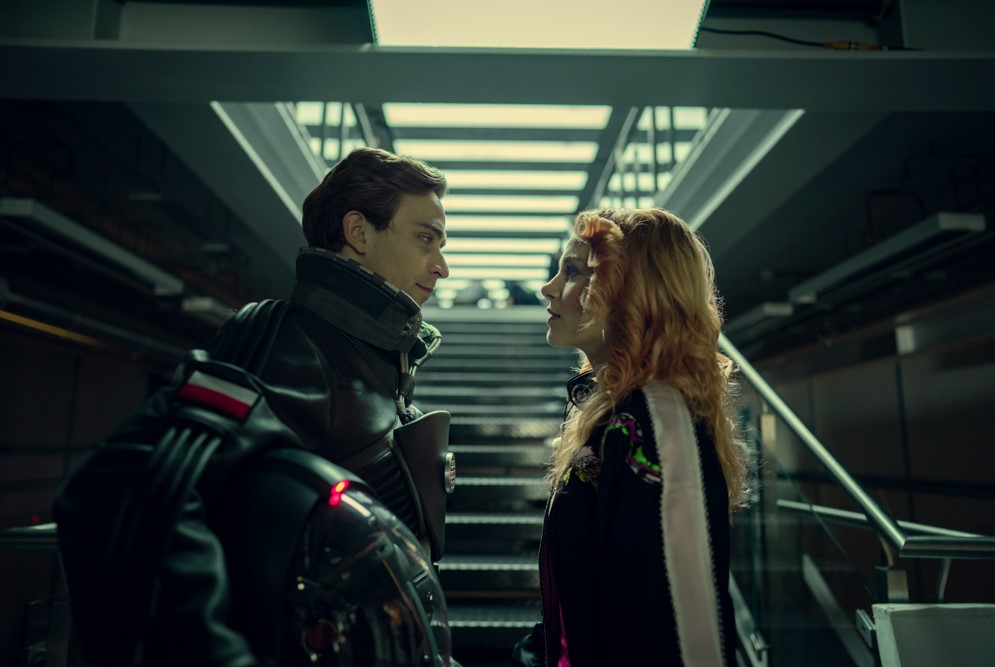 Toward the end of the season finale, Marta chooses neither Niko nor Bogdan. Instead, she picks herself, knowing full well that it might prove a mistake but asserting it will be her mistake. Nadia, the head of the R&D department at SkyCom, is forced to kill JJ, her caretaker and bodyguard, to protect Niko. In season 2, we will likely learn whether it was SkyCom's fault that Niko had hallucinations when he was conducting the sub-hibernation test. It's also safe to assume that the complex relationship between the three protagonists will continue in the second season. One of the final shots of the season involves Marta declaring that this is just the beginning, clearly implying that there will be at least another season.
As a show, 'A Girl and an Astronaut' is expansive and well-detailed, but the full potential of its narrative and setting is far from being fully utilized. We hope the creators will focus on these things in season 2. Ultimately, it all comes down to how successful the first season becomes. If it manages to satisfy the executives, the show will have a legitimate chance of being renewed for another season. And if that happens in the next few months, the viewers can expect 'A Girl and an Astronaut' season 2 to come out sometime in Q1 2024.
Read More: A Girl and an Astronaut Ending, Explained: Does Marta End up with Niko or Bogdan?