Richard Curtis is undoubtedly a romcom king, having given us some of Britain's best-loved romantic classics like 'Notting Hill', 'Love, Actually', 'Bridget Jones' Diary', and 'Four Weddings and a Funeral'. With his 2013 time-travelling romance, 'About Time' he hits us with, what is perhaps, his most touching feature yet.
The film in its essence is more about love in its different forms than it is about romance. It explores relationships in an honest, heartwarming manner, be it between father and son, siblings, or lovers. In this way, 'About Time' becomes a moving narrative about life, and learning to cherish its moments. The film centers around Tim Lake, who, at the age of 21, learns from his father that the men of his family have the ability to travel back in time. Of course, they can only travel back to moments they have lived before. Tim decides to use this ability to find love, which he eventually does, when he meets Mary.
While there are several innovating takes on the time-travelling romance subgenre with the likes of '13 going on 30′, 'Groundhog Day' and 'Midnight in Paris', no one before has explored it the way Curtis does with 'About Time'. As Tim finds love in Mary, and continues to use his time-travelling ability, he soon realizes there's only so much that it can change.
The film is, in a way, about coming to terms with loss, and learning to move on. 'About Time' stars Domhnall Gleeson as Tim, Rachel McAdams as Mary, and Bill Nighy as James. It also stars Tom Hollander, Lindsay Duncan, Margot Robbie and Lydia Wilson. In case you're wondering if there could be a sequel to 'About Time', here's everything we know about it.
Will There be an 'About Time' Sequel?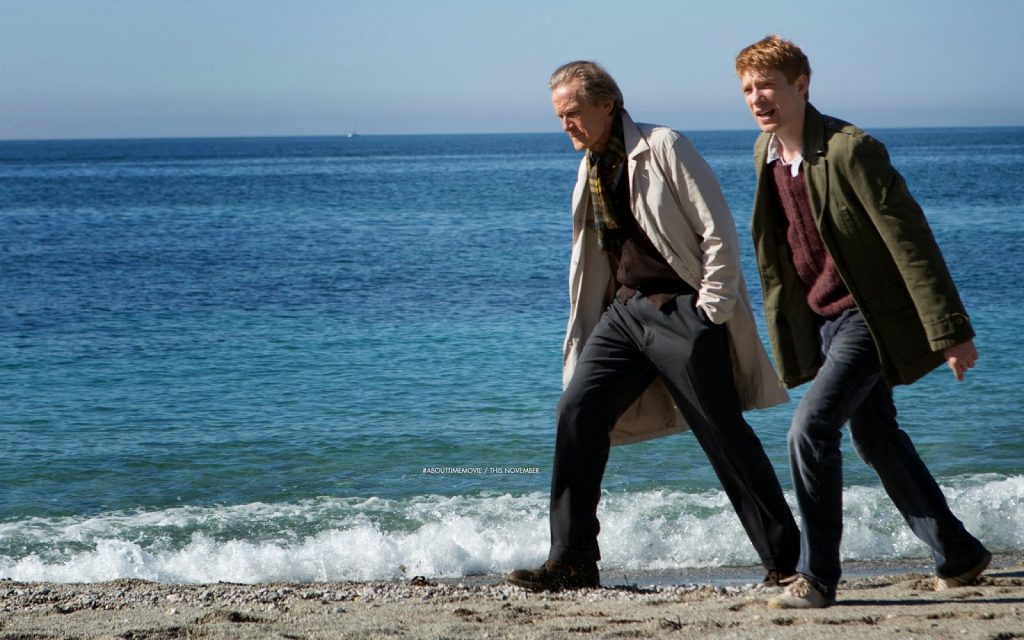 'About Time' received mixed to positive reviews from critics, with a fresh score of 69% on Rotten Tomatoes. Despite its flaws, it was considered to be beautiful filmed, and sentimental and sincere in its efforts. It also managed to be successful at the box-office grossing upto $87.1 million, against its budget of $12 million. The film is written and directed by Richard Curtis, and produced by Tim Devan, Eric Fellner and Nicky Kentish Barnes.
While the film's success would otherwise guarantee a sequel, it does not seem very likely given how 'About Time' is a complete story on its own. Tim Lake falls in love, and learns how to live, even as he eventually loses his father forever. As the film ends, it finishes an important chapter of Tim's life, and gets him ready for what's next. But what follows won't give it a compelling arc, as Tim has already learned his lessons. This, and the fact that, rom-coms usually are not a sequel-dominated genre.
In his long and successful career of over 40 years, Curtis has only made two sequels, 'Bridget Jones: The Edge of Reason', and 'Mr. Bean's Holiday'. And only one of the two is a romantic comedy. For a genre that relies so heavily on "happy ever afters", sequels do not always make sense. This explains why getting an 'About Time' sequel is such weak possibility. The film premiered over 7 years back, and yet, there have been absolutely no talks or speculations about a follow-up.
However, if at all a sequel to 'About Time' were to materialize someday, I would love for it to take a time leap and focus on Tim and Tim's son. A sequel like that would feel like a completion of cycle and the beginning of another as Tim would guide his son from his own life-lessons. It would also feel less forced as it would shift protagonists, but center around a similar concepts of love, family, and life. But this seems highly unlikely at the moment, as 'About Time 2', probably wouldn't ever be a possibility. If at all we do somehow magically get an 'About Time' sequel, we can hope for it to premiere around 2024 or later.
Read More: Movies Like About Time