Allison Williams wrote a letter to her favorite writer R. L. Stine when she was an 8-year-old girl. She received an unexpected reply from the author after 18 years, when she was 26! But such unexplainable events were obvious in Williams' life. Her childhood dream was to play the character of Peter Pan. When her parents learned about their dreamy daughter's acting ambitions, they put forward only one condition — to be a graduate before chasing her dream. As per her parents' wish, Williams graduated from Yale University in 2010 with a degree in English. During her University days, she joined the improv comedy troupe 'Just Add Water' as a member and honed her comedic skills for nearly four years.
Williams performed a mash-up of 'Nature Boy' and RJD2's 'A Beautiful Mine'. The song went on to become a global viral hit and she became an internet sensation. The immense popularity of the song attracted Judd Apatow's attention. He brought in Williams to HBO's comedy-drama series 'Girls,' in which he served as one of the executive producers at that time. The series premiered on April 15, 2012. Though it was criticized by critics for its problematic racial representation and explicit sexual content, the series picked up critical acclaim eventually for its raw portrayal of women, their social and personal lives and relationships. Williams played the main character of Marnie Marie Michaels, an art gallery assistant who quits her job to pursue a career in music. Her portrayal of a young woman's desires, desperation, relationships, and ambition earned her massive critical praise.
In 2010, Williams wrote and starred in a series of 'Funny or Die' sketches, in which she portrayed Kate Middleton with Oliver Jackson-Cohen playing the role of Prince William, Duke of Cambridge. A recurring role in the CollegeHumor series 'Jake and Amir' also helped her to grab a foothold in a highly competitive arena. Williams got her big breakthrough in 2014 when she landed the title role in NBC's live musical 'Peter Pan Live!' The moment was a dream come true for her as she always wanted to play the role of Peter Pan. In 2016, Williams delivered a stunning performance in the short 'Past Forward.'
In 2017, she got her second big breakthrough when director Jordan Peele roped her in to play the lead role in his path-breaking horror flick 'Get Out.' Peele convinced himself about casting Williams in the role of Rose after watching her performance in 'Peter Pan Live!'. 'Get Out' depicts the complex relationship between an African American man Chris Washington (played by Daniel Kaluuya) and his Caucasian girlfriend, Rose Armitage (played by Williams). When he goes to meet Rose's parents, he discovers a horrific secret that changes his life forever. The movie was hailed for its complex, multilayered narrative and the stunning performances of Kaluuya and Williams as an interracial couple.
Williams was nominated for Critics' Choice TV Award in the category of Best Supporting Actress in a Comedy Series for her performance in 'Girls' in 2016. The character of Rose in 'Get Out' earned her several awards and nominations including Gold Derby Award for Ensemble Cast in 2018, a nomination for Screen Actors Guild Awards' Outstanding Performance by a Cast in a Motion Picture, and another nomination of MTV Movie & TV Awards for Best Villain. Apart from her acting jobs, Williams serves as an ambassador for the Horizons National. She conducts awareness and fundraising campaigns for the organization's educational projects. So now you might be wondering what is the next Allison Williams movie or TV show? Well, here's the list of upcoming Allison Williams films and TV shows scheduled to release in 2019 and 2020. We can only hope that the latest Allison Williams movies would be as good as some of her recent ones.
2. The Perfection (2019)
'The Perfection' is an upcoming horror flick featuring Allison Williams, Logan Browning and Steven Weber in lead roles. The plot follows the journey of a troubled musical prodigy Charlotte (played by Williams), who is in search of Elizabeth (Logan Browning), the new celebrity student in her former music school. When they meet, the encounter catapults both musicians to unimaginable horror. A recently released first look trailer of the movie reveals a shocking scene in which Charlotte tries to console a terror-stricken Charlotte. The horror looming over the setting peaks when Charlotte shows a worm wriggling beneath her skin. The other cast includes Steven Weber and Alaina Huffman. 'The Perfection' is directed by Richard Shepard from a screenplay he co-wrote with Nicole Snyder and Eric C. Charmelo. The movie garnered rave reviews when it was premiered at Fantastic Fest last year. 'The Perfection' is lined up by Netflix for a May 24, 2019 release.
Read More: Upcoming Naomi Scott Movies
1. Horizon Line (TBA)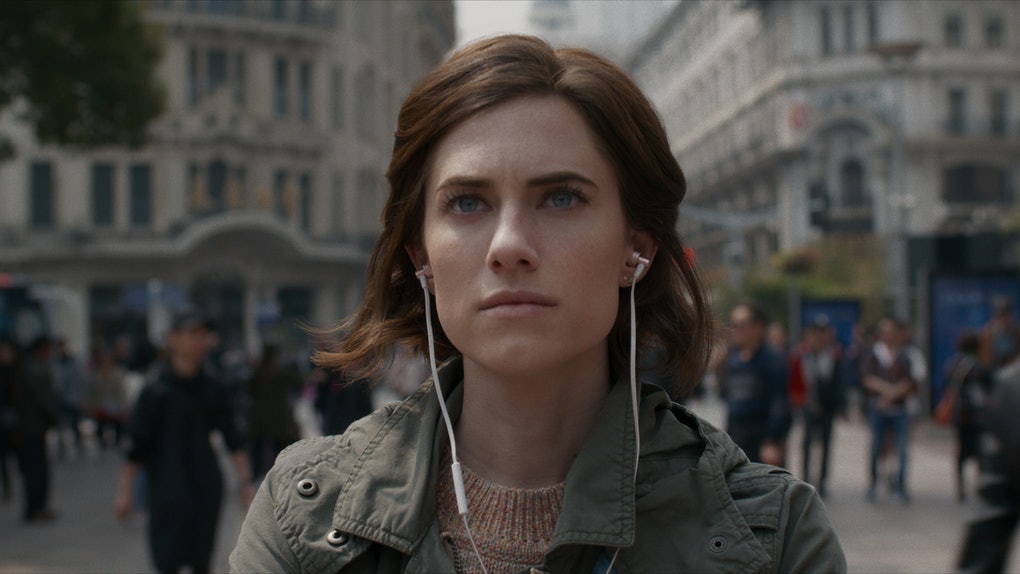 'Horizon Line', described as a survival thriller, is produced by STXfilms and SF Studios. The movie features Allison Williams and Alexander Dreymon in the lead roles. The plot follows a separated couple, Sara and Jackson. Both of them bump into each other when a mutual friend invites them for a gala wedding on a faraway tropical island. Soon, Sara and Jackson find themselves as the only passengers on a single engine Cessna aircraft above the vastness of Indian Ocean. The situation rekindles the old flame in both the ex-lovers. But before they open up about their feelings for each other, the pilot suddenly suffers a massive heart attack in the cockpit. Now the couple has to control the plane and land it safely somewhere. The other cast includes Keith David and Pearl Mackie. 'Horizontal Line' is directed by Mikael Marcimain from a screenplay by Josh Campbell and Matt Stuecken, who is known for '10 Cloverfield Lane.' The project began in February in Mauritius. Dublin and London are the other two major locations, reports Deadline.
Read More: Upcoming Lisa Kudrow Movies