Amanda Peet started gracing us with her subtle presence in the mid-'90s. TV enthusiasts of the '90s found her playing character roles in shows like 'WB's Jack and Jill and Seinfeld.' She appeared in movies like 'One Fine Day (1996),' 'She's the One (1996)' and 'Simply Irresistible (1999).' But, she had to wait till the turn of the century for the major breakthrough.
Peet's patience and resilience paid well when the mafia comedy 'The Whole Nine Yards' catapulted her into instant fame and stardom. Amanda played a dental assistant, Jill who idolizes the notorious Chicago hitman, played by Bruce Willis, to become a cold-blooded contract killer. When the hitman moves in next door to her boss, played by Matthew Perry, her mundane life as a dental assistant starts crumbling down to pieces. As the movie went on to become a huge success, Amanda's comedic vibes were praised by viewers and critics alike. The role of Jill brought her an avalanche of similar comedic roles. In 2004, 'The Whole Nine Yards' had a follow-up sequel titled 'The Whole Ten Yards,' which sank without a trace.
Amanda moved on with movies like 'Saving Silverman (2001),' with Jason Biggs and Jack Black, and 'Igby Goes Down (2002).' But sensing the dangers of stereotyping, she made a quick turn into more serious business with movies like Changing Lanes (2002). She played the wife of Ben Affleck's character in the thriller. The humungous success of 'Something's Gotta Give (2003),' in which she played alongside Diane Keaton, Jack Nicholson and Keanu Reeves, Amanda bounced back to the winners' league. She played the daughter of Keaton's character who is in an affair with an older man, played by Jack Nicholson.
In 2003, Amanda started her three movie stint with John Cusack. They starred together in 'Identity (2003)', 'Martian Child' (2007) and '2012' (2009). During this period, Amanda focused on switching between small indie productions and big blockbusters at regular intervals. She made her return to TV with Aaron Sorkin's 'Studio 60' and 'The X-Files: I Want to Believe' in the late 2000s. HBO's 'Togetherness' (2015-2016) and IFC's 'Brockmire' (2017 – ) earned her widespread acclaim and popularity among TV viewers. Here is the list of all the upcoming movies and TV Shows of Amanda Peet.
At this point, the question that might be circling your mind is what is the next Amanda Peet movie and TV show? Well, the good news is that we have a clear answer to that question. Here's the list of upcoming Amanda Peet films/TV shows scheduled to release in 2019 and 2020. We can only hope that the latest Amanda Peet movies would be as good as some of her recent ones.
1. Brockmire (TV Series, 2017 – )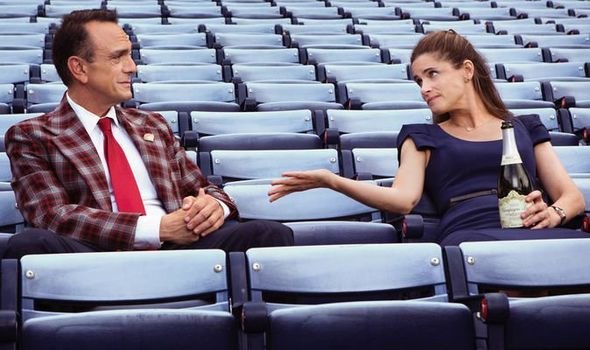 Amanda Peet plays the manager of a minor league baseball team in the IFC sport-drama, 'Brockmire.' The series, which enters its third season with the fourth season in the pipeline, has Hank Azaria in the lead. 'Brockmire' tells the story of Jim Brockmire, played by Hank Azaria, a celebrity announcer in the major league baseball.
But an embarrassing revelation about his wife's serial infidelity that came out when he was on life at work makes him a laughing stock in front the public. The first two seasons have Jim desperately trying to save his career and personal life from ruins. He moves to New Orleans with his new best friend, Charles, played by Tyrel Jackson Williams. He manages to get into an announcer's role in Atlanta's major league broadcast and has an unsettled business to deal with Jules, played by Amanda Peet. Season 3 starts when Jim is released from rehab as a brazen and narcissist man. But, his star turns when an irresistible job offer surface for him. Jim and his new colleague Gabby, played by Tawny Newsome, are offered the job of the lead broadcasters in Oakland.
'Brockmier' tastefully blends baseball and drama to draw the desperate portrait of a man who lost everything within a blink of an eye. The series earned huge fan base for Hank and Amanda Peet's stunning onscreen chemistry. When IFC renewed 'Brockmire' for a third and fourth season, one thing remains unchanged is Hank Azaria and Amanda Peet's Jim Brockmire and Jules James, and their mutual dependence a man and woman reeling under a difficult situation. The third Season 3, which consists of eight episodes, is lined up for an April 3 release.
Read More: Upcoming Hank Azaria Movies
2. The Romanoffs (2018 – )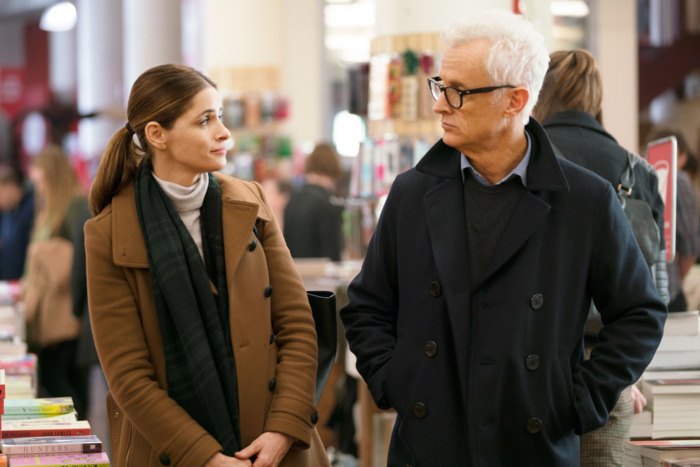 'The Romanoffs' is Amazon's anthology series consisting of 8 stories centered on people who believe they are the descendants of the Russian Royal family. The fourth episode of the series, 'Expectations' features Amanda Peet's terrific performance as Julia. The plot follows Julia wandering in the New York city where she comes face-to-cafe with every lies she ever told. She can't stop herself from going to places because of the torment in her guilty conscience. The secret is that Julia is pregnant with the child of Daniel, her husband's best friend,
The series is Written by Semi Chellas – known for 'Mad Men' – and directed by Matthew Weiner. The episode turns out to be a horrible culmination of Julia's nightmarish day with her pregnancy test turns out to be positive, her spoiled daughter Ella wrecks havoc, her nosy in-laws Ron and Marilyn pay a visit, Daniel nags her to reveal that he is Ella's biological father, an insane man to deal with at work, and a sudden attack of gallstones. Amazon Studios has yet to announce the fate of the second season of 'The Romanoffs,' as the anxious fans eagerly waiting.
Read More: Upcoming Tiffany Haddish Movies