I don't know how to put this but Ron Burgundy is kind of a big deal. Will Ferrell is undoubtedly one of the best comic artists of our time, having played some of the wackiest, most memorable characters in the genre. But Ferrell's Ron Burgundy from 'Anchorman' will always be his most iconic till date. I mean, with suits "so fine, he made Sinatra look like a hobo", and his perfect helmet hair, there is no other way to it.
Adam McKay's 'Anchorman: The Legend of Ron Burgundy' is an outrageously hilarious cult-favourite. With some incredibly memorable characters and quotable lines, the film is a laughs galore that you won't forget. It received generally favourable reviews from critics, and was a box-office success grossing upto $90.6 million against a budget of $26 million.
The great ones always return, and we got the chance to revisit Burgundy and gang in the 2013 sequel, 'Anchorman: The Legend Continues'. In a way, the sequel turned out to be an even bigger success than the original. It is certified fresh on Rotten Tomatoes with a score of 75%, and also grossed up to $173.6 million against its $50 million budget. While there has not been an official confirmation yet, there have been talks about a third part for a while now. Here's everything you need to know.
Anchorman 3 Plot: What Can It Be About?
'Anchorman' centers around Ron Burgundy, a chauvinistic newscaster who rules the male-dominated world of broadcast news in the 1970s. But the arrival of an ambitious female reporter, Veronica Corningstone, leaves him feeling threatened, leading to a battle-of-the-sexes.
The sequel follows Burgundy and Corningston married, and in New York. But her growing success, and his own fading glory, leaves him feeling bitter, and he sets up his own team at GNN, devising a sensationalist and patriotic newscast. The film ends with Burgundy realizing his ways and quitting GNN, ultimately reconciling with Veronica.
While a third part to 'Anchorman' has not yet been confirmed, there have been talks suggesting that it could center around the Iraq Wars. In an interview with Cinemablend in 2018, Adam McKay revealed the idea for the third part:
"I can give you like a little half sentence. I don't know if you remember the first and even the second Iraq war. Maybe it was mainly the second Iraq war. They embedded journalists and that gave us kind of a whole story idea… I don't want to say too much, but I'll just tell you that embedded journalist, Ron Burgundy, Veronica Corningstone, the news team. That definitely gave us a big idea."
Anchorman 3 Cast: Who Can Be In It?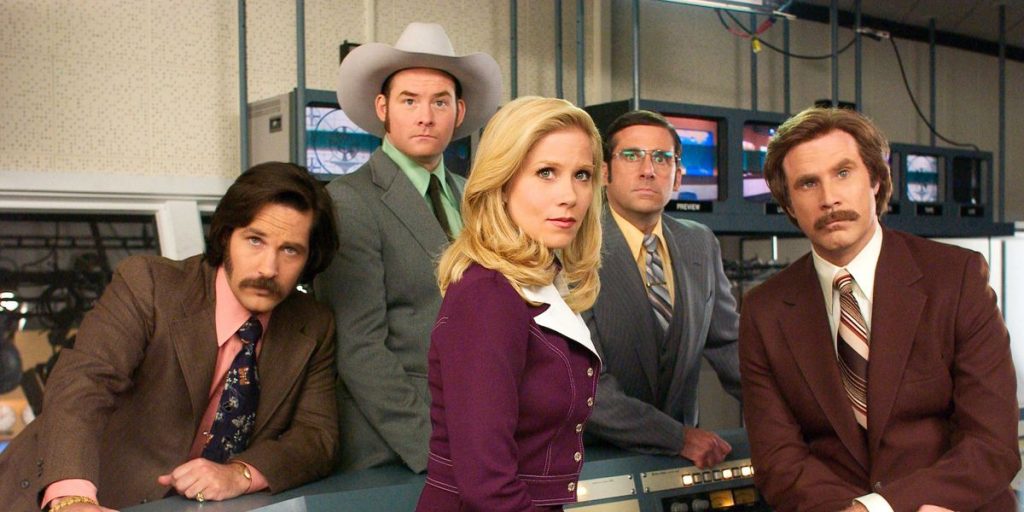 The 'Anchorman' series boasts of some hilarious performances from its star-studded cast, led by Will Ferrell. Ferrel stars Ron Burgundy, along with Christina Applegate as Veronica, Steve Carell as Brick, Paul Rudd as Brian, and David Koechner as Champ Kind. The sequel also stars Dylan Baker, Meagan Good, James Marsden, Kristen Wiig, along with several others.
Since the sequel has not yet been confirmed, we can't verify if the cast will reprise their roles if there ever was one. However, Ferrell has expressed his interest in continuing the series in the past. In an interview with EW in 2017, Ferrell stated:
"Never say never. At the same time, that's what's really fun about those characters — it could be 10 years from now and we can still play those guys and just be older – and even dumber…There are no imminent plans to return to that as of yet, because … I can't speak for Adam, but for myself, we still have a lot of other original ideas that we'd like to do."
Anchorman 3 Crew: Who Can Be Behind It?
'Anchorman' is directed by Adam McKay, with a screenplay written by him and Will Ferrell. Judd Apatow served as its executive producer along with Ferrell and McKay. In 2014, in an interview, McKay expressed that he did not want to work on anymore sequels, stating that 'Anchorman 2' is "the last sequel we're gonna do". However, in 2018, as mentioned above, he did reveal a potential idea for the third part.
Anchorman 3 Release Date: When Can It Premiere?
Given the recent interest in the third part by both Ferrell and McKay, 'Anchorman 3' certainly seems to be on the cards. Considering the 10 year period Ferrell spoke about, if at all 'Anchorman 3' happens, we could hope that it releases sometime around 2023.
Read More: Upcoming Will Farrell Movies