Anna Kay Faris is an American actress, producer, voice artist, podcaster and author. Born in Baltimore in Maryland, Anna Faris does not come from a family involved in the show business. However, her parents always encouraged her to act and enrolled her in a community drama class at the age of six. Not only did Faris enjoy watching plays, but also experimented with trying to produce her own material when she was a child. All throughout school, Faris continued to act and enjoyed theater, even describing herself as a drama club dork.
Despite her love for the theater, she never considered taking up acting professionally, always choosing to view it as a way to make some extra money. Her aim was to grow up and eventually write her own novel. Faris had her life planned out, but things ended up changing for her when she moved to Los Angeles after graduating from college and committed to mainstream acting. Her breakout role came in 2000 when she appeared in 'Scary Movie', a horror-comedy parody. It was her first starring credit and the film's success led her to reprise the role in the second, third and fourth parts as well. Apart from that, Anna Faris has starred in films like 'May', 'Just Friends' and 'My Super Ex-Girlfriend'. She is also famous for her role in Sofia Coppola's 'Lost in Translation', where she appears alongside Bill Murray and Scarlett Johansson.
Anna Faris is perhaps best known for her comedic roles and she continued doing comedies for some time, including, 'Observe and Report', 'Smiley Face', 'The House Bunny', 'What's Your Number?' and 'The Dictator'. She has also lent her voice to several animated movies like 'Cloudy with a Chance of Meatballs', 'Alvin and the Chipmunks' and 'The Emoji Movie'. Apart from that, Faris has made her mark in television shows. She had a recurring role in the iconic TV show, 'Friends'. Faris also has her own podcast called 'Unqualified' and her memoir of the same name has also been published. At this point you must be wondering what is the next Anna Faris movie or TV show? Well, here's the list of upcoming Anna Faris films and TV shows scheduled to release in 2019 and 2020. We can only hope that the latest Anna Faris movies would be as good as some of her recent ones.
1. Mom (2013-)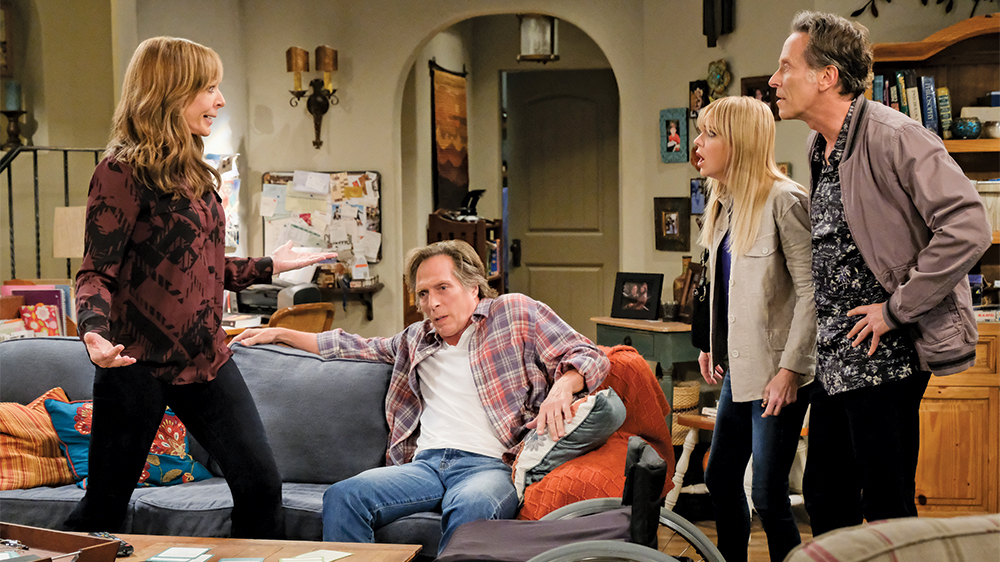 'Mom' is an American television sitcom that airs on CBS. It tells the story of a newly sober single mom in Napa Valley who has to try and get her life back on track while dealing with her own wayward mother. We follow the dysfunctional mother-daughter duo, Bonnie and Christy Plunkett. Estranged for years while they deal with their own addictions, the two finally re-establish contact with each other and try to mend their relationships, stay sober and attend Alcoholics Anonymous.
When the story starts, we are introduced to Christy Plunkett, a single mother, who has fought a long and hard battle against alcohol and drug addiction. Finally, she decides to start her life in Napa, where she will work as a waitress while attending the AA meetings. Her family is not in the best state either, since her mother is also an addict, while her daughter is going through a teen pregnancy much like her. Her ex-husband is a likable but deadbeat pothead. Christy plans to follow her dreams of becoming a lawyer and goes back to school to try and achieve that. Women fighting addictions get support from their friends at the AA meetings — and this is what the show is all about. The friends include Marjorie, who is wise; Jill, who is wealthy but sometimes misguided; Wendy, who is sometimes overly emotional; and Tammy, who is a loudmouth but happens to be sweet. Together, the women help each other stay sober in the face of whatever life decides to throw at them.
The role of Christy Jolene Plunkett is played by Anna Faris. Christy, as we said, is a single mother who has gone for six years without drinking and still happens to be struggling with sobriety and an addiction to gambling. She means to set an example for her son and pregnant daughter, about how to be a good mother. At the same time, she attempts to iron out the relationship she has with her mother. Eventually realizing that it is all too much, Christy decides to track down her father. She grows close to him and even introduces him to the family. Over the seasons, we also see that Christy's professional life is moving at a proper pace since she gets accepted into law school. Faris delivers a wonderful and tender performance as Christy while managing to be humorous when needed. There is no doubt that she will do a wonderful job in the upcoming season as well.
Read More: Upcoming Sandra Oh Movies