'90 Day Fiance' fame Veronica Rodriguez had returned to season 3 of the show's spin-off titled, '90 Day: The Single Life.' To most fans' surprise, she now seems to be dating Jamal Menzies, the son of her co-star Kim Menzies. Even though she failed to meet her ideal match on the show, she explained her equation with Jamal, who's 10 years younger than her. Ever since that encounter, the viewers have been eager to get an update from the duo because everything seems to be a bit murky. So here we are, ready to give you all the clarity you need about their relationship status.
Jamal and Veronica's 90 Day: The Single Life Journey
Veronica has reportedly been working as a Lead Sourcing Relationship Manager at Equitable since 2020. she amassed immense popularity after her debut on the 90 Day franchise. Since then, she has been doing multiple brand deals on Instagram. She is 37 years old and still open to exploring and dating to find the love of her life.
The 27-year-old Legal Administrative Assistant never appeared in the part where Veronica explores her chemistry with different men. It is only in the third part of the 'Tell-All' special that we finally get to meet Jamal. Veronica confirmed that she met Jamal in San Diego, and prior to their date, she slid into his DMs to ask for trip recommendations in his hometown. Everything worked out in her favor, and her beau even hinted about getting intimate on the first date. Jamal insisted on swapping seats with Tim (Veronica's ex) to sit closer to her.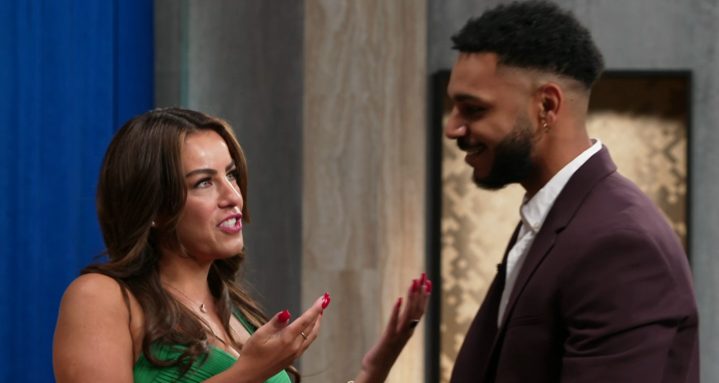 As the conversation proceeded, the couple revealed that their relationship was open, as in they were allowed to see other people if they pleased. Only Jamal was seeing other people, though, because Veronica said she was too "lazy" to do so. These comments didn't sit well with everyone in the room, especially Tim. She also made it clear that her ultimate goal is to get married again, "There is a part of me that is interested in settling down at some point, right? And not to speak for you, but you shared with me that there is a part of you that is interested in settling down at some point, right"?
By the looks of it, Jamal wanted no part of this conversation. She caught that and continued, "Jamal's like he doesn't remember that. You want to stay single forever? He was hesitant earlier but had clarity about his motives, and he explained that, as of now, he's only looking to have but is willing to settle down at some point in his life. Tim blatantly called him a "red flag" and criticized Veronica for "lowering her standards." The room heated up when Jamal took offense about the things being asked and said to him. All of this has confused their fans beyond belief, and many have no clue about where the duo stands now!
Are Jamal and Veronica Still Together?
It seems that Jamal and Veronica are likely unsure of where their "relationship" is leading, and in that sense, the two are not together. In a Q&A hosted on January 16, 2023, a fan asked Jamal about Veronica and their status, to which he responded, "We're doing alright, day by day. Veronica is good, we're both in high spirits, you know, we're doing good, and thank you for saying we look good together. I appreciate it."
Veronica posted a cozy image during the holiday season on her Instagram story with another man, whose identity is still unknown, and he looked nothing like Jamal. This post was made on January 8, 2023, so it seems like he is not the only one exploring his options. After all the incidents, the fans believe this is more like a fling or a casual relationship, and Veronica should not expect anything more out of it. Some have even claimed that she posted the photo with a mysterious man because she wants to make Jamal "jealous."
Another fan commented on her Instagram, asking her not to publicize anyone until she was sure about them. As per Veronica's response, it looks like she didn't mean to do so, "I didn't share him on the tell-all…I didn't know he'd be there…my news was going to be that Jamal and I had met and were seeing if it could be a viable relationship…I literally dropped my jaw when he walked out."
In an exchange with her fans, Veronica also pointed out that she admitted nothing about having sex on the first meetup. According to her, she only smiled and defended the fact that the duo had been on three dates, and they wanted to see where it all led. She elucidated about feeling embarrassed and how Jamal and Tim were the two who discussed her sex life while she did not say a word. One fan even said something along the lines of two "friends hanging out but with benefits." Once again, she had to step in and shut down any misconceptions.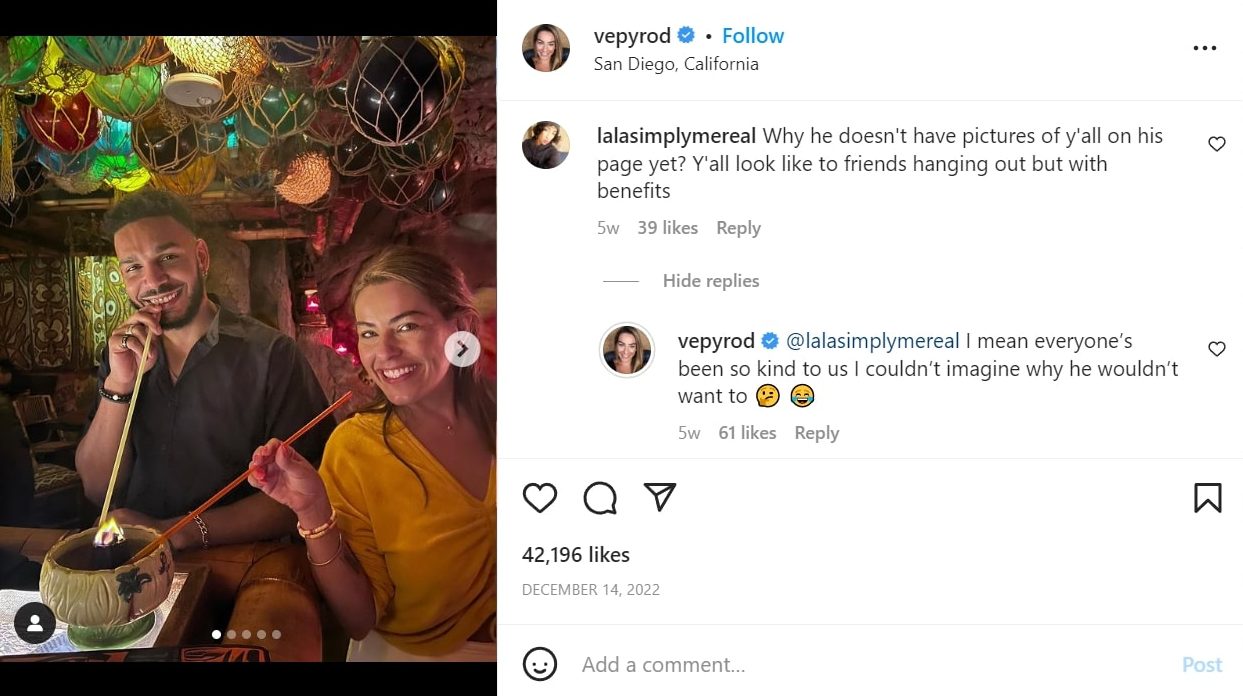 Veronica replied, "Never once said we were dating. I called it a situationship and was frustrated by Tim and the others because we'd literally been on three dates when this was filmed." She also sarcastically replied to a fan when they asked why Jamal hasn't posted a picture of them, implying that the reason could be the hatred they are subjected to on social media. So, the two are in a "situationship," which implies that it might turn into a relationship if everything goes right. However, it is wrong to assume that they are together as of now, even though they've claimed to be on good terms.
They both love to tease their fans because Jamal posted about flying to Sip Charlotte. Meanwhile, Veronica shared a story about not being able to meet up with her friends and go out alone. In her next story, she was holding a drink, wearing a black outfit with red lipstick, and giving a cheeky smile. Soon after that, Jamal posted a story in a washroom. So, guess what location they had both tagged in these two posts? It was Sip Charlotte! And that makes us wonder what else is brewing between the two.
Veronica and Jamal haven't posted anything about each other since then, but they are still active on their feed. He is uploading clips from his podcasts and videos with his beloved mother, Kim, and they are both on the show '90 Days Fiance: Happily Ever After.' Veronica looks happy and healthy with her family, doing one or two brand posts here and there. We are excited to see where this leads and if the two can turn their "situationship" into a relationship.
Read More: Is 90 Day Fiance Real or Scripted?