Ashley Victoria Benson or Ashley Benson is an American model and actor, who has perhaps always been a performer at heart. Born on December 18, 1989, this 29-year-old began to dance competitively at the tender age of three. Benson has studied jazz, hip hop, tap dancing, and ballet. She also started to sing in choirs and musicals at a very young age, even getting her solo church performance when she was four years old. One of the earliest notable appearances made by Benson was on the daytime soap, 'Days of our Lives' where she played the character of Abigail Devereaux from 2004 till 2007.
Benson's big screen debut came in the comedy film '13 Going on 30′ which released in 2004. She also starred in the fourth installment of the 'Bring It On' franchise, by playing the role of Carson in 'Bring It On: In It to Win It'. The role not only required her to overcome her fear of heights in order to perform cheerleading stunts but also ended her contract with 'Days of Our Lives'. Benson spoke of this in an interview, saying, "I got off it, I mean I had talked with the producers about doing this film, and they weren't going to let me do it… I had just passed up so many opportunities where I could have done a film. So this big thing just came up, and I ended up getting to do this. I'm happier that I got off the soap though. I mean I give all my credit to them, because I have learned so much from being on soap operas and working with amazing actors who've been on there for like thirty, forty years. It was an honor to work with them. It's definitely given me all my background. But getting off the soap opera helped me a lot too, because I can move on to bigger and better things. So I am definitely thankful I got to be on a soap opera though".
Other notable appearances by Benson has been in the film, 'Fab Five: The Texas Cheerleader Scandal', 'Bart Got a Room' and 'Supernatural', the popular CW show. So, you must be wondering what is the next Ashley Benson movie/tv show? Well, the good news is that we have a clear answer to that question. Here's the list of upcoming films/shows of Ashley Benson scheduled to release in 2019 and 2020. We can only hope that the latest Ashley Benson movies/shows would be as good as some of her recent ones.
1. Pretty Little Liars: The Perfectionists (2019)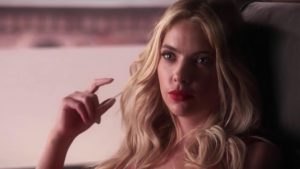 'Pretty Little Liars: The Perfectionists' is an upcoming teenage drama cum mystery and thriller that is set to air on March 20, 2019. The plot is based on the book 'The Perfectionists' by Sara Shepard. It is set in Beacon Heights, a college town, which becomes witness to a tragic death. While details still remain unclear, it appears as though the suspect is a student of the Beacon Heights University, which is notoriously tough to get into and demands excellence from everyone. It appears as though a student snaps and commits murder due to this high-stress environment.
'Pretty Little Liars: The Perfectionists' is a spin-off of the original show, 'Pretty Little Liars' and as such the events will be set after what happened on the finale of the original show. Some of the plot points of the main show will likely be addressed and resolved in this spin-off and Sasha Pieterse and Janel Parrish are reprising their roles as Alison DiLaurentis and Mona Vanderwaal. For those unaware, 'Pretty Little Liars: The Perfectionists' is the second spin-off to the show, the first having been 'Ravenswood' which ran from 2013 to 2014. This spin-off, for its part, was set in the fictional town of Ravenswood, Pennsylvania, and was more of a supernatural teen drama.
Readers might be wondering why 'Ravenswood' is being brought up here, but it is merely to address the possibility of Ashley Benson appearing in 'Pretty Little Liars: The Perfectionists'. Fans must be aware that Benson played the role of Hannah Marin in 'Pretty Little Liars' and some might even say that this is the role that shot Benson to fame, in the course of her career. Marin started off as someone with an eating disorder that led to her nickname 'Hefty Hanna'. However, as the show progressed, she showed herself to be loyal, strong and caring and even changed her look. Marin also showed up in the first spin-off 'Ravenswood', so there is a good chance of Benson once again reprising her role as Hanna Marin, once 'Pretty Little Liars: The Perfectionists' airs.
Read More: Upcoming Mila Kunis Movies