Created by Craig Rosenberg, 'Based on a True Story' is a comedy thriller series. It revolves around Nathan and Ava Bartlett (Chris Messina and Kaley Cuoco), a couple residing in Westside, Los Angeles. They have a decent life, but a sense of unfulfillment has crept into their minds. Nathan was a promising tennis player, but his career came to a sudden end after he suffered a knee injury. Now, he is forced to earn a living by working as a coach to homemakers and children at a club. Meanwhile, Ava wants to sell Palisades mansions and earn big commissions. Instead, she deals in one-bedroom apartments. When Ava and Nathan discover that the plumber they have recently hired, Matt Pierce (Tom Bateman), is the on-the-loose serial killer, the Westside Ripper, they see an opportunity. Being a true crime junkie, Ava knows how massive the market is and convinces her husband that they should set up a podcast and invite Matt on it.
'Based on a True Story' is a social satire aimed at the widespread fascination with true crime media. Following its release, the show received mostly positive reviews, with much praise directed at the biting humor and performances. If you are wondering whether there will be a season 2 of 'Based on a True Story,' we got you covered.
Will Based on a True Story Season 2 Happen?
'Based on a True Story' season 1 premiered on June 8, 2023, on Peacock. It comprises 8 episodes of 45-23-minute runtime. As for season 2, this is what you need to know.
Neither the series producers nor the Peacock executives have confirmed the development of season 2. However, several plot threads end on cliffhangers, making another season a legitimate possibility. In an interview, Cuoco hinted that the team behind the Peacock series has plans to continue the story. Reflecting on the actions of Ava and Nathan, she observed that they were as bad as Matt by the end of the season, adding that Ava and Nathan deserved to spend the rest of their lives in prison. She jokingly speculated that this would be what season 2 of the series would cover, admitting that it would be somewhat monotonous.
In the season finale, Ava and Nathan panic after discovering that Matt murdered Ruby (Priscilla Quintana) and dropped her body at the doorsteps of their new home in Malibu. They find a dart poking out of the neck of the dead woman. When they call Matt and ask him why he has done this, he explains that Ruby was planning to tell the police the truth, which Nathan and Ava later discover to be true. Nathan asks about the dart, wondering whether the other man wants to frame him. Matt responds by saying that he simply wants him to know that it's a possibility.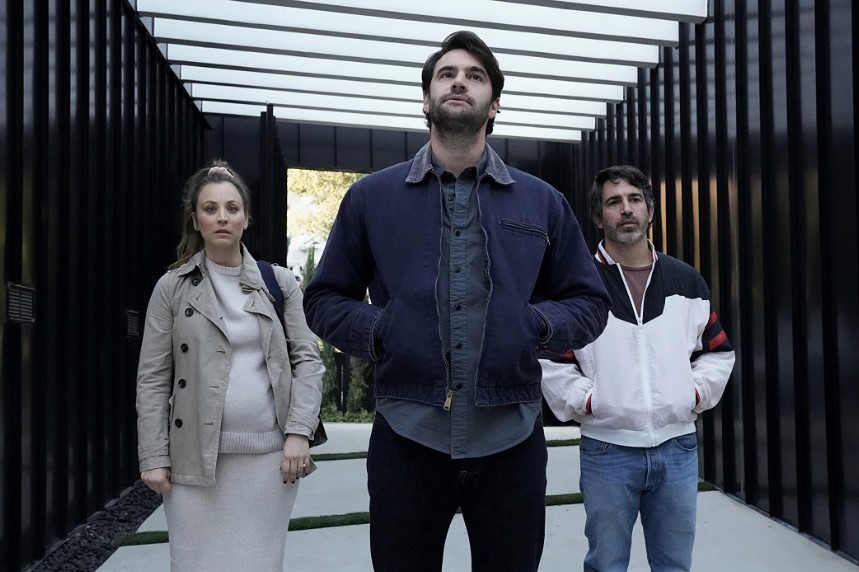 Nathan and Ava visit home, where it turns out their friends and family have arranged a celebration commemorating their 10th wedding anniversary. They later take Ruby's body to the club where Nathan works and bury it under the tennis court. Toward the end of the season, it is revealed that Matt and Ava's sister Tory (Liana Liberato) are in a secret relationship. Just as Nathan and Ava clean the bloodied floor in Malibu, Ruby's husband, Simon (Aaron Staton), shows up and asks whose blood it is.
In the prospective season 2, detectives investigating the Westside Ripper case will likely be introduced as new characters. Matt might get his wish and create franchises of his podcast for other serial killers. Matt knows that Tory is the closest person to Nathan and Ava. He likely intends to use her as leverage against the Bartletts. Ultimately, the renewal almost always depends on the success of a given series. If the Peacock show is hailed as a success, and the renewal is announced within the next few months, viewers can expect 'Based on a True Story' to come out sometime in Q2 2024.
Read More: Was Kaley Cuoco Pregnant During Based on a True Story?