If you are into Nordic dramas, then 'Before We Die' is a show that you just can't miss. Nordic neo-noir has developed into a genre of its own and its stories are marked with some characteristics that are enough to lure you into the series, even if you don't know what it is about. Created by Maria Nordenberg, Simon Kaijser, Niklas Rockstrom and Wilhelm Behrman, this Swedish drama follows the story of a policewoman who investigates the disappearance of her partner. Nordenberg also serves as the producer of the show.
Before We Die Cast: Who's in it?
The lead character, Hannah, is portrayed by Marie Richardson. Her acting credits form a long list in movies and TV shows, as well as theatre plays. She is known for her work in 'Life of Our Friends', 'The Man Who Smiled', 'The 5th Woman', 'The Good Will', 'Murder and Passion', 'Stockholm Stories', 'Monsters University', 'Johan Falk series', 'Room 301', 'Eyes Wide Shut', 'Everyone Loves Alice', 'Step by Step', 'If I Turn Around' and 'Zero Tolerance'.
Adam Pålsson plays the role of Hannah's son, Christian. Apart from working in theatre and indulging in music, he is known for his roles in 'Source', 'Boy Machine', 'Ted- For the Sake of Love', 'The Sky Is Innocently Blue' and 'Never Wipe Tears Without Gloves'. Magnus Krepper plays the role of Bjorn, Hannah's partner. If you need any other reason to like him, Krepper is also an illusionist. His magic on the screen can be seen through his roles in 'Young Astrid', 'The Hunt for the Time Crystal', 'A Cure for Wellness', 'Gentlemen and Gangsters', 'A Place in the Sun' and 'A Love Affair'.
Sofia Ledarp appears in the role of Tina. She has extensively worked in the theatre and is known for her roles in films and TV shows like 'Storm of Lugna Street', 'Midnight Sun', 'Ms Friman's War', 'The Three Musketeers', 'Lost', 'The Girl Who Played With the Fire', 'The Commissioner and the Sea', 'Innocently Convicted' and 'The Witch Dance'. Alexej Manvelov plays the role of Davor, the primary villain of the show. He is also known for his roles in 'The Dying Detective', 'Earth Shot', 'The Flower Time Now Comes', 'Studio Sex' and 'Stallion'. Peshang Rad stars as Stefan. Prominently working in theatre, Rad is known for his roles in 'A Wonderful Fucking Christmas', 'Bonus Families', 'The King's Murder', 'The Goose Mother' and 'Beck- The Weak Link'.
Johan Hedenberg portrays Sven, Hannah's lover and colleague whose disappearance kicks off the chain of events in the show. He has previously worked in films and TV shows like 'Mary Poppins Returns', 'The Lego Batman Movie', 'The Rysberg Family', 'Night at the Museum', 'Wallander', 'The Lives of Our Friends' and 'Kim Possible'. Additional cast members include Sandra Redlaff ('Wallander', 'The Fourth Man', 'The Calendar'), Malgorzata Pieczynska ('Johan Falk series', 'Babylon's Disease', 'White Lies'), Sara Jangfeldt (primarily known for her work in the theatre), Richard Forsgren ('Back to Bromma', 'Finest Family', 'Up to Match', 'World Book'), Sofia Rönengård ('Mrs Klien', 'Four Shades of Brown', 'August', 'Life According to Rosa') and Jan Mybrand ('Black Jack', 'Selma and Johanna', 'Jerusalem', 'Paragon Fall').
Before We Die Plot: What's it About?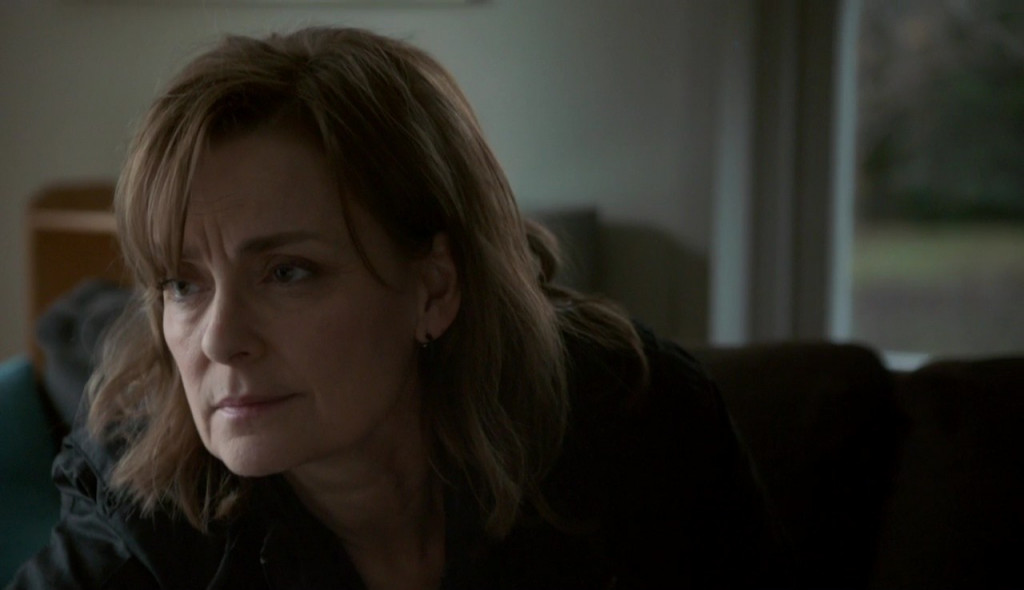 'Before We Die' follows the story of a woman named Hanna. She is a cop, working at Stockholm Police Unit. Her life and career have met a rough patch recently. She used to work in organized crime but has now been transferred to financial crime. Boring job? Check. It would have been a bit easier for her had the people around her been more amiable. But that's not an option. Her boss is younger than her and thinks that she is past her prime, in her career as well as her life and that she should consider early retirement. Her colleagues haven't made her life any easier, either. There is no sense of continuing with this really, except one. Hanna is having an affair with Sven, who is her colleague and is married to someone else. With all the boring stuff in her life, you couldn't blame Hanna for having some drama, right? But this isn't the end of it.
The real drama begins when Sven is kidnapped. Preliminary investigation reveals that he had been in touch with an informant before he disappeared. And that's where Hanna starts her investigation. It is not just about finding Sven, but also about clearing her name of any involvement with the case. However, the deeper she delves into this world, the more she finds herself connected to it. Her problems are further escalated when she discovers that her son, Christian, is also a part of all this mess. She would pull him out of it, but their soured relationship wouldn't allow Christian to receive any help from her. The thing is, years ago, he had gotten into drugs. Hanna tried to help him; she tried everything to stop him from going any further into this world. But when nothing worked, she had him arrested for drug possession. That was the last she saw of him. Until now!
Before We Die Season 2 Release Date: When Will it Premiere?
'Before We Die' season 1 premiered on January 15, 2017. The show received great reviews and became a hit for the network. The accelerating pace of the story with every episode, the grit of the characters and a tightly wound plot were the focus of the praise. Performances of the actors were also commended. Richardson was singled out for the portrayal of her intense, flawed and yet likable character. The audience too gave a positive response to the show, and it held strong ratings throughout the run of the first season.
As far as the next season goes, we have good news for the fans. SVT has renewed the show for another season and 'Before We Die' season 2 should release sometime in October 2019. Considering the massive popularity of the show, it's not a surprising decision at all.
Before We Die Trailer:
While we wait for release date of 'Before We Die' season 2, check out the season 1 trailer to refresh your memories. If you haven't seen the show yet, head over to Channel 4 to catch all the episodes of the previous season.
Read More: Best Thriller TV Series on Netflix