Who does not love holidays? And what bigger holiday is there in the western world apart Christmas? Christmas is a time of joy and cheer, sharing love, reconnecting with your family and celebrating life. And who does not love a good festive show to cheer the house up when it is too cold to go outside? Christmas is a time when we keep our work aside and try to have fun. And thus, this festival has been made the subject of innumerable films and TV shows through the years. When the eggnog flows in abundance and the trees start twinkling with the beautiful stars, it is time to get in the Christmas spirit. And is there possibly a better way of spending Christmas than sitting at home with a blanket wrapped around and watching Christmas shows and movies?
The very first Christmas movie was produced as early as 1930 and it is called 'The Unholy Tree'. Its a story about a couple of thieves planning a robbery on Christmas Eve. This movie's success has seen Christmas films being made quite frequently in Hollywood. Christmas has also been frequently the subject of TV shows and in a fictional show, what we generally see is a few episodes dedicated to Christmas. So, here's the list of really good Christmas movies on Netflix that are available to stream right now.
8. A Very Murray Christmas (2015)
Some may have questions regarding the choice of putting this film here, but this is what Netflix does. They release such short Christmas specials which act just like an episode of a show, and this show could not be avoided since it has the legendary Bill Murray starring in it. Murray is one of the most famous comedians Hollywood has ever seen, and here he joins forces with the acclaimed director Sofia Coppola. Earlier, they had worked on the film called 'Lost In Translation' (2003) which received adoration from the critics. What is particularly interesting about this show is that it is made as a tribute to variety shows that used to be aired earlier. The show has many guest stars like Any Poehler, Chris Rock, Miley Cyrus, and George Clooney, all appearing as themselves. The plot is about a Christmas special show Murray is supposed to host when many guests cancel and he is disappointed. The story then follows Murray as he appears for the show, goes away, and still ends with a performance with Clooney and Cyrus.
7. Nailed It! Holiday! (2018)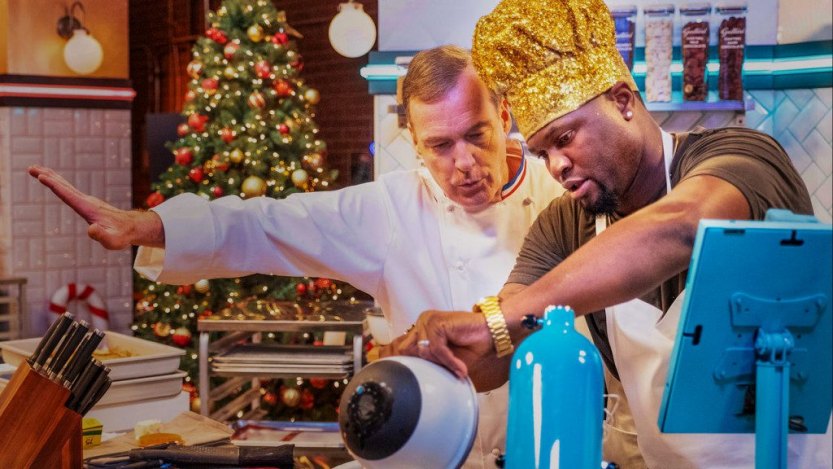 'Nailed It!' is a Netflix special comedic cooking show. Here, the participants who bake are not professional bakers, nor are they good at baking in the first place, but the objective is to manage baking as close as possible to a certain dish. The participant whose baked item turns out closest to the original gets a $10,000 check they can take home. The show is hosted by pastry chef Jacques Torres and comedian Nicole Byer. 'Nailed It! Holiday!' was an entire season released by Netflix where the entire thing was holiday-themed. In each episode, the participants come up with stuff like an upside-down Santa drawn on a cake, a scene of a skiing game made of edibles, and in one episode, they make a cake which looked metallic and has lights on it. The show is funny, sweet, and full of the festive spirit we all love so much.
6. Mariah Carey's Merriest Christmas (2015)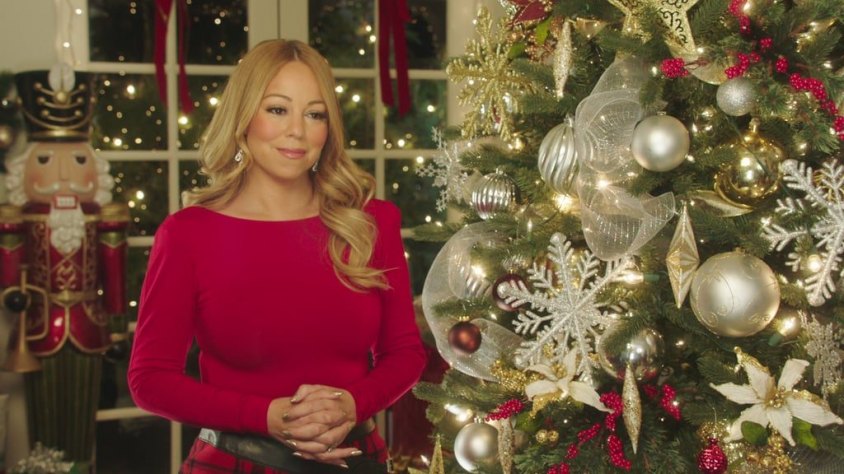 We all know Mariah Carey has one of the greatest voices probably in the history of music. Guinness Book of World Records has given her the title 'Songbird Supreme' because of her unparalleled vocal range and singing technique. Carey is one of the best selling musical artists of all time, and she has also been popular for numerous Christmas songs and albums that she has recorded throughout her career. This TV special is a live concert of Carey performing some of her most popular Christmas songs. Carey is also joined by a number of guests like Kelsey Grammer, Kenny "Babyface" Edmonds and "Mike & Molly's" Billy Gardell. Carey not only sings her own songs from the two Christmas albums she has released ('Merry Christmas' and 'Merry Christmas II You'), but also some timeless Christmas classics.
5. Fuller House Season 4 Christmas Special (2018)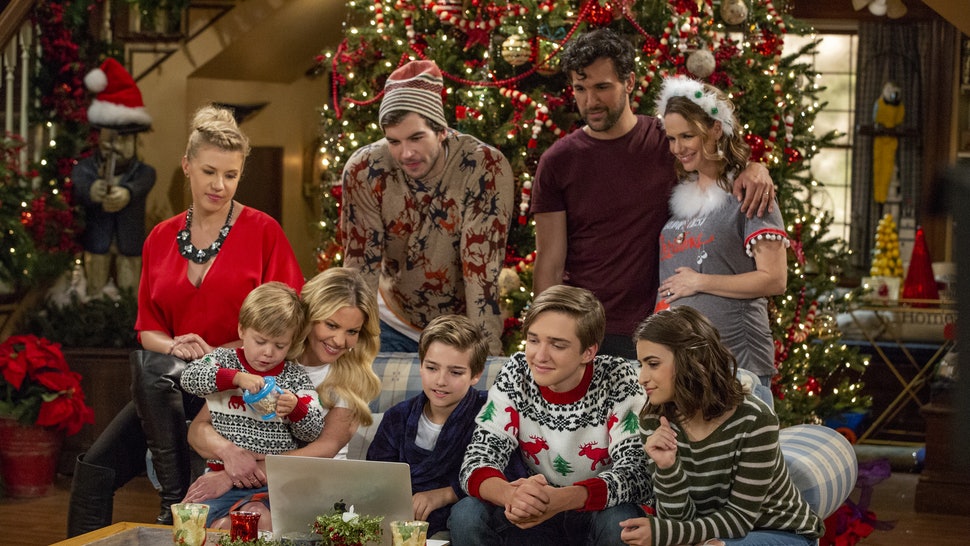 'Fuller House' is one of the finest sitcoms aired on Netflix, and it is, unknown to many, a sequel of the American show called 'Full House' (1987-1995). The show follows the life of D.J. Tanner-Fuller. She is a widow, a vet, and the mother of three. After her husband passed away, DJ's sister Stephanie moves into her house to help her raise the kids. Along with Stephanie, Kimmy, one of DJ's closest friends, also move into the house with her teenage daughter, Ramona.
The fourth season of this sitcom has a Christmas special. Released in 2018, this special is the very first episode of the season. Here we see DJ's son, Tomy Jr. is terribly afraid of Santa. His brother Max helps him understand Santa is not that terrifying a figure after all. Moreover, Max himself is sad and not in the festive spirit because he is missing his father, Tommy Sr. Seeing that her son is upset, DJ brings out old videos of Tommy Sr., her late husband. We see the family bonding over the old video. The episode is a real sweet one where we see how much DJ loves her children and cares for them. It is a perfect Christmas special episode.
4. The Great British Baking Show: Holidays (2018)
Originally known as "The Great British Bake Off", this show is a huge part of British culture and has even landed a BAFTA Award. The format of the show is pretty similar to the many reality shows. Here, a group of participants is asked to bake one thing or another in each round, and the show proceeds by eliminating one contestant in every round until we reach the final. The show has a special called 'The Great British Baking Show: Holidays' which was released on Netflix in 2018. The entire contest is carried out in a tent and this is what is used in the special, with the tent being decorated to suit the theme of Christmas. Contestants are asked to bake stuff related to Christmas, some of which are really delicate and complicated. One of the things they had to bake was a tree made of Scandinavian cookies. The 'Holidays' special episodes were more fun for the contestants because no elimination was involved and they all got to have fun.
3. DreamWorks Holiday Classics (2011)
This is a Christmas show that will be loved by kids! What DreamWorks has done here is pretty interesting as a concept. They have taken three of their most popular franchises, made small stories with them themed on Christmas, and put them together for Christmas. The three stories are based on three franchises – Shrek, Madagascar, and How to Tame Your Dragon. Each episode was produced differently, in different years, but then were released together as a Christmas special. The Shrek story is called 'Shrek The Halls' and shows how the famous characters in the series are spending their holidays. The Madagascar story, 'Merry Madagascar', is about Santa Claus crashing on the island just before Christmas and the animals of the island helping him continue his journey. The third story is called 'Dragons: Gift of the Night Fury' and is about all the dragons of the village called Berk escaping just before Christmas.
2. DreamWorks Happy Holidays from Madagascar (2005)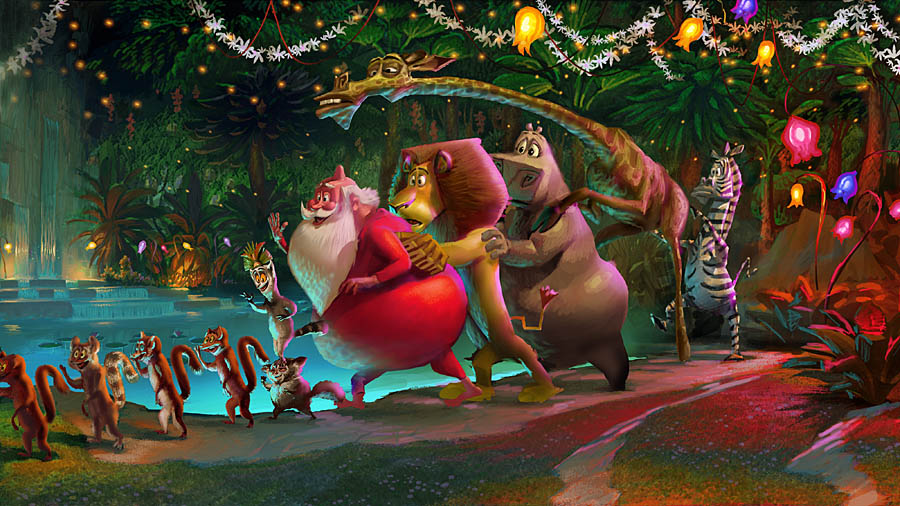 This is another DreamWorks production following the same rules as the last one. However, here all the episodes are based on the Madagascar franchise. There are three episodes in total – 'Madly Madagascar', 'Madagascar Penguins In A Christmas Caper', and 'Merry Madagascar'. Ben Stiller, Chris Rock, David Schwimmer, and Jada Pinkett Smith voiced all the main characters of the episodes. 'Madly Madagascar' is about the creatures discovering a love potion and things going haywire in the jungle after that. 'The Madagascar Penguins in a Christmas Caper' is a twelve-minute short about three penguins from Madagascar who have escaped the zoo on Christmas Eve and their adventures henceforth. All three stories are lovely, filled with the warmth and joy of Christmas.
1. BoJack Horseman Christmas Special: Sabrina's Christmas Wish (2014)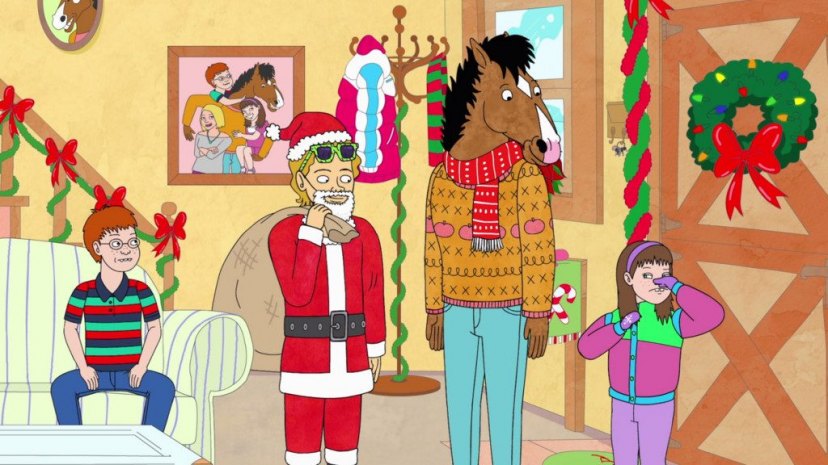 BoJack Horseman is a sitcom like no other. It is definitely funny, but along with that, it is contemplative, existential, deeply philosophical and intense. The show also brilliantly breaks the fourth wall at times. BoJack is a horse who was very famous when he starred in a show called 'Horsin' Around'. However, when we meet BoJack, we see that he is hardly popular now; he's in his middle ages, angry and disgusted with life and people around him. This Christmas special was released after the first season, and here, we meet Todd and BoJack where watch a Christmas special of 'Horsin; Around', because that is what BoJack usually does on Christmas. The name of the episode is, "Sabrina's Christmas Wish".
When Todd asks BoJack the reason why people make Christmas specials in the first place, he says these are nothing but "cynical cash grabs by greedy corporations looking to squeeze a few extra Nielsen points out of sentimental claptrap for mush-brained idiots who'd rather spend their Christmas watching a fake family on TV than actually trying to have a conversation with their own dumb families." In a Christmas special, the show criticizes Christmas specials heavily. This is what makes this show stand out from the rest. And when the episode ends, BoJack himself ends up suggesting that he and Todd should watch the other Christmas special episodes of the series as well. The character makes himself a crude representation of consumerist culture.
Read More: Best Vampire Shows on Netflix