The real cinema lovers know that nothing can match the experience of watching a great movie in a great movie theater. Yes, there is a certain pleasure of watching movies on your television in the confines of your cozy room, but truth be told movies were originally conceived for the big screen. Television is surely more convenient – and cheaper. But that doesn't mean it is better when it comes to experiencing cinema. Given a choice, I will always prefer theater over television. And so should you, especially if you have an option of watching a movie at one of these 10 cool movie theaters. If you live close to one of these theaters, make it a point to visit it soon – if you haven't already. But If you don't live close to any of them, then it won't be a bad idea to plan to visit one or more of them. Bringing to you, the list of top movie theaters in the world.
10. Cine Thession in Athens, Greece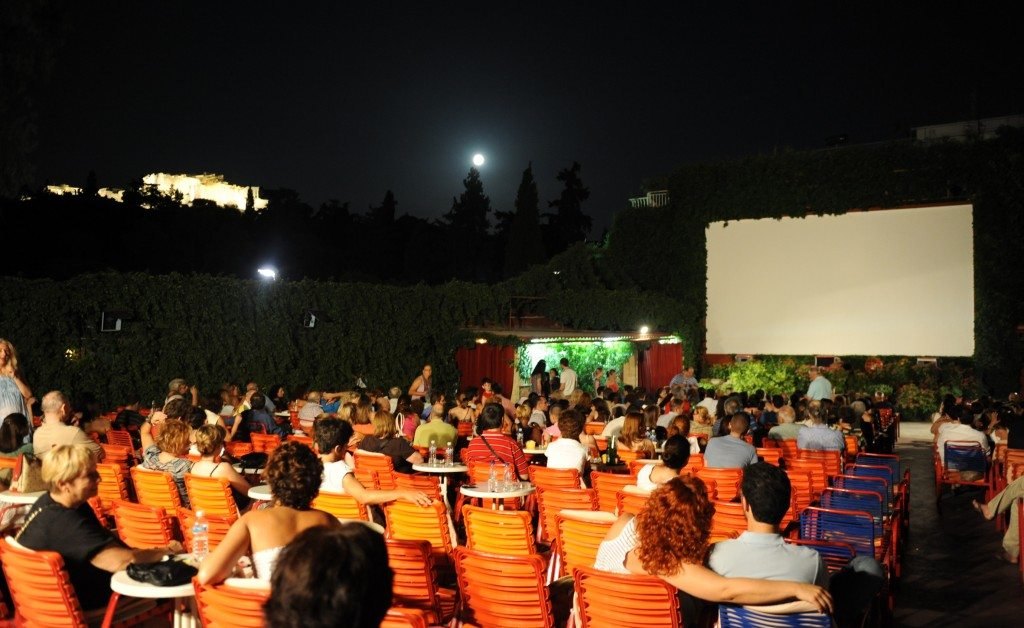 Built in 1935, Cinema Thession is the oldest Summer Cinema in Athens . It has been operating since then every spring and summer. Located just below the Acropolis, Thession offers one of its kind of experience as you can enjoy the screening in open air amongst beautiful surroundings. Every year, carefully selected list of classic films are screened here.
9. Electric Cinema in Notting Hill, England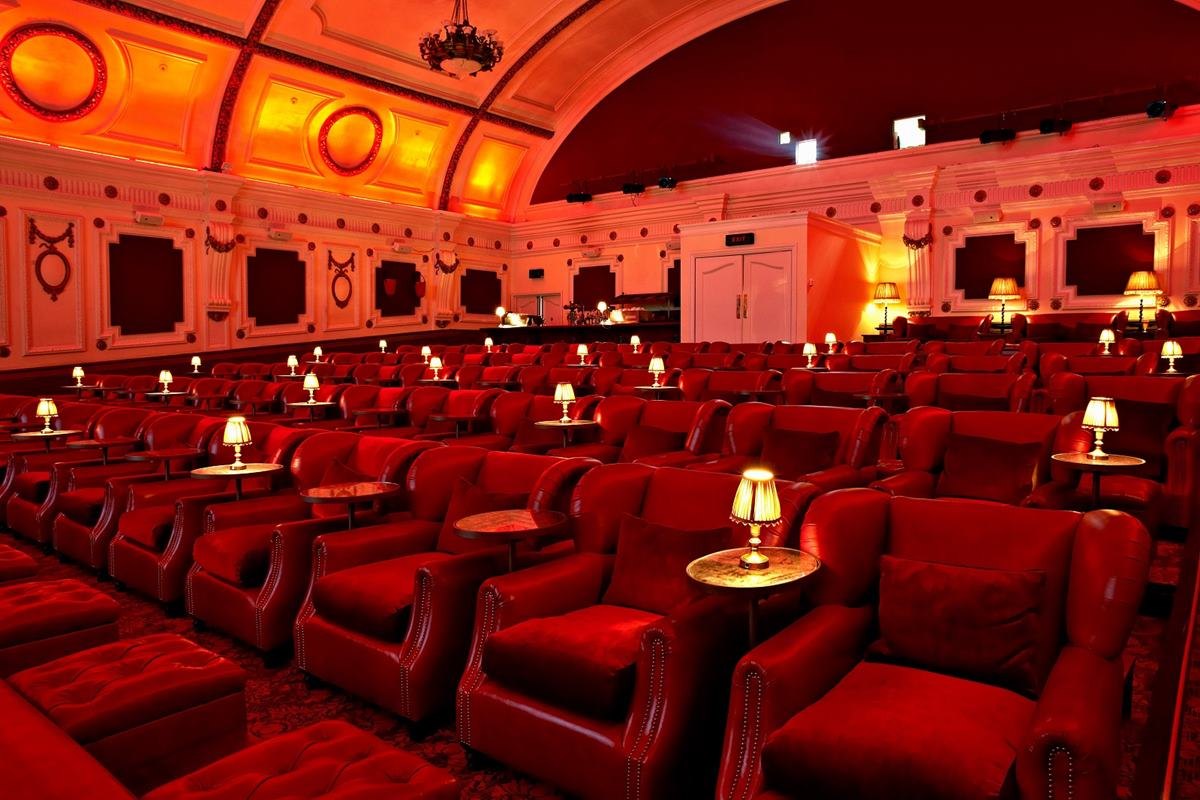 The Electric Cinema is located in Notting Hill, London, and is one of the oldest working cinemas in the country. Despite being old, it has gotten a complete makeover and now it one of the most modern theaters in UK. Mood lighting, love seats, and leather chairs with footstools, not to mention six double beds with cashmere blankets .. you get it all here. On top of that, you are also served cocktails, beer and snacks.
8. New People Cinema in San Francisco, USA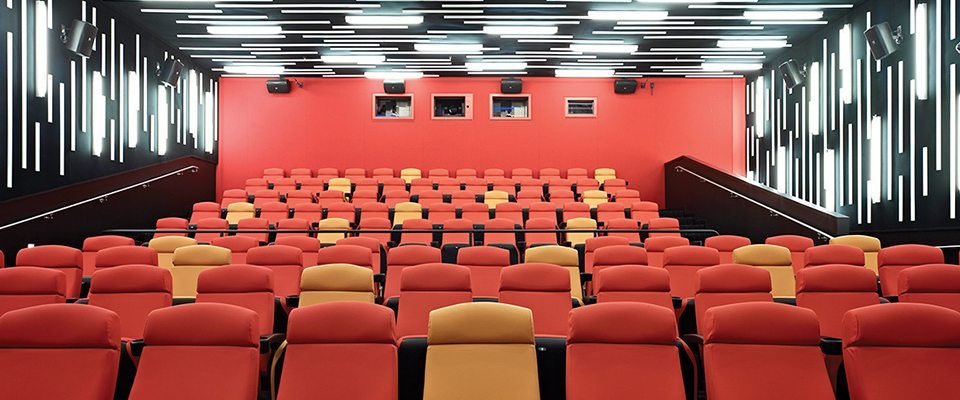 A 20,000-sqft entertainment complex, New People was founded in 2009 and is located in the heart of historical San Francisco's Japantown. It was founded in 2009 to popularize Japanese culture expressed through film, art, fashion, and various events. Over last few years, it has become a unique must-see attraction of the city's cultural landscape.
7. Cine de Chef in Seoul, South Korea
Located in Apgujeong, southern Seoul, Ciné de Chef is a luxury movie theater that is combined with a gourmet restaurant. The theater seats just thirty people in deluxe chairs and is equipped with 11.1 channel speakers which surround the entire theater, including the floor and ceiling. In the restaurant, Le Cordon Bleu-certified chefs serve modern Asian cuisine. If you are looking for a luxury — but expensive — movie experience, this is the place to be.
6. Raj Mandir Cinema in Jaipur, India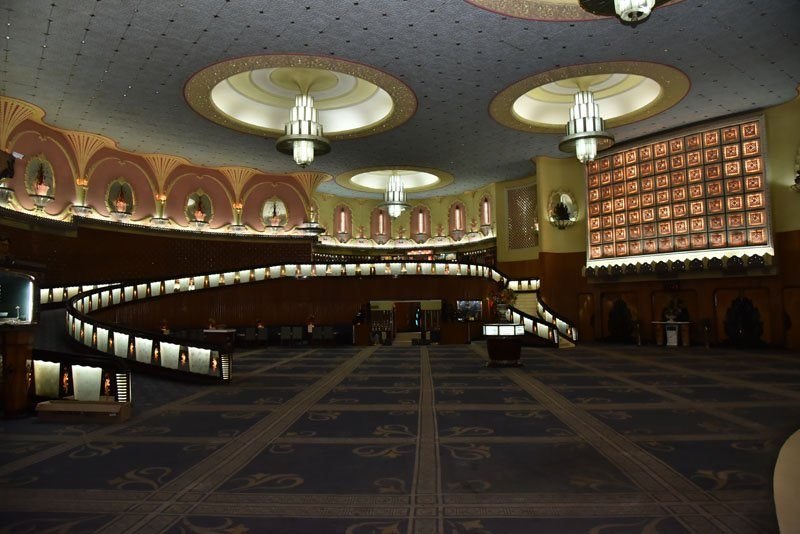 Raj Mandir Cinema opened on 1 June 1976 with the film 'Charas'. It was designed by architect W.M. Namjoshi in Art Moderne style (Streamline Moderne or late Art Deco). Known for its large size as well as opulent and meringue interiors, Raj Mandir remains an important part of the tourist circuit, and thus usually remains full despite its size. Over the years, it has seen many movie premieres of Hindi films and has become a popular symbol of Jaipur.
5. Cineteca Matadero in Madrid, Spain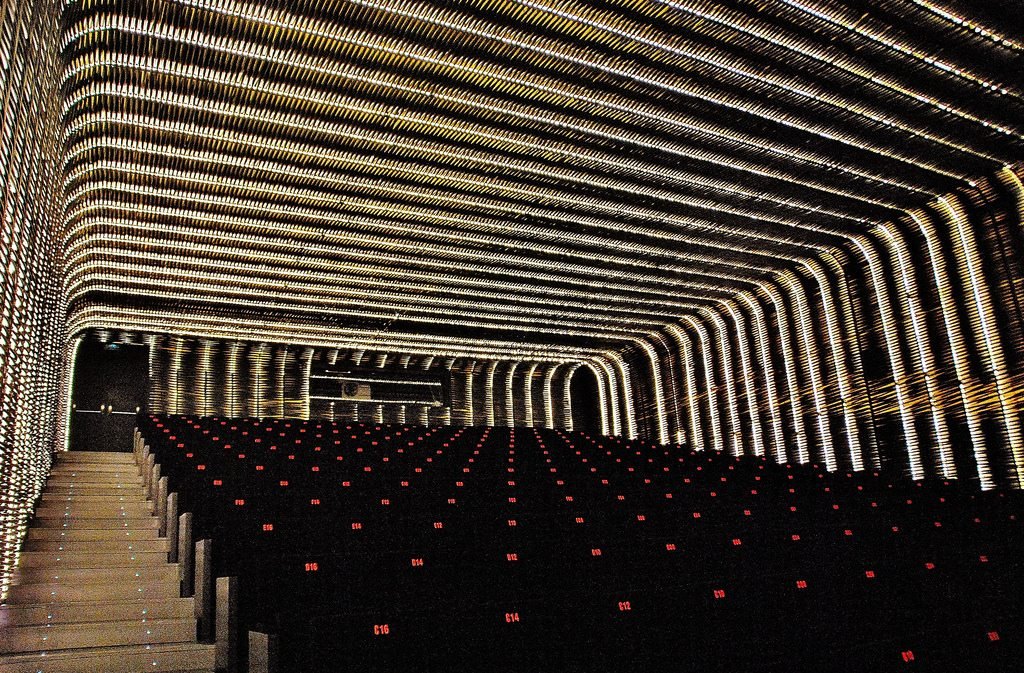 Cineteca Matadero is in Matadero Madrid arts center in the Arganzuela district of Madrid. Formerly a slaughterhouse Matadero Madrid is a lively, constantly changing space where you can find arts including movie screenings. Aside from screenings, its other lines of work also deal with artistic creation thanks to the film set, training and memory conservation open to all through the Archivo Documenta. It is the permanent headquarters of the Documenta Madrid film festival.
4. Alamo Drafthouse in Austin, Texas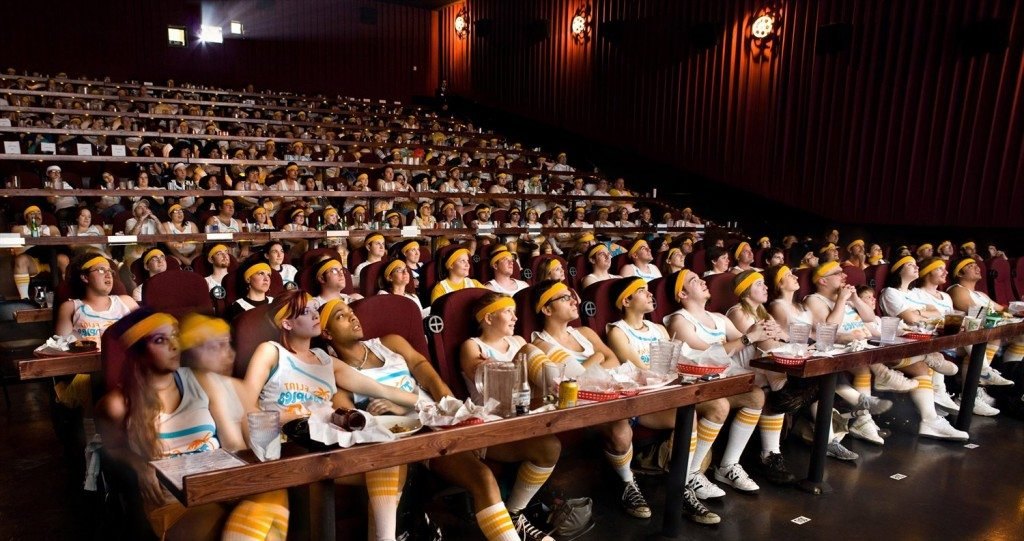 Alamo Drafthouse Cinema was founded by Tim and Karrie League in 1997. Both started the theater in a warehouse district building that was being used as a parking garage in Austin. And even though company began as a second-run movie theater, and it soon distinguished itself by the food and drink service offered inside the theater, including cold beers. The seating is arranged with rows of cabaret-style tables in front of each row of seats, with an aisle between each row to accommodate waiter service. You should definitely visit this theater for a unique and royal experience that each audience member is treated with.
3. Kino International in Berlin, Germany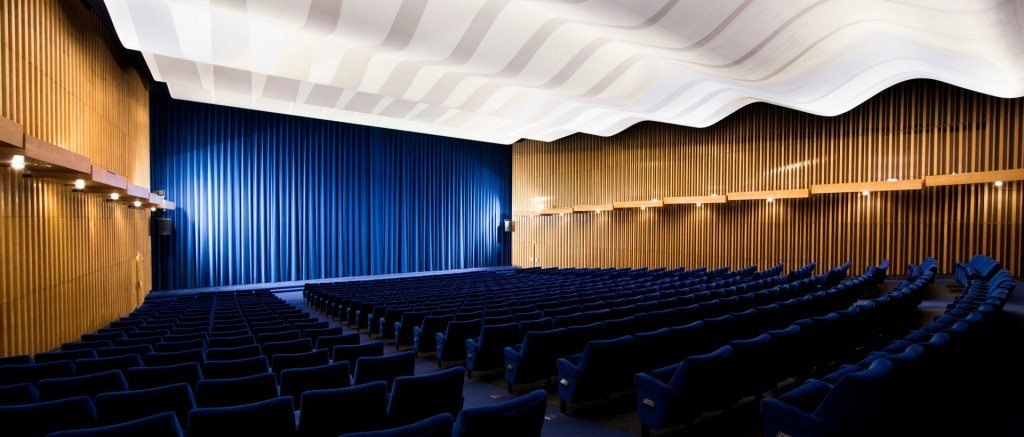 The theater was designed by Josef Kaiser and Heinz Aust as a three-story reinforced concrete frame construction with light sandstone façades in 1963. Its uniqueness lies in the fact that the cinema, which holds almost 600 viewers, is inclined and the acoustic technology used in the theater is similar to that of a recording studio. Walls of the theater are covered with acoustic dampening panels, which was rare in those days. Today, the International is used by many filmmakers for premieres due to the theater's ambiance and is one of the venues of the Berlin Film Festival.
2. Colosseum Kino in Oslo, Norway
The Colosseum Kino in Oslo, Norway is the largest cinema in Northern Europe and is distinguished by its large spherical dome. One of Europe's most beautiful cinemas, with its "dome" measuring a diameter just above 40 meter, which is the same size as the dome in the famous St. Peter's Basilica. Colosseum has hosted several premiere parties and long-running movies, notably 'My Fair Lady' and 'The Sound of Music'. In the 1966-1967 period, more than a half-million people (more than the total population of Oslo at that time) saw The Sound of Music in the Colosseum.
1. TCL Chinese Theatre in Los Angeles, California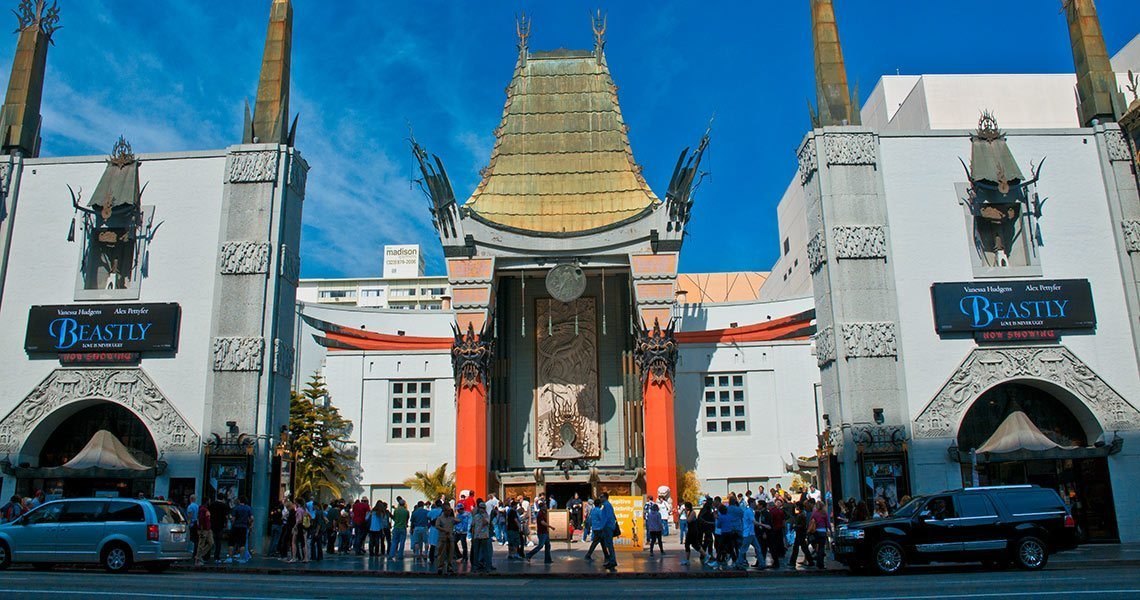 Located right in the mecca of movies on Hollywood Boulevard, the Chinese Theatre opened on May 18, 1927 with the premiere of Cecil B. DeMille's film 'The King of Kings'. It has since been home to many premieres, including the 1977 launch of George Lucas' 'Star Wars' and three Academy Awards ceremonies. Among the theater's most distinctive features are the concrete blocks set in the forecourt, which bear the signatures, footprints, and handprints of popular motion picture personalities from the 1920s to the present day. In 2013, the Chinese Theatre partnered with IMAX Corporation to convert the house into a custom designed IMAX theater. The newly renovated theater seats 932 people and features one of the largest movie screens in North America.
Read More: Best Movies of All Time