Billy Porter is an American actor, Broadway theater performer and pop singer. Porter was born in Pittsburgh and went on to attend the Pittsburgh Creative and Performing Arts School, before graduating with a B.F.A. in drama from the College of Fine Arts at Carnegie Mellon University. He also has a degree in screenwriting from UCLA. Porter also used to be a part of an entertainment group called 'Flash'.
Porter has had a prolific career on the stage, to say the least. He has a Tony award to show for playing the part of Lola in 'Kinky Boots'. Apart from plays, Porter has also appeared in quite a few films. Some of his appearances include 'Twisted', an adaptation of 'Oliver Twist'. He has also made an appearance on 'The RuPaul Show'. A highly talented individual, Porter has also had quite a successful music career, and has released three solo albums. He has a Grammy to show for his efforts.
Billy Porter has also made his mark in television shows by appearing in 'Pose'. In fact, he has made history by becoming the first openly gay black man to win an Emmy for Outstanding Lead Actor in a Drama Series. Porter's win also brings him closer to the elusive EGOT (Emmy, Grammy, Oscar, and Tony). Coming back to the prolific actor, he also appears in Season 8 of 'American Horror Story', that has been titled 'Apocalypse'. As an openly gay actor, Porter has been instrumental in ensuring that society as a whole moves towards acceptance, equality, and dignity for all queer folk.
With that said, you must be wondering what is the next Billy Porter movie or TV show? Well, here's the list of upcoming Billy Porter films and TV shows scheduled to release in 2019 and 2020.
2. Pose (2018-)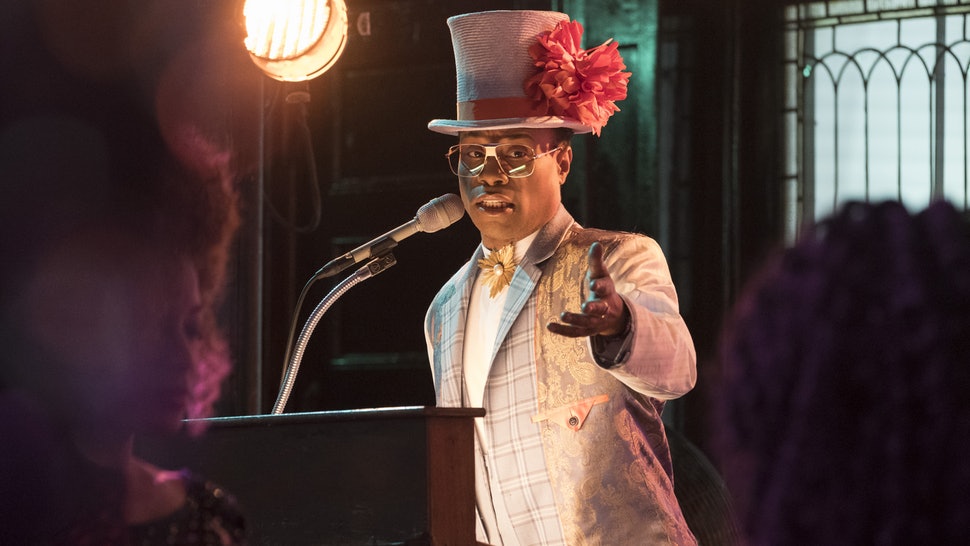 'Pose', stylized as 'POSE', is an American drama television series that airs on the FX network. It is set in the 1980s and follows New York City's African-American and Latino LGBTQ as well as the gender-nonconforming ballroom culture scene. The next season is set in the 1990s. The characters who are featured in the show include dancers and models who have to compete for trophies and recognition as a part of this underground culture. But these people always end up supporting each other through a network of chosen families that are known as Houses.
In Season 1, the show looks at the time period of 1987–88. It tries to depict the juxtaposition of various segments of life as well as society. In New York, the African-American and Latino ball culture world is documented, apart from the social and literary scene that grew downtown. Against this backdrop, we see the rise of the yuppies, that is, young professionals working in the city.
In Season 2, the show makes a time jump and starts in 1990. By this time, the characters happen to be either HIV-positive or living with AIDS. ACT UP (AIDS Coalition to Unleash Power) has already been formed and we see some of them becoming AIDS activists. Everyone attends frequent fundraisers now, as well as funerals and memorial services for many of their friends within the community, who seem to have been hit hard by the AIDS pandemic. At the same time, songs from Malcolm Maclaren and Madonna have been released, which has made certain aspects of the ballroom dance style go mainstream. While this results in certain members of the community finding new opportunities as dancers and dance teachers, many of them continue to work as strippers or dominatrices. The series has been approved for a third season.
Billy Porter appears in the show as Pray Tell, the emcee of the balls in New York. He is a fashion designer and acts as a mentor to the members of the community, especially those of House Evangelista. Porter has won an Emmy for his performance as the gregarious father figure in the show. In the series, we see that Pray struggles with an HIV diagnosis and the episode Porter submitted, which won him the award, includes an extremely moving musical number that his character performs at a benefit concert for those suffering from AIDS. The performance manages to portray all of his hopes and fears through one song. Undoubtedly, in the upcoming season, Porter will amaze us once again when he reprises his role as Pray Tell.
1. Like a Boss (2020)
'Like a Boss' is an upcoming American comedy film that shows the ugly side of the beauty industry. Two friends run a beauty company together and although they get up to all sorts of crazy stuff, they actually have very different ideals. One of them happens to be practical, while the other just wants to make a fortune and earn a lavish lifestyle. Things seem to be looking up for them when a wealthy benefactor enters the picture, but it soon turns out that this woman is stealing for them. As the title suggests, the women go to extreme lengths to show who is the boss in the business.
Billy Porter plays the role of an employee in this cosmetics business. When the entrepreneurs are going through a rough patch, they are forced to fire Porter's character, which results in a comical scene with the two friends blaming each other for the decision to fire Porter. Undoubtedly, the actor will deliver a solid performance in the film, which is slated to be released on January 10, 2020.
Read More: Upcoming Jon Bernthal Movies