Korean dramas are known for their fantastic premise, often adding a twist of supernatural in their stories. If love needed to be any more difficult, it would definitely take a page out of Korean television. 'Black' is a perfect representation of this. It follows the story of a young girl who has the ability to see grim reapers as they follow the people they are about to take. In one such encounter, she meets a reaper who has possessed the body of a detective and is trying to figure out a case of serial killings. This reaper falls in love with her; however, he's not supposed to mix business with pleasure. You can't befriend the very thing you are supposed to kill, and because he breaks that rule; the reaper is punished for it.
The show is produced by Studio Dragon which is responsible for producing a great number of popular Korean shows and helping them find their way to the international market. Some of its products include names like 'Legend of the Blue Sea', 'Children of Lesser God', 'The Liar and His Lover', 'Stranger', 'A Korean Odyssey', 'The Most Beautiful Goodbye', 'Mr Sunshine' and 'The Crowned Clown'. 'Black' is written by Choi Ran and directed by Kim Hon-sun. Kim Jong-sik and Song Jae-joon serve as executive producers of the show.
Black Cast: Who's in It?
'Black' stars Song Seung-heon in the role of Han Moo-gang. He is a detective whose body has been taken over by a grim reaper. Seung-heon is known for his roles in 'A Better Tomorrow', 'Ghost: In Your Arms Again', 'Wonderful Nightmare', 'Man of Will', 'Air Strike', 'Happy Together', 'Autumn in My Heart', 'East of Eden', 'When a Man Falls in Love' and 'Prayer'.
Go Ara plays the role of Kang Ha-ram, a woman who has the supernatural ability to see the grim reaper. She falls in love with the one possessing Moo-gang's body. She has worked in films and TV shows like 'Pacemaker', 'The Magician', 'Phantom Detective', 'Who Are You?', 'Heading to the Ground', 'You're All Surrounded', 'Hammurabi' and 'Haechi'.
Lee El is cast as Yoon Soo-wan, a doctor who has a history with Kim Joon's family and falls in love with Moo-gang. She is known for her work in films and TV shows like 'Inside Men', 'What a Man Wants', 'Masquerade', 'Wild Romance', 'It's Okay, That's Love', 'Divorce Lawyer in Love', 'A Korean Odyssey', 'Matrimonial Chaos' and 'When the Devil Calls Your Name'.
Kim Dong-jun plays the role of Oh Man-soo, a young man belonging to a rich family. He has worked in films and TV shows like 'A Company Man', 'Still Loving You', 'Happy Hostage', 'Crossing the Youngdo Bridge', 'The Fugitive of Joseon', 'Neighbourhood Lawyer Jo Deul-ho', 'About Time' and 'The President's Aide'. He has also appeared in a number of variety-shows and performed in several musicals. The supporting cast includes actors like Kim Won-hae, Jung Suk-yong, Lee Chul-min, Huh Jae-ho, Ji Su-won, Kim Jung-young, Kim Hyung-min.
Black Plot: What's It About?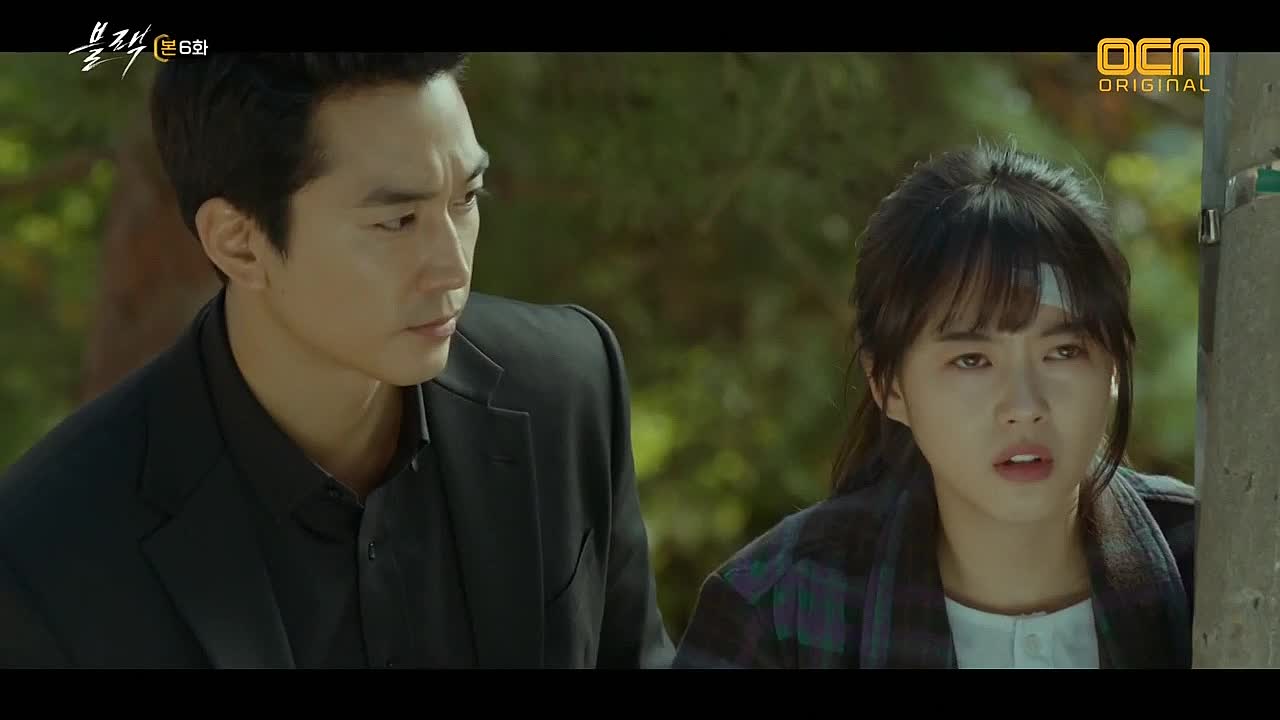 A grim reaper named Black has a problem. His partner has gone rogue and he needs to track him down and bring him back. In order to do so, he needs to be able to freely walk among humans, so he possesses the body of a young detective named Han Moo-gang. Moo-gang has a very difficult history. His adopted brother had died when he was young and he never really got to know what happened to him. Kang Ha-ram has been able to foresee death. When a person is about to die, a grim reaper starts following them until the moment of their death. Ha-ram can see that reaper. This is something that sort of runs in her blood because her mother is able to do so too. Before Moo-gang had been possessed, he had crossed with Ha-ram. Her ability to predict people's deaths had fascinated him and being in the business of saving people, he had put her qualities to use by allowing her to contact him when she had a premonition about someone.
Meanwhile, the town has been plagued with a murderer who has run free in the streets for more than twenty years. No one has been able to track him and this has led to a great number of unsolved cases. The reaper, while looking for his partner, stumbled upon this and is intrigued by it. In the body of the detective, he has the power to actively look into the case, while also performing his true job on the side. The association with Ha-ram begins to stir feelings inside his heart and even when he knows he is not supposed to get involved, he is unable to stop himself.
Black Season 2 Release Date: When Will It Premiere?
'Black' season 1 premiered on October 14, 2017. The show was very well-received by both the audience as well as the critics. It bought some good ratings and the network decided to extend the story by two more episodes. The international exposure provided by Netflix allowed the series to grow further and add to the international fan base of Korean dramas. The final episode of the series showed the lead characters reuniting in the afterlife, bringing their story to a perfect conclusion.
With such an ending, which has not only tied up all the loose ends but also given a satisfactory goodbye to its characters, it doesn't feel like another season needs to be commissioned. However, in this time, when popularity decides the fate of the show, who knows, the showrunners might change their mind if they come up with a way to extend the story. If and when any official announcement about 'Black' season 2 release date is made, we will update this page.
Black Trailer:
If 'Black' receives another season, it'll be a time to rejoice for its fans. If it doesn't, then we haven't lost anything. The story is already done with. You can catch all of it on Netflix. Have a look at 'Black' season 1 trailer before you leave:
Read More: Best Korean Movies on Netflix