The onscreen pairing of Adam Sandler and Drew Barrymore always brings back some fond memories. The duo, who have previously worked together in 'The Wedding Singer' and '50 First Dates', have such a genuine and easy chemistry that it's almost a treat to have them reunite for 'Blended'. Almost. Unfortunately for the duo, the third time does not work its charm. The film goes on to become just another one of Sandler's clichés that has him going on a luxurious vacation with his buddies. And with 'Blended', it's time for Africa.
The film centres around two single parents, Jim and Lauren, as they find themselves (with their kids) in the same South African resort, after their disastrous blind date. 'Blended' largely received negative reviews from critics with a 14% rating on Rotten Tomatoes. The film was criticized for its prejudices and stereotypes, and was even considered offensive by many. It also wasn't much of a success commercially, and is considered one of Sandler's worst-ever openings.
Considering all of this, a 'Blended' sequel seems out of question. But given Sandler and Barrymore's history together, we could definitely hope to see the duo working together again. It is less likely to be for a 'Blended' sequel, but that won't stop us from speculating what it could be like. Here's what we think could happen with 'Blended 2'.
Blended 2 Plot: What Can It Be About?
As the premise of the film centers around becoming a "blended family", I could definitely see it having a sequel similar to the 1968 classic, 'Yours, Mine & Ours'. While 'Blended' already borrows from the film, it ultimately feels like more of a warm-up. As the film ends with Jim and Lauren getting together, the sequel could have the two take the next step in the relationship.
Jim and Lauren could move in together with their children, leading to a rather chaotic, messy, but heartwarming misadventure. Given that it's going to be a Sandler comedy, it wouldn't be far-fetched to expect the newly "blended family" going on a vacation together.
Blended 2 Cast: Who Can Be In It?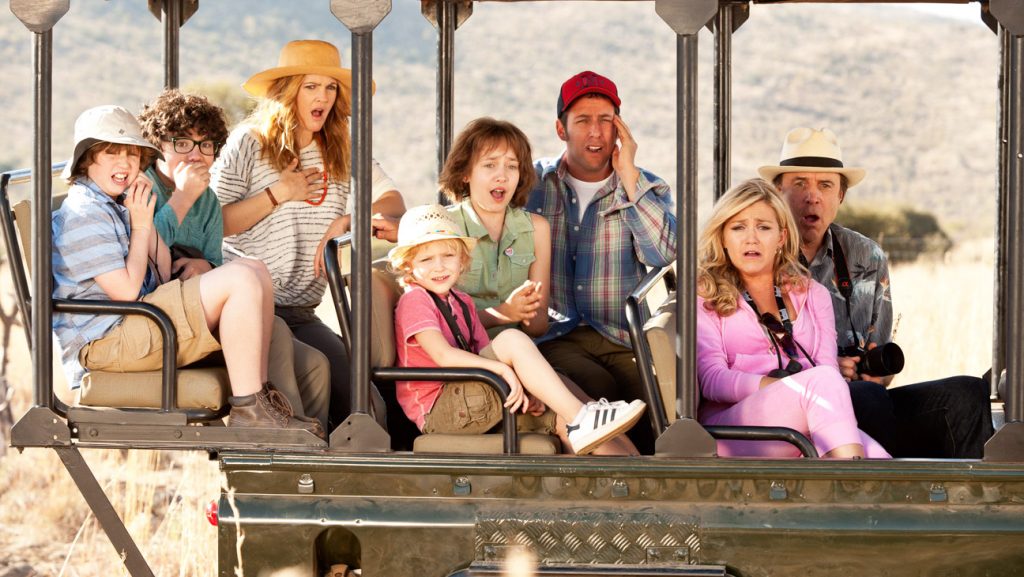 'Blended' marks the third onscreen pairing of Adam Sandler and Drew Barrymore. It stars Sandler as Jim Friedman and Barrymore as Lauren Reynolds. It also stars Bella Thorne, Braxton Beckham, Emma Fuhrmann, Kyle Silverstein, and Alviya Alyn Lind. Apart from these, the film also features Terry Crews, Kevin Nealon, Shaquille O'Neal, Wendi McLendon-Covey, and Joel McHale.
While chances of getting a 'Blended' sequel are certainly bleak, we can definitely hope to see more of Sandler and Barrymore in the future. While promoting 'Santa Clarita Diet' in 2018 on 'What What Happens Life with Andy Cohen', she revealed that there had been talks with Sandler about working together again. She stated, "Adam and I have done a movie every 10 years, three decades in a row. You cannot mess with that." Barrymore then went on to say, "We did The Wedding Singer, Fifty First Dates and Blended, and we will do (another one). We just haven't figured out what it is yet."
Blended 2 Crew: Who Can Be Behind It?
'Blended' is directed by Frank Coraci, who is best known for his collaborations with Adam Sandler. These include 'The Wedding Singer', 'The Waterboy', and 'Click', amongst others. Sandler also co-produced the film along with Jack Giarraputo and Mike Karz.
Given Coraci and Sandler's long history of working together, it is likely that the duo will collaborate once again for another project in the future. But given how poorly 'Blended' did both commercially and critically, it would be safe to assume that the project wouldn't be a sequel to the film.
Blended 2 Release Date: When Can It Premiere?
As mentioned above already, a 'Blended' sequel does not seem likely to happen. There have also been absolutely no talks or speculations about one. This is understandable considering the film's weak performance.
But keeping in mind Barrymore's statement about reuniting with Sandler for a future project, we certainly have something good in store for us. As the new decade begins, we can expect to see the duo share the screen again in the near future, considering how the two work together once every ten years. But if at all we somehow magically get a 'Blended' sequel, it shouldn't happen anytime before 2025.
Read More: Best Family Comedy Movies on Netflix