Joseph Heller's novel 'Catch-22' is hailed as one of the best and most important pieces of literary work of the past century. Set in the Second World War, it is a satire that will probably never lose the status of being a classic due to the perpetual relevance of its material. No matter what war and era you choose to set the story in, it'll always make sense.
Hulu recognized the opportunity to bring it on the screen when Luke Davies and David Michôd started working on the script. Executive produced by George Clooney, Grant Heslov, Ellen Kuras (the three of them also serving as directors), Davies, Michôd, Richard Brown and Steven Golin, the six-part series is shot in Italy. It follows the story of the soldiers in 256th Bombardment Squadron of the Air Army Corps, mainly told from the point of view of young Captain, John Yossarian.
Catch-22 Cast: Who is in It?
The cast includes the names of refined actors like Kyle Chandler, Hugh Laurie and George Clooney, as well as other lesser known names but with a good track record. Due to a large number of characters, the list of actors is long indeed. Here is a sum-up of the ones with major roles.
The lead character of the show is John Yossarian, a bombardier who "has decided to live forever, or die in the attempt". Christopher Abbott portrays the role of this unique personality with whom a lot of people can relate themselves. Abbott's acting debut on-screen came in the form of 'Martha Marcy May Marlene', alongside Elizabeth Olsen. He has since appeared in acclaimed movies and TV shows like 'James White', HBO's comedy 'Girls', 'The Sinner', 'First Man', 'A Most Violent Year', 'It Comes at Night' and 'Vox Lux', to name a few. He also has extensive experience working in theatre.
Kyle Chandler plays the role of Colonel Cathcart, a man who is constantly fidgeting with the idea of what can get him a promotion. He is also problematic to his soldiers because it is because of him that they can't go home. Chandler has a lot of great acting credits to his name. From indie films to popular TV shows, he has worked his way through every form of entertainment. Some of his best-known works include titles such as Academy Award-nominated movies like 'Manchester By the Sea', 'The Wolf of Wall Street', 'Carol' and 'First Man'. In TV, he is known for his leading roles in 'Bloodline' and 'Friday Night Lights'.
Hugh Laurie plays the role of Major – – de Coverley, whose role in the division is as elusive to everyone else as his first name. Everyone knows that he is a man with an important title, but what exactly that means, they have no idea. Laurie is best-known for his lead role as Gregory House in medical drama 'House M. D'. He has also appeared in 'The Night Manager', 'Veep' and Hulu's another book to screen adaptation, 'Chance'. However, 'Catch-22' isn't his first time with absurd satires. He has previously worked in 'Blackadder', which counts as one of his best roles.
Apart from taking up the executive producer title along with the directorial duty for the series, George Clooney also makes an appearance in the role of Lieutenant Scheisskopf, who goes through a streak of promotions, by the time the story ends. Apart from his love for war, he also likes parades very much. More than he loves his wife, at least. Clooney was previously meant to take the mantle of Cathcart, but being too busy with all the other work, he had to slip that opportunity to Chandler and take a smaller role instead.
Graham Patrick Martin plays the role of Orr, Yossarian's tent mate, and is the only person considered crazier than him. Martin is known for his roles in 'Two and a Half Men' and 'The Good Doctor'. The role of Chaplain, a minister who just wants to go home, is played by Jay Paulson, best-known for his roles in 'Imaginary Heroes', 'NYPD Blue', 'Mad Men' and 'I Am the Night'. Other names include Daniel David Stewart, Austin Stowell, Rafi Gavron, Pico Alexander, Jon Rudnitsky, Gerran Howell, Tessa Ferrer, Giancarlo Giannini, Harrison Osterfield and Louis Pullman.
Catch-22 Plot: What is It About?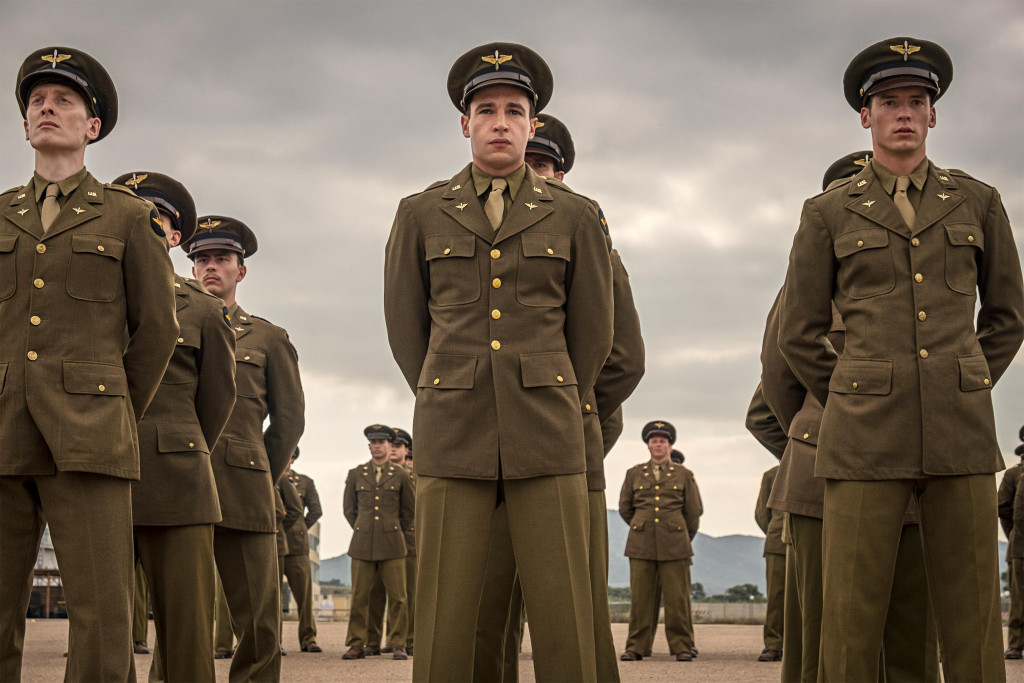 The easiest description of the 'Catch-22' rule is that it is a paradox. It means that if you want to find something, you should have that thing in the first place! Or, if you want to lose something, you shouldn't have it in the first place. Or, if you want to prove that something exists, you are actually presenting an argument against it! Absurd enough? John Yossarian and his mates are caught in one such contradictory situation. They don't want to fly planes, don't want to get into any precarious position which might become the reason for their death. The only way to not let yourself be on a plane is to prove that you are crazy. However, in the words of wise Captain Jack Sparrow, if you know you are crazy then you are not really crazy! And if you are not crazy, you are sane enough to fly a plane! That's the Catch-22 rule for you!
No one loves war, especially not Yossarian, and throughout his service, there is only one thing that he concentrates on- keeping himself alive. But that's not an easy task when everyone around you is trying to kill you, even the ones who are on your side. The quota a soldier has to fulfil before he can go home is that of 50 missions. Yossarian tries hard to reach that number, as soon as possible, but just when he is close enough, the bar is inadvertently raised by his superiors. This has become the bane of existence for many soldiers who are now growing impatient and looking towards alternative ways to relieve themselves from the horrors of war.
Catch-22 Season 2 Release Date: When will it premiere?
'Catch-22' season 1 premiered on May 17, 2019. So, will there be 'Catch-22' season 2? Since the show is based on a book and closely follows the material, it was conceived as a miniseries. This, generally, means that it is a limited event and won't have another season, much like the adaptations of classic novels by BBC!
However, there is no shortage of cases where the success of the first series was followed by another, despite the lack of book material, the best-known example being HBO's hit drama, 'Big Little Lies'. If you feel like the series hasn't given you enough, you can always turn towards the book, which is a magnificent treat, to be honest. While 'Catch-22' season 2 is highly unlikely, there is a slight possibility to be entertained. Heller had followed up Yossarian's story in 'Closing Time'. If the show gains enough acclaim, who's to say the producers won't take a step further. We will update this section as soon as anything is confirmed.
Catch-22 Trailer
While we wait for any positive news on 'Catch-22' season 2, check out the season 1 trailer to refresh your memories. If you haven't seen the show yet, head over to Hulu to catch all its episodes on.
Read More: Best World War II Movies