One of NBC's best shows is the 'Chicago' franchise created by Dick Wolf. It includes 'Chicago Fire', 'Chicago P. D' and 'Chicago Med', all of which share the same universe and often have crossover episodes. Wolf has also created another successful franchise for NBC, 'Law and Order', which is also tied in with it. He added another branch to the 'Chicago'-verse with a legal drama, 'Chicago Justice'. It not only completed the system created by other shows but also catered to the audience that is drawn towards legal dramas. To flame the interest in the content of the show, the pilot's story was chalked out in accordance with a historical event. The pilot also marked the end of a crossover that found its way through 'Chicago Fire' and 'Chicago P. D.' to 'Chicago Justice'.
An episode of the third season of 'Chicago P.D.' served as the backdoor pilot for the 'Justice'. Further development was made by Derek Haas, Michael Brandt and Matt Olmstead, who have already worked with Wolf on multiple occasions. Haas and Brandt have also worked together in '2 Fast 2 Furious', '3: 10 to Yuma', 'Wanted' and 'Overdrive'. Olmstead is known for his work in 'NYPD Blue', 'Blind Justice', 'Breakout Kings' and 'Prison Break'. They all serve as executive producers alongside Michael Chernuchin and Peter Jankowski. Carla Cowin serves as the producer.
Chicago Justice Cast: Who's in It?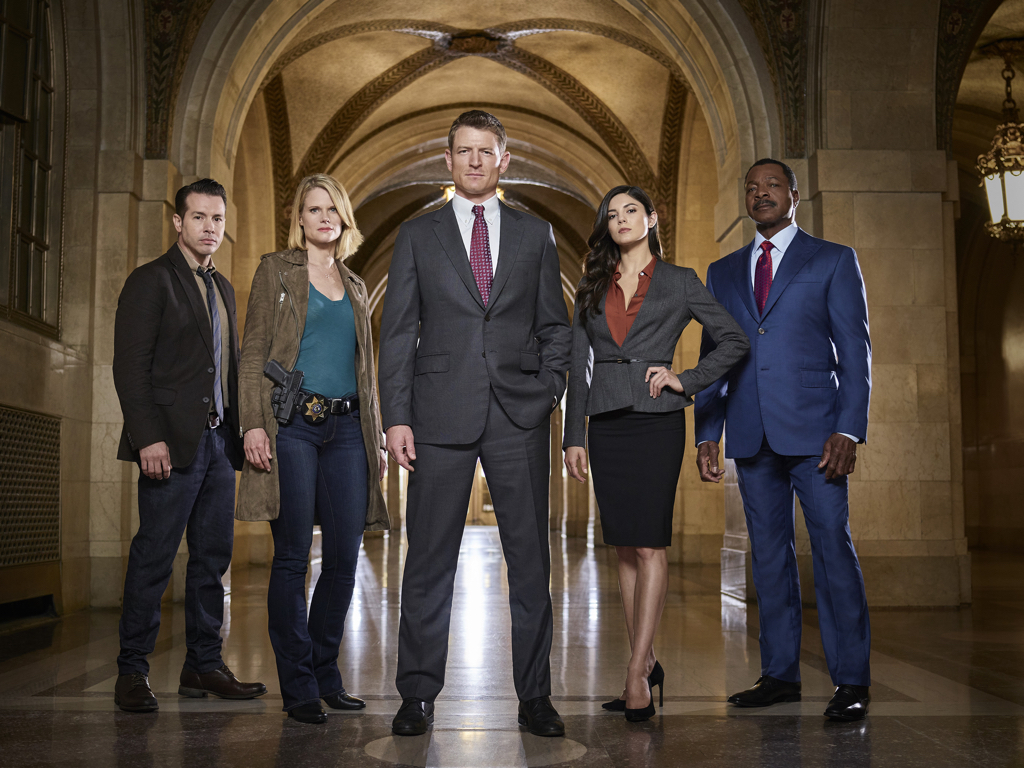 The cast of 'Chicago Justice' is led by Phillip Winchester. He plays the role of Peter Stone, Assistant State's Attorney. His character is connected directly to the 'Law and Order' universe where Benjamin Stone, his father, acted as an assistant DA for four seasons. Winchester has previously appeared in films and TV shows like 'The Patriot', 'CSI: Miami', 'Flyboys', 'In My Sleep', 'King Lear', 'Fringe' and '24: Live Another Day'.
Jon Seda plays the role of Chief Investigator Antonio Dawson. His character has previously appeared in 'Chicago P.D', where he served as a detective. Seda is known for his roles in 'Selena', 'Homicide: Life on the Street', 'The Pacific', 'Third Watch', 'UC: Undercover', 'Oz', 'Kevin Hill', 'Close to Home' and 'Treme'.
Joelle Carter plays the role of Investigator Laura Nagel. Like Dawson, she too had served in the police force. Carter's best-known role is Ava Crowder in 'Justified'. She has also appeared in films like 'High Fidelity', 'When Will I Be Loved', 'American Pie 2', 'Red Wing' and 'Jessabelle'. Her other TV credits include 'Wonderland', 'Final Jeopardy', 'Constantine', 'Castle', 'Grey's Anatomy' and 'Prime Suspect'.
Monica Barbaro plays the role of Assistant State's Attorney, Anna Valdez. She has worked in films and TV shows that include names like 'Hawaii Five-0', 'UnREAL', 'Chicago P. D', 'The Good Cop' and 'Splitting Up Together'. She is also set to star in the upcoming 'Top Gun: Maverick'.
Carl Weathers appears in the role of State's Attorney Mark Jefferies, an ex-Marine and Vietnam war veteran. Weathers' name needs no introduction. He has been a part of some of the biggest films, like 'Rocky' and 'Predator'. He has also appeared in 'Arrested Development', 'Friday Foster' and 'Action Jackson'. And all this was after his successful career as a professional football player. The recurring cast includes names like Lindsey Pearlman, Tim Kazurinsky, James Vincent Meredith, Matthew C. Yee, John Lu, Tyrone Phillips, Rammel Chan and Gary Basaraba.
Chicago Justice Plot: What's it About?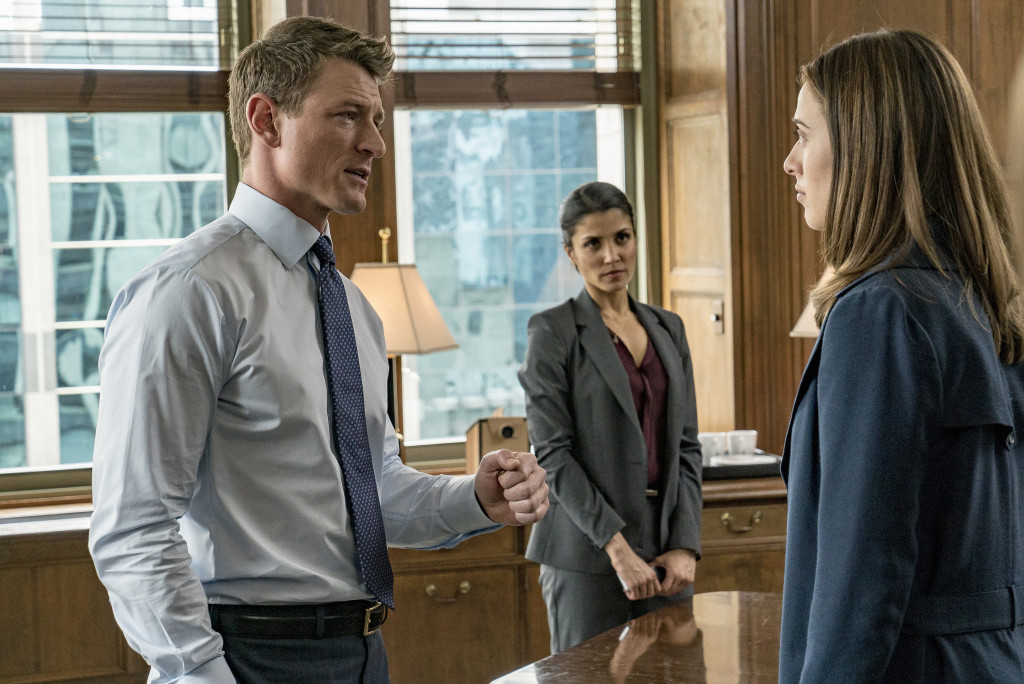 Chicago has firefighters for tackling its worst situations, it has a hospital to save people who get injured in it, and a police department to investigate that situation. After all this, the one thing that remains is the judiciary, a system to find out if the person who bears the blame of the crime is guilty or not. The 'Chicago' universe on NBC was missing that piece of the puzzle and 'Chicago Justice' was made keeping just that in mind. Featuring the characters that the audience has already been familiarized with the shared universe of the show, including 'Law and Order', 'Justice' became one of the four pillars on which the NBC franchise stands.
At the centre of the show is Assistant State's Attorney Peter Stone. Apart from his father's connection with 'Law and Order', Peter had also been a part of 'Law and Order: Special Victims Unit'. Here, Stone tackles a bunch of cases that challenge not only his professional expertise but also his morality. A warehouse fire, a judge's murder, a terrorist conspiracy, a serial killer, and murder that looks like an accident. Every episode brings Stone and his team face to face with a situation wherein they are forced to explore the extremes. Meanwhile, their personal lives are also affected by the cases that they take on. The stress of the job often gets to them, but there is only one thing that they need to keep in mind — the delivery of justice to the victims.
Chicago Justice Season 2 Release Date: When Will it Premiere?
'Chicago Justice' season 1 premiered on March 1, 2017. The show was well received by critics and brought satisfactory ratings as well. Despite its good performance on both fronts, the run of 'Chicago Justice' was cut-short after the first season. According to Deadline, NBC explained its move by emphasizing on the number of 'Chicago' shows that exist and the ones that are necessary. 'Justice' was more conventional than the others, and it was even compared to be very similar to 'Law and Order'.
Not wanting to be repetitive just for the sake of expanding a universe, the channel decided it best to let go of the show in its early stages. For now, there isn't going to be another season for 'Chicago Justice'. However, it isn't new for NBC to bring back canceled shows (like 'Timeless'); so if you are a fan, you can hold on to hope. If there is any news on 'Chicago Justice' season 2 release date, we will update it here.
Chicago Justice Trailer:
While we wait for any positive news on 'Chicago Justice' season 2, check out the season 1 trailer to refresh your memories. If you haven't seen the show yet, head over to NBC to catch all the episodes of the previous seasons.
Read More: Best Courtroom Movies on Netflix