Born as the daughter of actress Nancy Priddy, Christina Applegate made her acting debut when she was three months old! Nancy was an actress and a single mother who raised Applegate alone. So it was quite obvious for the little actress to get into several movies, commercials and TV shows at such a young age. Her mother was always there to support Applegate whenever their family went through rough times. Often her eyes swell up with tears when she starts talking about her mother. One of Applegate's favorite keepsakes from her childhood days is a book, 'My Book About Me' by Dr. Seuss. "I was 7 years old, and one part asks, 'What do you want to be?' And I put 'Actress, dancer, singer,' and then I crossed that out and I put 'Mother' really big", the actress once told People Magazine in an interview.
Applegate's first breakthrough came when she was cast in Fox's popular sitcom 'Married… With Children' as the teen Kelly Bundy. Applegate was 15 years old then and the show went on the become a huge success and ran for 11 seasons. The success of the show also helped the teenage actor to secure more film and TV roles including the 1991 comedy 'Don't Tell Mom the Babysitter's Dead.' By the end of the '90s, Applegate established herself as a regular face in TV comedies. She played lead roles alongside actors like Mark Wahlberg in the 1998 action-comedy 'The Big Hit' and Lloyd Bridges and Jay Mohr in the Mafia spoof 'Mafia!' But she desperately wanted to break the typecasting of Kelly Bundy roles.
The actress tried a change of course by playing a single mom, Jesse, who struggles to find a balance between her work and kids. The character was inspired by her mom's life and persona. After a couple of disappointing performances, Applegate garnered positive reviews for her roles in 'The Sweetest Thing' in 2002 and 'A View From the Top' in 2003. Movies like 'Anchorman 2: The Legend Continues' (2013), 'Vacation' (2015) and 'Bad Moms' (2016)' helped her to keep up the momentum.
In 2008, Applegate was diagnosed with breast cancer and underwent a double mastectomy. After the ordeal, she came forward to spread awareness about fighting breast cancer. She is an active member of public campaigns and fundraisers. Applegate's mother, Nancy Priddy, was also diagnosed with breast cancer. "Unfortunately that whole thing is a family affair, and it doesn't necessarily mean that it will get passed on, but you can't help but think that and worry about that", Applegate said in the People interview soon after she gave birth to a baby girl. "But that's not something we think about. You don't want to focus on it. We're just going to keep her as healthy as possible. I'm more worried about hitting her head when I'm going upstairs or giving her too much or not enough formula. Those are the daily things that I'm learning, to be a mom. I want to make sure I'm doing it all right."
Applegate later came up with one of her career-best performances in the dark-comedy-thriller 'Dead to Me.' The 46-year-old actress and breast cancer survivor is now busy raising her daughter and playing the dark shades of Jan, her character in 'Dead to Me.' At this point, the question that might be circling your mind is what is the next Christina Applegate movie or TV show? Well, the good news is that we have a clear answer to that question. Here's the list of upcoming Christina Applegate films/TV shows scheduled to release in 2019 and 2020. We can only hope that the latest Christina Applegate movies would be as good as some of her recent ones.
2. Dead to Me (2019 – )
Netflix's comedy series 'Dead to Me' marks actress Christina Applegate's return to TV. Described as a comedy alternative to 'Big Little Lies,' the series features Applegate as Jen, a widow and a realtor specializing in selling bungalows. She is struggling to cope up with the loss of her husband, who died in an accident. Linda Cardellini plays Judy, who is a fragile woman living in an old age home. Judy's boyfriend Steve recently died from a massive heart attack. In order to overcome her grief and suffocating loneliness, Judy teaches art to the old age home inmates. A chance encounter turns the two women's lives in a new direction. Though they don't share anything in common, their grief and loneliness bring them together. Their friendship grows through long late-night phone conversations and unplanned neighborhood drives.
However, the buddy comedy like narrative soon changes its course after we learn about the real reason behind Judy's grief and the lies she's been telling to cover up the secrets. 'Dead to Me' paces towards a final showdown through plot twists, shocking revelations and devastating emotional violence. Applegate also serves as the executive producer of the series. Netflix released the ten half-hour episodes of the first season on May 3, 2019. There are still no updates regarding the second season.
Read More: Upcoming Rose McIver Movies
1. Your Time is Up (TBA)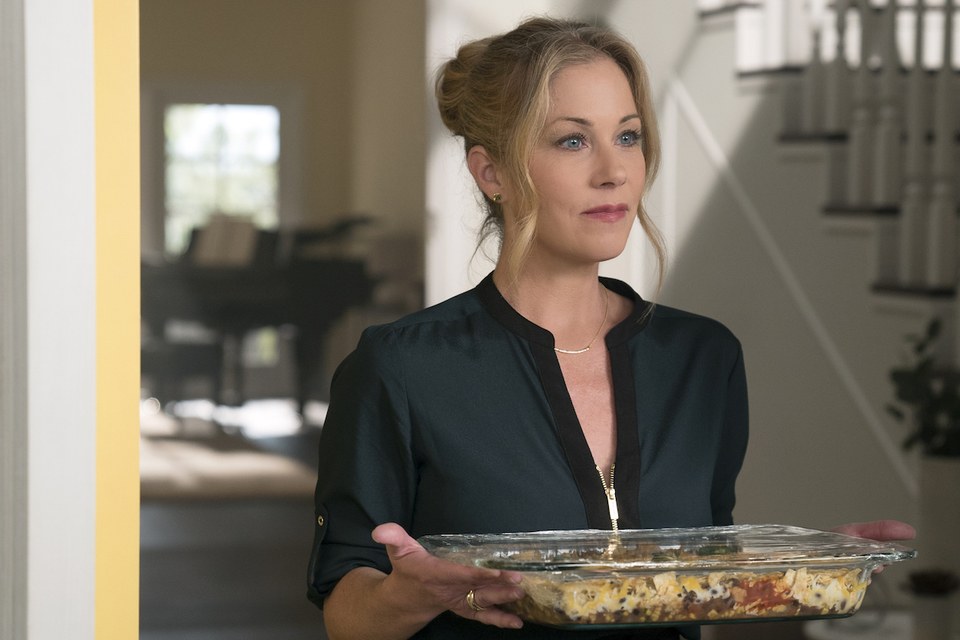 Lifetime's long-gestating dramedy 'Your Time Is Up' stars Christina Applegate in the lead role. Described as a family saga, 'Your Time Is Up' features Applegate as a troubled psychologist who tries to put together the pieces of her family after a tragedy. According to the official synopsis, her "unconventional upbringing" inspires a "unique approach" to deal with her patients. Written by actress-writer Kathleen Robertson, 'Your Time Is Up' was first set up at Lionsgate in 2015 before moving to Lifetime.
Read More: Upcoming Kaya Scodelario Movies