For me, Disney's live-action remake of A.A. Milne's classically endearing work on Pooh and friends was a wonderful contradiction among the large slew of Disney films releasing every year. Perhaps I have grown myself beyond a time, and perhaps the magic of the glory days of childhood is all but lost when I say that 'Christopher Robin' hit the closest home of all Disney releases.
Christopher Robin is us. Christopher Robin is every one of us who has inadvertently transitioned into adulthood leaving behind the age of innocence and all our carefree selves, our sense of imagination associated with it. In that, if this amazingly insightful movie hits you right in the feels and reminds you to search for and live out the smaller things in life, then it probably should. However, that very contradiction that made me like the film may now also be standing in the way of this developing into a film series, something which isn't normally a question for Disney films.
Yes, truthfully stated, the internet and the makers of the film are dreadfully silent about the possibilities of a sequel on the film, and as of now, it strictly may or may not happen, with the verdict sadly inclining more towards the latter. Read on to find out everything we know regarding whether there would be a sequel to last year's 'Christopher Robin' or not.
Christopher Robin 2 Plot: What Can It Be About?
The plot of 'Christopher Robin' and the themes it deals with are decidedly meant for a more mature audience, ones that can actually relate to the moribund nature of the titular character's life, the lament, and above all, why it is important to keep the child in you live. All of them sensitive and pining topics in a regular adult's life, but touched upon almost magically by this film. There is enough wealth in the animated versions, and by extended definition, the source novels by Milne to continue a potential Winnie the Pooh and friends story, but 'Christopher Robin' already is the end of the line.
I wouldn't be the first one to think that a potential direct sequel to the film would not work as good as this one did, because the primary point of the plot, that of the protagonist's epiphany would then be lost. What a possible sequel would conspire to, then, would be an adventure film, and we have plenty of those already.
Coming to the prospects now, Ewan McGregor who played the titular role in the film has expressed strong interest in returning for the role despite confirming that Disney currently had no plans of financing a sequel, stating that he was "totally ready for the sequel. It was never mentioned when we shot it but I'd be happy to do it again. I'd be up for it. I'll sign on the dotted line right now."
McGregor now is among the busiest personalities in Hollywood right now, with back to back blockbuster releases lined up within this year and the next, including 'Doctor Sleep', 'Star Wars: The Rise of Skywalker', and 'Birds of Prey' scheduled for next year. That would inadvertently have an impact on the prospects of the sequel and its possible production schedule, given that McGregor is only bound to get deeper in the blockbuster scene.
Compared to other Disney movies, agreeably so, 'Christopher Robin' had a relatively lukewarm run. Commercially, it's a win by all means, grossing nearly $198 Million on a budget of $75 Million, even if the collections in domestic territories may not be as inspiring, comped at $99 Million in the home circuit. Now, given that, it may not be Disney's first priority to get a Christopher Robin sequel out, especially given that nearly every single one of its prime properties have grossed atleast four-fold their respective budgets, with man of its recent additions in its vast gamut of live action remakes sitting in the Billion Dollar Club.
Christopher Robin 2 Cast: Who Can Be In It?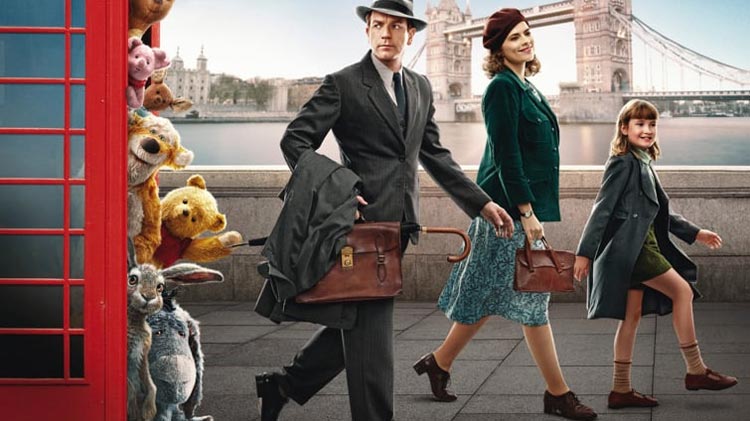 The entire gang: Winnie the Pooh, Tigger, Piglet, Eeyore, Rabbit and Roo, and their camaraderie and continuous silly humor formed the better bits of the first film. However, the film belongs to Ewan McGregor's 'Christopher Robin' reuniting with his childhood mates and rediscovering his sense of imagination in the process.
Needless to say, if a sequel happens, we need the gang back, including the titular McGregor, Hayley Atwell as Evelyn Robin, Bronte Carmichael as Madeline Robin, Jim Cummings as the voice of Winnie the Pooh and Tigger, Brad Garrett as Eeyore, Nick Mohammed as Piglet, Peter Capaldi as Rabbit, Sophie Okonedo as Kanga, Sara Sheen as Roo and Toby Jones as Owl.
Christopher Robin 2 Crew: Who Can Be Behind It?
No word has yet been heard from either director Mark Forster or writers Alex Ross Perry, Tom McCarthy, Allison Schroeder, Greg Brooker, and Mark Steven Johnson regarding a possible sequel to the film or a desire to make one. Our speculations would have to rest easy on this front here, but we would hope that Forster could be back for a second part if at all it happens.
Christopher Robin 2 Release Date: When Can It Premiere?
2022 can be our best bet provided that the film is greenlit early within the next year. Chances are that we may very well see another live action adaptation of the gang from Hundred Acre Wood, if not a proper sequel. Stay tuned for any updates.
Christopher Robin 2 Trailer
While we wait for the sequel, enjoy this trailer of the first film.
Read More: All Upcoming Ewan McGregor Movies