If you love crime dramas, the ones that involve shady police officers taking down shadier criminal organisations, then 'City on a Hill' is the thing for you. Based on the concept by Ben Affleck and Chuck MacLean, the show follows the story, in early 90s Boston, of a District Attorney and an FBI veteran who decide to upend the prevalent crime in the city. The credit of creating the series for Showtime goes to MacLean. He also executive produces the show alongside Affleck, Tom Fontana, Matt Damon, Jennifer Todd, James Mangold, Barry Levinson and Michael Cuesta. Cuesta also serves as the director for some episodes.
City on a Hill Cast: Who's in It?
The cast of 'City on a Hill' is led by Kevin Bacon. He plays the role of Jackie Rhodes. Some of his best-known works include 'Footloose', 'JFK', 'Apollo 13', 'Mystic River', 'A Few Good Men', 'The Following' and 'Taking Chance'.
Aldis Hodge plays the role of Decourcy Ward. His acting credits include 'Straight Outta Compton', 'Hidden Figures', 'Black Mirror', 'Leverage', 'Supernatural', 'Friday Night Lights', 'What Men Want' and 'Jack Reacher: Never Go Back'.
Jonathan Tucker plays the character of Frankie Ryan. He is known for his roles in 'The Texas Chainsaw Massacre', 'Westworld', 'Parenthood', 'Justified', 'Hannibal', 'The Black Donnellys' and 'The Virgin Suicides'.
Mark O'Brien plays the role of Jimmy Ryan. His acting credits include 'The Last Tycoon', 'Halt and Catch Fire', 'Hannibal', 'Republic of Doyle', 'Bad Times at the El Royale',
The character of Cathy Ryan is portrayed by Amanda Clayton. She has previously appeared in 'If Loving You Is Wrong', 'Bad Frank', 'John Carter', 'Constantine', 'Rizzoli and Isles' and 'The Mentalist'.
Kevin Chapman plays the role of Dickie Minogue. His best-known roles include 'Mystic River', 'Person of Interest', 'Rescue Me', 'Sneaky Pete', 'Brotherhood' and 'Sunshine Cleaning'.
Cathy Moriarty plays the role of Ma Ryan. Academy Award-nominated actress, Moriarty has appeared in films and TV shows like 'Raging Bull', 'The Assassination of Gianni Versace: American Crime Story', 'The Double', 'Prince of Central Park' and 'But I am a Cheerleader'.
Rory Culkin plays the role of Clay Roach. He is known for his roles in 'Castle Rock', 'The Twilight Zone', 'Off Season', 'Lords of Chaos', 'Jack Goes Home', 'Gabriel', 'Scream 4', 'The Night Listener', 'Mean Creek', 'Signs', 'You Can Count on Me' and 'Richie Rich'.
Jenny Rhodes is played by Jill Hennessy. She has worked in films and TV shows like 'Crawford', 'Shots Fired', 'Madam Secretary', 'The Good Wife', 'Luck', 'Crossing Jordan', 'Law and Order', 'Sunshine Sketches of a Little Town', 'Jackie, Ethel, Joan: The Women of Camelot', 'Nuremberg' and 'The Acting Class'.
Nathan Rey is played by Kevin Dunn. He is known for his roles in films and TV shows like 'Ghosted', 'Code Black', 'True Detective', 'Veep', 'Prison Break', 'Boston Legal', 'The Path to 9/11', 'Bette', 'Godzilla', 'Arsenio', 'Captive State', 'Keeping Up with the Joneses', the 'Transformers' series, 'Vicky Cristina Barcelona' and 'Nixon'.
Vincent Elbaz plays the role of Boston Cop Hugo Rey. Apart from his extensive work in theatre, he has also appeared in a great number of French films which includes 'I Am Not an Easy Man', 'The Trouble With You', 'Primaire', 'The Hundred-Foot Journey', 'L'Assaut', 'Tellement Proches', 'The Perfume of the Lady in Black' and 'Not For, or Against'. He also plays the lead role in French action-adventure series, 'No Limit'.
Sophie Anne Caruso plays the role of Benedetta Rhodes. She has primarily worked in theatre, involved in productions of 'Beetlejuice', 'Lazarus', 'Black Bird' and 'Little Dancer'. Her roles in films and TV shows include 'Strangers', 'Smash', 'Jack of the Red Hearts' and '37'.
Michaela McManus appears in the role of FBI Agent Sarah Rhodes. She has also worked in films and TV shows like 'The Village', 'The Orville', 'SEAL Team', 'Aquarius', 'Awake', 'The Vampire Diaries', 'Law & Order: Special Victims Unit', 'One Tree Hill', 'Funeral Kings' and 'Café'.
Jerry Shea, Lauren E. Banks, James Michael Cummings and Kishka Sklarin also make an appearance on the show.
All the main cast members are expected to return for season 2.
City on a Hill Plot: What's It About?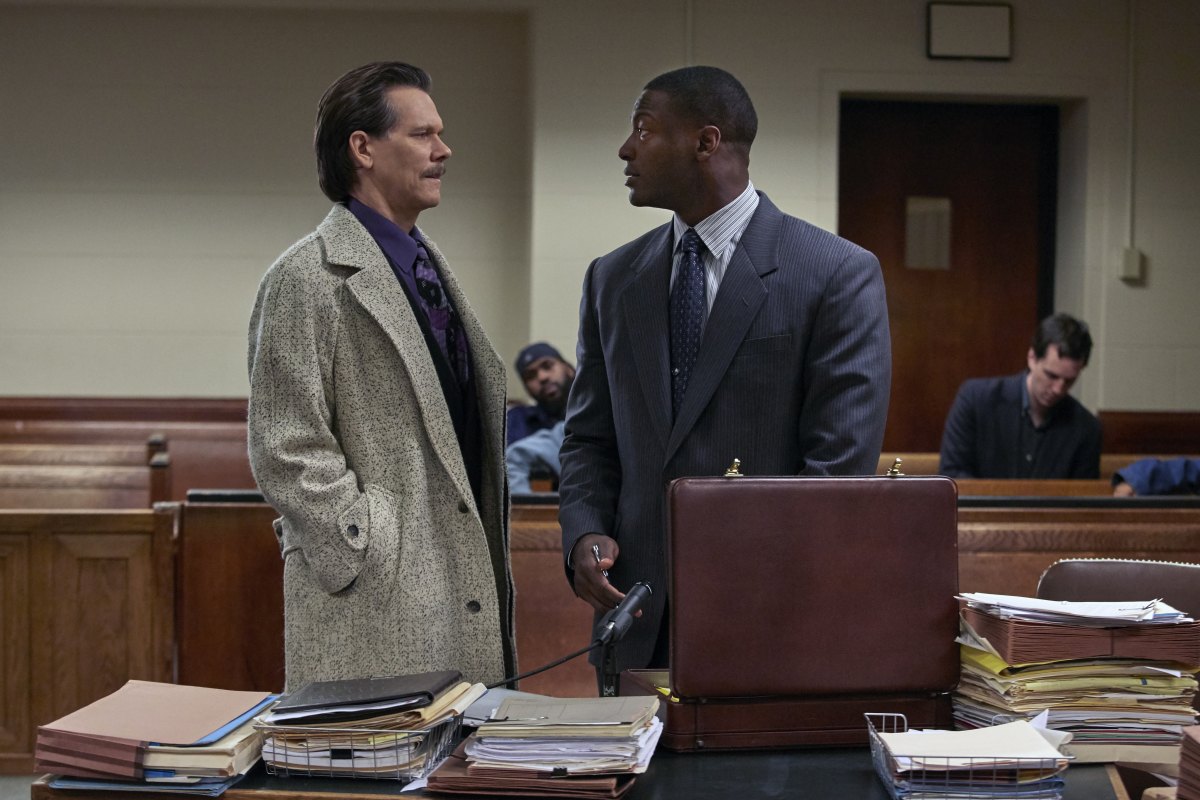 In the 80s and 90s, the prevalent crime in various American cities, especially Boston, led the administration to come up with a plan to not only get a grip on but also uproot it completely. It worked very well and the crime rates fell considerably. This initiative is known as the Boston Miracle. 'City on a Hill' uses a fictionalised version of this to tell its story. Set in the early 90s, it shows the streets of Boston ruled by all the worst criminals. They make it harder for a civilian to find help because law enforcement is in their pocket. There is no one that can stop them, and due to this, the city has its own rules, the people have their own way of exacting justice. It is not a pretty picture. This is when DA Decourcy Ward enters the scene.
Ward hails from Brooklyn and is not familiar with the workings of Boston. His search for an ally to assist him in what seems like an impossible mission leads him to FBI veteran Jackie Rhodes. He might have been a corrupt man but he knew how to get things moving in the city. Once he finds common ground with Ward, the two of them place their targets on a certain family in Charlestown known for their high-end robbery jobs. And that is just the beginning. Once they start to pull at that string, every other criminal enterprise comes undone and even their own department comes under scrutiny.
Season 2 is expected to continue the story of Rhodes and Ward as they try to remove crime from the streets of Boston.
City on a Hill Season 2 Release Date: When Will It Premiere?
'City on a Hill' season 1 premiered on June 7, 2019 on Showtime. The presence of big names in the star cast ensured that the show received a good response. As far as the next season goes, we have good news for the fans. On August 2, 2019, Showtime renewed the show for another season. Though no release date was revealed, but our best guess is that 'City on a Hill' season 2 can release sometime in June, 2020. We will update this section as soon as we hear more.
City on a Hill Trailer
You can catch all episodes of 'City on a Hill' on Showtime. Here is a look at the trailer to give you a glimpse into the show.
Read More: Best Police Movies of All Time