Directed by Till Franzen, 'Close to Home: Murder in the Coalfield' or 'Lauchhammer – Tod in der Lausitz' is a German crime-thriller series. It has been years since detective Maik Briegand (Misel Maticevic) left his hometown Lauchhammer. However, following the murder of a teenage girl named Ramona Schinschke (Jule Hermann), Maik returns to the place where his career began before reunification and reencounters the people who were once integral parts of his life. His new partner, Annalena Gottknecht (Odine Johne), doesn't have any past connection to Lauchhammer. But as they investigate the murder of the unfortunate young woman, she realizes that she must get to know the people of the mining town.
Following its release, 'Close to Home: Murder in the Coalfield' received positive reviews from the critics, with considerable praise directed at the atmosphere of the show and the performances by the actors. If you are wondering whether there will be a second season of 'Close to Home: Murder in the Coalfield,' we got you covered.
Will Close to Home: Murder in the Coalfield Season 2 Happen?
'Close to Home: Murder in the Coalfield' season 1 premiered on March 21, 2023, on Netflix. It comprises six episodes of 44-47-minute runtime. The series was originally released at the Munich International Film Festival on June 28, 2022, before it was made available on ARD and ARTE media libraries on September 1, 2022. The first season premiered on Das Erste on September 28, 2022. As for 'Close to Home: Murder in the Coalfield' season 2, this is what we know.
Neither the series producers nor the network executives have yet confirmed the development of a second season. Various trusted websites designate 'Close to Home' as a miniseries. If that is indeed the case and the series creators decide to ultimately adhere to it, there will not be a second season. But there are plenty of instances in the history of television where a show originally marketed as a miniseries had a longer run. There are enough opportunities in the narrative of 'Close to Home' for the writers to expand it into a much bigger show.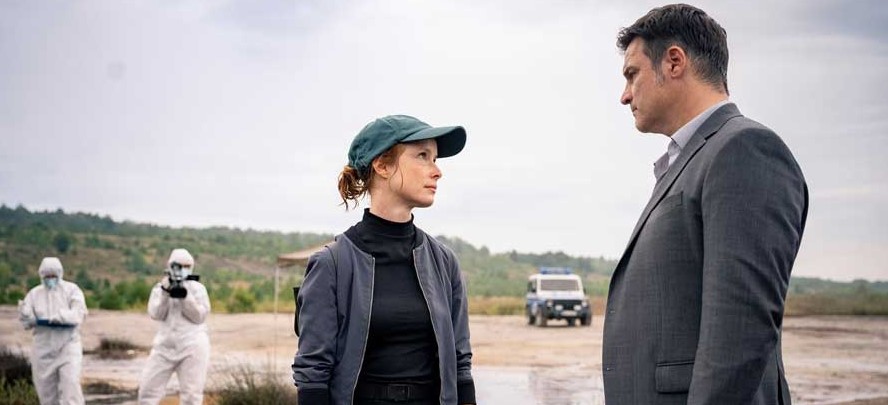 During their investigation, Maik and Annalena zero in on five suspects: Local police officer André Pötschke (Marc Hosemann), real estate developer Florian Langendorff (Arnd Klawitter), Maik's childhood friend Oliver Bartko (Lucas Gregorowicz), Ramona's boyfriend Juri Schavadenov (Malik Blumenthal), and local resident Martin Jaschke (Kai Ivo Baulitz).
Maik clears Oliver's name, though the latter admits that he did bring the girl out of the river, but by the time she was dead. Florian is also the man currently dating Maik's estranged wife. It turns out that he just bought drugs from Ramona, and that too on a different day from when she was killed. Pötschke is the biological father of Ramona's younger brother Dustin and was the closest thing to a father figure in Ramona's life. He was her supplier and didn't kill her either. Juri was planning to leave town with Ramona and Dustin; he isn't the killer either.
The investigators deduce that Ramona is the latest victim of a serial killer who has been active since before the reunification. His first victim was Maik's first girlfriend, Katti. Maik's father investigated the case but was forced to stop by the communist authorities of East Germany. The killer is revealed to be Martin, who was the same age as Maik and Katti when he killed the latter.
After failing to kill Maik's daughter Jackie (Ella Lee), Martin falls to his death from a cliff overlooking coal mines. Afterward, Maik reconciles with his wife. The prospective season 2 can potentially focus on a completely different murder mystery while keeping Maik and Annalena as central characters. Ultimately, it all comes down to how successful the first season is. If greenlighted within the next few months, viewers can expect 'Close to Home: Murder in the Coalfield' to come out sometime in Q1 2025.
Read More: Close to Home: Murder in the Coalfield Ending, Explained: Who Killed Ramona?