Canadian actress Cobie Smulders was quite skeptical to take the path of acting after a short stint as a fashion model in the early stages of her career. She was discovered by a modelling agency during her teen years and the contract helped the budding actress to travel extensively across the world. But she also developed a strong dislike for the profession during that period. Later, she attributed the hatred that engulfed her in those days to the judgments made by people on the basis of physical appearance as part modelling. She returned to her hometown Vancouver and enrolled in the University of Victoria to study Marine Biology. But she soon landed in an acting class and decided to give it a try despite the bitter experiences in the fashion world.
Smulders' debut role in television was a guest appearance in the Showtime sci-fi series 'Jeremiah' in 2002. It started off a series of guest roles in various television shows before she landed her first recurring role in Showtime's drama series 'The L Word' in 2005. Cobie played a regular character in the ABC series 'Veritas: The Quest,' which was wrapped up soon by the network.
Her breakout role came with the CBS sitcom 'How I Met My Mother' in 2005, Her character, television reporter Robin Scherbatsky, garnered widespread critical acclaim and popularity. Movies like 'The Long Weekend,' and the short films 'Escape' and 'Dr. Miracles' soon followed. Her next big break was the Marvel Cinematic Universe character Maria Hill. The character helped her to play a significant role in the Marvel adventure that includes the television series 'Agents of S.H.I.E.L.D.' (2013 – 2015). She emerged as an A-lister with movies such as 'Safe Haven,' 'Delivery Man,' 'They Came Together,' 'Unexpected,' and 'Results.' In 2010, she made her Broadway debut with the theater production 'Love, Loss, and What I Wore' at The Westside Theatre. She also lent her voice to the animated character Anni in the series 'Animals.'
Smulders tried her comedic talent on the big screen with the character of Ruby in the 2016 comedy-drama 'The Intervention.' In the next year, the actress was seen alongside Tom Cruise in the action flick 'Jack Reacher: Never Go Back.' In 2017, she played the recurring role of "Mother" in the eight episodes of the series 'A Series of Unfortunate Events.' The Netflix original series 'Friends from College,' which ran from 2017 to 2019, features Smulders in the lead role of Lisa Turner. Her other major works include 'Literally, Right Before Aaron,' 'Killing Gunther' and 'Present Laughter.'
Smulders enjoys a diverse and long legacy that spans across several movies, TV shows and theater productions. She earned EWwy Award for her performances in CBS' 'How I Met Your Mother' and a Theater World Award for 'Present Laughter.' Smulders raised her voice for conservation of international waters by filming a Public Service Announcement (PSA) in association with the international ocean conservation organization, Oceana, in 2014.
Though Smulders lured the viewers with a number of unforgettable characters, it was Robin Scherbatsky from the hit CBS comedy 'How I Met Your Mother' that became a decisive role in her career. For many die-hard fans of the series, the character still lives through the actress. At this point you must be wondering what is the next Cobie Smulders movie or TV show? Well, here's the list of upcoming Cobie Smulders films and TV shows scheduled to release in 2019 and 2020. We can only hope that the latest Cobie Smulders movies would be as good as some of her recent ones.
3. Spider-Man: Far from Home (2019)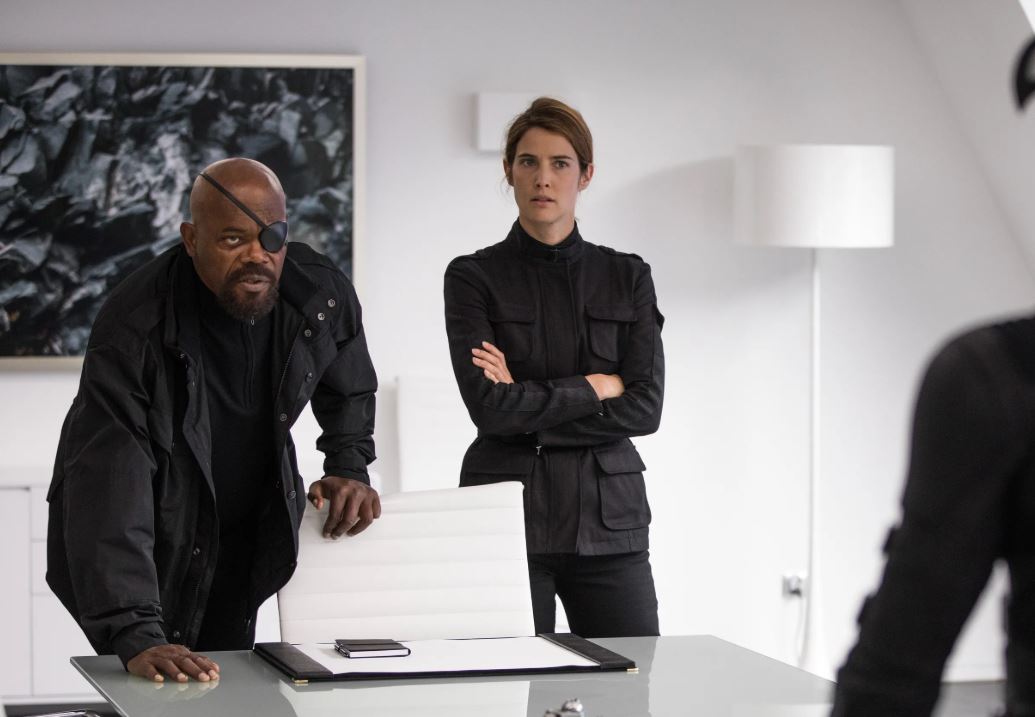 Cobie Smulders joined the Marvel Cinematic Universe with the 2012 film 'The Avengers.' She played the role of the S.H.I.E.L.D. agent 'Maria Hill' in the movie and reprised the role in 'Captain America: The Winter Soldier' (2014), 'Avengers: Age of Ultron' (2015), 'Avengers: Infinity War' (2018), and 'Avengers: Endgame' (2019). Smulders also appeared as Hill in the television series 'Agents of S.H.I.E.L.D.' She reportedly returns for the upcoming 'Spider-Man' sequel, 'Spider-Man: Far From Home.' Hill was seen in the post-credit scene of 'Avengers: Infinity War' alongside Nick Fury. She disintegrated into dust with Fury after a furious Thanos burned down everything around him including the infinity stones.
After the events that culminated into the emotional climax of 'Avengers: Endgame.' Details regarding Hill's part in the forthcoming flick is kept under tight wraps. Tom Holland returns as his iconic role of Peter Parker a.k.a Spider-Man along with other returning cast members like his love interest Michelle "MJ" Jones (Zendaya), Aunt May Parker (Marisa Tomei), Nick Fury (Samuel L. Jackson), Happy Hogan (Jon Favreau). The movie also features the shadowy Mysterio (Jake Gyllenhaal) who takes a turn for the good to fight off the evil Elementals. Produced by Columbia Pictures and Marvel Studios, 'Spider-Man: Far From Home' is directed by Jon Watts from a screenplay by Chris McKenna and Erik Sommers. Sony Pictures has slated the film for a July 2, 2019 release.
2. Cicada (TBA)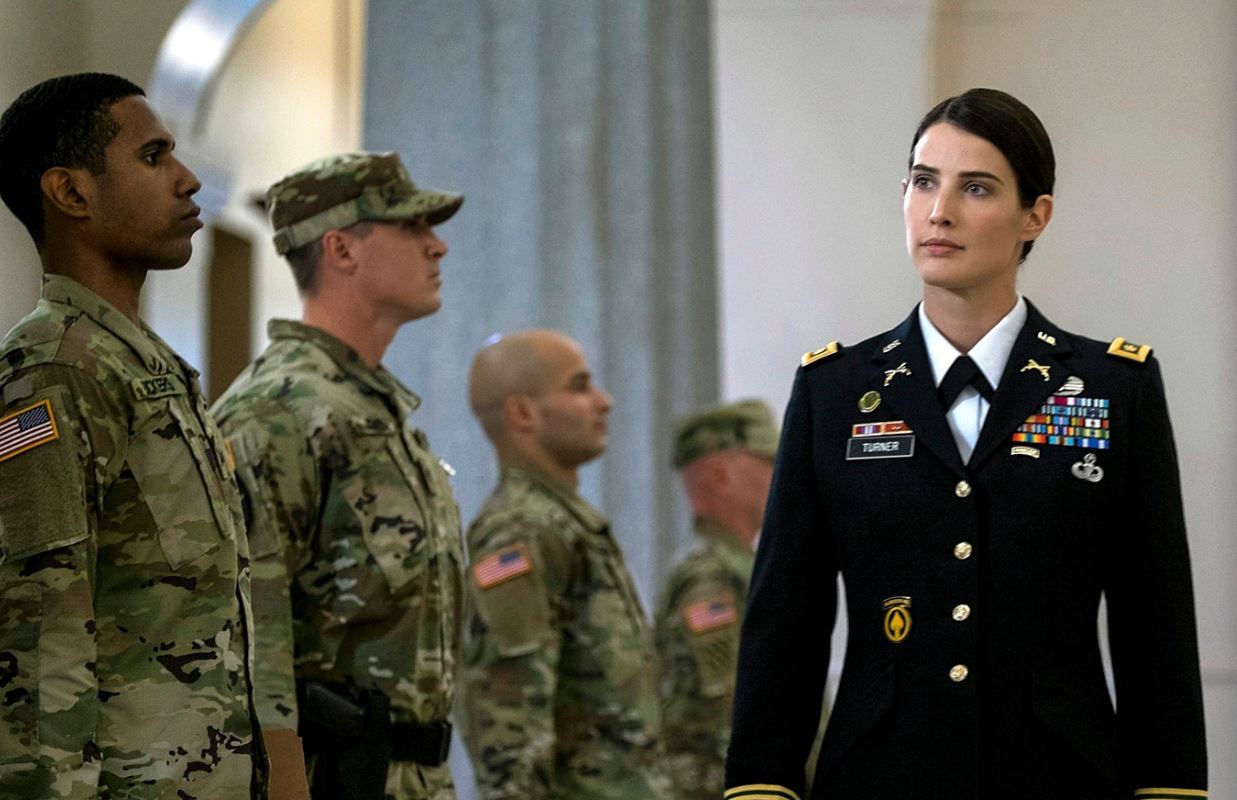 Cobie Smulders teams up with her Marvel Cinematic Universe' colleagues Kieran Mulcare and Matthew Fifer for the upcoming drama feature 'Cicada.' Directed by Matthew Fifer and Kieran Mulcare from a screenplay Fifers co-wrote with Sheldon D. Brown. While Mulcare was a cast member in 'Jessica Jones,' Fifer served as a crew member of 'The Avengers.' Set in New York City in 2013, the plot of 'Cicada' follows a young bisexual man Ben (Matthew Fifer) who starts a bi-racial relationship with Sam (Sheldon D. Brown). In the backdrop of a controversial Sandusky trial, Ben grapples with his haunting childhood memories. Apart from Fifer, Brown and Smulders, the film also features Scott Adsit, Jo Firestone, Jason "Freckle" Greene, Bowen Yang, Clara McGregor, and Jazmin Grace Grimaldi in major roles. Produced by Jeremy Truong and Ramfis Myrthil, the project has been featured at the 2019 Tribeca Film Festival as a work in progress.
Read More: Upcoming Molly Shannon Movies
1. Stumptown (2019 – )
'Stumptown' is an upcoming drama series from ABC based on the comic book series of the same name written by Greg Rucka along with Matthew Southworth's artwork. The title was ABC's first pick up for the 2019-2020 season. The plot follows a high-spirited army veteran Dex Parios (Smulders) who struggles to deal with a deranged love affair, a choking gambling debt and a sibling to look after. Though Parios' combat skills and field expertise make her a successful private eye, her hardened methods generate wrath across criminals in the city. With her not-so-warm partnership with the cops, Parios has to deal with the hostile surroundings on her own terms.
Other cast members include Tantoo Cardinal as Sue Lynn Blackbird, Cole Sibus as Ansel Parios, Adrian Martinez as Tookie, Camryn Manheim as Lieutenant Cosgrove, and Michael Ealy as Det. Rucka and Southworth serve as executive producers along with Justin Greenwood, Ruben Fleischer, David Bernad, and Jason Richman, who also wrote the screenplay. James Griffith directed the pilot of the series, which is being produced by ABC, reports Variety.
Read More: Upcoming Annie Potts Movies