Cole Mitchell Sprouse is an American actor who has been in the limelight ever since he was a kid. Born in Arezzo, Tuscany, in Italy on August 4, 1992, this 26-year-old actor soon moved to Long Beach, California. Cole began his acting career with his identical twin brother Dylan Sprouse at a tender age of six months. Cole first appeared in 'Grace Under Fire' the ABC sitcom between 1993 and 1998. His cinematic debuts included Adam Sandler's hit comedy film, 'Big Daddy'. He also starred with Hollywood stars like Johnny Depp and Charlize Theron in the film 'The Astronaut's Wife'. Cole is also well known for having played the part of Ben, Ross Geller's son, in the hit sitcom 'Friends'. However, the young talent really made his mark when he and his brother got their own sitcom on the Disney channel, titled 'The Suite Life of Zack and Cody'.
After six years of the show, Cole took a break from the entertainment business to pursue his education. He attended NYU and having completed his education, Cole decided to return to entertainment. Soon after he was back, he bagged the role of Jughead in the CW show, 'Riverdale', which is based on the Archie comics. At this point, the question that might be circling your mind is what is the next Cole Sprouse movie or tv show? Well, the good news is that we have a clear answer to that question. Here's the list of upcoming Cole Sprouse films/shows scheduled to release in 2019 and 2020. We can only hope that the latest Cole Sprouse movie would be something to look forward to.
1. Five Feet Apart (2019)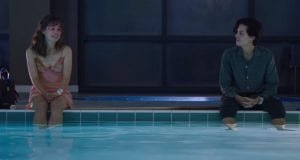 'Five Feet Apart' is a romantic drama that is going to hit theaters on March 15, 2019. It stars Cole Sprouse and Haley Lu Richardson, who were both cast for the film in 2018. The film's principal production took place in New Orleans in Louisiana. Sprouse plays the role of Will while Richardson plays Stella. The film is likely to revolve around these two main characters, who meet in a hospital and fall in love with each other. However, their life-threatening illness complicates their relationship. Notably, the title of the movie is derived from the 'six foot rule' for cystic fibrosis patients. For those unaware, cystic fibrosis is a life-threatening disease that affects several organs of the body. Patients are asked to keep a distance of six feet between them in order to lower the risks of cross infection. It will be sweet to see the attraction of love play out against the inevitable rule of distancing that the disease mandates.
Read More: Upcoming Chris Pratt Movies
2. Riverdale (2016-)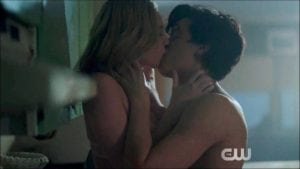 'Riverdale' is a teen drama series by the CW network and is based on the Archie comics. The show is currently on its third season and was renewed for Season 4 on January 31, 2019. While the main story revolves around Archie Andrews, played by KJ Apa, the series itself is narrated by Archie's best friend Jughead Jones, played by Cole Sprouse. While Season 1 saw Archie and his friends try and solve the mysterious death of Jason Bloom, a fellow student, Archie eventually reconnected with his childhood friend Jughead. As the case progressed, the truths shocked the quiet town of Riverdale, where monstrosity seemed to lurk just underneath the seemingly perfect exterior. Season 2 saw the main characters trying to solve the mystery of a vigilante serial killer calling himself the Black Hood. All throughout, the friendship between Archie and Jughead kept growing stronger. We see Jughead become the head of a biker gang called the Southside Serpents, and the two friends decided to take on the villainous Hiram Lodge, the father of Archie's then-girlfriend, Veronica. Season 3 takes things even further as a mysterious persona called the Gargoyle King leads to several deaths through a dangerous game.
As the seasons become even more dramatic, the characters evolve better, Jughead has gone from being an outsider to embracing his strengths. He is a tenacious researcher and a budding amateur detective. Relying on his wits and friends, Jughead Jones is a pivotal part of the show and the Riverdale community. 'Riverdale' also smartly touched upon Jughead's insane love of food that the comic readers might be aware of. In choosing to base the show on Archie comics rather tan borrow heavily from it, 'Riverdale' lets its characters grow and no one has shown as much growth as Cole Sprouse's Jughead. It would be fascinating to see what antics Jughead gets up to in Season 4, now that his mother, a gangster herself, is back in town while his father, the former Serpent leader is now the sheriff.
Read More: Upcoming Sofia Boutella Movies