David Harbour reportedly hated the title 'Stranger Things' initially and even emailed the creators Matt and Ross Duffer about how awful the title was. Harbour was an admirer of the first title of the series 'Montauk,' which was changed due to technical reasons. But both the new title and Harbour's character went on to become fan-favorites. "I thought it was very strong and powerful, and then when I heard Stranger Things, it sounded hokey," Harbour told Esquire Magazine. The actor started his acting career with the Broadway revival of 'The Rainmaker.' He debuted on television with the 1999 series 'Law and Order.' His portrayal of a child murderer Terry Jessup in an episode of 'Law and Order: Special Victims Unit' in 2002 helped him to emerge as a promising actor with astonishing range. He was next seen as an MI6 spy named Roger Anderson in the ABC series 'Pan Am.' A 2005 theater production of 'Who's Afraid of Virginia Woolf?' earned Harbour a Tony Award nomination in 2005.
Harbour established as an A-lister with characters such as CIA Agent Gregg Beam in 'Quantum of Solace,' Shep Campbell in 'Revolutionary Road' and the mole of Russell Crowe in 'State of Play.' He returned to his home turf of 'Law and Order' franchise to play another serial killer character Paul Devildis in a 2009 episode of 'Law and Order: Criminal Intent.' Films like 'Brokeback Mountain,' 'The Green Hornet,' 'End of Watch,' and 'Between Us' elevated his stardom and reputation to new levels. In 2013, Harbour appeared in a minor role of a doctor in the drama series 'Elementary.'
He also played a recurring role in the political drama series 'The Newsroom' from HBO during that period. Harbour played several memorable roles in the early 2010s. Some of his major characters from that period include Dr. Reed Akley in historical drama series 'Manhattan' and police chief Jim Hopper in 'Stranger Things.' The character Hooper earned Harbour a slew of accolades and nominations that include a Primetime Emmy Award for Outstanding Supporting Actor in a Drama Series and the Golden Globe Award for Best Supporting Actor – Series, Miniseries or Television Film. Now at this point you must be wondering what is the next David Harbour movie or TV show? Well, here's the list of upcoming David Harbour films and TV shows scheduled to release in 2019 and 2020. We can only hope that the latest David Harbour movies would be as good as some of his recent ones.
4. Stranger Things (2016 – )
David Harbour plays one of the central characters, Jim Hopper, in the Netflix supernatural saga 'Stranger Things.' Hopper is the police chief of the fictional town of Hawkins where the Hawkins National Laboratory conducts secretive paranormal and supernatural experiments on human subjects on behalf of the United States Department of Energy. Though Hopper doesn't give a damn about the town and its inhabitants, he plunges into the mystery of the disappearance of Will Byers (Noah Schnapp), son of his old friend Joyce Byers (Winona Ryder). Along with his buddies, Hopper and Byers dig deep into the secrets in search of Jonathan, only to find themselves in a cobweb of supernatural occurrences and a lethal system of an alternate dimension called "Upside Down" invented by the Laboratory.
When a mysterious girl named Eleven with telekinetic powers appears from nowhere in the town, Hopper's life turns on its head. He takes her to his cabin and the duo soon develop a father-daughter relationship. Meanwhile, Hopper and Joyce unearth more secrets about the experiments and their connection to the boy's disappearance. After a series of harrowing events in which he comes face-to-face with death, Hopper realizes Eleven has imparted a purpose for his life. Soon, he adopts her as a daughter. Hopper and Joyce keep strong feelings for each other too.
Other cast members of the film include Charlie Heaton, Noah Schnapp, Millie Bobby Brown, Finn Wolfhard, Gaten Matarazzo, Caleb McLaughlin, Natalia Dyer, Charlie Heaton, and Cara Buono. Written and directed by the Duffer Brothers, the first season of 'Stranger Things' debuted in July 2016 on Netflix. Season 2 debuted in October 2017. Netflix has lined up season 3 for a July 4, 2019 premiere, according to The Wrap.
3. Frankenstein's Monster's Monster, Frankenstein (2019)
David Harbour plays himself in the upcoming Netflix mockumentary 'Frankenstein's Monster's Monster, Frankenstein.' Described as "an over-the-top and often dramatic re-imagined tale of mystery and suspense," the show follows Harbour who digs deep into his family history in order to chronicle his father's long-lasting legacy. He comes across the long-lost footage from his father's popular televised stage play, 'Frankenstein's Monster's Monster, Frankenstein.' The invaluable treasure helps him to get an insight into the family's enigmatic lineage in acting, reports Collider. The 32-minute movie is directed by Daniel Gray Longino, best known for 'Kroll Show' and 'PEN15,' from John Levenstein's screenplay. Netflix will launch 'Frankenstein's Monster's Monster, Frankenstein' on July 16, 2019.
2. Dhaka (2019)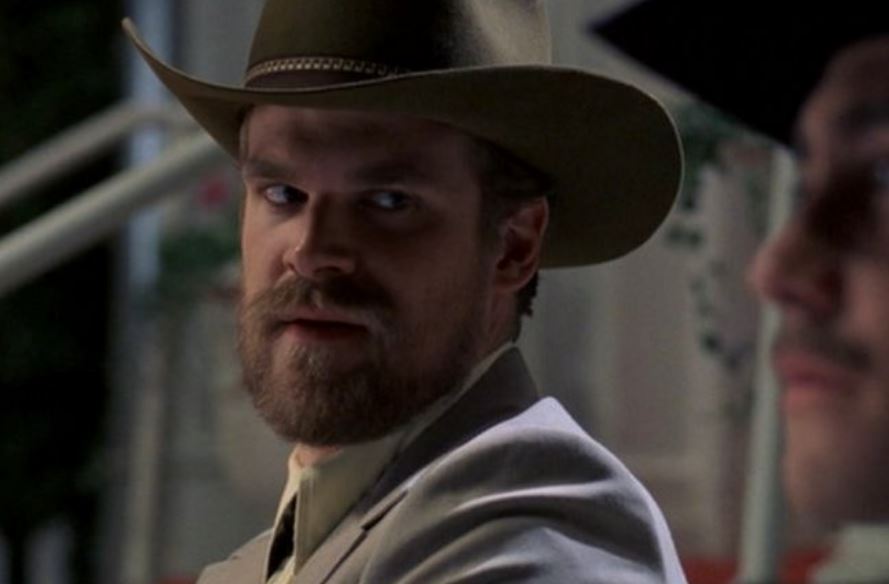 David Harbour will be seen alongside Chris Hemsworth in the forthcoming action thriller 'Dhaka.' Produced by 'Avengers: Endgame' directors Anthony Russo and Joe Russo, the movie is the feature directorial debut of former stunt coordinator Sam Hargrave. Joe Russo wrote the screenplay, which centers on the dark underworld of international weapon market and ruthless dealers with one of the world's most inaccessible cities as the backdrop. When an innocent boy becomes the dice in a hostage game between deadly cartels, the boy's family assigns the best hitman available, Tyler Rake (Hemsworth), to carry out the nearly impossible rescue mission.
But Rake is reeling under a death wish after a series of horrific events in his past. While the disheartened Rake is eager to end his life, the labyrinthine city sucks the man into its underbelly. Soon, he finds himself at the center of a bloody chaotic mess with the mission taking a turn for the worse, reports The Wrap. Golshifteh Farahani has been rumored to play a major character alongside Harbour and Hemsworth. More details about the cast and the plot are not revealed. Debutante director Hargrave was a stunt double for actor Chris Evans. 'Dhaka' is expected to hit screens in 2019.
Read More: Upcoming Sean Bean Movies
1. Black Widow (TBA)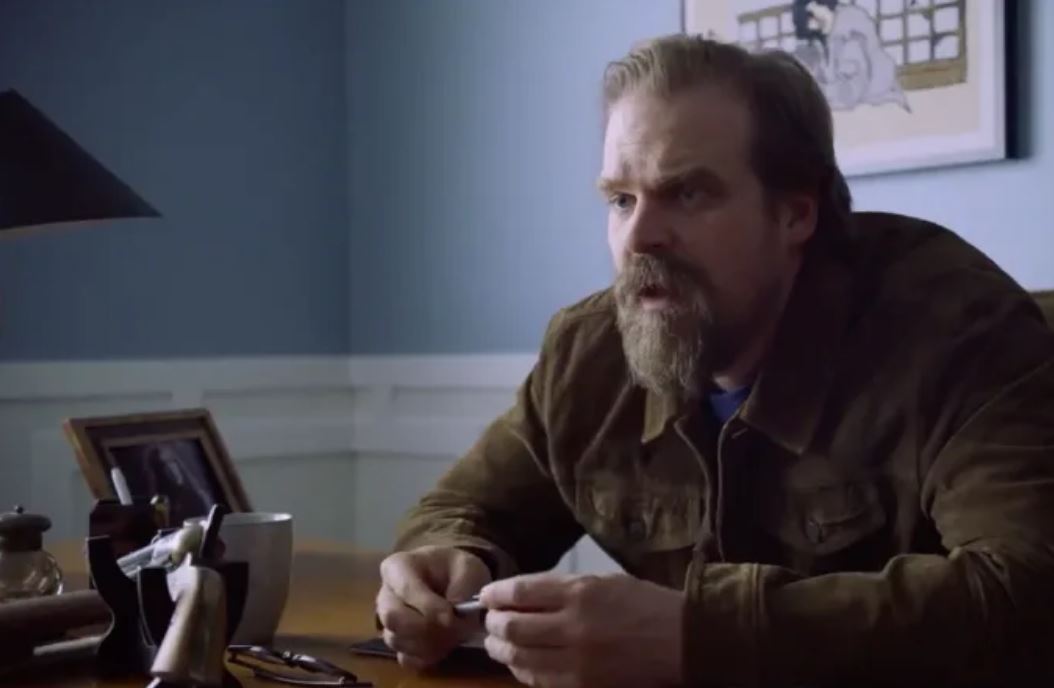 David Harbour joins the Marvel Cinematic Universe with the upcoming superhero movie 'Black Widow.' The standalone feature stars Scarlett Johansson in the titular role of the Black Widow a.k.a Natasha Romanoff. Other cast includes Ray Winstone, Rachel Weisz and Florence Pugh. Details regarding the plot and Harbour's character haven't been revealed yet. The film is being directed by Cate Shortland from a screenplay by Jac Schaeffer. Marvel Studios chief Kevin Feige produces the film, and the production is reportedly underway. 'Black Widow' is crucial for the studio since it marks the beginning of a new phase of the Marvel Cinematic Universe after 'Avengers: Endgame' and 'Spider-Man: Far From Home.' No release date has been attached to the movie yet.
Read More: Upcoming Martin Starr Movies