Created by Liz Feldman, 'Dead to Me' is a Netflix's comedy that focuses on the story of two completely different women who form an unlikely friendship. Feldman has gained a repertoire in comedy writing through her work on Nickelodeon's 'All That', WB's 'Blue Collar TV', TV Land's 'Hot in Cleveland' and CBS's '2 Broke Girls'. She has also served as the writer for Academy Award ceremonies, hosted by Neil Patrick Harris and Ellen DeGeneres, whose popular talk show has also employed Feldman's talents.
A dark comedy that tackles the various sides of grief — somewhat like Ricky Gervais' 'After Life' — 'Dead to Me' has the advantage of having some of the best names in comedy as its showrunners. Along with Feldman and Jessica Elbaum, it is executive produced by Will Ferrell and Adam McKay, both the names in no need of introduction. McKay and Ferrell have frequently collaborated, the result of which has been films like 'Anchorman' movies, 'Talladega Nights', 'Step Brothers' and 'The Other Guys'. If there was any convincing you needed to watch 'Dead to Me' before, I don't think you'd need any more now. Amy York Rubin serves as the director. She is known for her work in 'Casual', 'Fresh Off the Boat', 'Grown-ish' and 'Wrecked'.
Dead to Me Cast: Who's in It?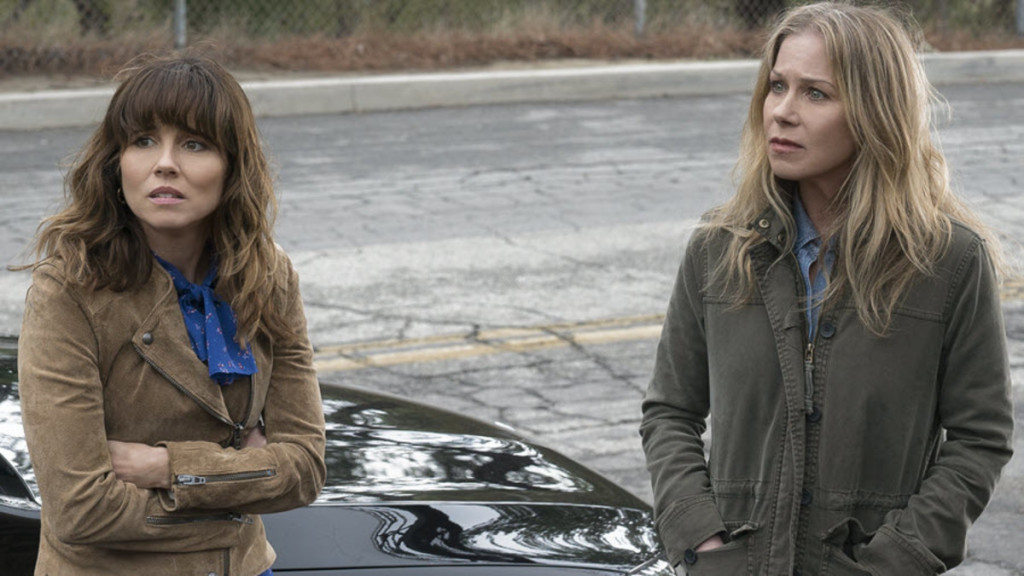 The cast members include some of the most polished names in Hollywood. The leading lady is Christina Applegate. She plays the role of Jen, who has recently been widowed. Applegate is a veteran when it comes to comedy. She has worked in a great number of movies and TV shows, displaying a wide variety of her acting talents. She is best known for her work in 'Anchorman' films, Fox's sitcom 'Married … with Children' and 'Bad Moms', amongst other roles.
The other lead of the show is Judy Hale, played by Linda Cardellini. Judy is a seemingly normal woman who is dealing with the death of her boyfriend; however, there are some secrets she is keeping from everyone around her. If you need reminding where you last saw Cardellini, it was in the blockbuster of the decade 'Avengers: Endgame', in which she plays the role of Laura Barton, Hawkeye's wife. Not long before that, she joined the 'Conjuring' universe and played the lead role in Michael Chaves' directorial debut, 'The Curse of La Llorona'. She is set to team up with Tom Hardy in biographical drama 'Fonzo' as Mae Capone, Al Capone's wife. She also appeared alongside Viggo Mortensen and Mahershala Ali in this year's Oscar winner, 'Greek Book'. Further, she has appeared in hit TV shows like 'Bloodline', 'New Girl', 'Mad Men' and 'Freaks and Geeks'.
The supporting cast includes Max Jenkins, James Marsden, Sam McCarthy (who has previously worked in 'Teen Wolf' and 'The Blacklist'), and Ed Asner. Jenkins is best known for his role in NBC's cop-comedy, 'The Mysteries of Laura'. HBO's 'High Maintenance' is also counted in his acting credits. He has also made appearances in acclaimed comedies like '30 Rock' and 'Orange is the New Black'. In 'Dead to Me', he plays the role of Christopher.
If you are a lover of romantic comedies, then James Marsden doesn't need an introduction. (You most probably had a crush on him.) But, that's not the only genre he has tackled over the course of his long and successful career. From playing the role of a Disney prince in 'Enchanted' to portraying John F. Kennedy on-screen, in 'The Butler', Marsden has proved his mettle in every form. One of his best-known roles includes the character of Scott Summers/ Cyclops in the 'X-Men' series. Most recently, he was seen as a gunslinger, Teddy Flood, in HBO's mind-bending sci-fi drama, 'Westworld'. Marsden plays the role of Steve, Judy's boyfriend, in Netflix's latest comedy.
Emmy winner and Golden Globe-nominated actor, Ed Asner, is also a part of the cast. He plays the role of Abe. Over the course of more than half-a-decade, Asner has worked in films like 'El Dorado', 'Elf', 'Up', and TV series like 'The Outer Limits', 'Mission: Impossible', 'Roots', 'Rich Man, Poor Man', among a great number of other credits.
Apart from these talented and polished actors, 'Dead to Me' also features Diana-Maria Riva and Suzy Nakamura in recurring roles. Riva has appeared in independent films like 'Short Term 12' and rom-coms like '17 Again'. Her television credits include shows like 'Party of Five', 'Sabrina the Teenage Witch', 'The West Wing', 'Everybody Loves Raymond', 'Castle' and 'Man with a Plan'. Nakamura has worked in titles like 'Curb Your Enthusiasm', 'How I Met Your Mother', 'The West Wing', 'Modern Family', 'The Goldbergs' and 'Dr Ken'.
Dead to Me Plot: What's It About?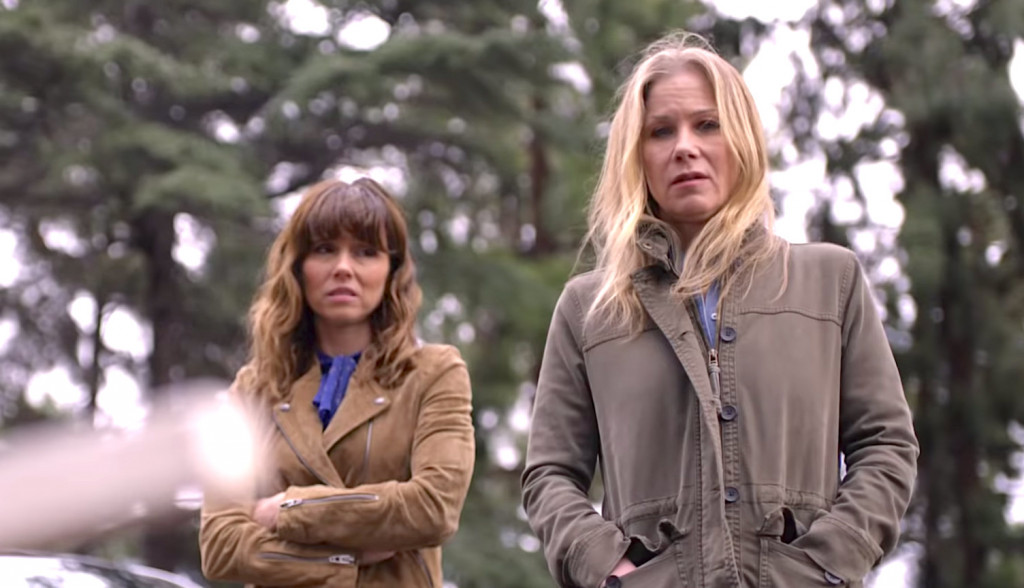 If in need of a heart-warming buddy comedy, turn to Netflix. 'Dead to Me' uses the chemistry of its leads, Applegate and Cardellini, to tell the story of two women who find each other while coping with their griefs. Applegate, who has always portrayed her characters with a balance of charm and sharpness, nails the portrayal of Jen. After her husband dies in a hit-and-run case, Jen, the successful realtor who deals in grand houses, finds support in Judy, a lovely woman who works as an art teacher in a retirement home. A part of the show focuses on their personal journeys and how they move forward in life after such massive losses.
However, that isn't the only thing that the story serves to the audience. As you move towards the season finale, the mystery factor begins to take over and becomes the major driving force of the plot. While Jen looks for the car that killed her husband, Judy tries to keep her secrets safe. But, one revelation at a time, the truth begins to show, yet never revealing its full form. Despite laced with mystery and dealing with the heavy theme of loss, 'Dead to Me' enjoys the charm of Jen and Judy's friendship. Feldman found a way to strike a balance between these genres and delivered a great piece of work that the audience will want to gobble up in one sitting.
Dead to Me Season 2 Release Date: When Will It Premiere?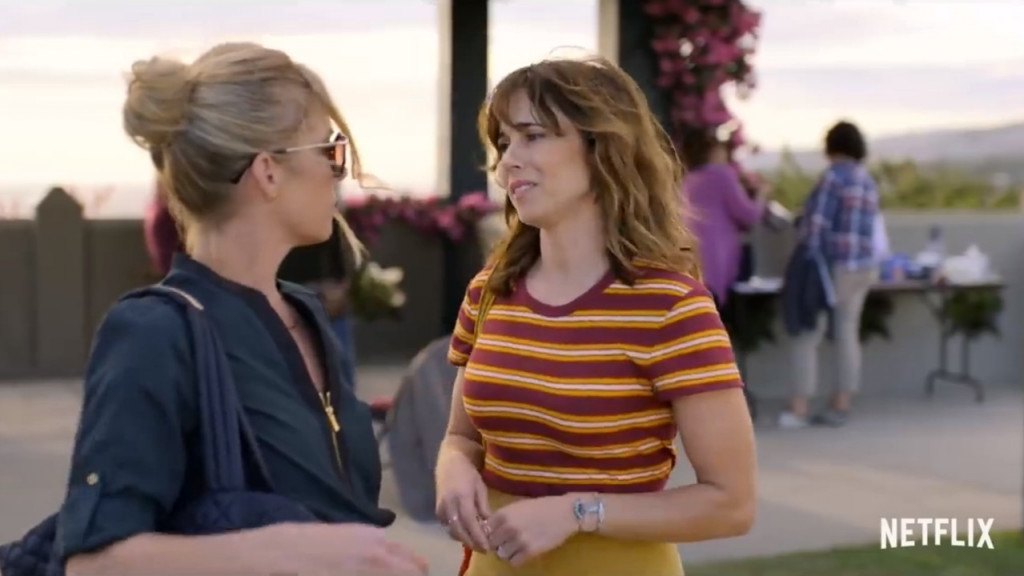 'Dead to Me' season 1 premiered on Netflix on May 3, 2019. With comedy, mystery and unforeseen twists blended into one, 'Dead to Me' received favourable reviews. As far as the next season goes, we have good news for the fans. On June 3, 2019, Netflix renewed the show for another season. Considering the success of Dead to Me and other similar shows that have tackled serious issues while wading the waters of comedy ('Russian Doll' and 'After Life'), it wasn't a surprising decision that Netflix greenlit another season. Even though release date wasn't mentioned in the announcement, if everything goes smoothly, you can expect the next part of Jen and Judy's story, 'Dead to Me' season 2, to release sometime in May, 2020. We will update this section as we know more.
Dead to Me Trailer
While people in Netflix's high-tower ponder over the fate of the next season of 'Dead to Me', you can indulge yourself in the comedy and peel over its different emotional and mysterious layers. Head over to Netflix and binge the show, which shouldn't be too difficult due to the short length of the episodes. If you are still wondering whether you should make this commitment or not, let the trailer of 'Dead to Me' convince you in its favour.
Read More: Best Thriller Shows on Netflix