Created by Kate McCartney and Kate McLennan (known together as the Kates), 'Deadloch' is an Australian crime–comedy series. The show follows senior sergeant Dulcie Collins (Kate Box) and detective Eddie Redcliffe (Madeleine Sami) as they investigate a series of murders in the fictional eponymous town in Tanzania. As the series progresses, they realize they are looking for a serial killer who exclusively targets horrible men.
'Deadloch' offers an interesting exploration of gentrification and the people affected by it. Following the release of season 1, the show received overwhelmingly positive responses, with much praise directed at the performances, characterization, and humor. If you are wondering whether there will be a second season of 'Deadloch,' we got you covered.
Will Deadloch Season 2 Happen?
'Deadloch' season 1 premiered on June 2, 2023, on Amazon Prime Video and aired 8 videos of 57-65-minute runtime before concluding on July 7, 2023. As for season 2, this is what we know.
Neither the series producers nor the Amazon executive have confirmed the development of season 2. However, in an interview with Concrete Playground, McCartney speculated on the prospect of future seasons. "You always think about things being more than one series, but we'd always thought of it as being an anthology series," she said. "So, retaining some of the characters and moving them to a different location, probably — it was always going to be set around Australia. So, that's the hope. That's the plan. That's the secret mutterings between us."
Given how things end in season 1, turning 'Deadloch' into an anthology show is indeed the best idea moving forward. In the first season finale, Commissioner Shane Hastings gathers almost all the women in Deadloch and puts them in a holding cell fearing one of them is the killer. Meanwhile, the men are put on a bus and sent to a safe location. Toward the end of the previous episode, Dulcie and Eddie realize something that turns their investigation on its head. They figure out that the killer is male and not female. Meanwhile, Hastings continues to believe that Skye is the killer and launches a town-wide search for her.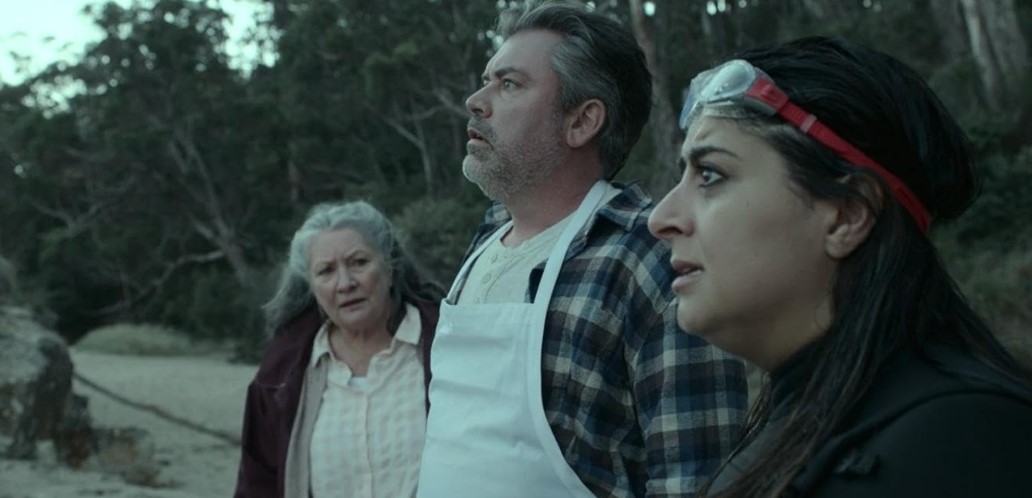 Eventually, it is revealed that Ray McLintock (Duncan Fellows) is the killer. He originally started killing when he was still in Sydney. At first, his victims were female prostitutes. But when his second intended victim escaped from him, he decided to move to Deadloch and start afresh. The world had changed, and the horrible men had come to be regarded as undesirables. Realizing who their killer is, Eddie and Dulcie find Ray and his intended victims at a farm. Dulcie gets stabbed, but she survives. Ray nearly kills Eddie, but Dulcie intervenes. Ray ultimately dies after he is caught in the currents of a stream while trying to get away, and his body is soon found impaled on a tree branch.
Meanwhile, Miranda (Kartanya Maynard) and Tammy (Leonie Whyman) find Margaret Carruthers on Carruthers Island and figure out that she killed her brother six years ago. Margaret tries to shoot Miranda, but Tammy saves her. As Margaret was already bitten by a tiger snake, she dies. The season ends with Dulcie and Eddie in Darwin, telling the widow of Eddie's former partner that they are there to solve her late husband's murder.
In the prospective season 2, Dulcie and Eddie can be the two characters kept from season 1, as they are already the established detectives in the series. Season 2 might focus on the investigation of the murder of Eddie's partner. It can also potentially take them to the other side of Australia. Ultimately, the chance of renewal comes down to how successful season 1 is. If everything goes well, and the series is renewed within the next few months, the viewers can expect 'Deadloch' season 2 to come out sometime in Q3 2024.
Read More: Deadloch Finale Recap and Ending, Explained: Who is the Killer?