'Dimension 404' is a sci-fi anthology series that streams on Hulu. Created by Will Campos, Desmond Dolly, Daniel Johnson and David Welch, it is something that you should watch if you love shows like 'The Twilight Zone' and 'Black Mirror'. Shot in Los Angeles, every episode of this show takes you on a trip where you get to witness the scenarios involving technology that will feel like a nightmare. The number in the title, 404, is an indication of the fact that the Internet and its impact on humanity forms an important part of the stories.
For those who don't know, 404 is also the error code that you receive when a "webpage is not found". In simpler words, the title hints about an untouched, unexplored place where you wouldn't want to go because it is too nightmarish to survive. Apart from the creators, Matthew Arnold, Freddie Wong and Brian Udovich also serve as the executive producers of the show. RocketJump and Lionsgate Television produce it.
Dimension 404 Cast: Who's in It?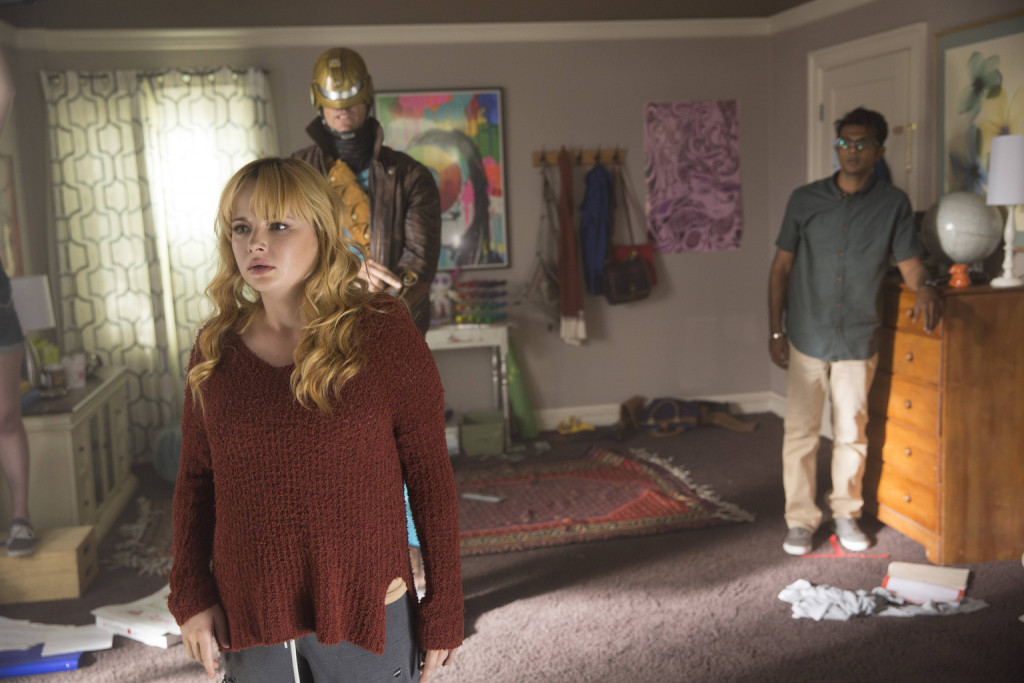 Since every episode of 'Dimension 404' is an independent story, the cast keeps changing with it. There is one thing that remains constant, and that is the narrator of the show- Mark Hamill. He is best known for portraying the role of Luke Skywalker in the 'Star Wars' franchise. He is also known for voicing Joker in 'Batman: The Animated Series'.
The first episode stars Lea Michele ('Glee', 'Scream Queens', 'The Mayor'), Robert Buckley ('One Tree Hill', iZombie'), Matt Jones ('Breaking Bad', 'Mom', 'Bob Hearts Abishola'), Joel McHale ('Community', 'The Great Indoors', 'The Soup', 'A Futile and Stupid Gesture'), Karissa Lee, Catherine Garcia and Mario Garcia.
The second episode has Sarah Hyland ('Modern Family', 'Scary Movie 5', 'Vampire Academy'), Daniel Zovatto ('It Follows', 'Don't Breathe', 'Agents of S.H.I.E.L.D', 'Fear the Walking Dead'), Patton Oswalt ('Young Adults', 'The Goldbergs', 'A.P Bio', 'Ratatouille'), Casimere Jolette, Ashly Burch ('Horizon Zero Dawn', 'Attack on Titan', 'Life is Strange', 'Adventure Time'), Tom Plumley, Sean Przano, Joey Scoma, CC Weske.
The third episode stars Ashley Rickards ('Awkward', 'One Tree Hill', 'At the Devil's Door', 'American Horror Story: Murder House'), Anthony Oh, Utkarsh Ambudkar ('Pitch Perfect', 'Basmati Blues', 'Brockmire', 'Blindspotting'), Parry Shen ('Better Luck Tomorrow', 'Tru Calling', 'Sleeping Dogs', 'General Hospital'), Charles Fleischer ('A Nightmare on Elm Street', 'The Polar Express', 'Rango', 'Who Framed Roger Rabbit'), Pepe Serna ('Car Wash', 'Scarface', 'The Black Dahlia'), Matthew Del Negro ('Chicago Fire', 'Scandal', 'Teen Wolf', 'The Sopranos'), Julie Dove, LaLa Nestor, James Babson and Anthony Alabi.
The fourth episode starred Ryan Lee ('Trophy Wife', 'My Dead Ex', 'Brockmire'), Sterling Beaumon ('The Killing', 'Lost', 'Criminal Minds', 'Clue'), Gabrielle Elyse, Ken Foree ('Dawn of the Dead', 'Kenan and Kel') and Tucker Albrizzi ('I Am Number Four', 'Bridesmaids', 'Mike and Molly').
The fifth episode stars Tom Noonan ('Manhunter', 'Robocop 2', 'Synecdoche, New York'), Megan Mullally ('Will and Grace', 'Boston Legal', '30 Rock'), Constance Wu ('Crazy Rich Asians', 'Fresh Off the Boat', 'EastSiders'), Malcolm Barrett ('Timeless', 'Better Off Ted', 'The Hurt Locker') and Melanie Thompson.
The sixth episode stars Lorenza Izzo ('Aftershock', 'The Green Inferno', 'Hemlock Grove'), Kenneth Choi ('9-1-1', 'The People vs O.J Simpson: American Crime Story', 'Sons of Anarchy', 'The Wolf of Wall Street'), Matt Lauria ('Friday Night Lights', 'Parenthood', 'Traitors') and Cody Johns.
Dimension 404 Plot: What's It About?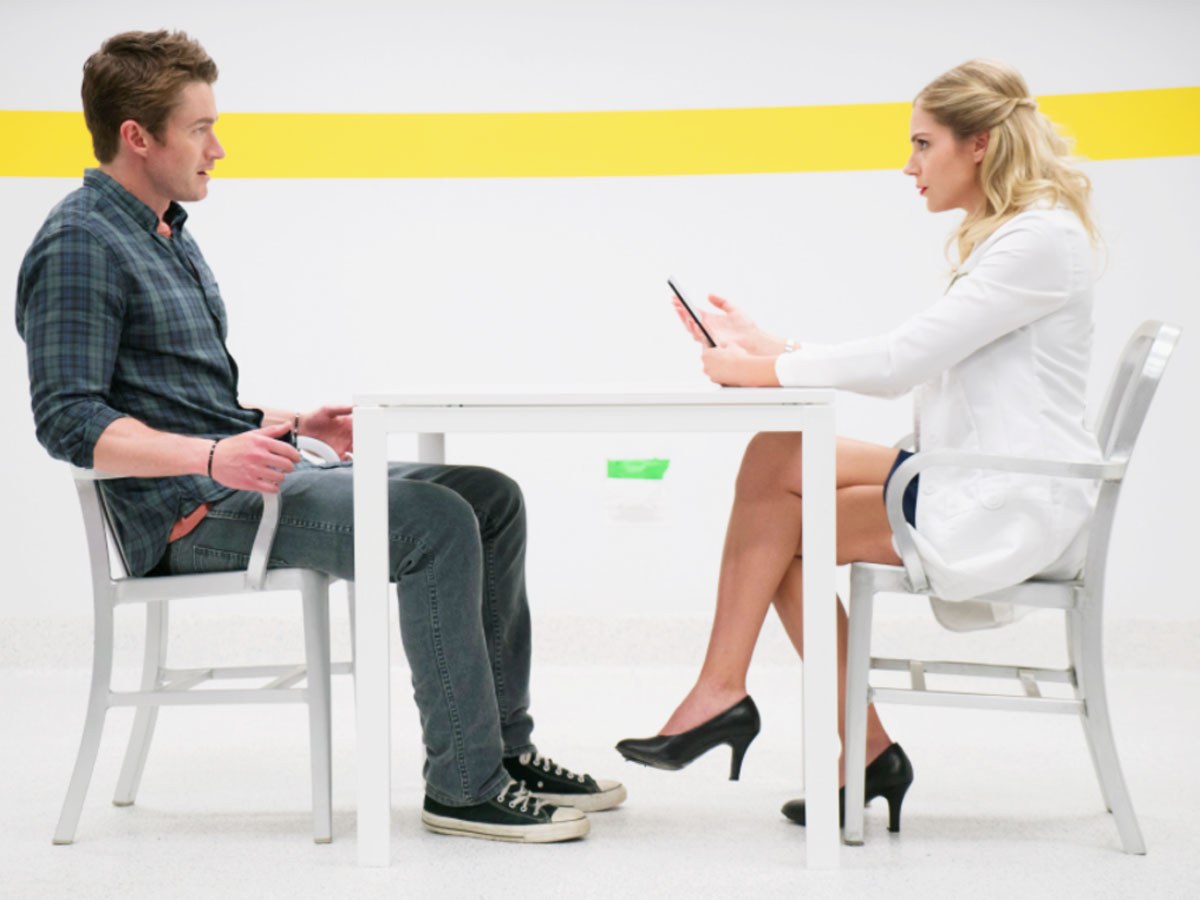 Each episode of 'Dimension 404' is a self-contained story, with a beginning, a middle and an end. Every story takes one aspect of the current tech-based structure and amplifies it some, to add the sense of futurism. The appearance might indicate it to be a tale about science, but the core of these stories is based on the issues related to humanity.
The first episode called 'Matchmaker' follows the story of a lonely man, named Adam, who uses a dating app, which is more innovative than what you have currently, to find his soul mate. However, things only get worse for him after this. (For more information on how dating apps can go wrong, watch 'Osmosis'.) The next episode, named 'Cinethrax' is a cinemaholic's nightmare come true! One such cinema lover is convinced that the new version of 3D movies is not to enhance their entertainment but to open up their brains to a monster who will take control of them.
Another episode features a physicist whose world is turned upside down when no one can remember the cartoon show that aired during her childhood. (Speaking of which, have you seen 'Channel Zero: Candle Cove'.) Another episode shows the story of a gamer who has to beat a game that is killing children. Then there is an episode named 'Bob', where a psychologist has to treat a depressed supercomputer. Finally, there is a story of a gamer who gets access to "bullet time", but what seems like a gift, in the beginning, turns out to be a curse.
Dimension 404 Season 2 Release Date: When Will It Premiere?
'Dimension 404' season 1 premiered on April 4, 2017. The show received mixed reviews. Some critics hailed it as one of the best sci-fi series at the time, while there were others who drew comparisons with 'Black Mirror' and called it a bit underdeveloped in that aspect.
It has been a while since the series was released and Hulu still hasn't given any formal word on the fate of the show. There hasn't been any development on the second season. However, fans shouldn't lose hope either since it hasn't been officially cancelled either. Perhaps, they are secretly working on it! Our most optimistic guess is that if the show does get renewed, 'Dimension 404' season 2 can release sometime in 2020. We will update this section as soon as we hear more.
Dimension 404 Trailer
With the increasing dependence of humans on technology, the possibility of robots taking over the world and all other theories have started making sense. 'Dimension 404' gives a look into a handful of situations that we can get ourselves into. While its fate hangs in the balance, you can sit back and relax, and catch all six episodes on Hulu. Here is the trailer to remind you of the stories that will change your perception of the tech around you.
Read More: Best Murder Mystery Movies on Hulu