Written and directed by Cem Yilmaz, 'Do Not Disturb' is a Turkish comedy film of 2023 featuring a talented ensemble cast including Cem Yilmaz, Özge Özberk, Ahsen Eroglu, Celal Kadri Kinoglu, Bülent Sakrak, Selen Senay, Seda Akman, and more. The movie chronicles Ayzek, who takes on the role of a night manager at a charming hotel after two years of unemployment. As the night unfolds, the narrative takes an interesting turn, with an array of eccentric guests checking into the hotel.
In this comedic adventure, Ayzek not only learns from the quirky guests but also imparts valuable lessons to them, resulting in a hilarious rollercoaster of laughter and antics. While the film primarily falls within the comedy genre, it also delves into thought-provoking themes such as hallucinations and self-confidence, adding depth and substance to the storyline. 'Do Not Disturb' proves to be a must-watch for comedy enthusiasts, offering both laughter and insightful exploration of serious themes. If you're curious to see what kinds of eccentric guests check into the hotel, here's everything you need to know about the ending of 'Do Not Disturb.'
Do Not Disturb Plot Synopsis
Ayzek (Cem Yilmaz) is a middle-aged man who has been through some hard times after leaving the ferry services. Add the pandemic to that; he has been out of a job for two years. Ayzek is bored and often questions his decision to leave ferry services. To keep himself busy and sane, Ayzek relies on Peri Sonmez's motivational reels and boxing. Two of her videos are Ayzek's favorite; "Forgive Yourself, Adapt and Accept" and "Toxic Relationship? Never." The videos work great for him, and there's no toxic person in his life. Ayzek is happy in his little world and wants to be beneficial to himself for a change. He is sick and tired of making everyone else happy.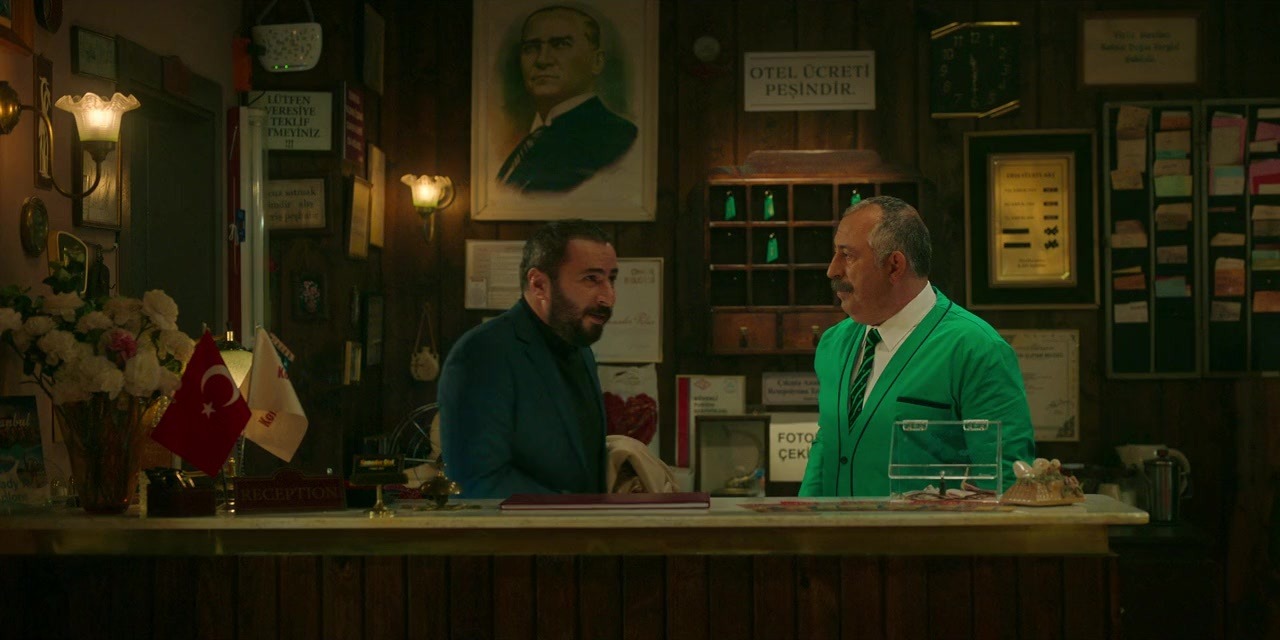 Fortunately, Ayzek lands a night job at a quaint hotel. Ayzek joins the hotel, and his superior brings him up to speed with his responsibilities. Even though the pay is a joke, Ayzek is excited to live up to this new and advanced version of himself. Ayzek sees himself as buoyant and light as a feather but rugged and unbreakable as steel. Ayzek tends to Mr. Davut (Bülent Sakrak), the night's first guest, and agrees to offer him a room without a proper ID in return for a huge tip. However, Ayzek puts his tips in the tip box as he has sworn to be an honest employee. This is just one of many promises Ayzek has made to himself. The remainder of his promises include staying true to himself and expressing his mind clearly.
Ayzek encounters Suhal (Ahsen Eroglu), a female launderer working at the hotel, and immediately takes a liking to her. Suhal is the woman Ayzek's mother once tried to set him up with; unfortunately, the plan fell through. Ayzek, on the other hand, believes someone as smart and intelligent as Suhal is way out of his league. Things get interesting when one of the guests, Bahatiyar (Celal Kadri Kinoglu), tries to commit suicide with a shaving blade but ends up cutting his hands. Ayzek runs to the pharmacy to fetch supplies to treat Bahatiyar and meets Saniye (Özge Özberk). Saniye is a brilliant and lively pharmacist who, like Ayzek, also works the night shift. Moreover, she also appreciates Ayzek's quirky attitude, leading Ayzek to believe she might become his wife.
Ayzek tends to Bahatiyar's injuries and even gives him some pointers to stay motivated. Bahatiyar, on the other hand, is still hell-bent on killing himself. He even offers Ayzek a couple of thousand Liras to choke him. Ayzek decides to call the police, but Davut convinces him to do otherwise and slips some money into his pocket. A couple of hours later, Ayzek saves Saniye from a junkie who was harassing her for some drugs. Unfortunately, the junkie stabs Ayzek in the thighs, leading Saniye to stitch up his wounds. Suhal, the launder at the hotel, grows a bit jealous, noticing Saniye bonding well with Ayzek. Suhal is crippled and believes that Ayzek's behavior toward him has changed after seeing her limp.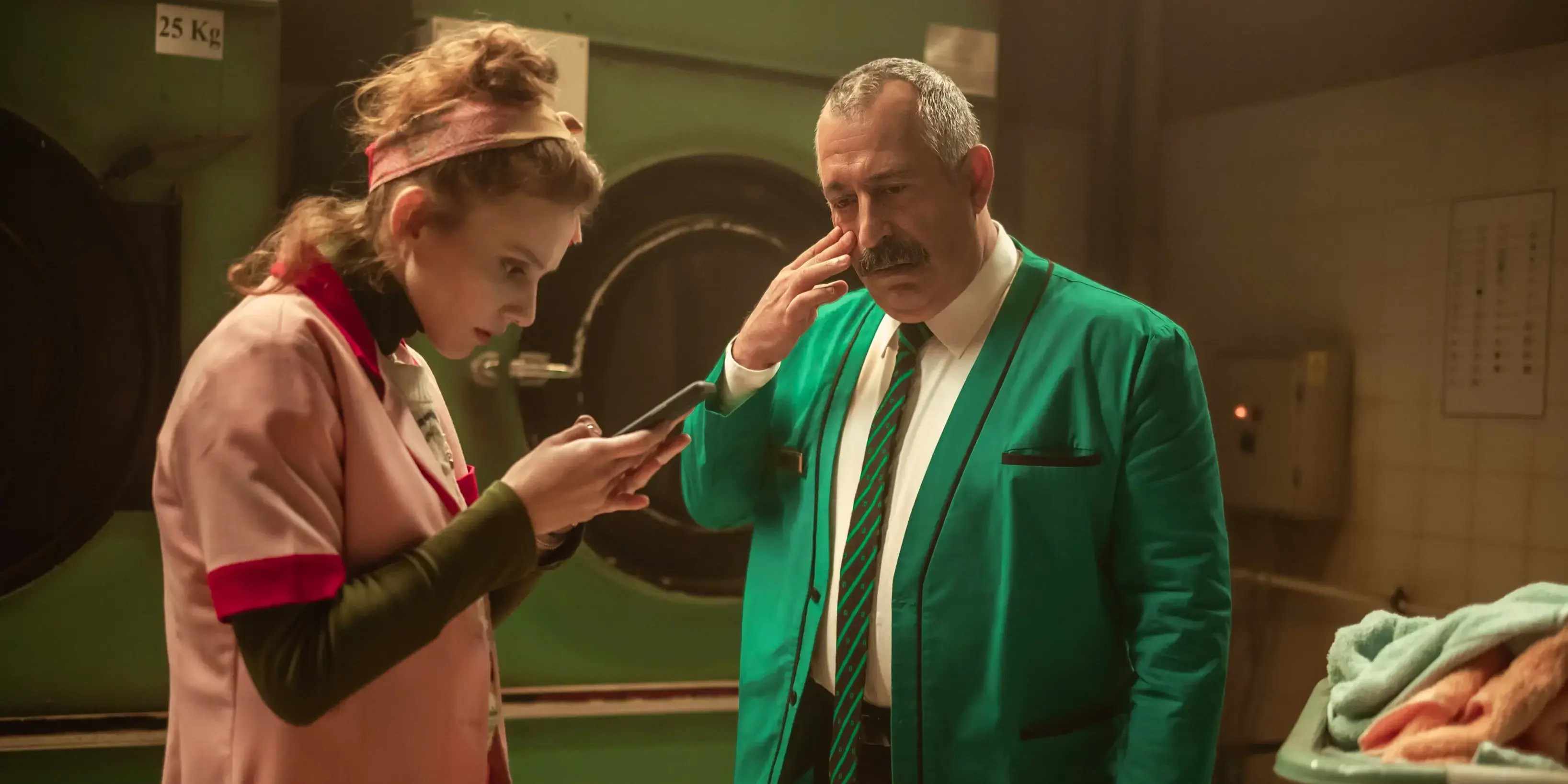 Bahatiyar once again tries to convince Ayzek to kill him by making his offer more tangible. He offers Ayzek his highly expensive saxophone, claiming even wind can get a note out of it. Ayzek agrees to help Bahatiyar on the condition that he'll decide the place and time. Furthermore, he makes Bahatiyar pledge not to attempt self-harm again and advises him to go to the laundry room. Later Ayzek prepares tea for Bahatiyar and spikes it with rat poison. Ayzek offers the tea to Bahatiyar, hinting that he'll die within 20 minutes. However, in reality, the tea contains Bicoverdim instead of rat poison. Ayzek plans to sedate Bahatiyar and call his family and friends to come and get him. Ayzek puts Bahatiyar to sleep and notifies his wife using his phone, who curses Ayzek to burn in hell.
Do Not Disturb Ending Explained: Did Ayzek Confront Peri?
Ayzek confesses to Suhal that he has been ignoring her all night because he feels Suhal deserves someone better than him. According to Ayzek, Suhal is a brilliant artist and would never fall for someone as old and boring as Ayzek. Unfortunately, ends up making the situation worse, prompting Suhal to slap him. Ayzek also loses his last bicoverdim pills, which keep his hallucinations at bay. Ayzek asks Saniye for help, but the latter denies helping him, mistaking him for a pill-popper. As a result, Ayzek's condition starts to deteriorate, and he starts hallucinating the hotel as a vessel.
Ayzek's hands tremble uncontrollably, and the haunting sound of a ship's horn relentlessly echoes in his ears. Ayzek visits Bahatiyar and slams the door in his face, believing Bahatiyar is mocking him. Ayzek also sees Peri (Nilperi Sahinkaya) Sonmez, who encourages him to adopt a cold, icy demeanor to prevent others from taking advantage of his vulnerability. Ayzek then confronts both Suhal and Bahatiyar for the same. In response, Bahatiyar staunchly advises Ayzek to never watch Perri's Instagram reels again.
Saniye sympathizes with his plight and eventually gives him the medication. Ayzek finally confronts Peri, claiming her videos have no real value. Ayzek blames Peri for ruining his life and convincing him to cut ties with his friends. Surprisingly, Peri reveals that she died two years ago, and the videos Ayzek is watching are ancient. After conquering his hallucinations, Ayzek apologizes to everyone for his rude behavior. He also contacts Mrs. Dora (Seda Akman), Bahatiyar's wife, and asks her to come and pick Bahatiyar up. But what about Davut? What role does he have to play in the movie? As the movie draws to a close, we see Davut drawing his gun and opening fire on Hancer (Selen Senay). Davut was waiting all night so he could kill Hancer. In his defense, Davut reveals that he loved Hancer to death, but she broke his heart and left him for someone else. Davut tries to flee, but Ayzek immobilizes him by shooting his legs. In the end, Ayzek awards all his tips to Suhal so she can attend art school and follow her dreams.
Why Did Bahatiyar Want to Kill Himself?
Bahatiyar was a brilliant literature professor and a passionate jazz musician who carried his cherished saxophone wherever he went. His love for creating jazz melodies was as strong as his ability to listen deeply to the world around him. However, the pandemic drastically altered the course of his life. Before the global upheaval caused by the coronavirus, Bahatiyar was actively pursuing his music career, pouring his soul into creating beautiful compositions. Unfortunately, the pandemic hit hard, disrupting his plans and presenting immense challenges. He found himself confined to his home, unable to go out to seek inspiration or perform.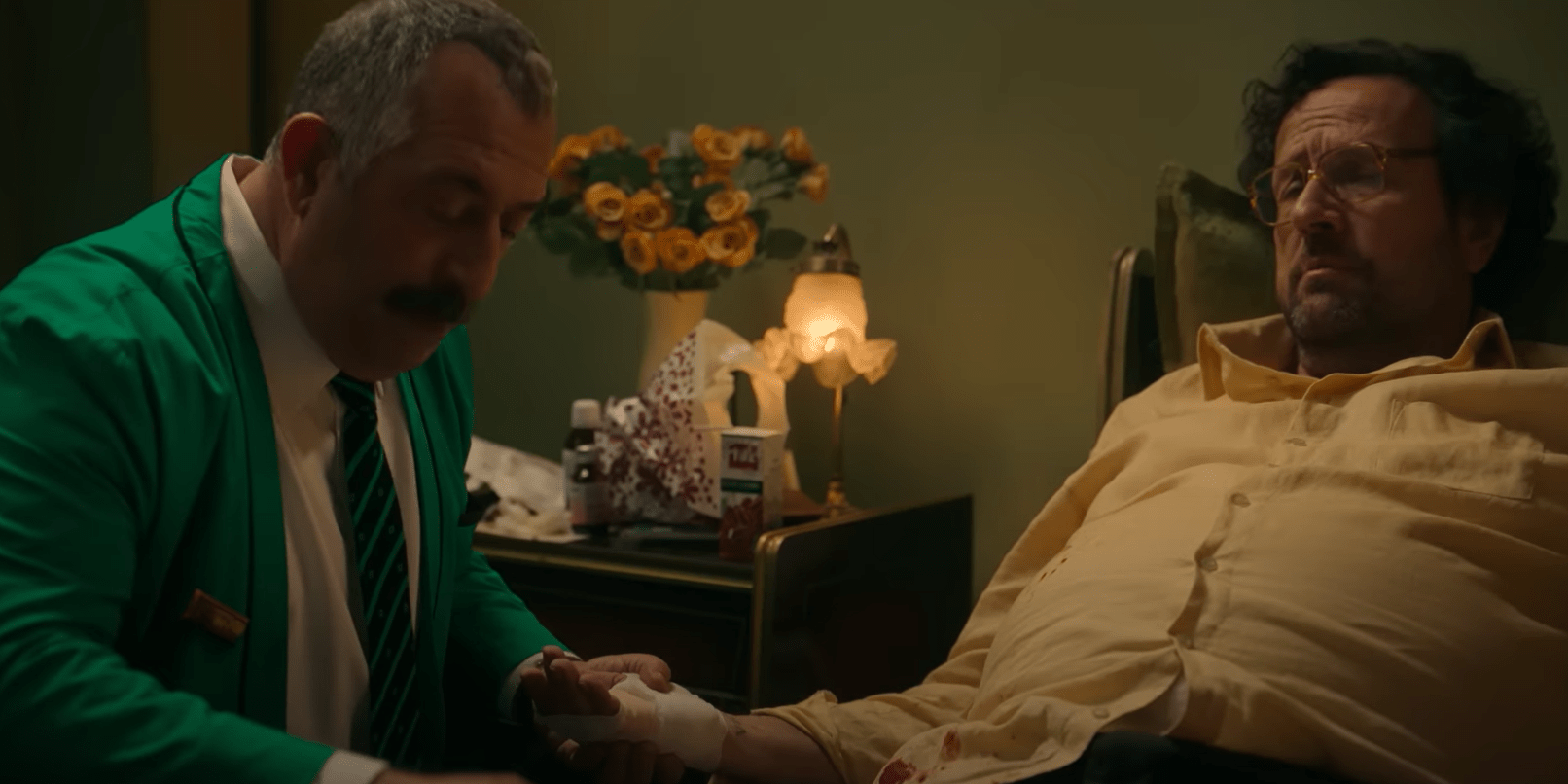 The prolonged quarantine and isolation also affected Bahatiyar's mental health. He battled depression and struggled to find motivation to create music. Bahatiyar's once-vibrant connection with life started to wane, affecting not only his passion for music but also his relationships. Even as the world gradually reopened after the quarantine, Bahatiyar found himself in a state of demotivation. The spark that fueled his creativity seemed lost, leaving him purposeless and the daunting task of reigniting his once-flourishing passion for music. However, when he failed, Bahatiyar decided to commit suicide.
What Happened to Ayzek?
Ayzek was good to Davut all night, and the latter also reciprocated the same. Ayzek believed Davut to be a gentleman, but his perception of Davut changed when the latter tried to kill Hancer. Davut offered Ayzek a considerable sum to help him leave the hotel premises, but Ayzek denied it and shot him in both legs. The movie doesn't reveal what befell Davut, but he was probably arrested for attempted murder. As for Ayzek, it is possible that he was kicked out of the hotel for offering a room to a criminal without proper identification. Towards the end, the audience also saw Ayzek wearing a tracker anklet, suggesting he was likely arrested and tried for shooting Davut.
Read More: Best Turkish Shows on Netflix You Must Watch