Legendary actor Donald Sutherland's childhood was clouded by various health issues. Obviously, the first word young Donald learned to say was "pain." He fought his way through an onset of polio and symptoms of hepatitis and rheumatic fever. Later, Sutherland wanted to become a sculptor, but his parents had a scheme for their boy. He took up an engineering course at the University of Toronto. The young man tasted blood with the very first drama experience at the university. He graduated in 1958 with dual degrees in engineering and drama.
But Sutherland soon left engineering behind and moved to the UK to join the Perth Repertory Theater in Scotland. He started getting minor roles in British films and television in the early '60s. He appeared alongside Christopher Lee in horror flicks like 'Castle of the Living Dead' (1964) and 'Dr. Terror's House of Horrors' (1965). But Sutherland always knew he wanted more. "My first offer ever for a film was in 1962", he told GQ magazine. "I auditioned for the producer, the writer, the director. And I came home and said to my first wife, 'I thought it went okay.'" The next morning, he got a phone call from the producer. Sutherland continued, "We loved you so much, we wanted to explain why we weren't casting you. We've always thought of this as a guy-next-door sort of character, and we don't think you look like you've ever lived next door to anybody."
After a disappointing tenure with the British film industry and television, Sutherland crossed over to Hollywood in the mid-60s. Along with the winds of change came the birds of luck. He got his first big breakthrough in 1967 when he was cast in a major role in the multi-starrer war movie, 'The Dirty Dozen', alongside Lee Marvin, Charles Bronson, Jim Brown and Telly Savalas. The movie emerged as a blockbuster of the year. The success landed Sutherland more roles. In 1970, he shared the screen space with Clint Eastwood in the comedy 'Kelly's Heroes.'
Robert Altman war epic 'M*A*S*H' in 1970 was a major turning point in Sutherland's career. His role as Capt. Benjamin Franklin "Hawkeye" Pierce Jr. made him one of the rising stars of Hollywood in the 70s. He managed to maintain a steady career trajectory in the decades that followed. Sutherland consistently delivered stunning performances in movies like 'Klute' (1971), 'Don't Look Now' (1973), 'Invasion of the Body Snatchers' (1978), 'Ordinary People' (1980), 'A Dry White Season' (1989), 'JFK' (1991), 'A Time to Kill' (1996), 'Instinct' (1999), 'Cold Mountain' (2003), 'Pride & Prejudice' (2005), and 'The Hunger Games' franchise. So now you might be wondering what is the next Donald Sutherland movie or TV show? Well, here's the list of upcoming Donald Sutherland films and TV shows scheduled to release in 2019 and 2020. We can only hope that the latest Donald Sutherland movies would be as good as some of his recent ones.
3. Ad Astra (2019)
Not many details regarding Donald Sutherland's role in the upcoming sci-fi epic 'Ad Astra' have been revealed yet. The movie also features Brad Pitt, Tommy Lee Jones and Ruth Negga in the lead roles. The plot revolves around the engineer Roy McBride (played by Brad Pitt), who travels across the dangerous outer space searching for his missing father. Tommy Lee Jones plays the role of Roy's lost father, Clifford McBride. He disappeared during a mission to find extra-terrestrial intelligence on the mysterious planet Neptune. Jamie Kennedy plays the role of an astronaut Peter Bello, who is a sergeant posted on a Mars base station for an extended secret mission. The other cast members include John Ortiz and Kimberly Elise. 'Ad Astra' is directed by James Gray from a screenplay he co-wrote with Ethan Gross. 'Ad Astra' is described by director Gray as the cinematic equivalent of Joseph Conrad's 1899 novel 'Heart of Darkness'. The film is slated for a September 20, 2019 release.
2. The Burnt Orange Heresy (TBA)
The heist thriller 'The Burnt Orange Heresy' features Donald Sutherland alongside Claes Bang, Elizabeth Debicki and Mick Jagger. Based on Charles Willeford's novel, the plot revolves around the Italian art critic James Figueras (played by Bang), who falls for the mysterious beauty Berenice Hollis (played by Debicki). The passionate lovers decide to spend a weekend with the charming English art dealer and collector Joseph Cassidy (played by Jagger) at his exotic Lake Como estate.
As the get-together progresses, Cassidy tables an irresistible offer for James. He reveals his desire to add a masterpiece of the legendary artist Debney to his personal collection. He has devised a plan for that with James at the centre of it. According to the scheme, Cassidy will introduce James to the artist because establishing a connection with Debney is a trump card in the career for James. In return, James has to steal one of Debney's masterpieces from the artist's studio for Cassidy. Everything works according to the plan until the couple realizes Debney is not just a celebrity artist and their mission is not what it seems. While Hollis senses danger, James decides to go to any extent to further his career, even if it means to get involved in murder.
Donald Sutherland plays the mysterious artist Jerome Debney in the movie. 'The Burnt Orange Heresy' is directed by Giuseppe Capotondi from a screenplay by Scott Smith. The movie started rolling its principal photography in September 2018 in Lake Como, Italy.
Read More: Upcoming Stanley Tucci Movies
1. The Undoing (2020 – )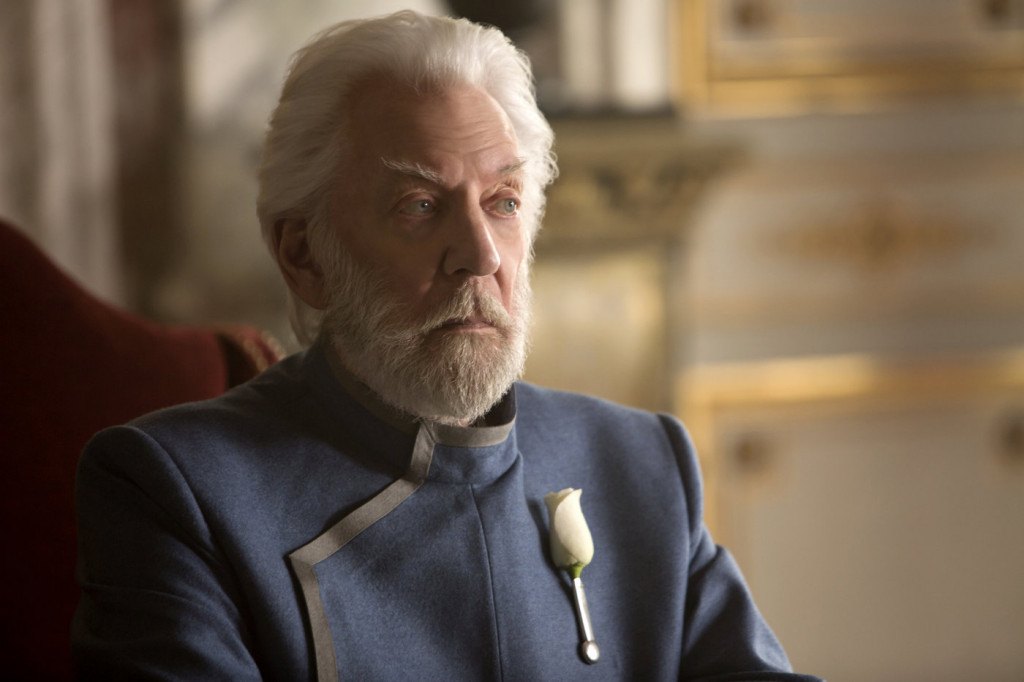 HBO limited series 'The Undoing' features Donald Sutherland opposite Nicole Kidman and Hugh Grant. The series is reportedly an adaptation of the book 'You Should Have Known' by Jean Hanff Korelitz. 'The Undoing' centres on Grace Sachs (played by Kidman), who is a successful therapist, an adorable housewife with a devoted husband (played by Grant). She's also the mother of a young boy.
Grace's seemingly perfect family life collapses overnight after a series of terrible events, which include a shocking death and a missing husband. She soon comes across several disturbing revelations and finds herself torn between difficult choices of life, death and the love for her son. Donald Sutherland plays the role of Grace's father, Franklin Renner. He is a retired financial expert and shoulders the hectic task of protecting Grace and his grandson in the face of looming danger. 'The Undoing' is directed by Susanne Bier from a screenplay adapted by David E. Kelley. Principal photography of the series is underway in New York.
Read More: Upcoming Bill Nighy Movies