As much as we would love to deny it, as anime viewers, at some point, we're all somehow drawn to some of the most ridiculous anime shows. Ecchi, being the "intentionally ridiculous" genre here, predominantly focuses on provocative sexual themes. Though quite a lot of these shows work along the same lines, every once in a while, we get to see some memorable gems in this genre as well.
Now it's really hard to figure out what truly makes us admire Ecchi. Maybe it's the blank slate/zero personalities of the male characters that give us some hope or maybe it's the lovely voluptuous ladies in these shows that make us swoon over their half-witted storylines. Whatever your reasons may be, we are not here to judge you. Instead, we've got a list of all the great Ecchi anime that debuted in 2019.
10. Araiya-san!: Ore to Aitsu ga Onnayu de!?
It's almost surprising how 'Araiya-san!: Ore to Aitsu ga Onnayu de!?; is considered to be an Ecchi anime and not Hentai. At its heart, it follows quite a generic love story, but its main appeal lies in its bold sex scenes that often go way beyond the boundaries of most typical Ecchi shows. Like most anime of this genre, 'Araiya-san!: Ore to Aitsu ga Onnayu de!?' is certainly not a must-watch anime, and for the most part, it barely offers anything new. However, if you're looking for an anime that perfectly fulfills your guilty pleasures, give this one a shot. Just make sure that you're in a private place while you're watching it.
9. Kandagawa Jet Girls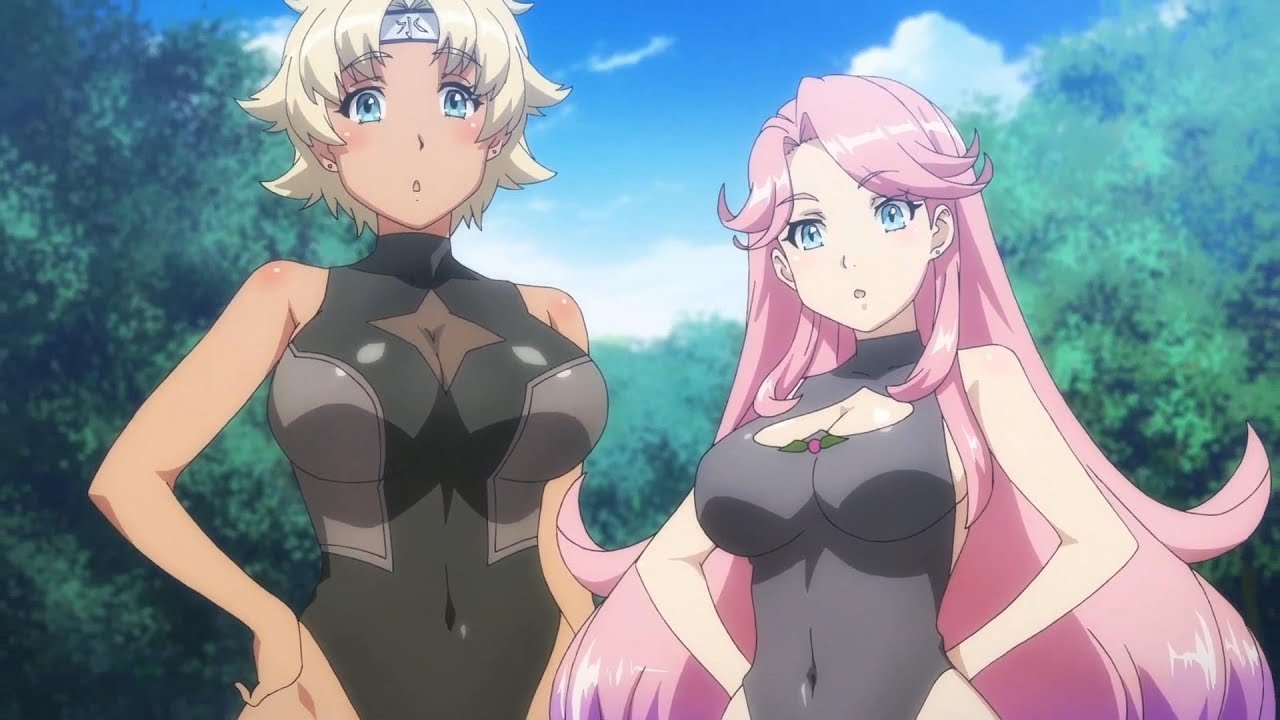 Produced by TNK Studio, 'Kandagawa Jet Girls' is a sports Ecchi anime that revolves around the life of young high school girls who compete in a Jet Ski tournament. To add to its overall appeal, it also brings in sci-fi elements and some extremely voluptuous female characters. From a fanservice standpoint, 'Kandagawa Jet Girls' is easily the best in the game but if you're looking for an inspiring tale of underdogs who make their way to the top, you're barking at the wrong tree with this one. For pure Yuri lovers and also for the ones who dig anime with cute girls doing cute things, 'Kandagawa Jet Girls' is highly recommended.
8. XL Joushi.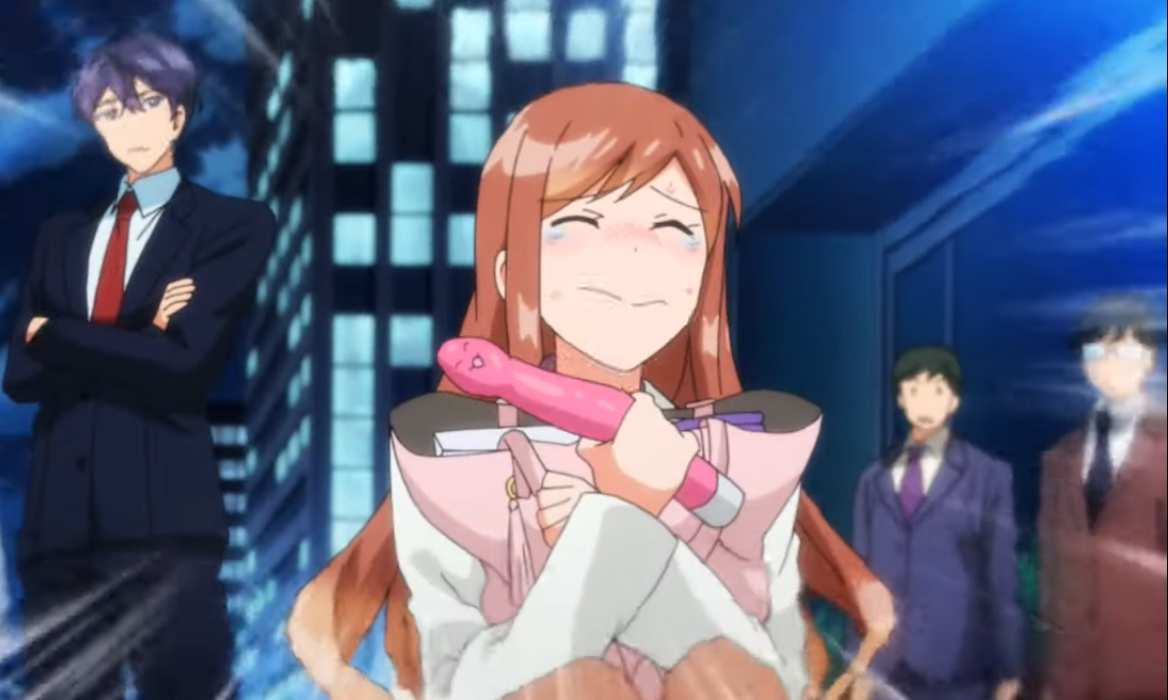 'XL Joushi.' is again borderline Hentai but what makes it a little different from most other titles on this list is its storyline. Most Ecchi anime shows are just a series of comical fanservice moments woven together, but 'XL Joushi.' has an actual plot. It revolves a young woman named Saki, who struggles to keep her head above the water. But one day, a part-time job opportunity comes knocking at her door. After accepting this opportunity, she realizes that she'll now have to review XL-sized condoms and the fact that she's single makes things even harder for her. But what starts off as a depressing tale of a struggling young woman, later turns into a tale of her finding love in the most unexpected place.
7. Nande Koko ni Sensei ga!?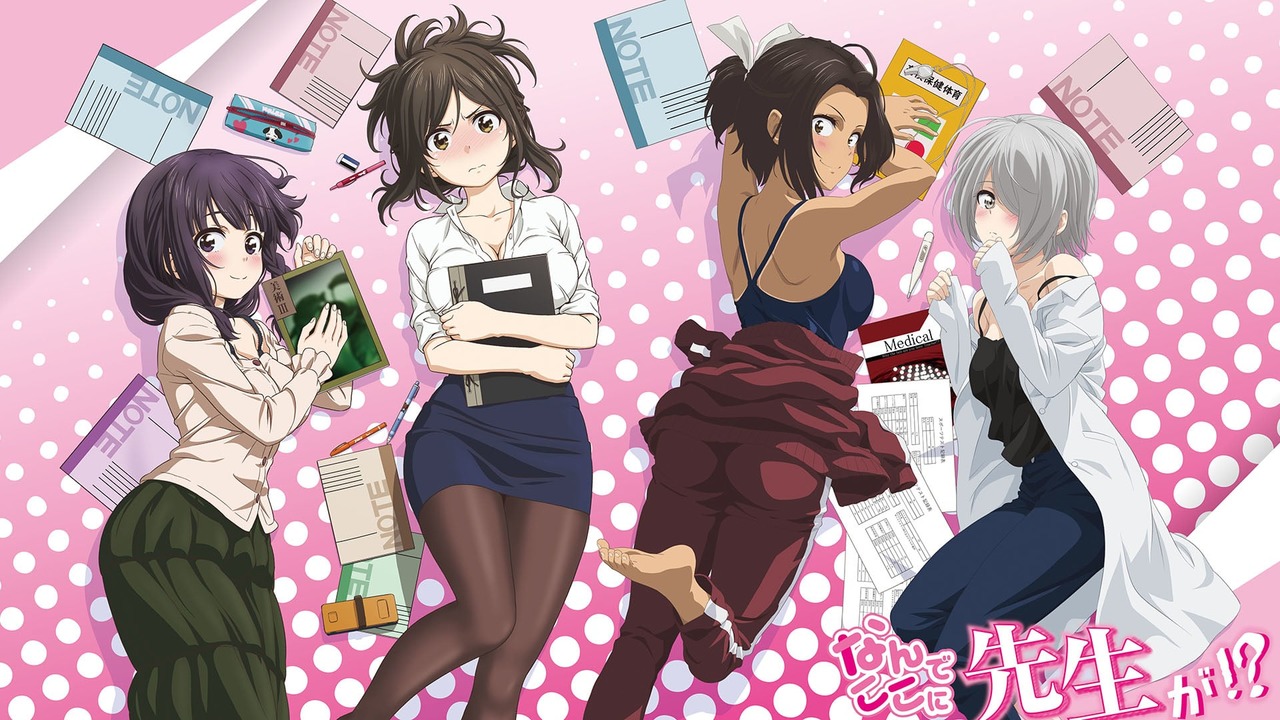 17-year-old Ichirou Satou is in no way a perverted high school kid and he does not even intend to be one. But somehow, he ends up finding himself in the most perverted situations with his extremely attractive teacher, Kana Kojima. What follows is a series of the most absurd events where Kojima gets denuded in the most unexpected ways and get erotically involved with the main character.
From its premise itself, one can tell that it has absolutely no plot and involves all the expected banalities of the genre. In a nutshell, 'Nande Koko ni Sensei ga!?' is all about some cringy guilty pleasure, brimming with WTF moments. And since that's pretty much the only reason why we watch most Ecchi shows, 'Nande Koko ni Sensei ga!?' very well deserves to be on this list.
6. Midara na Ao-chan wa Benkyou ga Dekinai
Adapted by Ren Kawahara's manga of the same name, 'Midara na Ao-chan wa Benkyou ga Dekinai' follows the adventures, or I'd rather say misadventures, of a young girl who just wishes to study in peace. Unfortunately, her father and her classmates keep bothering her all the time and the mere act of studying seems a distant dream. Uncomfortable jokes, cringy situational comic moments, and of course, overly sexualized, are all a part of this show. With its short 12-minute episodes, 'Midara na Ao-chan wa Benkyou ga Dekinai' is a good time killer for those who don't despise raunchy comedy anime. Beyond that, there isn't much that it offers.
5. Kawaikereba Hentai demo Suki ni Natte Kuremasu ka?
Keiki Kiryuu, like all the boys of his age, desperately wants a girlfriend. And his yearnings for a lover finally come to an end when he receives a love letter from a mysterious girl, along with a pair of panties. Now it's on him to find out who this "cinderella" is. As he sets out on a quest to find out the true identity of his lover, he comes across many other girls of his school who walks around with innocent demeanors, but deep inside, they all have a wilder side waiting to be unleashed.
When it comes to a lot of Ecchi anime, it almost seems like they simply slipped out of the cracks and ended up becoming anime shows; why else would someone even think of creating something so cringy. But for some reason, it's this eeriness of these shows that draws us towards them. Whatever makes you enjoy Ecchi anime, I'm pretty sure that 'Kawaikereba Hentai demo Suki ni Natte Kuremasu ka?' very well offers that.
4. Tejina-Senpai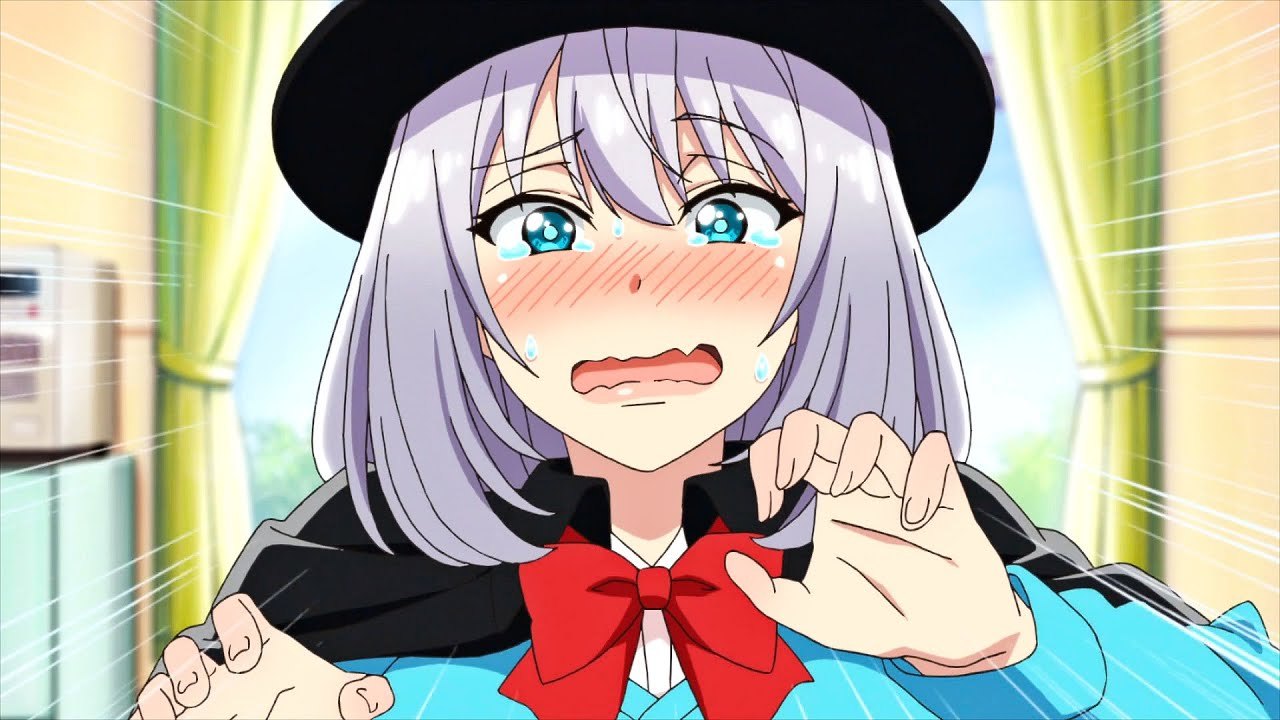 When a high school freshman is forced to join one of his school clubs, he looks for one that involves minimum participation and that's when he meets Tejina Senpai for the first time. After slipping into the magic clubroom of his school, he meets the beautiful upperclassman Tejina who suffers from stage fright and often lands herself in the most embarrassing situations. But even after knowing that he does not belong there, the young boy, out of pity, decides to become her assistant.
What follows is a series of awkward gimmicks, where the boy tries to keep Tejina out of trouble, but Tejina somehow finds new ways to embarrass herself. 'Tejina Senpai' brings in some popcorn entertainment by poking some perverted fun at its characters. In essence, pretty much like all the shows on this list, you'll just have to take whatever this anime throws at you and enjoy it for what it offers.
3. How Heavy Are the Dumbbells You Lift?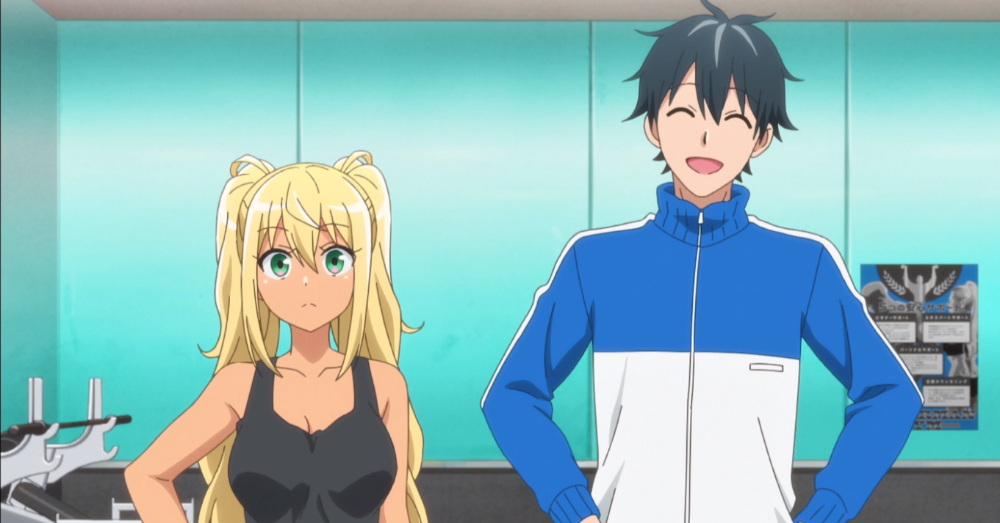 'How Heavy Are Your Dumbbells' is a pseudo-educational anime that features cute girls in Ecchi situations. Hibiki Sakura, the main protagonist of the series, is a gluttonous high school teen who gets really concerned about her expanding waistline. After she fails to work out alone at home, she decides to join a nearby gym and starts working out with school idol Akemi Souryuuin and a hotshot gym-trainer. Apart from all of its ridiculous gags and fanservice, 'How Heavy Are Your Dumbells' also has a decent production value. It is the kind of anime that you'll enjoy a lot more than you would initially expect, so if you haven't seen it yet, you should check it out Funimation.
2. Miru Tights
It's not just Ecchi, but almost all genres of anime have these fixed sets of cliches that are repeatedly used in almost every show. Harems where the main male character gets a whole lot of attention from his female peers and an emphasis on curvy anime girls, that's what all these Ecchi anime shows are all about, but 'Miru Tights' is a breath of fresh air. In fact, despite its short runtime, I would say that 'Miru Tights' is easily a masterpiece because of how it deals with deeper themes.
It brings in a beautiful storyline that deals with discrimination, freedom of speech and many other didactic subjects that completely engross you into the lives of its characters. So, with this one, it does not really matter if you're an Ecchi fan or not, you will certainly fall in love with it.
Read More: Best Anime on Crunchyroll
1. The Quintessential Quintuplets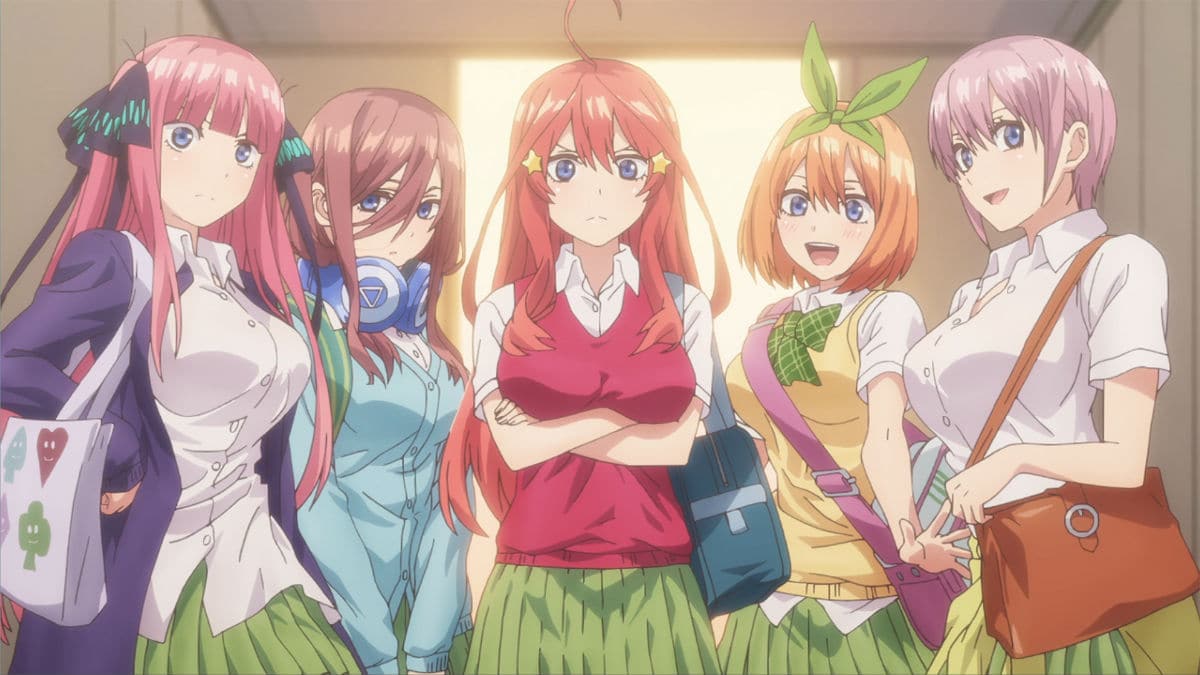 When you're dealing with anime shows that are all pretty much the same in terms of their basic premise, themes, and even characters, choosing the best is no cinch. However, when it comes to 'The Quintessential Quintuplets', apart from its focus on everything that its target audience seeks, it captivates you with its incredible cast of characters. You can roll your eyes over the fact that this is just yet another harem, but its charm and all the fun that it packs in each episode are simply enough to break all the stigma that surrounds it. 'The Quintessential Quintuplets' is a lot more than an Ecchi anime and has something for everyone.
Read More: Best Anime of 2019