Born into a wealthy family based in Kansas City, Ellie Kemper picked up an interest in theater during her school days. While studying at Princeton University, she joined a touring musical comedy theater troupe named Princeton Triangle Club. Kemper started her career with commercials for brands like 'Kmart.' By the end of the 2000s, she appeared in television shows like 'Redeeming Rainbow' and 'Important Things with Demetri Martin' as a guest star. Kemper got her breakthrough role in the reality television series 'The Gastineau Girls' from E! Television. Her other major appearances include 'The P.A.' She started developing her own sketch comedy shows with the comedy partner Scott Eckert whom she met at Princeton. Kemper also served as a contributing writer for publications like 'The Onion,' 'McSweeney's' and 'The Huffington Post' during that period.
Kemper's next breakthrough came when she was cast in the 2009 sitcom from NBC, 'The Office.' Her portrayal of a cute and sweet receptionist Kelly Erin Hannon earned her widespread popularity and instant stardom. She was added as a guest star intended for a few episodes at first and the makers promoted her as a regular cast member after the huge popularity of the character. Her portrayal of the character Becca in the 2011 comedy movie 'Bridesmaids', directed by Paul Feig, won her critical acclaim. The plot follows Annie (Kristen Wiig), who faces back-to-back unfortunate events in her life after she receives an invitation from her best friend Lillian (Maya Rudolph) to serve as the maid of honor for her best friend. Ellie Kemper plays the role of one of the maids of honor along with Rose Byrne, Melissa McCarthy and Wendi McLendon-Covey. The movie met with critical and commercial success and earned a nomination for Golden Globe Award for Best Motion Picture- Musical or Comedy.
By the end of the first half of the 2010s, Kemper emerged as a prominent actor with movies like 'Laggies,' 'They Came Together,' 'The Nobodies,' and 'The Secret Life of Pets.' In the 2014 film 'They Came Together,' Kemper played one of the lead characters who dislike the other character but ends up falling in love. The satirical comedy directed by David Wain was premiered at the 2014 Sundance Film festival and went on to gather positive reviews for its performance and screenplay. The plot follows Joel and Molly, (Paul Rudd and Amy Poehler) who narrate the origin story of their togetherness to their couple friends Kyle and Karen (Bill Hader and Ellie Kemper). The movie parodies the cliches and plot points of romcoms to reveal the ups and downs of a relationship. In 2015, Kemper joined the Netflix original comedy series 'Unbreakable Kimmy Schmidt' as the titular character Kimmy Schmidt. Her stunning portrayal of the character earned her widespread critical acclaim and multiple award nominations.
Kemper won several accolades and nominations during her career. Her first major prize was the Golden Nymph Award in the category of Outstanding Actress in a Comedy Series for 'The Office.' Her role in 'Bridesmaids,' also brought a slew of awards including Alliance of Women Film Journalists Award for Best Ensemble Cast, MTV Movie Award for Best Jaw Dropping Moment, New York Film Critics Online Award, and Washington D.C. Area Film Critics Association Award for Best Ensemble. 'Unbreakable Kimmy Schmidt' earned her the Webby Award for Best Actress in 2015 and four nominations that include Screen Actors Guild (2015), Primetime Emmy Awards (2016), Screen Actors Guild (2016), and Primetime Emmy Awards (2017).
Apart from a successful career in television and movies, Kemper also served as a co-host of 'The Today Show' of NBC alongside Al Roker, Natalie Morales, Tamron Hall, and Willie Geist in 2015. She recorded her first audiobook 'A Day in the Life of Marlon Bundo' in 2018. In the same year, she published her first book 'My Squirrel Days,' which is an intimate chronicle of her journey from Missouri to Los Angeles. According to a Variety review, the book is a "funny, free-wheeling tour" of Kemper's life that includes childhood memories, misadventures, fears, life-altering experiences, trysts with destiny, recollections of old friends, and old places. So at this point you must be wondering what is the next Ellie Kemper movie or TV show? Well, here's the list of upcoming Ellie Kemper films and TV shows scheduled to release in 2019 and 2020. We can only hope that the latest Ellie Kemper movies would be as good as some of her recent ones.
2. The Stand-In (2019)
The upcoming comedy film 'The Stand-In' features an ensemble cast that includes Drew Barrymore, Michael Zegen, Charlie Barnett, Ellie Kemper, and Holland Taylor. Directed by Jamie Babbit from a script by Sam Bain, the movie centers on the life of a frustrated comedy actress whose dream stand-in project is in limbo. She goes through a difficult phase in life while struggling to make both ends meet. More details about the characters and plot are under tight wraps. Jamie Rabbit has worked previously in projects like 'Itty Bitty Titty Committee,' 'The L Word' and 'Russian Doll.' Barrymore produces the movie in association with Ember Truesdell & Chris Miller, Tom McNulty, and Caddy Vanasirikul. No release date has been attached to the movie; it is currently in post-production.
1. Untitled Unbreakable Kimmy Schmidt Special (TBA)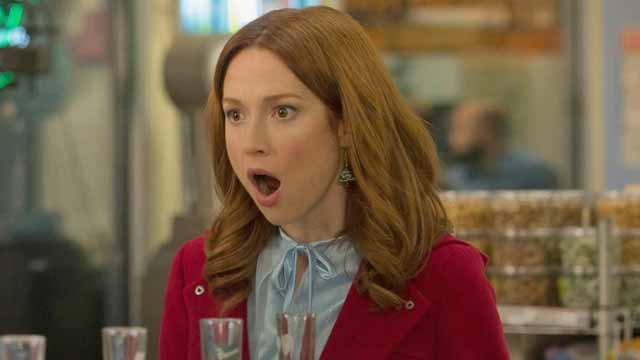 In May 2019, Netflix announced that it would bring back the popular show 'Unbreakable Kimmy Schmidt' as an interactive special. The upcoming one-off special, which is the first of its kind for the streaming platform, is set to air in 2020, reports Variety. Ellie Kemper will return as her iconic titular character Kimmy Schmidt in the special. The original series, whose fourth and final season wrapped up in January 2019, follows Kimmy Schmidt after her rescue from a doomsday cult. She finds it difficult to cope up with the roaring city of New York while past memories of a nightmarish life haunt her.
Eventually, she picks up the pace of the city and befriends her landlady Lillian Kaushtupper (Carol Kane) and roommate and aspiring actor Titus Andromedon (Tituss Burgess). Schmidt decides to restart her deranged life with the help of her newly found friends and a job as a nanny for the reclusive socialite Jacqueline Voorhees (Jane Krakowski). The interactive special will allow viewers to choose their favorite 'Kimmy Schmidt' characters and put them in various storylines available. Apart from Kemper, the returning cast members also include Tituss Burgess, Jane Krakowski and Carol Kane. During its run of four seasons, 'Unbreakable Kimmy Schmidt' gathered 18 Primetime Emmy nominations.
Read More: Upcoming Dana Carvey Movies