South African film-maker, Neill Blomkamp has certainly left a clear mark on the science-fiction genre with each one of his thought-provoking dystopian sci-fi features. He has emerged as the master of the genre, changing the way it has been perceived and defined, right from his debut feature, 'District 9′.
There is no doubt that science-fiction is one of the most artistic genres in today's day and age with the great liberties it takes. But more than that, it is also perhaps the most relevant genre of our times, and no one shows this better than Blomkamp. This is precisely what makes 'Elysium' a brilliant piece of science fiction rooted in the reality of our times.
'Elysium' is a follow-up of 'District 9' and though it is no way as revolutionary as its predecessor, it is equally intelligent and compelling. Set in 2154, the film portrays a time when Earth has been abandoned by the rich and powerful for a luxurious space habitat, Elysium, while the poor continue to suffer on a ravaged Earth.
The film serves as a social commentary of our times, in an almost dark, satirical manner, as it explores several sociological and even political themes of class disparity, immigration, health care, exploitation of labor. It is through these concepts that 'Elysium' stands out and shines, revealing to us the darker side of humanity.
The film performed decently well and received generally positive reviews from both critics and viewers. However, people believe it didn't match up to 'District 9'. Either way, fans of the film have speculated over whether or not there will be a sequel to 'Elysium'. Blomkamp too has had thoughts about it, opening up the possibility for a second part of the film in the future. Here's everything we know about 'Elysium 2'.
Elysium 2 Plot: What Can It Be About?
'Elysium' is set in the year 2154, in a world slowly corroding purely due to environmental and economic reasons. Sounds realistic? Well, Blomkamp's brilliance lies in the gritty realism of the film as it explores the dark future of our species and serves as a commentary on xenophobia. The human race is divided, as always, with poverty at an all-time high, as the poor live on Earth and the rich on Elysium.
The film centers around Max's (Matt Damon) journey, a poor working-class inhabitant who accidentally gets poisoned by radiations in an industrial factory. He learns that he has five days to live and devises a plan to escape to Elysium and save himself. Elysium is an almost utopian world created by the rich and has devices like Med-Pods that can cure all diseases and even reverse the aging process.
But of course, things are far more complex than that as the film serves as a commentary on immigration and exploitation by those in power, especially through Delacourt (Jodie Foster) and Kruger's (Sharlto Copley) characters. 'Elysium' ends with (SPOILER ALERT) Max sacrificing his life for the greater good of the people who are being exploited. His death ultimately leads to each one of Earth's inhabitants gaining access to Med-Pods like those in Elysium.
If one thinks of a potential sequel to 'Elysium' there is actually not much room to explore what happens next as the protagonist of the film dies in the ending. But, Neill Blomkamp has clearly shown interest in doing more things with 'Elysium'. He stated in an interview that he loves the set-up of the film, but believes he can do a much better job with the story, exploring the motivations of the characters, along with the themes, in a different, but better way.
Since there is no solid information about the plot to 'Elysium 2', we can at best, speculate. It would be interesting for the sequel to explore the issue that comes with immortality and overpopulation, as that's what the ending suggests. The film could also explore what happens after immigration, and perhaps, have something along the lines of a refugee crisis in Elysium. If it follows this line, it could, perhaps, continue following the narratives of Frey, Matilda, and Spider.
The sequel could also go deeper, ethically, and explore more characters that are pitted against each other due to their differing ideologies, and of course privilege. Despite having characters from Earth we interacted with, most characters we do interact with from Elysium are authoritative figures. It would be interesting to learn more about the general public living there. Knowing Blomkamp's dissatisfaction with the story, it also wouldn't be surprising if he goes on to explore a whole new narrative surrounding Elysium with different characters.
Elysium 2 Cast: Who Can Be In It?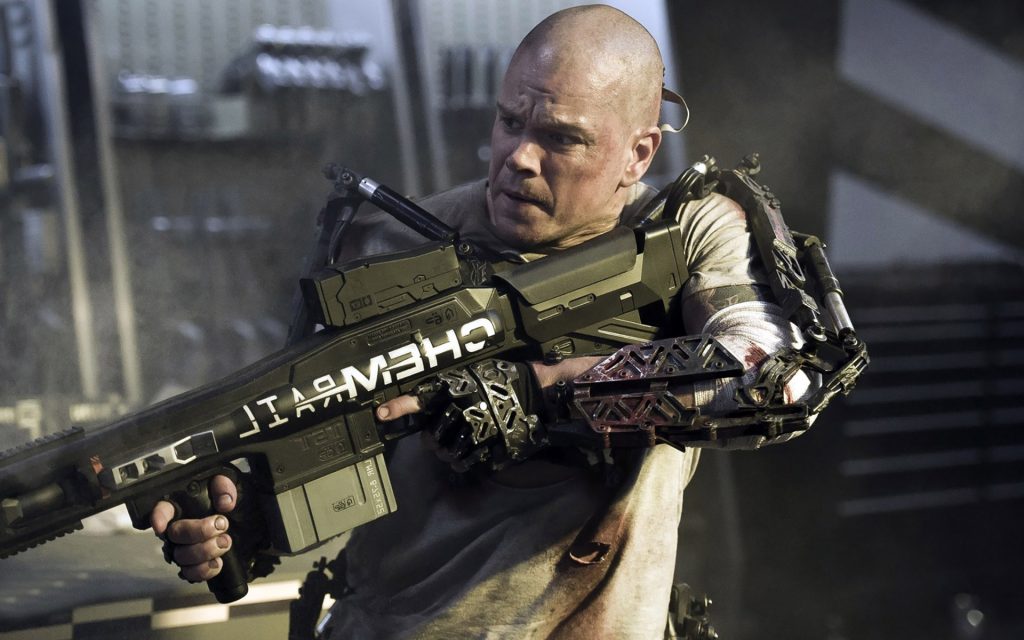 'Elysium' stars Matt Damon as Max, Jodie Foster as Delacourt, Alice Braga as Frey Santiago and Sharlto Copley as Kruger. It also stars Diego Luna, Wagner Moura, and William Fichtner.
As 'Elysium' ends with the death of Max, it wouldn't be likely for Damon to return as the protagonist in the sequel. Similarly, as both Foster's and Copley's characters die in the film, we can certainly expect to not have these two. If at all, the sequel happens and continues the narrative of the first part, it could feature Alice Braga and Wagner Moura in their original roles.
But there is a possibility that if at all, Blomkamp makes a visit to Elysium again, it would be with a new story. This means there would be a new cast introduced. But, considering Copley's numerous collaborations with Blomkamp, we could definitely hope to see more of him in the future.
Elysium 2 Crew: Who Can Be Behind It?
There are no surprises here. 'Elysium 2' will certainly have Neill Blomkamp as the creative force behind it, owing to both his experience with the genre and his investment in the film. In an interview, Blomkamp stated:
"I still love the set up to Elysium. The idea of the separation of class warfare presented with this space ring is incredibly appealing to me and I would love to go back and make another movie in the world of Elysium because it's compelling. I just think I can do a better job in setting up what the themes are more clearly and what the character's motivations are. I can do it better, I think."
Elysium 2 Release Date: When Can It Premiere?
Blomkamp has definitely shown his interest in going back to 'Elysium'. But there is still no confirmation yet, leaving the possibility of it never happening, also open.
Blomkamp is currently working on his next sci-fi thriller, 'Inferno', the production for which will begin early this year. This means, if at all we do get 'Elysium 2', it would ideally only release sometime in 2024, or later.
Read More: Upcoming Matt Damon Movies