Ethan Hawke is an American actor, writer, and director. He has been nominated for four Academy Awards and a Tony Award. He has directed three feature films, three Off-Broadway plays, and a documentary. He has also written three novels. Hawke made his film debut with the 1985 science fiction feature 'Explorers', before making a breakthrough appearance in the 1989 drama 'Dead Poets Society'. He then appeared in various films before taking a role in the 1994 Generation X drama 'Reality Bites', for which he received critical praise. In 1995, he starred in Richard Linklater's romantic drama film 'Before Sunrise', and later in its sequels 'Before Sunset' in 2004 and 'Before Midnight' in 2013, all of which received critical acclaim.
He has been nominated twice for both the Academy Award for Best Adapted Screenplay and the Academy Award for Best Supporting Actor; his writing contributions to 'Before Sunset' and 'Before Midnight' were recognized, as were his performances in 'Training Day' in 2001 and 'Boyhood' in 2014. He was further honored with SAG Award nominations for both films, as well as BAFTA Award and Golden Globe Award nominations for the latter. His other films include the science-fiction drama 'Gattaca' in 1997, the contemporary adaptation of 'Hamlet' in 2000, the action-thriller 'Assault on Precinct 13' in 2005, the crime drama 'Before the Devil Knows You're Dead' in 2007, the horror film 'Sinister' in 2012, and 'First Reformed' in 2017.
In addition to his film work, he has appeared in many theater productions. He made his Broadway debut in 1992 in Anton Chekhov's 'The Seagull', and was nominated for a Tony Award for Best Featured Actor in a Play in 2007 for his performance in Tom Stoppard's 'The Coast of Utopia'. In 2010, he directed Sam Shepard's 'A Lie of the Mind', for which he received a Drama Desk Award nomination for Outstanding Director of a Play.
At this point, the question that might be circling your mind is what is the next Ethan Hawke project? Well, the good news is that we have a clear answer to that question. Here's the list of upcoming Ethan Hawke films and television shows scheduled to release in the near future. We can only hope that the latest Ethan Hawke projects would be as good as some of his recent ones.
5. The Truth (2019)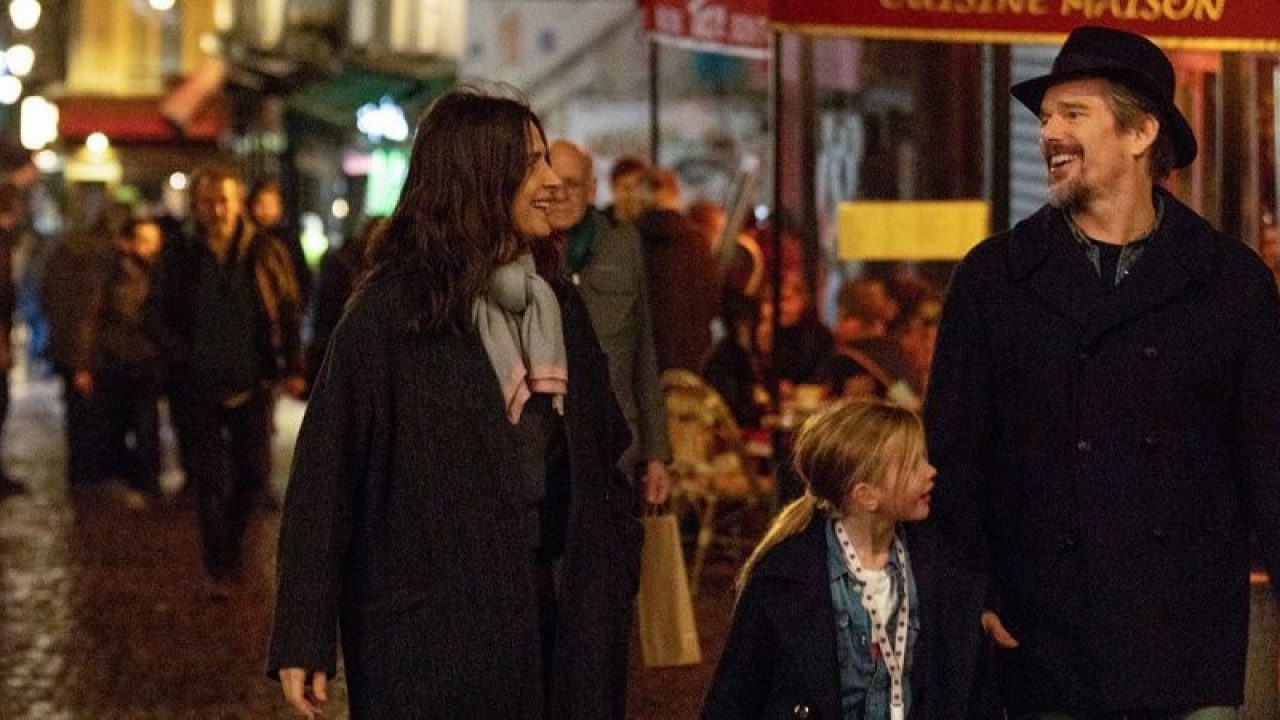 Palme d'Or winner Hirokazu Kore-eda makes his first film outside of Japan with the starry drama 'The Truth' or 'La Verite'. Juliette Binoche, Ethan Hawke, Catherine Deneuve, and Ludivine Sagnier star in the largely French-language picture.
Binoche and Hawke co-star as a married couple who return to France from the U.S. as the wife's mother (Deneuve), a well-known actress, publishes her controversial autobiography. During their reunion, various truths come to light. The script is based on an unproduced stage play from Kore-eda. Producers are French firm 3B Productions and co-producers are Kore-eda's Bunbuku and MI Movies. It premiered at Venice in August 2019.
Read More: Upcoming Anthony Hopkins Movies
4. Tesla (2019)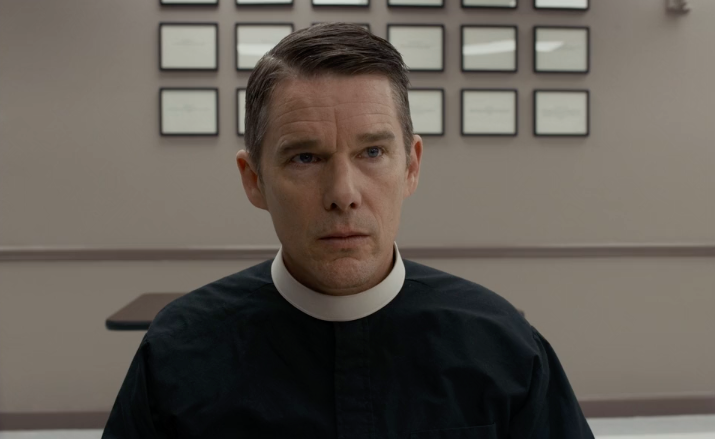 Ethan Hawke is looking set to follow the likes of Nicholas Hoult ('The Current War') and David Bowie ('The Prestige') by playing electricity pioneer Nikola Tesla. 'Tesla', currently in development, would also see Hawke reunited with writer-director Michael Almereyda, with whom he worked on both 'Hamlet' and 'Cymbeline'. The script was actually the first written by Almereyda, but he updated it while making 2017 sci-fi 'Marjorie Prime'.
The biopic, being produced by Passage Pictures and Campbell Grobman Films, will chronicle the life and times of the famed inventor, including his creation of the AC motor and his fierce rivalry with Thomas Edison.
Read More: Upcoming Sacha Baron Cohen Movies
3. The Good Lord Bird (2020-)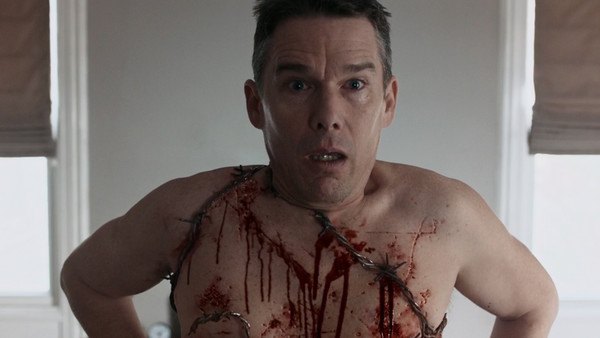 'The Good Lord Bird' is an upcoming drama based on James McBride's 2013 novel of the same name. Hawke is adapting it for a Showtime series along with Jason Blum of Blumhouse Productions. The story is about a slave who unites with John Brown in Brown's abolitionist mission.
The premise follows the memoirs of Henry Shackleford, a Kansas slave during the Bleeding Kansas era, being discovered in a church in Delaware. Named Henry 'Little Onion' for eating a particularly rancid onion, he accidentally encounters John Brown, the abolitionist, in a tavern. Mistaking him for a girl, Brown gives him a dress to wear, which Henry wears for most of the story. Narrated in the first person, we hear Henry's account of meeting the likes of Frederick Douglass and Harriet Tubman, apart from Brown's raid on Harpers Ferry.
Hawke is set to star in the tale that promises to be emotional and exciting in equal measures, telling us about America's history of slavery in a way we have not seen before.
2. Cut Throat City (TBA)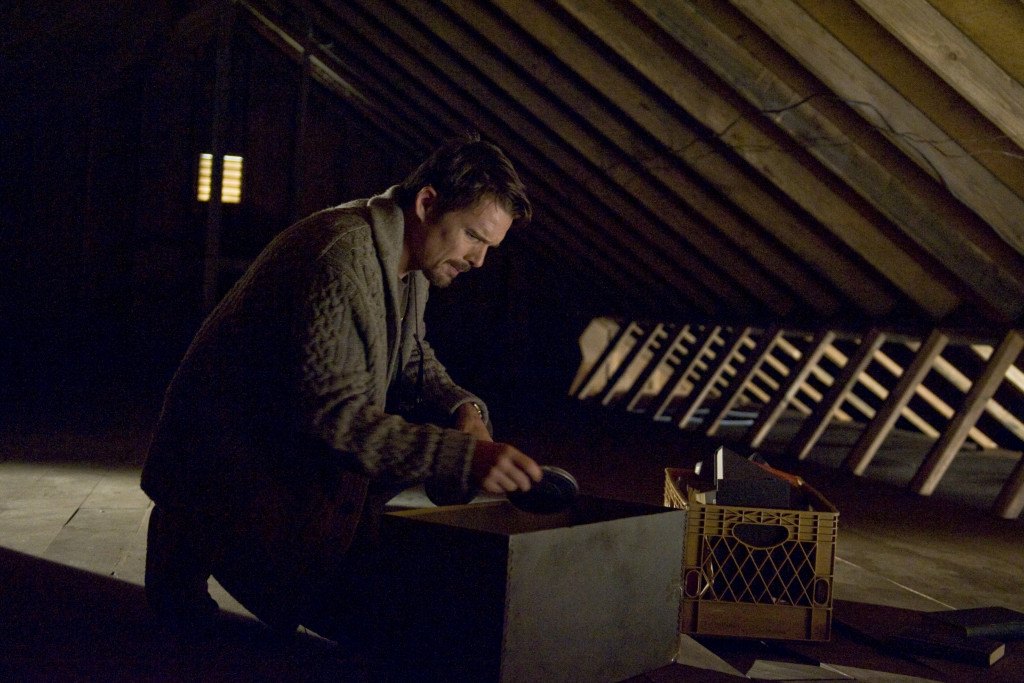 Four-time Oscar nominee Ethan Hawke is set to appear in heist thriller 'Cut Throat City', joining Terrence Howard, Wesley Snipes, Eiza González, Kat Graham, Tip "T.I." Harris, Joel David Moore, Isiah Washington, Keean Johnson, Sam Daly, Denzel Whitaker, Rob Morgan, Rich Paul, Demetrius Shipp Jr., and Shameik Moore. The New Orleans-set film is directed by Wu-Tang Clan's RZA and based on a script from P.G. Cuscheri.
Hawke will play Jackson Symms, a highly respected city councilman and retired NOLA deputy chief who has a keen sense of the less fortunate community members who he serves. The 9th Ward is his district.
The film centers around four boyhood friends who return to New Orleans' Lower Ninth Ward after Hurricane Katrina, and they find their homes decimated and prospects for work swept away. Turning to a local gangster for employment, the crew is hired to pull off a daring casino heist, right in the heart of the city. But when the heist goes awry, the boys are forced on a dangerous crime spree, fighting for their survival while hunted by both the warlord and two idealistic detectives.
1. Tonight at Noon (TBA)
Everyone has different coping mechanisms that help us to process and deal with the absurdity of reality at all times. In the upcoming drama movie written and directed by Michael Almereyda, based on Jonathan Lethem's novel, we will see a couple that deals with the anxiety of separation and distancing in their own way.
Lee and Mae try to work on their differences and reconcile. However, Mae finds herself struggling with the memories of a former flame. Meanwhile, Lee, who is a writer, tries to process all this by turning it into a story. His thinking is that by fictionalizing the events, he can gain some critical distance from it, thus helping him to understand and process what is happening. However, the decision to turn the events into a story has an immense impact on the film's narrative as we are taken on a trip that oscillates between Lee's imagination and the reality until we cannot be completely sure which is which.
The premise of the movie is bound to rest upon the performances delivered, and with someone of Hawke's caliber on board, we are sure that the result will be thoroughly enjoyable.
Read More: Upcoming Benicio Del Toro Movies
ALREADY RELEASED
The Kid (2019)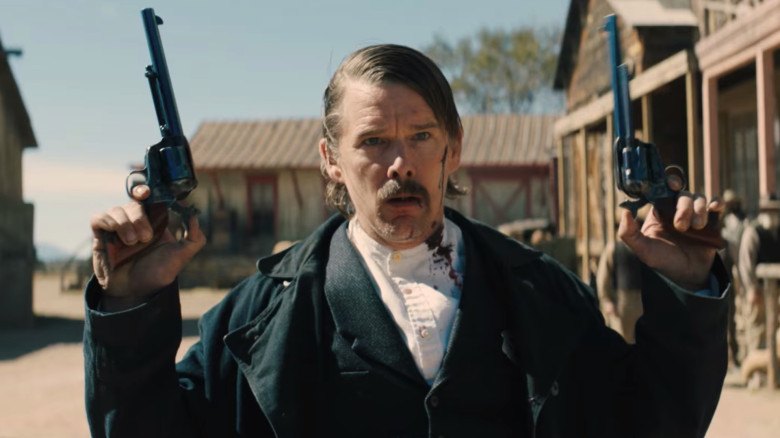 'The Kid' is a 2019 indie biographical western drama film directed by Vincent D'Onofrio, from a screenplay by Andrew Lanham, and is executive produced by Carl Stubner, through Suretone Pictures. The film stars Chris Pratt, Ethan Hawke, Dane DeHaan, Vincent D'Onofrio, Adam Baldwin, Jake Schur, and Keith Jardine. The film is the story of a young boy (Jake Schur) who witnesses 'Billy the Kid's (Dane DeHaan) encounter with Sheriff Pat Garrett (Ethan Hawke).
In April 2017, Vincent D'Onofrio was announced to be directing and starring in the film as Sheriff Romero. Later that same month, Chris Pratt signed on as Grant Cutler. In July 2017, Dane DeHaan was cast as 'Billy the Kid', with the rest of the cast filled up by September. It released on March 8, 2019.
Read More: Upcoming Tim Burton Movie
Adopt a Highway (2019)
If you are a frequent traveler who is on the road a lot, you must have seen the numerous signs urging people to adopt a highway. The movie gets its name from the idea, of a person coming to care for something that others take for granted. 'Adopt a Highway' is a drama movie that comes from Logan Marshall-Green in his directorial debut.
The movie tells the story of an ex-con who tries to adjust to his life while coming to terms with his actions. It is a common enough theme to be explored, that is, the ethical reconciliation of a man who has lived on the fringes of legality prepared to enter the mainstream social discourse. However, in the case of 'Adopt a Highway', this reconciliation is complicated, and at the same time, aided by the fact that the ex-con has to care for an abandoned baby he found in the dumpster.
The drama evokes a lot of emotion as Ethan Hawke appears in the role of the ex-con trying to get his life back on track. The talented actor delivers a nuanced performance that is evocative and makes the viewers understand what a man has to go through to become ingratiated in society. 'Adopt a Highway' debuted at South by Southwest in March 2019, before getting a theatrical release on November 1, 2019.