Not every movie is what you can watch with your family. Family flicks are a genre that can be enjoyed with everyone — with your kids, partner, parents, and siblings. While the personal preferences for many may range from dramas to romantic, action and thriller movies, a common choice for all family movie lovers is binging on comedy. They offer the best option for spending some fun moments during your get-togethers. These films help you take some time off, forget about your work, rest on your couch, and escape to a different world, filled with laughter, comic jokes, and witty plots.
Considering the genre of all-time family comedy hits, Netflix is literally lit right now. Be it vintage classics or new-age comedies, the streaming giant has it all covered. And with that said now, here's the list of really good family comedies on Netflix that are available to stream right now:
12. Peter Rabbit (2018)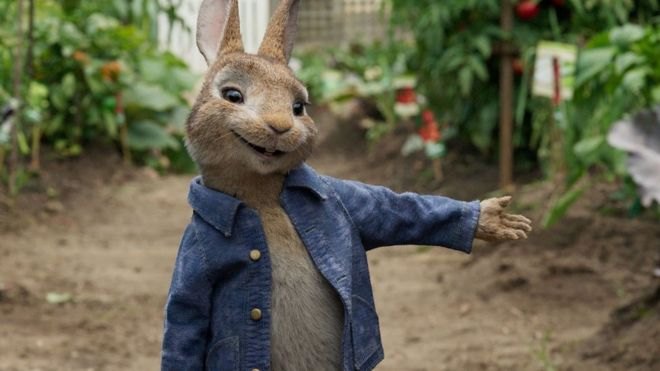 This 2018 film is based on the books by Beatrix Potter based on the titular character. Peter lives in the garden of one Mr. McGregor along with his family, and constantly disturbs and harasses the poor man whenever he gets a chance. However, soon Mr. McGregor passes away, and Peter's family gets a completely free access to his plot. But the days of fun for Peter and his family are rather short-lived. Mr. McGregor's property passes on to one of his relatives who soon finds out about the rabbits roaming about his property and decides to teach them a lesson.
What follows is a hilarious back-and-forth exchange between Peter and this new owner to see who gets access to this land. Besides being a hilarious comedy, this film focuses our attention on the question of natural habitats and makes us ask what has given humans rights to call a piece of land their own when each creature is equally entitled to the warmth and shelter this earth has to offer.
11. Daddy Daycare (2003)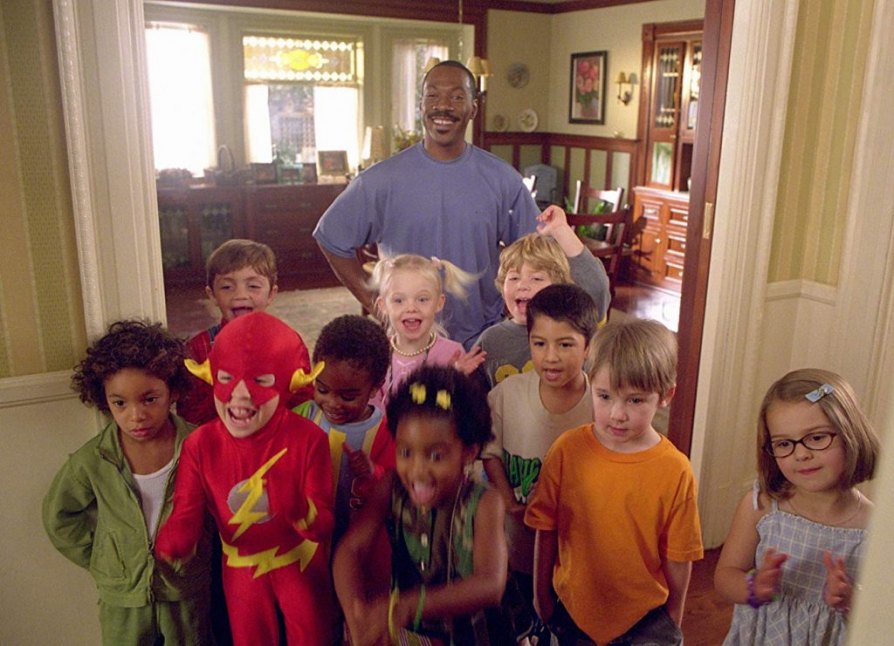 'Daddy Daycare' is the perfect movie for a family timeout because of its hilariously insane scenes. The film revolves around two fathers losing their jobs at a huge company and hence having no probabilities of finding employment anytime soon. Therefore, they start their own daycare facility. The facility, named 'Daddy Day Care', uses unusual and strange ways to pamper and care for children. As the institute begins to grow in popularity, it becomes a threat to its rival Chapman Academy which was leading the business previously. Released on 9th of May, 2003, this movie definitely deserves a mention on this list because of its fabulous narration and performances by the protagonists.
10. Evan Almighty (2007)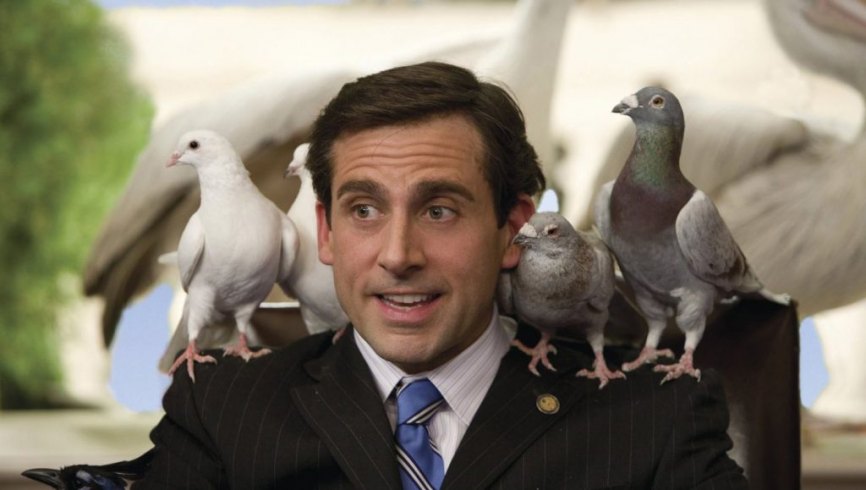 Released on June 22nd, 2007, Evan Almighty is one of the most expensive comedy films of all time. Evan Baxter is a forty-year-old television star and anchor-turned-US-congressman, who relocates from his city along with his family to Northern Virginia. Then one day, God appears before him and informs him about a devastating flood that is coming to wipe off humanity from the face of the Earth and clean it of its sins. Because of this, Evan starts building an Ark in order to save his community. In this process, he changes his physical appearance so much that he draws new media attention, making him a subject of ridicule and fun. However, amidst several obstacles, messy situations, and chaos, Evan is finally able to achieve his aim.
9. Spy Kids (2001)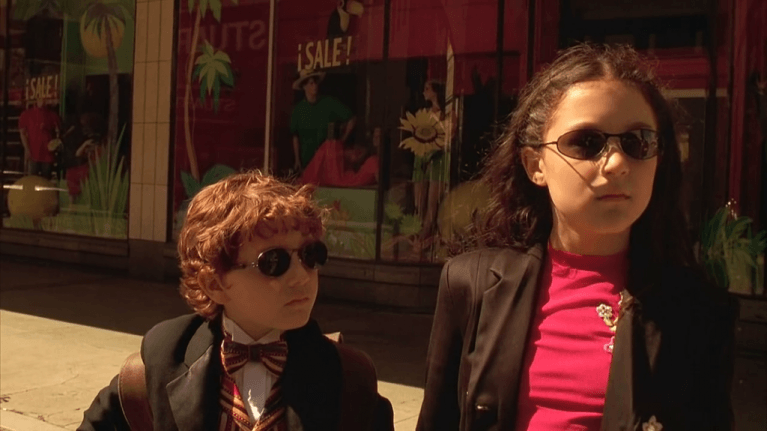 Robert Rodriguez is an extremely versatile director who has directed extremely violent films like 'Desperado', and also directed this mainstream spy film about kids with action and gadgets. 'Spy Kids' is the story of the brother-sister duo of Juni and Carmen who join forces to save their parents, Gregorio and Ingrid Cortez who have mysteriously disappeared. Having no clue about their parents' whereabouts, the two kids go on an adventure where they come face-to-face with life-threatening situations, but hold on to their courage and presence of mind which pushes them towards their goal. This is a hilarious film with action, adventure, and thrills. The film became so popular upon its release that it gave birth to a franchise which has now produced five more films and even one TV series.
8. Tarzan (1999)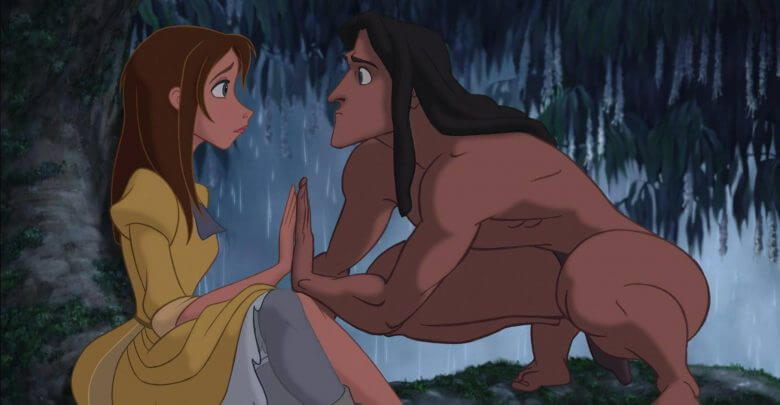 We have all read the famous stories of the Jungle Book in Rudyard Kipling's novel of the same. In a similar fashion, 'Tarzan' is also a story about the eponymous character who has been left behind by some humans in the jungle and has now grown up as one of the wild animals. When a woman called Jane is rescued by Tarzan in the jungle, he discovers that he is actually a human being and has more similarities with Jane than any other creature in the forest. This knowledge now creates a huge dilemma within the character as he now cannot decide whether he wants to go and check out how human beings actually live, or continue his life in the forest. A sweet and interesting story, 'Tarzan' raises the question of what it actually takes to be a man.
7. Mary Poppins Returns (2018)
One of the most beloved characters in the history of children's literature and in British cinema is the character Mary Poppins. She first appeared in the 1964 film called 'Mary Poppins' where Julie Andrews plays her part. In the 2018 film, it is Emily Blunt who has been assigned to play the legendary character. When the film starts, we observe that the two children whom Mary Poppins used to look after, Michael and Jane, are now grown-ups in extreme distress.
Michael owes a huge sum of money to a bank which he needs to pay as soon as possible. The bank manager is rather cruel and tells Michael that if he fails to pay the money, he will soon be losing his house. Michael has three children, and he looks after them with the help of Jane. Mary Poppins returns t their lives once again, and takes them on a magical journey like never before. The story of the film is not that great, but the performances are fantastic. Blunt does wonderful justice to her character. The cinematography and the set designs of the film are simply brilliant.
6. Incredibles 2 (2018)
'Incredibles 2' premiered in June 2018 and it is a sequel to 'Incredibles' which was widely successful after its release. In this movie, however, Helen is in the highlight while Violet and Dash are left at home with Bob. The three need to tackle the day-to-day heroics of a normal life. And even in this instalment, the family still does not know of baby Jack's emerging superpowers. Now, with a new villain in the picture, the family, along with Frozone, must join hands to foil his evil plans.
5. Bolt (2008)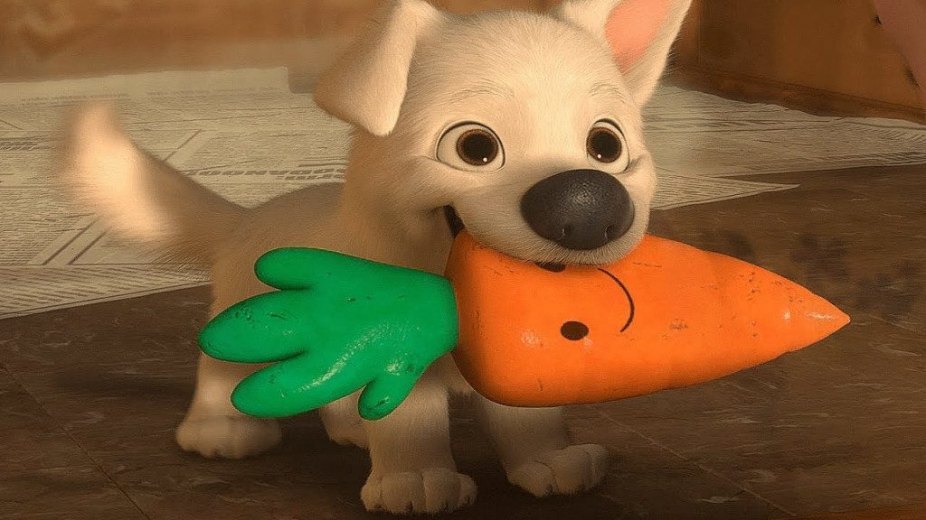 Released in November 2008, 'Bolt' is an animated adventure and comedy movie, suitable for both adults and kids. It is based on a super dog named 'Bolt' whose life is full of danger, action, and excitement. He and his owner Penny star in a superhero series wherein Bolt has several superpowers. However, Bolt believes that everything shown in the show is real.
So when a certain episode ends in a cliffhanger, Bolt thinks that Penny has been kidnapped and he jumps off from his trailer to search for her. However, he is transported to New York by accident. Now, in his journey to return back to Penny, Bolt meets two travelers, housecat Mittens, and hamster Rhino. He realizes in this journey that one does not need superpowers to become a hero.
4. Coco (2017)
One of the best animated films in recent years, 'Coco' centers around the story of a boy who is rather fond of music. The boy in question, Miguel, loves to sing and wants to become a big star like Ernesto de la Cruz, one of his favorite singers. However, the main problem which Miguel faces is the fact that there has always been a rather strict restriction in his home against the practice of music in any form.
As the story progresses, Miguel finds himself in a place called the Land Of The Dead, and here he gets into a number of adventures along with several interesting characters that he meets on his way. It is through this journey that Miguel comes to know of a certain family secret that is about to change his life forever. Despite being a simple animation film about a boy and his adventures, 'Coco' forces us to ask questions about culture, family heritage, and life and death. Never before has a mainstream English animation film been able to capture the nuances of a rural Mexican family so effectively.
3. Taare Zameen Par (2007)
One of the most important Indian films of the last decade, 'Taare Zameen Par' is the story of a little boy called Ishaan. He is extremely shy and always seems to be making mistakes while doing his homework. His parents are tired of teaching him, as it seems to have no effect on Ishan whatsoever. Even the teachers in school fail to realize why Ishan does so poorly in his studies. It is in these crucial times that a new teacher joins this school- Ram Shankar Nikumbh.
An art teacher, Nikumb quickly realizes what is the case with Ishaan. The poor kid actually suffers from dyslexia, and because no one has even considered the possibility of a mental condition affecting the child's cognitive abilities, his condition was only getting worse. Aamir Khan's performance as Nikumbh and Darsheel Safary's performance as Ishan are absolutely brilliant.
2. See You Yesterday (2019)
Since the days films were being made, most of the resources of doing so were in the hands of the white people. Thus, they always took the liberty of portraying members of any other race with a lot of prejudice. Even a few years ago, hardly any film was being made where the black character is an extremely intelligent person.
The Netflix original film 'See You Yesterday' turns this bias on its head. Not only is the central character of this film a black teenager, but she also possesses a genius-level IQ which helps her to invent a time machine which looks like a backpack and can be used to travel to any point in time. She uses this to save the life of her brother who had passed away in an accident. However, the main problem is that time travel is not a matter of joke and has its own consequences. The film is a refreshing take on the idea of a children's adventure, and finely used tropes of the science fiction genre within its narrative.
1. Christmas With the Kranks (2004)
'Christmas With the Kranks' is based on John Grisham's novel, 'Skipping Christmas'. Released in November 2004, this movie is about the Krank family having to face a lonely holiday season, after having spent every year of their earlier vacations with friends, relatives, and close ones. This brings Luther Krank to think about traveling to a certain destination after coming across a poster by a travel agency.
While Nora Krank is not sure about going away, she still gives it a thought and then agrees. Since their daughter is not with them right now, they decide to skip Christmas and go on a holiday together. But in a surprising turn of events, their daughter decides to come home. This causes confusion as the Kranks have little time in their hands to sort things out in order to invite families and get ready to welcome the Christmas spirit.
Read More: Best Marriage Movies on Netflix