Anyone who has been following the 'Fate' Series all this while, will be well aware of how epic 'Fate/Stay Night' and 'Fate/Zero' are. If you have not seen these and you're thinking of directly watching 'Fate/Apocrypha', then it may not really be a good decision on your part. It can be really rewarding to understand the depth of the storyline before watching this one and so you will not feel lost like most viewers did while watching it. The basic premise of 'Fate/Apocrypha' remains the same as all others in the franchise, as it revolves around the Holy Grail. The only difference is that this one tries to take a slightly more unique approach towards the war side.
The animation of different series has been done by many different studios like Ufotable Studios and Studio Deen as well. For 'Fate/Apocrypha', A-1 Pictures takes over and surprisingly does a great job with the art style and animation considering how infamous it is for butchering most source materials that it adapts. While it does not live up to the standards of Ufotable, it still manages to defy its own previous standards and does a great job with the action scenes. The battle-shounen style aesthetics is great to watch and the detailing in the character expressions is noticeable, adding more value to the drama of the anime. There are some episodes that have slightly sloppier action scenes, but for the most part of it, it lives up to what is expected from it.
The theme songs, OSTs and sound effects are perfectly placed throughout the anime and are exactly what you would expect from an action/fantasy anime. In fact, there are certain scenes in the anime that are exceptionally impactful just because they have a really good background score. The character voice mannerisms are also not all that bad and are suitable for the personalities of pretty much every character.
Overall, despite having a decent runtime of 25 episodes, it feels like 'Fate/Apocrypha' deals with a lot and is not able to live up to the things that it promises in the beginning. The Holy Grail War has been going on ever since the beginning of the series and though this one makes an attempt to somehow change it a little, the minor change in the format of the war does not really make a difference. That being said, the anime does bring in some interesting elements to the already known story of the series. This may not really be the best in the "Fate" Franchise, but is still really enjoyable. Most fans are going all "Meh" about it because they are trying to compare it with what Unfotable has been able to achieve with the Franchise. But if you just erase the whole idea of comparison, you will surely have a good time watching it and you might even start craving a new season of this version.
Fate/Apocrypha Season 2 Release Date: When will it premiere?
'Fate/Apocrypha' Season 1 released on July 2, 2017 and came to an end on December 31, 2017. The entire 'Fate/Stay' Franchise has been a huge success and this spin-off is no exception to that. A-1 Pictures Inc, usually tries to look for the best fantasy novels and then adapts them into some promising anime shows. And now that the season one of 'Fate/ Apocrypha' has come to an end, most fans are probably wondering if A-1 Pictures will produce another season or not.
According to all the rumors, A-1 Studio was expected to announce the release of the anime somewhere in the beginning of 2019. But no such announcement came soon after the end of Season 1; so we can assume that it is still being considered but maybe the creators are not sure about it yet. In the worst-case scenario, 'Fate/Apocrypha' might go on a long hiatus like most other average rated anime shows. Netflix's involvement with the show has increased its chances of continuation because a lot of times, streaming services pick up series for a new season even when the original producer may not be interested. Keeping everything in mind, our best guess is that 'Fate/Apocrypha' Season 2 release date (i.e. 'Fate/Apocrypha' Part 3 in Netflix terms) could be sometime in 2020 or 2021. We will update this section as soon as we hear more.
Fate/Apocrypha English Dub:
The English Dub of 'Fate/Apocrypha' Season 1 is available on Netflix.
Fate/Apocrypha Plot:
Almost all the series that are a part of the 'Fate/Stay' Franchise have revolved around "The Holy Grail", which is a powerful ancient relic capable of granting the wishes of anyone who gets its possession. Various masters also referred to Magi, who have summoned their own slaves using magical powers and now these servants fight each other with a hunger to own the Holy Grail someday. The last pair standing is the only true heir of the Grail and deserves to use its power. But strangely, after the third Holy Grail War, the Grail mysteriously disappears.
A few years go by and that's when the magi clan Yggdmillennia announces that it holds the Holy Grail now. The clan also announces that it intends to leave the Mage's Association and this is when the Associations sends in 50 elite magi to get the Grail back. Strangely, all of them are killed except for one who is sent back for the declaration of a war against the Association.
Unlike the other Holy Grail Wars, this one has two parties involved and because of this, the whole war takes a whole new unusual format. Both the parties are asked to send in their strongest master-servant pair for an ultimate battle of survival where the last standing team will forfeit the artifact. All fourteen masters stand face to face in the battlefield while the whole magical world shivers with the anticipation of the outcome of this epic battle.
Fate/Apocrypha Characters:
Ruler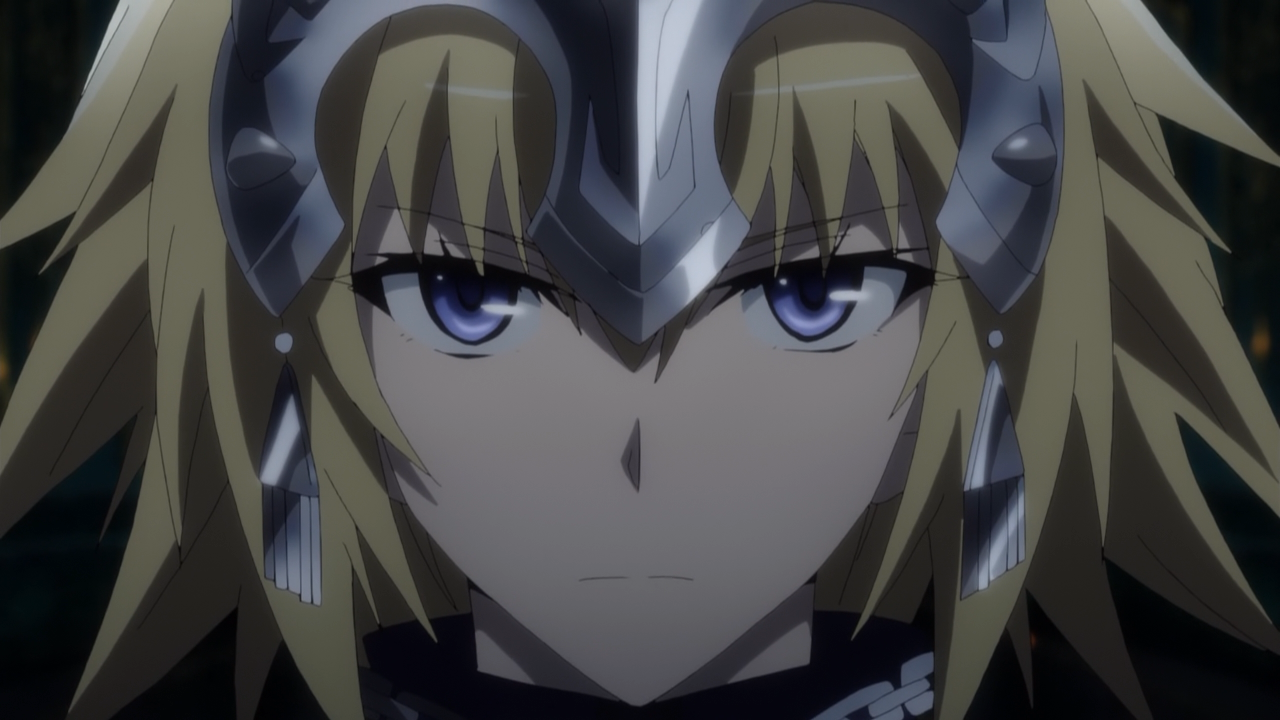 Ruler is one of the servants of Ritsuka Fujimaru of the Grand Order Conflicts. Ruler's real name is Jeanne d'Arc and he is a Catholic saint born in Domremy, France. Ruler owns the body of a French girl named Laeticia whose entire build and magical energy was compatible with her. Her eyes are very similar to amethyst in texture and her beauty is known to be too good to be real. When it comes to her religious beliefs, she believes that the Lord has not forsaken anyone on at all and making offerings to God comes down to one's personal choice; it has no meaning and is an act for our own satisfaction. She prays every single day and it has now become a very crucial part of her life.
As a servant, she is cool and relaxed but her real personality is that of a 16-year-old who is quiet and simple. She has no idea what she would ask for if she manages to get her hands on Holy Grail. All she knows is that she would only wish for the Holy Grail War to be conducted in a proper way. She does not mind if someone decides to put his/her personal needs while asking for a wish, as long as it is not destructive for the world. She does not hold any grudges against anyone in the world and revenge is a word that does not exist for her. She is content with the life that she has lived and has absolutely no regrets.
Sieg
Sieg is the main protagonist of the show who acts as the second master of Rider of Black during the Great Holy Grail War. He is basically a Homunculi that was created by Yggdmillenia for various different purposes. He has deep dark red eyes that look like the perfect polished rubies. He has brown hairs that tend to get darker with time. He has a very slender physique that clearly shows how weak he is. But after he acquires the Heart of Saber of Black, his hair darkens and even his body, though still slender. becomes stronger and muscular.
Sieg sees nothing in his own personality and believes that there is no value to his existence. He calls himself colorless as he has never owned anything since birth. But later in the series, he becomes more selfless and develops more as a person overall. When he was young, he was very naive about everything in the world around him and also had a tough time reading the emotions of other people. But despite being very clumsy and lacking common sense, he learns really quickly and easily becomes one of the most logical characters of the series. He is usually very polite and calm, but in situations where someone really pisses him off, he can be very blunt and may even pass some extremely rude comments. Unlike Ruler, he is very vengeful and when someone tries to harm the people he loves, he does not think twice before killing them.
Read More in Anime Preview: Keijo Season 2 | Citrus Season 2