EW released the first look images of one of the most anticipated movies of the year: Nocturnal Animals. It is directed by Tom Ford, who last made the critically acclaimed 'A Single Man'. It will be interesting to see what uniqueness he brings to what is already sounding a very intriguing plot. That two of the best actors around, Jake Gyllenhaal and Amy Adams, star in the film makes it even more high-profile. Expect Oscars attention during the awards season months.
Here's the synopsis of the film:
"Fifteen years ago, Susan Morrow left her first husband Walker Morrow, an unpublished writer. Now, she's enduring middle class suburbia as a doctor's wife, when out of the blue she receives a package containing the manuscript of her ex-husband's first novel. He writes asking her to read the book; she was always his best critic, he says. As Susan reads, she is drawn into the fictional life of Tony Hastings, a math professor driving his family to their summer house in Maine. And as we read with her, we too become lost in Sheffield's thriller. As the Hastings' ordinary, civilized lives are disastrously, violently sent off course, Susan is plunged back into the past, forced to confront the darkness that inhabits her, and driven to name the fear that gnaws at her future and will change her life"
Director Tom Ford had this to say to EW about casting Amy Adams and Jake Gyllenhaal:
"I have obviously always admired Amy as an actress. But after working with her, she is breathtaking. I cast her because, after watching Big Eyes, I found how much she could say with just the smallest emotions. And of course this character is reading a book for most of the film. So Amy's face had to telegraph everything that's going on. Her ability to do that, in that respect, makes her maybe the strongest actress working today."
"I've been so impressed with Jake's career choices, especially lately, constantly pushing himself in more unpredictable directions. And as a result, you've seen his career,"
In the below picture Gyllenhaal with Michael Shannon (right), who plays a detective investigating the violent act that occurred with Tony's family on the highway.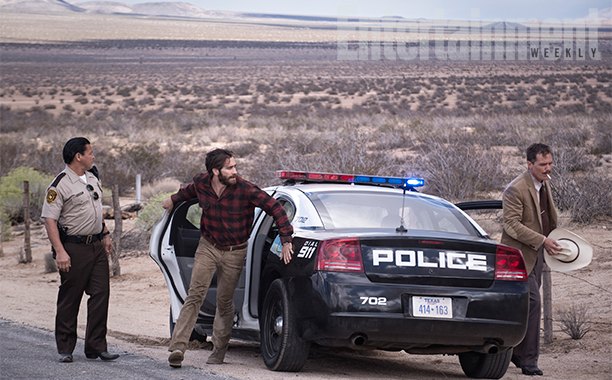 In the below picture Susan is seen in her sleek, modern-art-dappled home, as played by Adams.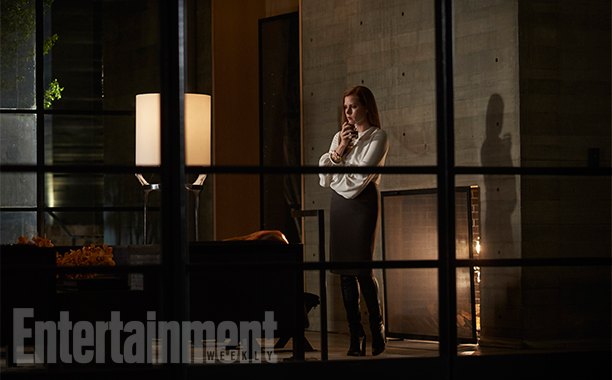 The film is scheduled to be released on November 18, 2016.