'Birdman',after gathering huge critical acclaim, has now become the new front-runner to win 'Best Picture' at the Oscars . 'Birdman' is an audacious step forward both in terms of its direction and cinematography.
Therefore, its only normal if people are curious what Alejandro Gonzalez Innaritu (director) and Emmanuel Lubezski (cinematographer) are up to. Well, both are collaborating together on 'The Revenant', The Cinemaolic's most anticipated film of 2015.
The first two pictures from the sets of 'The Revenant' were released (courtesy EW) and as you can see from both the pictures (above & below), Leonardo DiCaprio in the starring role looks brilliant.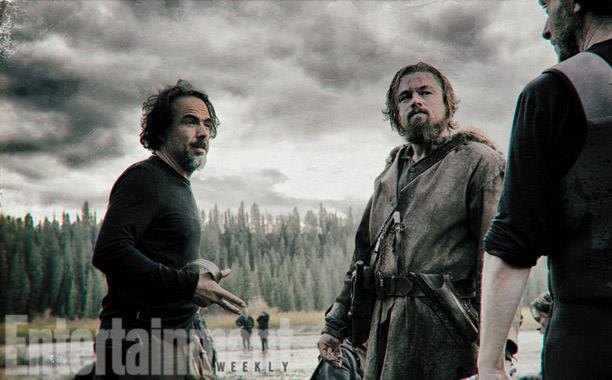 The idea of a director such as Alejandro G. Innaritu collaborating with an acting powerhouse like Leonardo DiCaprio sounds extremely interesting to say the least; especially, after seeing the brilliant Michael Keaton performance in 'Birdman'. Furthermore, as the master of long shots 'Emmanuel Lubezki' will be on camera, DiCaprio will have his chance of showcasing his complete arsenal as an actor. So are we expecting Leo to finally win an Oscar ?
The film follows the happenings of Hugh Glass on a fur trapping expedition on August, 1823. He was ahead of his group, scouting when he runs into a grizzly bear. The bear protective of her children knocks the firing weapon out of Glass' hand and he is forced to fight the animal with his bear hands and a knife. Later as his party catches up they see Hugh Glass with severe injuries by the side of a dying bear. The party however leaves Grant behind. 'The Revenant' shows how Hugh Glass tries to find the people who left him for dead by covering a huge 200 mile journey with a broken leg and exposed ribs.
The film is currently shooting in Calgary, Alberta,Canada where the nighttime lows are in the range of 9 F (-15 C).
Other actors tied to the project are Tom Hardy, Will Poulter and Domhnall Gleeson.
With the showcasing of a highly experimental team, it is definitely one of my most anticipated movies of this year. This vengeance-survival drama is set to hit theaters somewhere near Christmas this year.