Do you like pranks? Do you like to startle people? Are you the one who bides their time behind a door or in the bushes just to jump out in front of someone and scare them beyond their wits? (The worst-case scenario of this tendency is that you might be a psychopath!) For the pranksters who like to have such fun, Netflix has a show for you. And it is nothing short of awesome.
'Flinch' is a game show produced by Stellify Media. They have previously produced hit game, reality and dating shows like 'Who Wants to Be a Millionaire', 'Blind Date', 'Beauty Queen and Single', 'Gino's Win Your Wish List' and 'Celebs in Solitary'. The concept of the show comes from the mind of Matthew Worthy. He is a Managing Director at Stellify and is credited with the creation of some popular reality shows. He has executive produced many series of the production house, and has served as an executive producer or a consultant for shows like 'Take the Money and Run', 'The David Meade Project', 'Can't Touch This', 'In Solitary: The Anti-Social Experiment', 'Space Truckers' and many more.
Worthy thought of creating a game show where the strength of the contestants would be gauged by their ability to not move. Along with Kiernan Doherty, who is another Managing Director at Stellify, Worthy pitched the idea to Netflix. Worthy and Doherty have frequently collaborated in the past. The shooting took place in Northern Ireland inside an abandoned barn. For people who like to watch reality shows, this is a fresh new concept that hasn't been brought on TV before, which is a bit surprising, come to think of it. Flinching is a reflex action that is quite common to everyone. How did someone not think of turning it into a game show before? Suddenly, 'Flinch' has become the show we never knew we needed!
Flinch Cast: Who's in It?
Since it is a game show, there is no fixed cast for it. The contestants change with every episode, as everyone wants to know exactly how immovable they are. The one thing that remains constant is the hosts of the show, and they are some of the best-known faces in reality TV.
The first presenter, and host, of 'Flinch' is Seann Walsh. He is a British comedian who has won awards like Leicester Mercury Comedian of the Year, Chortle Awards Best Newcomer. He also received the runner-up title in 'Amused Moose Laugh Off' and 'So You Think You're Funny'. He has done many radio shows for BBC radio, some of which include 'Loose Ends vs BBC Radio 4', 'Matt Forde's Show', 'Act Your Age' and 'The John Richardson Show'. On television, he has marked his presence by appearing in 'Strictly Come Dancing', 'Bad Move', 'Family Guy', 'Play to the Whistle', 'Big Bad World' and 'Virtually Famous'.
The second host of 'Flinch' is Lloyd Griffith. Another well-known name in British comedy, he is known for hosting football-based chat shows like 'Soccer AM', 'Taxi to Training' and 'The Football Republic'. He has also worked in BBC Radio 1's comedy short, 'Inheritance'. 'Drunk History' and 'Sweat the Small Stuff' also find a place in his long list of experience in the field, along with his popular acts of stand-up comedy.
The third presenter of the show is Desiree Burch. She is an American comedian whose credits include titles like 'Live at the Apollo', 'Mock the Week', 'The Russell Howard Hour' and 'The Fake News Show'. Apart from being a well-known name in the independent comedy scene, she is best known for her work in the satirical podcast, 'Welcome to Night Vale'. The premise of the podcast is set in a town where "every conspiracy theory comes true". She voices the character of the Mayor of the town.
Flinch Plot: What's It About?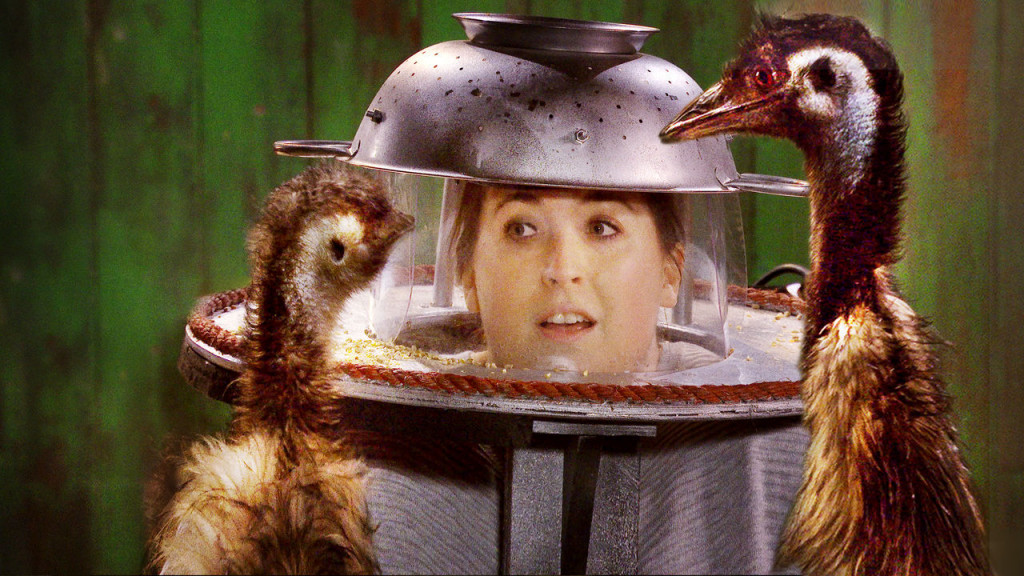 If you are one of those people who find it difficult to sit through a horror movie, I'll suggest you to maybe not watch this show. But then, you'd be missing out on all the fun. Don't worry this isn't a horror show. I just compared it with that because just as one wrong move in a scary movie can have deadly consequences for the characters, any movement on this show will also make you pay the price for it. 'Flinch' is a physical game show that asks one and the only thing of you: stay as still as you can. No matter what situation you are in, no matter what is going to happen to you, no matter what you think is going to happen to you, DO NOT MOVE. Because if you do, then the punishment will fall on you instantly. The rule sounds pretty simple, right? Again, it is the case of easier said than done.
How can you not flinch when you see a hammer (or something else) coming right at you while you are strapped to a pole? How can you not make a movement when your hand is caught in a rat trap? How can you prevent yourself from jumping if in complete silence a balloon bursts right next to your ears? Yes, it is the conditions similar to these that the contestants have to face in the show. With every round, the tortures become more creative and it becomes harder to get by. The price to be paid on showing any movement is almost instant, and most of the time, it is electrocution! But the contestants are not the only one paying the price. The host to whose team you belong has to take responsibility for your actions and go through the same task that you failed. If it is any consolation, the hosts are as tortured as the contestants.
What makes 'Flinch' unique is that unlike other game shows, it does not separate the strength of mind and body. You don't have to answer any questions here; you don't have to show physical strength either. All you have to show is a little bit of constraint, which demands a delicate balance between mind and body. How much are you in control of yourself, take the 'Flinch' test, and find out!
Flinch Season 2 Release Date: When Will It Premiere?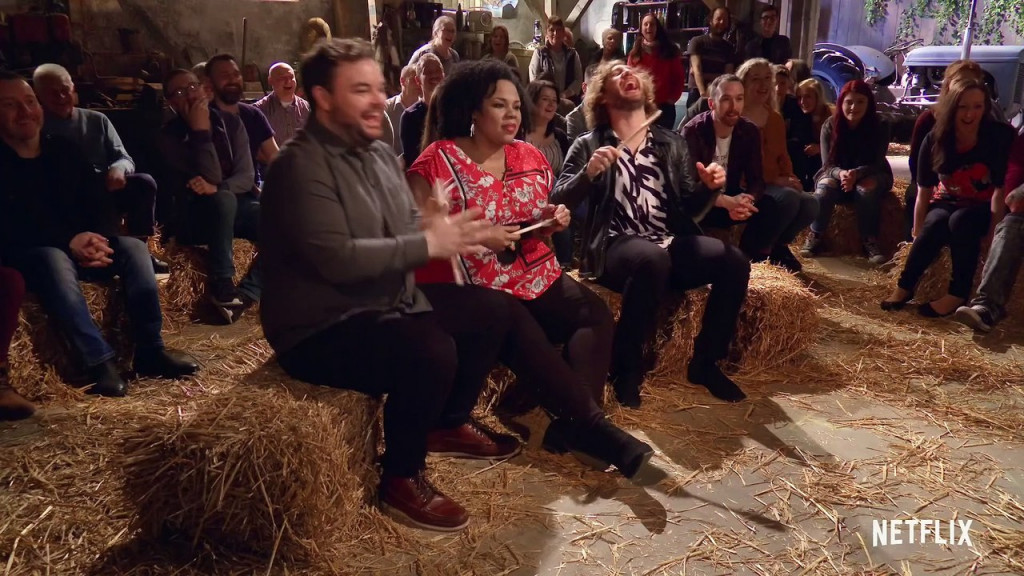 'Flinch' season 1 released on May 3, 2019. The concept of the show is fresh and unique, and people who have grown tiresome of watching the same things over and over again in reality genre will find it a great reprieve. How much does the audience enjoy watching other people being tortured (no matter how mildly) on television is the factor that influences the success of the show. It is still too early for Netflix to assess the response to 'Flinch'. However, considering the high success rate of game shows, especially the ones that come with never before tested concepts, it is easy to imagine that it will be well received. So, our best guess is that the show will return for another season. 'Flinch' season 2 release date could fall sometime in May, 2020. We will update this section as we know more.
Flinch Trailer
If you haven't yet seen 'Flinch', what exactly are you waiting for? It is especially great for all you pranksters out there! You might get some new ideas out of it. Before heading over to Netflix, you can check out the trailer below to see how entertaining your next few hours are going to be.
Read More: Best Game Shows on Netflix