Some anime shows are not too well received by the viewers because of a few major flaws that completely overshadow their better side. 'Freezing' is one such anime that has a couple of flawed episodes and a bit of unnecessary fan-service and it's these little things that have actually led to its downfall. Though it still has an average rating on MAL, the anime shows immense potential from the beginning as it tries to incorporate many unique themes in its short runtime. Unlike most other shows, it also remains very loyal to its source material. It faces no pacing issues even though it tries to cover 60% of the manga in a span of 12 episodes. The only problem with this series is that most of the terminologies used in its story are too complex for those who have never read the manga before.
The animation is above average, especially during the combat scenes. Though the fan service is annoying most of the times, it has some really good animation and that's probably the reason why some fans are able to overlook it. The music also ranges from average to great at times and is the best during combat scenes, where it features some blood pumping heavy soundtracks that can get you all fired up.
Overall, 'Freezing' is the kind of anime that leaves you with a lot of mixed feelings. While the fan service is really disappointing and kind of ruins the show, it is impressive to see how much ground the storyline of the show is able to cover in just one short cour. The way it includes sub-plots to develop certain characters is also commendable. The series is extremely engaging and has something interesting going on almost all the time, especially for the ones who enjoy Ecchi, as it heavily relies on nudity as a major selling point.
However, apart from that, the show also has a very intriguing story that is, for some reason, more enjoyable if you go for the manga instead of the anime. Even then, you should definitely give 'Freezing' a shot if you have the slightest interest in science fiction anime. To get a better picture, let's just say that anyone who enjoyed watching shows like 'Guilty Crown' and 'Angel Beats', will enjoy this in one way or the other. In the end, entertainment here is more of a fickle thing and the flaws of the anime that most reviewers are complaining about may actually be enjoyed by many. So watch it for yourself and only then you will know.
Freezing Season 3 Release Date: When will it premiere?
'Freezing' Season 1 premiered on January 8, 2011 and came to an end on April 7, 2011. After this, a season 2 titled 'Freezing Vibration' premiered on October 4, 2013 and went on till December 20, 2013. This was then followed by a 6-episode OVA which was aired from December 25, 2013 to May 28, 2014. As far as the manga is concerned, it still gets updates from time to time but the anime did not completely stay loyal to the source material. It just picked up random plot points from the manga and placed them in its storyline in a non-chronological order.
Many manga readers had a problem with the pacing and placement of events in the anime and also how it includes a lot of fan service, which kills its overall dark vibe. As of now, most factors are not exactly in favor of a new season. But the creators might just think of coming up with one when we're least expecting it. If that happens, we will surely update you about 'Freezing' Season 3 release date.
Freezing English Dub:
The English Dub of 'Freezing' is available on Funimation and Amazon Prime. You can also stream it on Crunchyroll with its original Japanese audio and English subtitles.
Freezing Plot:
'Freezing' is set in the future where the human world has been invaded by aliens known as the Novas. These Novas appear from time to time with the sole intention of causing devastation in the world and leave humans in the middle of a crisis. Young men, known as Limiters and young women called the Pandoras are given superpowers and are also trained under the military's toughest regimens to where they develop the skills to fight off the alien forces and help the human race survive.
The anime revolves around a young boy named Kazuya Aoi who visits the West Genetics Military Academy where a battle royale between all the Pandoras is on. Here he meets Satellizer el Bridget, who is known to be one of the most powerful Pandoras and is also referred to as the "Untouchable Queen". He mistakes her as his deceased sister and starts to embrace her. Though this really distracts her and makes her lose the battle royale, she realizes that there is something about the boy's touch and decides to make him her Limiter. Will this newfound partnership be able to stand against the forces of the Novas or will it fall like everyone else?
While the first season loyally follows the events of the first six volumes of the manga, the second season follows random events of volumes 7-14 in a non-chronological order. The second season revolves around the expansion of the Pandora team by involving many more of them from all over the world using an E-Pandora Project. But instead of making things better, the project only leads to further problems.
Freezing Characters:
Kazuya Aoi
Kazuya Aoi is the main male protagonist of the 'Freezing' series, who is the younger brother of a Pandora named Kazuha Aoi and is currently enrolled as a Limiter at the West Genetics Academy. He looks physically really weak and has black hair with brown eyes. Like almost all other limiters, he has a very slender build and is often seen as a "cute" guy because of his delicate looks. He never speaks ill about anyone and really cares about the people he loves. It's his kind nature that initially gets Satellizer's attention and makes her want to team up with him.
Despite his hate for combat, he hates when people are not treated in the right way and lashes out on those who try to harm people close to him. He is also very intelligent and is able to identify the true nature of his enemy just by looking at him or her. He is also very respectful towards Stella and often tries to suppress his feelings for her. He even feels guilty for having weird thoughts about her and this often leads to awkward situations between the two. Both of them are physically attracted to each other but they are too shy to confess anything.
Satellizer el Bridget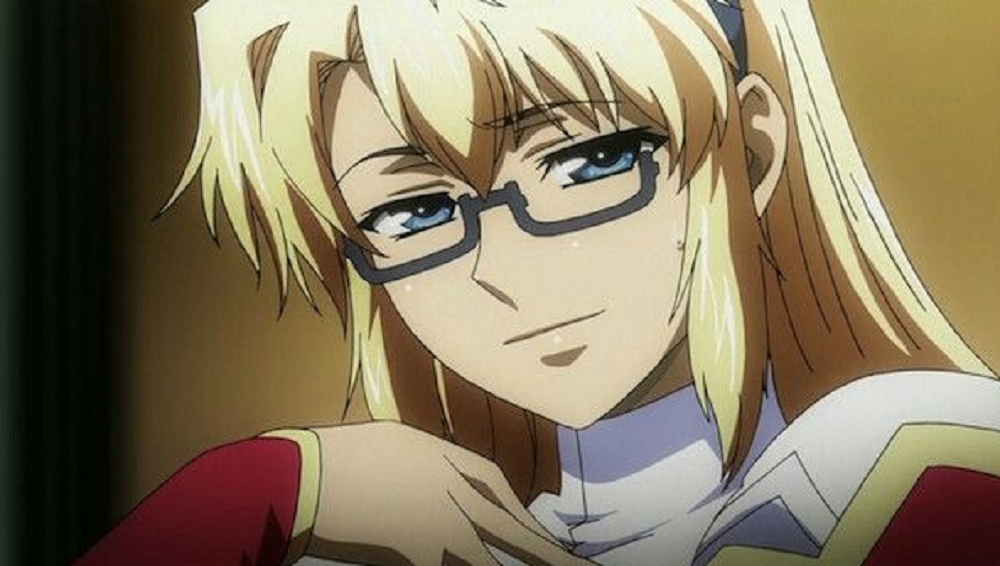 Satellizer L. Bridget, formerly known as Satellizer Alongrutch, is the main female protagonist of the show. She is a high-skilled Pandora at the West Genetics Academy and is known as the "Untouchable Queen". In the beginning, all the other students were afraid of her because of the ruthlessness that she shows during battles. Later it is revealed that she is not cold and is a very shy person who has had a rough past. She also hates being touched by anyone because of some traumatic incident.
In the current events of the anime, she is ranked as the number 2 Pandora because Kazuya interferes during one of her battles and distracts her. Her softer side is often revealed alongside Kazuya as she really starts caring about him. She also becomes more girly around him and even gets jealous when Rana tries to get intimate with him. She holds strong feelings for Kazuya but is too shy to admit it to him. As the series moves further, with the help of Kazuya, she becomes more expressive about her fears and insecurities and also learns to give up on all the grudges that she holds against others.
Rana Linchen
Rana Linchen is a Pandora from Tibet who arrives at the West Genetics Academy in search of her soul mate. Once she gets there, she realizes that Kazuya could be the one and this leads to a rivalry between her and Satellizer. She still never gives up on the idea and tries to convince Kazuya to be her Limiter. She has long waist-length blue colored hair that is tied up with an orange colored band. She is a really free-spirited happy-go-lucky girl who is madly in love with Kazuya and claims that he is her soul mate. She has little to no shyness and often rubs herself onto Kazuya without showing any signs of embarrassment.
She is also a very strong fighter and once she sets her mind onto something, she shows a lot of determination to achieve it at any cost. This can be seen when she attempts to make Kazuya her Limiter. In the battlefield, she comes off as a very intelligent and strong fighter. But in real life, she does not understand the simplest of things and is very naive towards everything around her, especially relationships.
Read More in Anime Preview: New Game Season 3 | Mondaiji Tachi Season 2