The recent years in television have witnessed a series of reboots, revivals and spin-offs. Disney, who is ready to come up with its own streaming service now, has some classic shows in store, the ones that are sure to give you serious nostalgia. 'Boy Meets World', an Emmy and People's Choice Award-winning show, was one of its successful TV series that first aired in 1993, ending its run in 2000. In 2013, Disney decided that it was about time people were reminded of this story, but with a setting of contemporary teenage life. Hence, we got the spin-off, 'Girl Meets World'.
The show is created by Michael Jacobs, who also serves as the executive producer, and April Kelly, and is produced by Randi Barnes. Jacobs had previously worked on 'Boy Meets World' and has also been a part of 'Dinosaurs' and 'Charles in Charge'. Kelly has been associated with projects like 'Happy Days', 'Mork and Mindy', 'Love', 'Boy Meets World' and 'Where I Live'.
'Girl Meets World', when it first released on Disney, was met with instant success and was applauded by critics and viewers alike for its accurate depiction of teen life. It was well-received for its relatability factor and having a positive influence on its viewers, most of whom belong to the young demographic.
Girl Meets World Cast: Who's in It?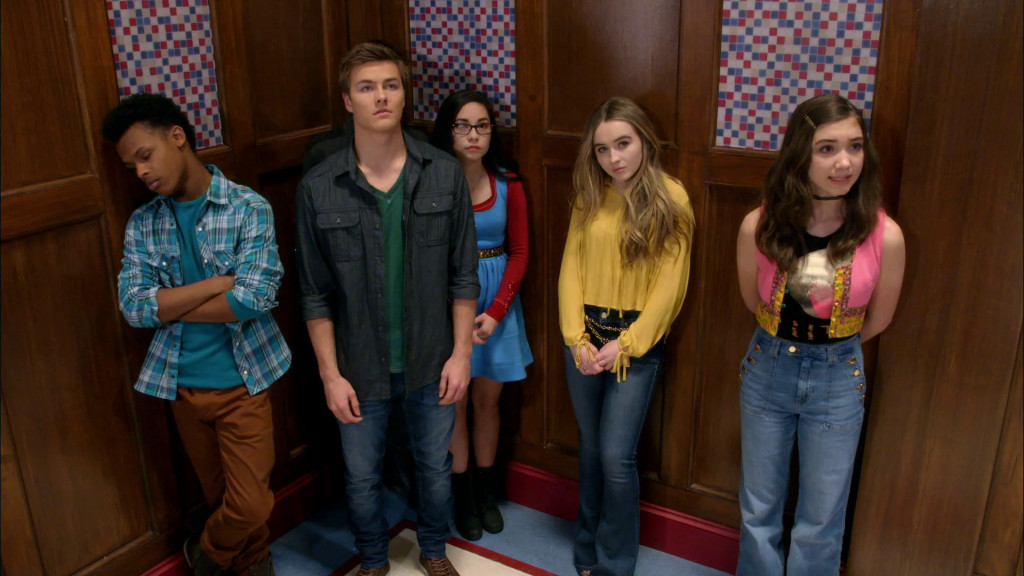 'Girl Meets World' follows the stories of the characters of 'Boy Meets World' with a different lens. This connection allowed the show to call back its previous cast to present its characters in a new light while adding some fresh faces to give a contemporary feel to the story. While many names come and go from the cast, the following are the most important of them.
At the centre of 'Girl Meets World' is a teenager named Riley Matthews. She is Cory and Topanga's daughter and the main arc follows her attempts at understanding the constantly changing world around her. The character is brought to life by Rowan Blanchard. This show made her another one of Disney faces who found success with both their music and acting career. She has appeared in films like 'The Back-Up Plan' and 'A Wrinkle in Time'. Her television credits include names like 'Splitting Up Together', 'Dance-A-Lot Robot' and 'The Goldbergs'. She was also the face of Disney Channel's TV movie, 'Invisible Sister'. She is also set to appear in TNT's upcoming sci-fi drama, 'Snowpiercer'.
Sabrina Carpenter plays the role of Maya Hart. Maya is Riley's best friend; her confidant and the one Riley relies on for advice on every matter. Her own character background adds a sophisticated arc to the story and she is one of the integral characters of the show. She too has succeeded in shining beyond her role in 'Girl Meets World'. Her film and TV credits include titles such as 'The Hate You Give', 'Horns', 'The Goodwin Games', 'Orange Is the New Black', and Disney Channel's TV movie, 'Adventures in Babysitting'. She has also released a couple of studio albums, the latest of which was released in November 2018.
Ben Savage reprises his role from 'Boy Meets World' as Cory Matthews. He is Riley's father and holds the title of the history teacher at her school. This makes him a part of both her home and school life, furthering his impact on her day-to-day decisions. Following the success of his breakout role, he has worked in many films and TV shows, like 'Still the King', 'Bones', 'Chuck' and 'Party of Five', to name a few.
Peyton Meyer portrays the role of Lucas Friar in 'Girl Meets World'. Lucas is Riley's potential love interest and, thus, becomes one of the main characters on whom the story of the show is focused. Apart from this show, Meyer has worked in 'Best Friends Whenever', 'American Housewife' and 'Dog with a Blog'.
Danielle Fishel plays the role of Topanga Matthews, Cory's wife and Riley's mother. Her role is a reprisal from 'Boy Meets World' which provides a backstory to how she and Cory got together in the first place.
Girl Meets World Plot: What's It About?
'Girl Meets World' is set in the same universe as its parent series, and actually follows the story of the daughter of the characters from 'Boy Meets World'. The last time we saw Cory and Topanga, they were ready to move to NYC and enter a new phase of their lives. The story of this show cuts out all the in-between things and shows them as a happily married couple who are about to enter a difficult phase. This phase isn't hard because of some problem in their relationship. It is so because their daughter has entered adolescence now, which brings a whole new set of "teenage dilemmas", the worst and most trying time in any parents' life!
The main focus lies on Riley and her best friend, Maya. They have begun to understand the world from the eyes of a young adult, now, and this has opened them to the possibility of self-exploration and understanding. They have to figure out what they want in life, who they want to be with, and how they want to be themselves. Every episode lands the besties in a new situation, which always ends with them learning a new lesson. By the end of the third season, the girls' story has traced a magnificent arc which becomes evident in their characters, if you compare the first episode of the show to its last. Even their parents and other characters important to the story realise that life never stops giving you lessons and you have to make the best out of what you get. The ending takes a turn that reminds you of the finale of 'Boy Meets World', a nostalgic experience in itself, where the main characters learn their lesson and prepare themselves for the possibility that the outside world holds for them. All in all, everyone gets their happy ending and move on with their lives.
Girl Meets World Season 4 Release Date: When Will It Premiere?
'Girl Meets World' season 3 premiered on June 3, 2016. The sad news is that Disney cancelled the show immediately after the third season. The decision was a bit difficult for the fans to accept and they even petitioned for some other platform to save it. Netflix, which has recently turned out to be the saviour of other popular shows that were cancelled by original networks, was also a popular choice for the viewers to be the one who brings back 'Girl Meets World'.
Unfortunately, no other network came to the rescue and the show ended its run with its third season, giving a proper send-off to its characters and wrapping up every storyline. It was also a major disappointment because the story had come to the point where it would have tackled more mature content. There's still some hope for the fans considering that Disney is launching a new streaming service, Disney Plus. Who knows, the network might decide to revive the show considering its massive popularity. If we get any news or update on Girl Meets World season 4 release date, we will keep you posted. Don't forget to check back for further developments.
Girl Meets World Trailer
Here is a look at the trailer of one of the previous seasons to refresh your memories.
Read More: Best Teen Movies on Netflix