In 2016, Sophia Christina Amoruso was named "one of the richest self-made women in the world". Before that, she had worked as a security guard, and after Forbes gave her the above-mentioned tag, her company, Nasty Gal, soon filed for bankruptcy. To have such a great transformation, from one end of the spectrum to the other, and back again, it is interesting to imagine how she did it all. 'Girlboss' follows her story, giving us a close look into the work that goes into starting your own company from scratch.
The show is created by Kay Cannon. She is known for her work as a writer on a number of movies and TV shows like 'Pitch Perfect' trilogy, 'Baby Mama', '30 Rock' and 'New Girl'. She directed 2018's comedy, 'Blockers', marking her directorial debut. She is currently indulged with an upcoming 'Cinderella' movie. Cannon also serves as an executive producer, alongside Charlize Theron, Laverne McKinnon, Beth Kono, Christian Ditter, Sophia Amoruso, Kristen Zolner, Brittany Segal and Jane Wiseman. The directors of the show include the names of Christian Ditter, Steven Tsuchida, John Riggi, Amanda Brotchie and Jamie Babbit.
Girlboss Cast: Who's in It?
The lead role of Sophia Marlowe is played by Britt Robertson, who was praised for her portrayal of the conflicting character of the young entrepreneur. Robertson is a familiar face to the people who have seen films like 'Tomorrowland', 'A Dog's Purpose', 'The Space Between Us', 'The Longest Ride', 'The First Time' and 'Dan in Real Life'. She has also appeared in TV shows like 'The Secret Circle', 'Life Unexpected', 'Under the Dome' and 'Girlboss'.
Ellie Reed plays the role of Sophie's best friend, Annie. Their relationship gives Sophie a much-needed support, relying on someone for advice, and trusting them with her secrets. Reed has mainly worked in theatre, being part of about a dozen productions. Even though she doesn't have many screen credits, she gave a commendable performance in 'Girlboss', good enough to bring her warranted attention. You might recognise her from her roles in 'Empire', '2 Broke Girls' and 'Chicago P.D'.
Sophia's love interest is Shane, played by Johnny Simmons. Simmons has made himself known through a series of roles, no matter how big or small, in films like, 'Evan Almighty', 'Jennifer's Body', 'Scott Pilgrim vs the World', 'The Perks of Being a Wallflower' and 'Transpecos'. He has also appeared in TV shows like 'Numb3rs', 'Elementary' and 'The Good Wife'.
Alphonso McAuley plays the role of Dax, Annie's boyfriend, who has some big plans for his future. McAuley has a good number of films and TV credits to his name. However, his fans recognise him better for the vines that he makes, which, in turn, has given him a following of 2.2 million viewers. Those not familiar with his work on the web may recognise him from TV shows and movies like 'Chocolate News', 'The Jake Effect', 'Bringing In', 'Love That Girl!', 'The Middle' and 'Schooled'.
Dean Norris plays the role of Sophia's father, Jay. Norris is best known for his role of Hank Schrader in 'Breaking Bad'. He starred alongside Robertson in 'Under the Dome'. He has acted in a number of classic films like 'Lethal Weapon 2', 'Total Recall', 'Terminator: Judgement Day', 'Little Miss Sunshine' and 'Starship Troopers'. Further, he is all set to appear in 'Scary Stories to Tell in the Dark', written and produced by Guillermo del Toro.
Norm Macdonald plays the role of Sophia's boss, Rick. Macdonald is best known for his stand-up comedy. He served as a cast member of 'Saturday Night Live' for five seasons. He is also known for giving his voice to various characters in films like 'The 7th Dwarf', 'Dr Dolittle: Million Dollar Mutts', 'The Flight Before Christmas', 'Farce of the Penguins' and 'Christmas is Here Again'.
Other supporting cast includes names like RuPaul Charles ('RuPaul's Drag Race'), Jim Rash (who received an Academy Award for 'The Descendants'), Louise Fletcher (Academy Award winner for 'One Flew Over the Cuckoo's Nest'), Melanie Lynskey ('Two and a Half Men', 'Castle Rock', 'Heavenly Creatures', and Michelle and Melissa Macedo (a musical duo of twins).
Girlboss Plot: What's It About?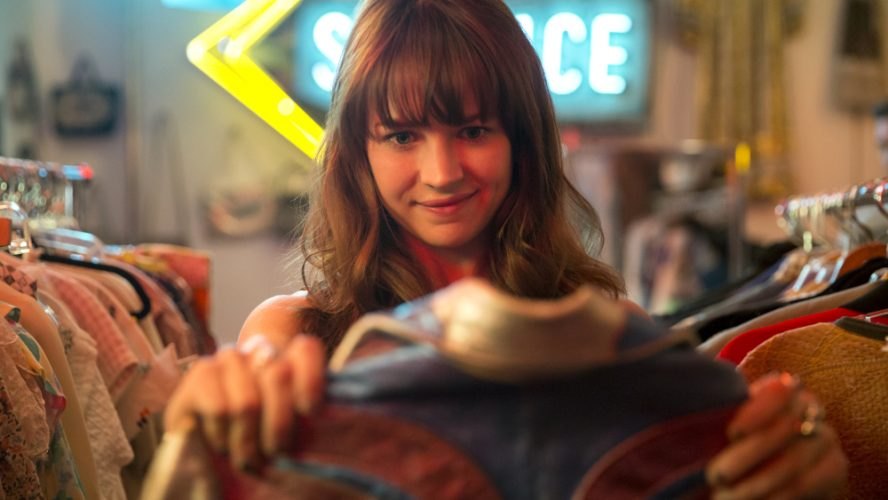 'Girlboss' takes inspiration from the life of entrepreneur Sophia Amoruso. Britt Robertson's Sophia Marlowe is a close image of Amoruso's character, and that's why she seems so real to the audience, in the choices she makes for her career and her personal life. The story begins in 2006, the time Sophia hit rock bottom. She is fired from her job at a shoe store. Already behind on rent and other bills, she finds herself desperately in need of something that can bring her money. It is said, "once you hit rock bottom, the only way is up." Something similar happens for the heroine of this show. Her desperation leads her to come with some innovative, "out of the box" ideas to fix her situation. By chance, she stumbles upon a vintage motorcycle jacket and buys it at a very low price, understanding that the owner has no idea of what the value of this thing is. What she buys for $6, she sells for $600. With her bills sorted, now she focuses on the future. With a margin of 100 per cent profit, she wonders if she can make a business out of buying and selling vintage things online. Thus, she comes up with the idea of an online shop, tailored just for one purpose- selling vintage clothes.
As her brainchild takes flight, she begins to materialise it. However, there are bound to be bumps along the way. Starting a business with almost no help begins to take its toll on her. She struggles to meet deadlines and make deliveries, succeeding only by a margin. Her best friend, Annie, acts her backbone throughout this whole ordeal. Sophia also begins a relationship with Shane, who further helps her, especially in deciding the name for her company. As business takes off, other problems pose themselves in front of her. Inability to separate professional life from personal, she starts to feel the effects on her relationships and how they are deteriorating with time. By the end of the season, Sophia manages to get a firm ground for her website and organises a launch party with the help of Annie, mulling over her complicated status with Shane, the whole time.
Girlboss Season 2 Release Date: When will it premiere?
'Girlboss' season 1 premiered on Netflix on April 21, 2017. The show was cancelled by Netflix and will not be returning for a second run. The show was just beginning to start the next phase of Sophia's life, and the invested fans would have loved to see how it all turned out for her. However, it didn't garner favourable reviews, the criticism directed mainly towards the sketching of characters and plotlines. If the show does get get renewed, it will probably with another network. So, for now, Girlboss season 2 is highly unlikely to release. Whatever developments come along the way, we will update this section for you.
Girlboss Trailer
Since 'Girlboss' is a Netflix original, you can catch all its episodes on the streaming service. If you haven't yet seen the show, here is the trailer to give you a taste of what it is like.
Read More: Best Teen Movies on Netflix