Created by Jordon Nardino, Netflix's 'Glamorous' is a comedy-drama series that stars Miss Benny as Marco Meija. Marco loves makeup. He works at a store selling makeup; he makes YouTube tutorials about makeup; he wants to do something along that line that gives his life a purpose and direction. When it looks like nothing will happen to change the rut he feels stuck in, he crosses paths with Madolyn Addison.
Madolyn recognizes Marco's potential and offers him to become her second assistant. Marco is delighted at the idea, as it finally allows him to do what he loves. However, the job comes with many challenges, especially when Marco discovers that the company could be on the brink of ruin. Apart from this, Marco also deals with the complexities of dating and falling in love while being true to himself. If you loved the show and want to know if there'll be another season, here's what you need to know. SPOILERS AHEAD
Will There Be a Glamorous Season 2?
'Glamorous' Season 1 was released on Netflix on June 22, 2023. The season consists of ten episodes of 45-50 minutes each. The show was received well by the critics, with the praise directed towards Miss Benny, who plays the complicated and messy Marco. However, the streaming service depends on the response from the audience to decide whether or not they want to renew the series.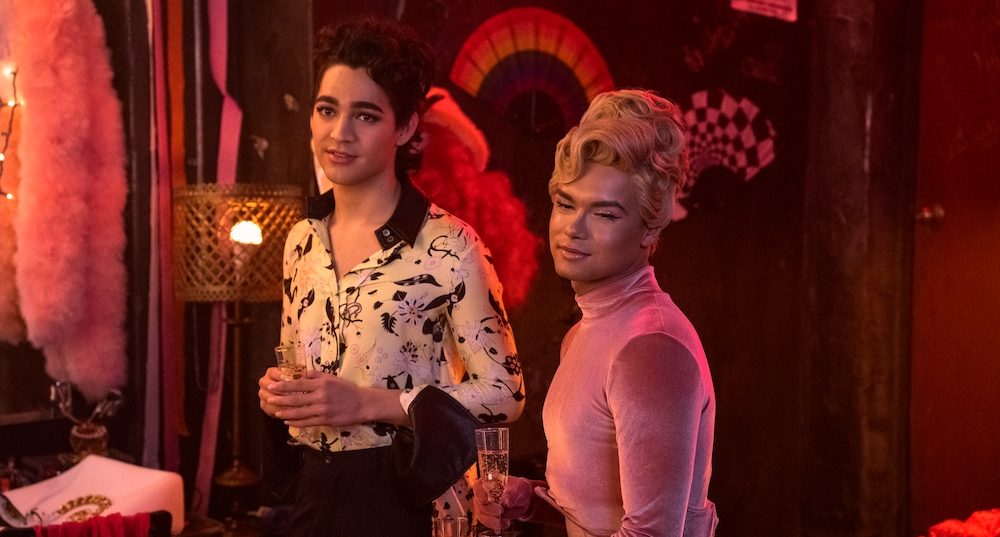 The first season ends on a high note for Marco and his friends as they solve some major issues in their personal and professional lives. Since the deal with Vendemiaire was spoiled, the clock had been ticking on Glamorous, especially when the secret formula of their products was leaked to the rival company. Venetia comes up with the idea of completely letting go of the formula and using this as an opportunity to revamp themselves completely. Previously, she had proposed a new line of organic products, and it looks like a great idea to change and revitalize the company's products and reputation.
While Venetia saved the company, she was the one who leaked the recipe, so she was fired. Later, however, Madolyn realizes how essential Venetia is to Glamorous and brings her back. With Venetia finally getting the promotion she had been working for, her seat as Madolyn's assistant must be filled, and Marco is the logical choice. By far, Venetia screened Marco from the tough things that the job brought. But, in the second season, he will have to work harder as the promotion will bring new challenges for him.
Besides his professional life, Marco also makes significant strides in his personal life. After trying to make things work with Parker by bowing to his demands of toning down his feminine side, Marco decides that Parker is not the one he should be with. Marco needs to surround himself with people who appreciate him for who he is, and Parker has proved not to be one of them.
Another challenge for Marco is to live in New York as an independent person now that his mother is moving to Phoenix. She received a job opportunity she couldn't let go of, and she knew Marco belonged at Glamorous. So, they bid each other farewell. This means their house is gone, too, and Marco has to find a place to live. But more importantly, in the finale, we see Marco meeting a transgender specialist.
Considering everything, it's clear there is still a lot about Marco that can be explored. There are so many things that he needs to figure out in his personal and professional life. The Season 1 finale shows that his story has only just begun and must be continued with the second season. Being a show that is as fun and entertaining as it is relevant and thought-provoking, we believe 'Glamorous' deserves a second season. If Netflix decides to move forward, we expect it to land sometime in early 2025.
Read More: Is Madolyn Addison Based on a Real Person?