More often than not, it's the hype of an anime that later leads to its downfall. Take 'Attack on Titan' for example: it's a great anime but the hype around it was so much that it left many fans with huge expectations. I'm not saying 'Attack on Titan' is not a good anime series, I'm just saying it was kind of a buzzkill after all the hype. I've learnt my lessons though, and now, I judge anime series based on how much they're being hyped right before their release. It is a rather unfair way of judging a show but think about it — which overhyped anime has actually lived up to its full potential? In spite of being aware of all of this, I fell into the same old trap again and I started expecting a lot from 'Guilty Crown' even before it came out. But did this one series change my whole perception about overly-publicized anime? Yes and No.
One great thing about 'Guilty Crown' is that even though its plot comes off as a little ridiculous at times, all of it is original. And by "original", I mean that it has not been adapted from a manga or a light novel, unlike most other anime. It takes great courage to actually bring in something new to the anime world instead of going for the same old repetitive stories that solely rely on fan service for sales. Many anime shows even claim to be "originals" but turn out to be nothing but concepts of famous tales thrown around together for the sake of a unique story. Surprisingly, 'Guilty Crown' is not like that and brings in some really fresh never-seen-before ideas to the table. Even the anime's emphasis on character development during the first half is absolutely commendable.
However, what started off as an anime with boundless potential soon turned into a melodramatic hyperdrive that goes ahead with an insanely rapid speed. The second half turned out to be completely the opposite of the first half and yet again, my old belief about over-hyped anime came creeping in. Some might say that the anime is influenced by many other popular franchises, but to put it simply, I would just say that it's just extremely cliched. The only reason why one would even bother sitting through the second half is to know how much mundane the ideas of the show can get.
Overall, I would say that 'Guilty Crown' is very entertaining and even engaging but not in the kind of way you would expect it to be. And even though, it has numerous inclusions of many well-known aspects of other anime series, it actually pulls these off really well. If there's one thing Production I.G is really good at it's the quality of animation and the character mannerisms. I'm not saying that the execution makes up for the lack of new ideas but it helps you get through the 22 episodes of Season 1.
Nevertheless, 'Guilty Crown' is quite a popular anime. And the reason behind that is probably its emphasis on numerous plot twists and "typical anime girls". If you really enjoy such anime, then please ignore my personal opinion and just go ahead and watch it. For those who have seen it already and are looking forward to a new season, we might have some news for you.
Guilty Crown Season 2 Release Date: When Will it Premiere?
'Guilty Crown' season 1 released on October 14, 2011 and with a total of 22 episodes, it came to an end on March 23, 2012. There have been rumors about a new season since the year 2017 but as of now, there have no confirmations yet from the studio's end. The creators had once claimed during an interview that they would want to come up with a new season of 'Guilt Crown' but clearly, they haven't really gotten to it yet. Our best guess is that 'Guilty Crown' season 2 release date could fall sometime in 2021. We will update this section as soon as we hear more.
Guilty Crown English Dub:
The English Dub of 'Guilty Crown' Season 1 is available on Funimation and Amazon Prime. You can also stream it on Netflix with its original Japanese audio and English subtitles.
Guilty Crown Plot:
'Guilty Crown' is set in the year 2039 when Japan, which was once a great nation, has now fallen under the rule of a cruel military group known as the GHQ after the outbreak of a deadly virus known as the "Apocalypse Virus". Opposing this are a bunch of freedom fighters who are led by Gai Tsutsugami, who despises the GHQ and is determined to overthrow their rule with the help of his guerilla group. This is where Shu Ouma, the main protagonist, enters the story after he unknowingly acquires the "Power of Kings" when he runs into a member of the guerilla group named Inori Yuzuriha. Shu is now forced to join the group and fight against the GHQ. Along with this, he must also learn to control his newfound power so that he can put it to some good use.
Soon, Shu finds himself getting dragged into an action-filled war where he unravels even greater conspiracies and finds himself in the middle of many lies and secrets that go all the way to the "Apocalypse Virus". The whole story of this series is actually the continuation of an OVA that goes by the name 'Guilty Crown: Lost Christmas'. The story of the OVA is set in 2029, which is 10 years prior to the events of the anime series. It reveals the origin of the "Power of Kings" and how the whole weapon first comes into the picture. Anyone who even mildly enjoyed the anime show should definitely check out the OVA.
Guilty Crown Characters:
Shu Ouma
Shu Oma is initially portrayed as a weak school going kid who is the member of the motion picture research club. But his life is turns upside down when a chance meeting with a stranger gives him a supernatural ability called the "Power of Kings", which is also referred to as the "Void". Before acquiring this ability, he was the kind of person who would mind his own business all the time and keeps his nose out of other people's way. But later, he is forced to change his ways and act as the much needed leader that he is destined to be.
Gai Tsutsugami
Gai has long blonde hair with green piercing eyes that go along really well with his personality. He is very well known for his hypnotizing charisma and also his feats of immense strength. He later proves to be one of the strongest rivals of Shu. But even after being his viral, he goes out of his way to guide Shu and he firmly believes that the "power of kings" will eventually help them succeed with their revolution. He claims that his biggest motivator during his battles is to save Shu's sister Mana (who is the modern day Eve) from the "Apocalypse Virus" and often says that his only reason for fighting is for a certain woman, clearly referring to Mana.
Inori Yuzuhira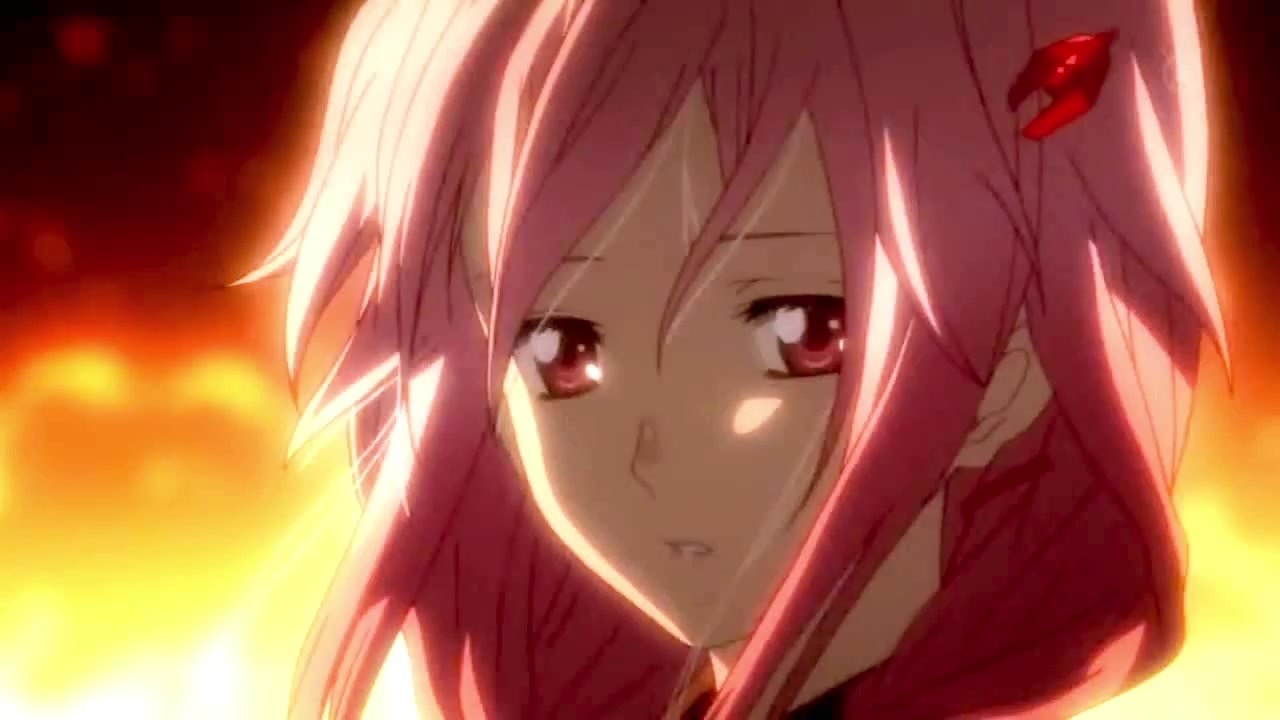 Inori Yuzuhira is the female protagonist of the show and is mostly known for being a prominent member of the guerilla group that goes by the name of Funeral Parlor. Inori is portrayed as a very emotionless character who listens to no one but Gai. Gai is the one who raised her and gave her a name and that's the reason why she respects him more than anyone else. She usually avoids talking when it's not necessary and often comes off as being disinterested but she is always listening. When she feels the need, she makes sure that her point is put forward. Even though she avoids getting into someone else's business, she goes out of her way and looks out for Shu sometimes. One instance of this is where Shu tries to beat himself up because everyone chooses her over him. She then shows him her own flaws and makes him realize that just like him, even she is not perfect.
Inori is extremely cold-blooded and kills enemies without thinking twice but with Shu, she seems to be a completely different person. Initially, the only reason she spent time with him was because Gai had asked her to. But later she does it because she actually enjoys being around him and he tends to bring out the best in her.
Read More in Anime Preview: Prison School Season 2 | Inuyahsa Season 3