Guy Ritchie is an English film director, film producer, screenwriter, pub landlord and businessman, known for enthralling audiences through his crime films. He first rose to prominence for directing the crime comedy 'Lock, Stock and Two Smoking Barrels'. Released in Great Britain in 1998 to positive reviews, it became an international success. 'Lock, Stock and Two Smoking Barrels' starred Nick Moran and also introduced actors Jason Statham, Jason Flemyng, and Dexter Fletcher to worldwide audiences while launching a new acting career for former footballer Vinnie Jones. He then directed another crime comedy, 'Snatch' in 2000. It was another caper comedy, this time backed by a major studio with a cast featuring such major Hollywood names as Brad Pitt, Benicio del Toro and Dennis Farina, along with the returning Statham and Vinnie Jones.
Ritchie's next film featured Madonna and was a remake of the 1974 Lina Wertmüller hit Swept Away also entitled 'Swept Away'. Ritchie cast Madonna as a rich, rude socialite who, after a shipwreck, is trapped on a deserted island with a slovenly Communist sailor who humiliates her. This film was both a critical and commercial disappointment. Ritchie's next project in 2005, a Vegas-themed heist film entitled 'Revolver' starring Jason Statham, was critically panned in the US and UK.
In 2008 Ritchie wrote and directed 'RocknRolla', a more successful return to crime comedy form with an impressive ensemble cast including Gerard Butler, Tom Wilkinson, Thandie Newton, Mark Strong, Idris Elba, Tom Hardy, and Toby Kebbell. It was generally received well by the audiences and critics alike.
Ritchie directed 'Sherlock Holmes' in 2009 with Robert Downey Jr. and Jude Law starring as Sir Arthur Conan Doyle's classic detective and his friend Dr. Watson in a distinctly comic action-oriented updating. The film received generally positive reviews and grossed more than $520 million worldwide, becoming his most successful film financially. The sequel, 'Sherlock Holmes: A Game of Shadows', was released in 2011 and earned a worldwide box office of over $545 million.
In 2014, Warner Bros. set Ritchie to direct 'King Arthur: Legend of the Sword' with Charlie Hunnam playing King Arthur by Ritchie's choice. Initially scheduled to be the first of several in a franchise, the film was released in May 2017 but was a box office failure causing the production house to cancel further installments. Guy Ritchie is expected to helm some really interesting movies in the near future. These are the movie that he will be associated in the near future.
Aladdin (2019)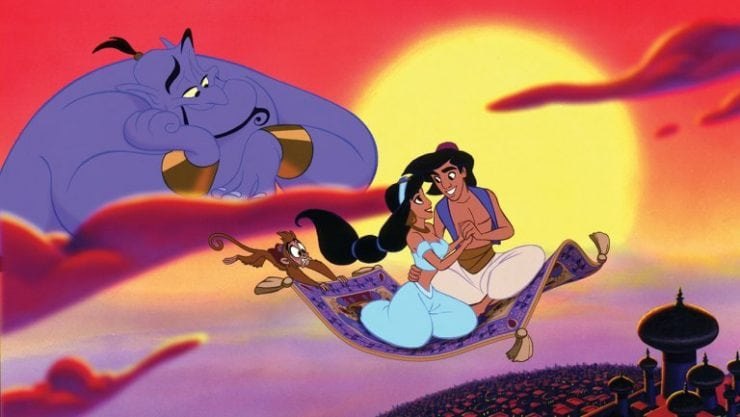 'Aladdin' is an upcoming American musical romantic fantasy adventure film directed by Guy Ritchie, written by Ritchie, John August and Vanessa Taylor, and produced by Walt Disney Pictures. It is a live-action adaptation of Disney's 1992 animated film of the same name, which is in turn based on the Arab-style folktale of the same name from One Thousand and One Nights and the French interpretation by Antoine Galland. The film stars Mena Massoud as the title character alongside Naomi Scott, Will Smith, Marwan Kenzari, Navid Negahban, Nasim Pedrad, Billy Magnussen, and Numan Acar.
The movie is expected to tread around the traditional plot from the tale of Aladdin, a common man, who stumbles upon a magic lamp in a cave which gives life to a genie with extraordinary powers. Aladdin then uses it to fulfill his wishes, one of which turns out to be a marriage to the Sultan's daughter, Princess Jasmine. Aladdin's adventures which he sets upon due to his possession of the magic lamp form the core of this magnificent and classic tale.
Principal photography began in September 2016 at Longcross Studios in Surrey, England, also filming in the Wadi Rum Desert in Jordan, and lasted until January 2018. Aladdin is scheduled to be released in the United States on May 24, 2019.
Read More: David Fincher's Next Movie
Toff Guys (TBA)
This British gangster drama will explore the collision between old money European wealth and the modern marijuana industrial complex with new gang entrants swarming. Ritchie will direct and produce from a script he wrote with Marn Davies and Ivan Atkinson. It has been reported that the film is "about old money, new money, and show me the money" in a hyper-stylized film rife with the fast-talking, quirky characters that populated Ritchie's older films. The movie is set at the intersection of Sexy Beast and Downton Abbey, and follows a very English drug lord attempting to cash out on his highly profitable empire by selling it off to a dynasty of Oklahoma billionaires. There are no updates yet on the cast and release date of the film.
Read More: Christopher Nolan's Next Movie