Haley Lu Richardson is an American actress born in Arizona. The 23-year-old was born on March 7, 1995, and comes from an extremely creative family. While her mother is a graphic designer, her father is a golf course architect. Haley was always inclined towards dancing and the from 2001 to 2011, she was the leading dancer at the competitive Cannedy Dance Company before she relocated to Hollywood.
Although Haley had moved there primarily for the ripe opportunities as a dancer, it was always her goal to eventually go into acting. This somewhat came into fruition in 2013 when she appeared in the ABC Family series, 'Ravenswood', in the recurring role as Tess. She also had a recurring role as Elle on the drama series titled 'Recovery Road'. However, television shows were not all Haley was trying her hand at. She was trying to make it in films as well and some of her earlier career works include roles in films like 'The Last Survivors'. Haley actually played the lead in this American post-apocalyptic movie. She also delivered a solid supporting performance in the coming-of-age comedy-drama, 'The Edge of Seventeen'. One of the peak points of her career came when she starred in the M. Night Shyamalan directed psychological thriller starring James McAvoy, titled 'Split'.
Despite a pretty strong start to her career, Haley's true breakthrough can still be considered to have come during her performance in 'Columbus' in 2017. The critically acclaimed film saw Haley play the lead character Casey and The New Yorker praised the performance saying, "Richardson in particular vaults to the forefront of her generation's actors with this performance, which virtually sings with emotional and intellectual acuity". At this point, the question that might be circling your mind is what is the next Haley Lu Richardson movie? Well, the good news is that we have a clear answer to that question. Here's the list of upcoming films of Haley Lu Richardson scheduled to release in 2019 and 2020. We can only hope that the latest Haley Lu Richardson movies would be as good as some of her recent ones.
1. Five Feet Apart (2019)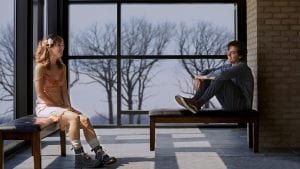 'Five Feet Apart' is the upcoming romantic drama which is releasing on March 15, 2019. The film stars Haley Lu Richardson and Cole Sprouse, who plays Jughead in the CW show 'Riverdale' which is based on the Archie comics, in the lead as Stella and Will. The film promises to be a tear-jerker as it explores the story of two teenagers who meet at a hospital and fall in love. While there have been several films made in the same vein, think 'A Walk to Remember' and 'The Fault in Our Stars', this film puts a new twist on the obstacle that the teenage love must overcome. Since both lovers are patients suffering from cystic fibrosis, they always have to be more than six feet away from each other for fear of cross-infection. In fact, the title of the movie is inspired by the 'six foot rule' that patients have to follow. However, their love must overcome this literal distancing and our young lovers might soon find that their love for each other makes them more open to facing potentially fatal consequences together. Haley, who has delivered an evocative performance when it counts, will surely be bringing a range of emotions to the table in this film.
Read More: Upcoming Cole Sprouse Movies
2. The Chaperone (2019)
'The Chaperone' premiered at the Los Angeles Film Festival on September 23, 2018, but will release for audiences on March 29, 2019. The film is based on the novel by Laura Moriarty. The plot is set in the early 1920s and follows a woman from Kansas who finds her life irrevocably changed when she agrees to be the chaperone to a young dancer girl traveling to New York City, in an attempt to gain fame. Haley plays the protagonist Louise Brooks, who was a popular dancer, actor and sex symbol in the 1920s and 1930s. Elizabeth McGovern, of 'Downtown Abbey' fame, plays the role of Norma who is the titular chaperone in the film. She accompanies Haley's character to the Denishawn school in New York City so that she can learn dance with the best of them. Considering the plot is about a young dancer who travels to a big city to find fame and eventually enters the show business, the plot reads eerily similarly to Haley's own life. One can be sure that Haley, who was at one time a competitive dancer, will bring a degree of unparalleled nuance to her role and give us a performance that we are not likely to forget.
Read More: Upcoming Keira Knightley Movies