Christmas is probably the most widely celebrated holiday on Earth. People all across the world come together on this day to celebrate the birth of Christ and also to intermingle with their friends and family. In this day and age when everyone is running after one thing or another, it is extremely important to acknowledge our human relationships and get close to our loved ones. Being one of the biggest celebrations around the world, Christmas has naturally had given birth to a huge culture around it. From films to songs to clothes- a touch of Christmas can be found everywhere.
For the lovers of cinema, Christmas is also a time when a number of films release which are based on the holiday and the celebrations around it. Hallmark is one such channel which has always come up with some of the most interesting Christmas movies of all time, and has been doing so since the year 2000 when they released their first Christmas movie- 'The Christmas Secret'. 2019 is also no different for the channel, as they have got some pretty exciting films lined up for this year as well. Here's the list of all upcoming Hallmark Christmas movies you can watch.
15. Christmas Under The Stars (November 16, 2019)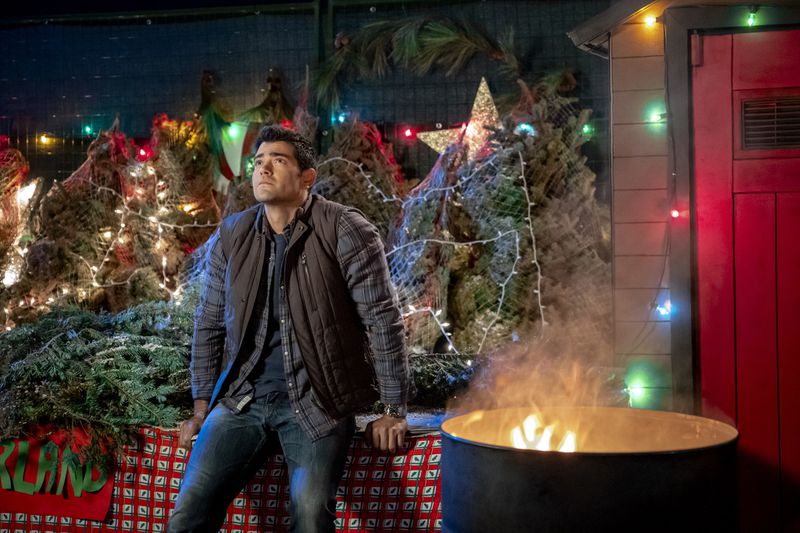 'Christmas Under The Stars' is a story about a character called Nick whose Christmas is not at all going as planned. He has been laid off from his work, and is thus naturally rather depressed. It is only when he comes across a girl called Julie (played by Autumn Reeser) that Nick begins to understand that there is a lot more to life than a simple job. This meeting becomes a turning point for him and helps him to partake in the Christmas cheer. As the story moves further, we get to know that there are some serious problems in Julie's life as well. The plot of this film is somewhat similar to 'Last Christmas' starring Emilia Clarke and Henry Golding.
14. Write Before Christmas (November 17, 2019)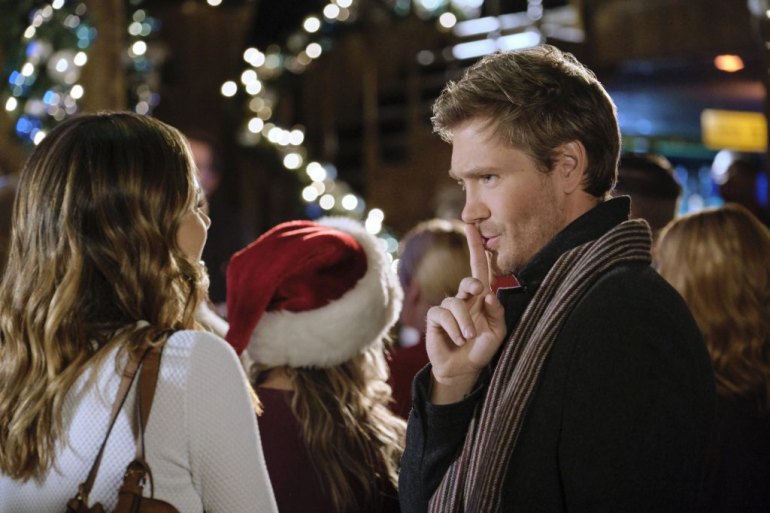 Christmas is the time to spread the joyful cheer and to let people who have positively impacted your life, know that you are thinking about them, and do care for their well-being. This is exactly the message the film 'Write Before Christmas' is here to preach. The film tells the story of a girl called Jessica. She realizes that there have been many people who have affected her life in a positive way, and thus she wants to thank each and every one of them personally.
In order to do so, Jessica decides to write letters to five different people- her aunt who took great care in raising her and helped her become a strong and independent woman, her brother whose job in the army won't allow him to come home for the celebrations, a musician whose songs she has always admired, her music teacher, and one of her best friends. Torrey DeVitto ('Pretty Little Liars', 'The Vampire Diaries') and Chad Michael Murray ('One Tree Hill') are the lead actors of this film.
13. Christmas Wishes and Mistletoe Kisses (November 17, 2019)
This beautifully titled Christmas film centers around a woman called Abbey whom an affluent businessman called Nick has appointed to decorate his home for Christmas. However, Nick is someone who does not interact with Abbey at all and has created a sort of metaphorical wall between the two of them. This urges Abbey to try and break down the wall and get Nick to take life easy. Starring Jill Wagner, Matthew Davis, and Donna Mills, this Christmas film is set on an interesting premise and is sure to enthrall Hallmark loyalists.
12. Christmas at Graceland: Home for the Holidays (November 23, 2019)

Romantic Christmas comedies are films all of us have indulged in once in a while. If you want to do so again while gearing up for your holidays, the one option in your hands you definitely shouldn't miss is the Hallmark film 'Christmas at Graceland: Home for the Holidays'. Starring Kaitlin Doubleday, Adrian Grenier, Priscilla Presley, and Chase Bryant, the film centers around a woman called Harper who finds herself working as a nanny for a rich widower called Owen. As Harper gets comfortable around her employer, she begins encouraging him to spend more time with his children.
Harper and Owen eventually decide to organize a fundraiser and an exhibition during Christmas for Owen's charity. Slowly it dawns upon Harper that she might be in love. This film takes the classical approach many romantic comedies have taken over the years, but it remains to be seen whether the filmmaker can surprise us in some way.
11. Cherished Memories: A Gift to Remember 2 (November 24, 2019)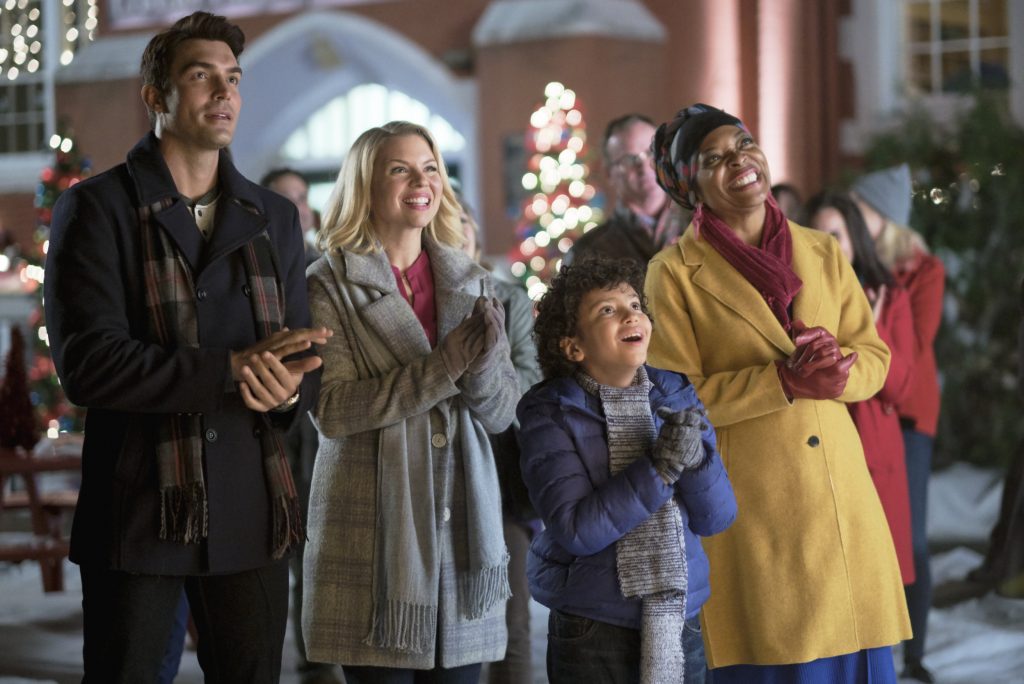 Christmas is a time of giving gifts to our loved ones. It has always been a tradition to open our gifts early in the morning on Christmas Day and find out what new things are here to greet us on this very special occasion.
The film 'Cherished Memories: A Gift to Remember 2' is the story of two characters called Darcy and Aiden. The two of them met because of an unfortunate event where Darcy had run over Aiden on her bicycle, and as a result of which, he was suffering from amnesia for quite some time. This period of their lives is covered in the first installment of this series, 'A Gift to Remember' (2017). The time when the story starts in the second part is a year after the accident, and by now the two of them have become great friends. For Christmas, both of them have been able to procure gifts that the other person would absolutely love. The film centers around what impacts the gifts have on the lives of these two characters.
10. A Christmas Duet (November 25, 2019)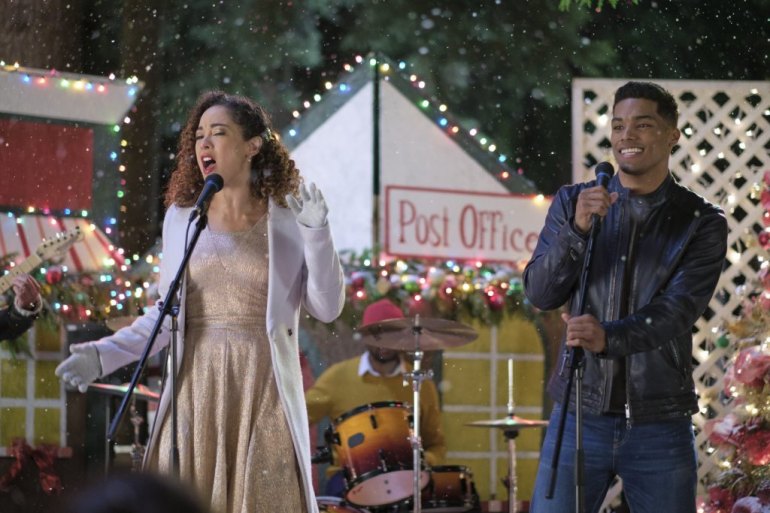 Music is an inevitable part of each holiday, and there simply can't be anything better than a musical Christmas film to light up your holidays this time. The Hallmark film 'A Christmas Duet', which is set to release on November 25, is providing us with just that.
The film centers around a popular musical duo called Averie and Jesse who were winning the hearts of the audiences with their hit numbers. The song 'Wouldn't Be Christmas', sung by the duo is one that remains popular to this very day when they have stopped performing together for quite some time. Averie now is the owner of a lodge in a snowy town while Jesse is still playing music, though he's hardly as successful as he was when the two of them performed together. When the two old pals meet again at Averie's lodge, sparks fly between them and there seems to be a chance that they might perform together again. The plot of this film looks rather promising and fresher than most of the other films we see on this list. If the execution is proper, 'A Christmas' Duet' can become one of the most memorable Christmas movies from Hallmark this year.
9. Check Inn to Christmas (November 26, 2019)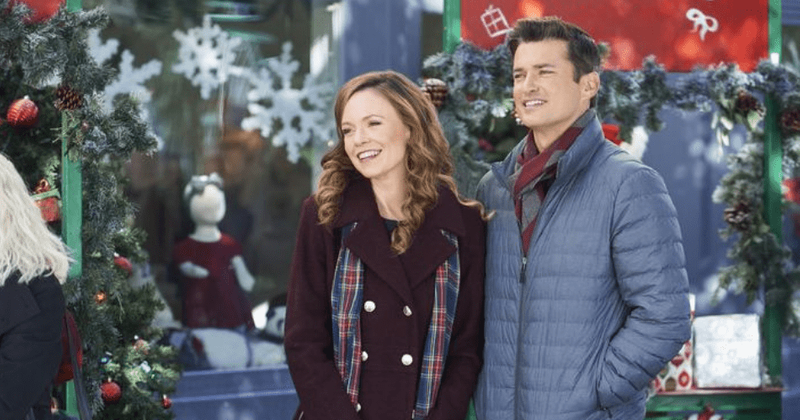 If you have an idea about William Shakespeare's 'Romeo And Juliet', you will know that the story of this play centers around the lives of two lovers who belong to rival families. The story of the Hallmark film 'Check Inn to Christmas' is clearly inspired by the plot of this eternal love story, but of course, it has its own unique setting and characters. The film mainly centers around the rivalry between the owners of two inns which are located in a small town somewhere along the Rocky Mountains.
The central character of this film is a lawyer called Julia Crawley whose family is the owner of one of the two inns in question. She returns home one day and finds herself in the middle of this fiasco. What she does not realize is the fact that soon she will fall in love with a person called Roger Mason who belongs to the rival faction. The way this story has been set up looks quite interesting. However, this being a Christmas film, we can, of course, expect the ending to be not as tragic as that of 'Romeo And Juliet'.
8. The Christmas Club (November 27, 2019)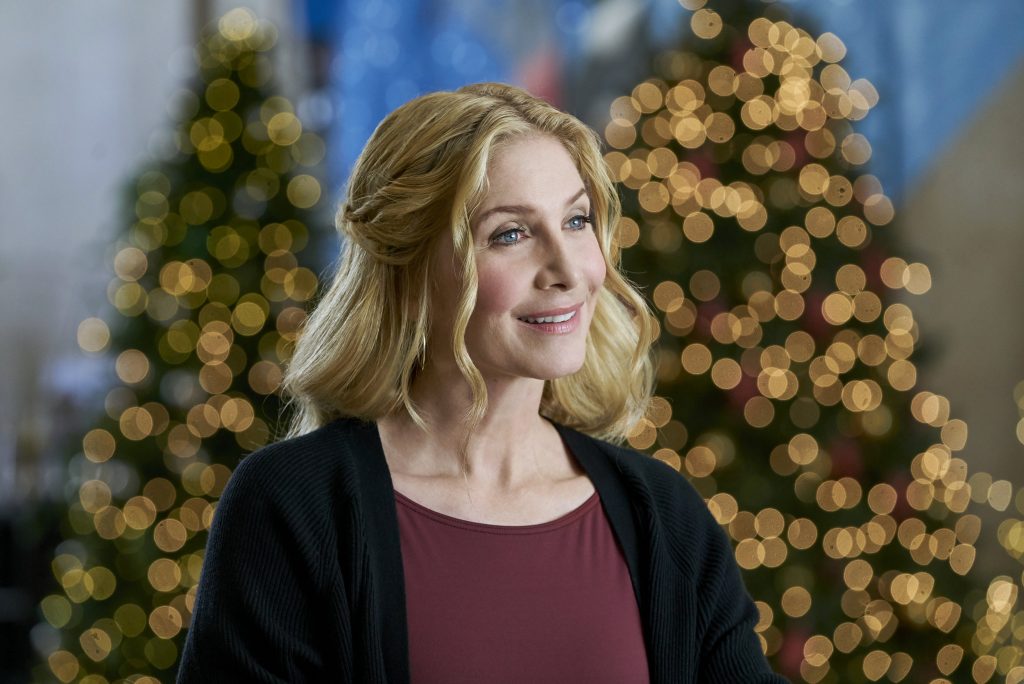 Fate sometimes plays strange games on us and helps us meet people and get into situations all of a sudden which tend to later change our lives forever. For every friend we have made, it was only possible because we were in the right place at the right time. This is exactly the thought behind the film 'The Christmas Club' starring Cameron Mathison and Elizabeth Mitchell. Their characters, Olivia and Edward, are two people who come across each other during Christmas as they help an old lady. But what they don't realize is that this chance encounter will make them fall in love with each other. This is a sweet tale about the coming together of two people magically. It shows us how a lot of things in our lives simply depend on coincidences and chances.
7. Christmas at the Plaza (November 28, 2019)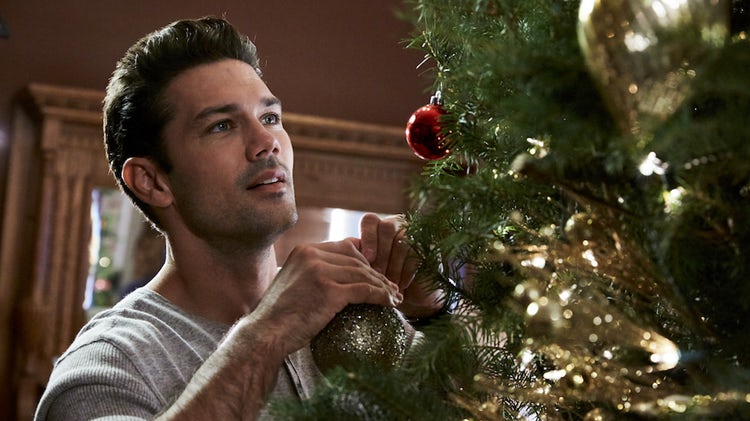 The story of this film centers around a character called Jessica whose romantic relationship is souring with each passing day. Just before Christmas, Jessica gets hired by the renowned Plaza Hotel to create an exhibition their for the holidays. It is during her preparation for the exhibition that Jessica comes across a man called Nick at The Plaza. Nick has been hired by the hotel authorities to decorate the entire hotel for Christmas. As the two of them start working closely, they soon realize that they might be falling for each other. This film sounds a bit cliched, and how it turns out to be will mainly depend upon the performances and the dialog.
6. Christmas In Evergreen: Tidings Of Joy (November 29, 2019)
Christmas is a time for celebrating sanctity and doing away with the skepticism that pervades in the modern world. 'Christmas In Evergreen' looks to be a film based on this very theme. This story centers around the Christmas celebrations in a small town called Evergreen where a writer arrives to check out the rumors of a magic occurrence. When all the people of the town are searching for one Christmas Time Capsule, this writer's skepticism does not allow him to believe in its existence. Will Christmas be able to bring in a bit of faith in his life? The theme of this film is quite distinct from other Christmas-centered films, and it must be checked out by all Christmas movie fans.
5. Christmas In Rome (November 30, 2019)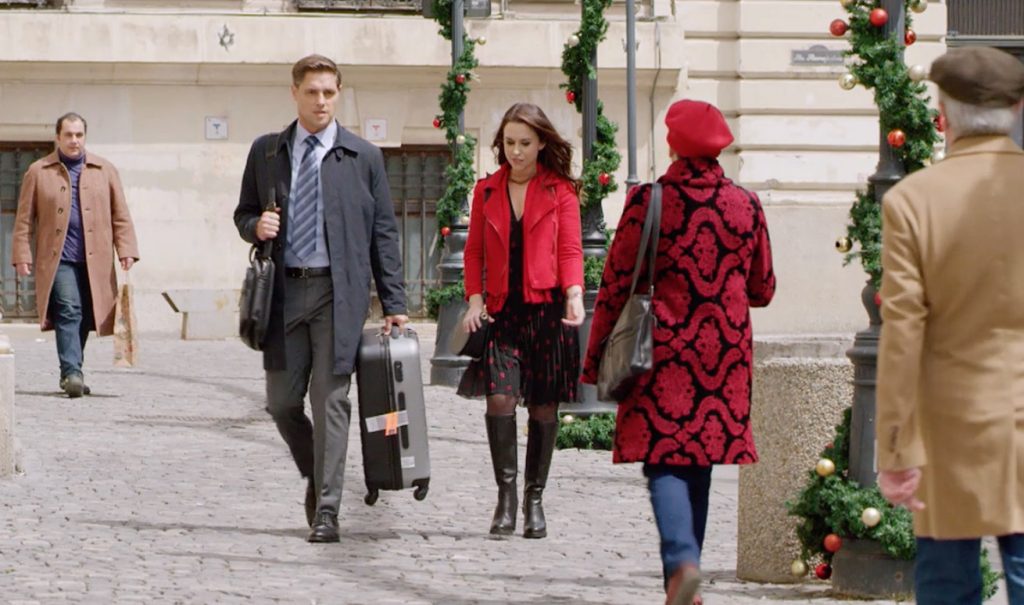 Starring Lacey Chabert and Sam Page, this film centers around a woman called Angela who works as a tour guide in Rome. She comes across an American man called Oliver who wants to buy a ceramics company in the city. However, Oliver cannot buy the company before he gets to know Rome from the inside out. In order to do so, he ends up hiring Angela, who shows him around the city. As they spend more and more time together, both characters develop romantic feelings for each other. This is one of the few Christmas films from Hallmark set outside America, and it goes without saying that the stunning beauty of Rome will surely add to the aesthetic value of the film.
4. Christmas Town (December 1, 2019)
The central character of this film is a woman called Lauren Gabriel who leaves her family and friends in Boston in order to start life afresh somewhere else. However, when she ends up in the town called Grandon Falls, Lauren comes across certain people who deeply impact her life and make her reconsider the importance of friends, family, and love once again. This is a film about self-discovery, and the feel-good theme of it can really work well as a holiday movie.
3. A Christmas Love Story (December 7, 2019)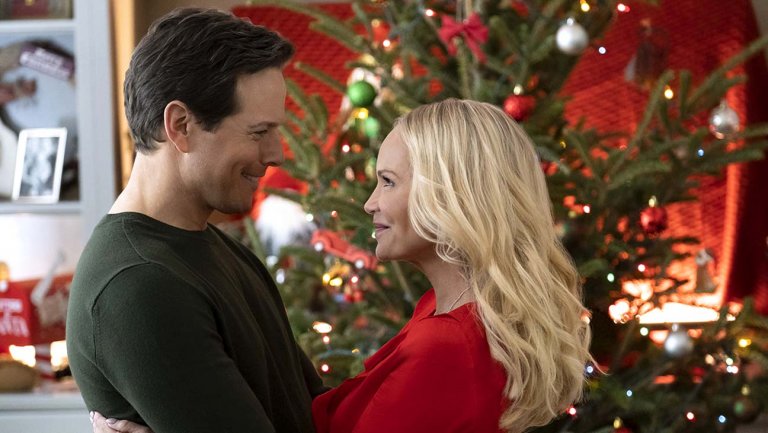 Directed by Eric close, this Christmas movie stars Kristin Chenoweth and Scott Wolf in leading roles. Chenoweth plays the character of a youth choir director who is very tense about coming up with a new musical piece for a show she will be conducting on Christmas Eve. When a new boy with a brilliant voice joins her choir, the director sits up and takes notice. The boy even surprises his widowed father (Wolf) with the magical quality of his voice. As the narrative progresses, we realize that there is a romantic angle developing between the teacher and the parent.
Read More: Best Christmas Movies on Disney+
2. A Cheerful Christmas (December 15, 2019)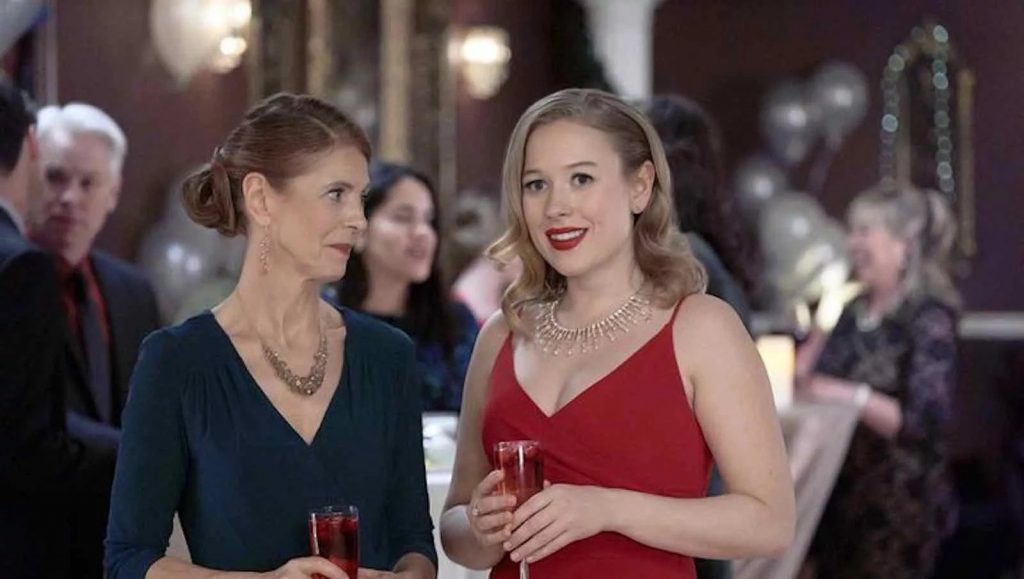 'A Cheerful Christmas' is the story of a "Christmas Coach" called Lauren who is appointed by an affluent English family in order to help them understand how the festival is celebrated in America. While doing so, she comes across the eldest son of the family, James, who seems to be more interested in his business endeavors than celebrating Christmas. Lauren feels determined to make him forget about the worldly pursuits and enjoy the festive spirit. 'A Cheerful Christmas' teaches us to try and enjoy ourselves and connect with our loved ones once in a while. After all, love and memories are the only things we leave behind in this world.
Read More: Best Christmas Shows on Netflix
1. Double Holiday (December 22, 2019)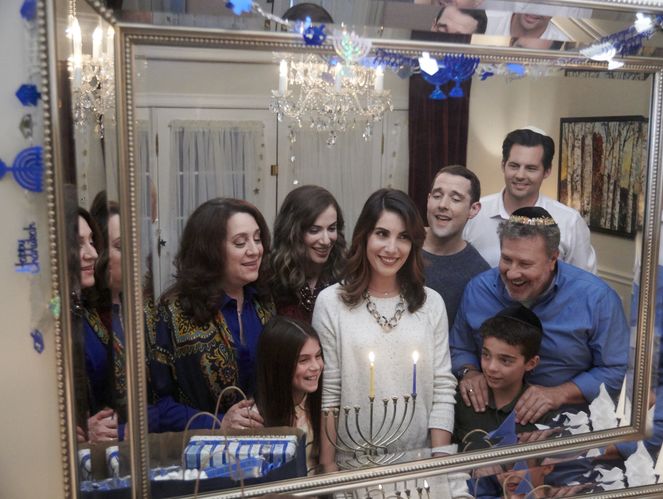 Centered around office politics, 'Double Holiday' offers us an interesting Christmas story about celebrations and friendships which transcend the barrier of religions. The central character of this film is a woman called Rebecca who has made elaborate plans to celebrate Hanukkah with her family. However, when she is paired up with her rival in office, Chris, to plan the office's Christmas celebrations, Rebecca's plans get thwarted. While the two of them start working together, Chris learns more and more about Hanukkah and falls in love with Rebecca in the process.
Read More: Best Christmas Movies on Netflix