The crime and suspense TV series 'Hap and Leonard' is produced by Nick Damici and Jim Mickle for Sundance TV. On November 10, 2014, Sundance greenlit the series for six, one-hour long episodes, which filmed in 2015 and premiered on March 2, 2016. The first season is based on the novel 'Savage Season'. It was renewed for a second season with six episodes, based on the second novel 'Mucho Mojo', while the novel, 'The Two Bear Mambo' inspired the third season. The series is developed by Jim Mickle and Nick Damici. They also serve as its executive producers, alongside Lansdale, Linda Moran, Lowell Northrop and John Wirth. The production companies involved with the series are Nightshade, Platform and AMC Studios.
Hap and Leonard Cast: Who's in it?
The main cast of the series includes James Purefoy cast as Hap Collins, a working-class labourer who has spent time in prison as a young man for having refused to serve in the Vietnam War while being drafted into the military. He is known for playing the role of Mark Antony in the historical drama, 'Rome'. He has also appeared in 'The Following', 'Solomon Kane', 'Altered Carbon', 'The Philanthropist' and 'A Knight's Tale'. Michael Kenneth Williams plays Leonard Pine, a gay Vietnam vet who suffers from serious anger issues. He is a two-time Emmy nominated actor, best known for the role of Omar Little in 'The Wire'. His other acting credits include 'Boardwalk Empire', 'Bessie', 'The Night Of', 'When They See Us', 'Inherent Vice' and 'The Road'.
Jimmi Simpson comes in as a local drug dealer. His most recent roles have been in 'Westworld', 'Perpetual Grace, LTD', 'Unsolved' and 'Under the Silver Lake'. He has also appeared in 'House of Cards', 'Black Mirror', 'Breakout Kings', 'Psych' and 'It's Always Sunny in Philadelphia'. He set to appear alongside Allison Janney and Mila Kunis in comedy-drama, 'Breaking News in Yuba County'. Bill Sage plays the role of Howard. He has worked in 'Power', 'Surviving Family', 'The Girl From Monday', 'Boardwalk Empire', 'American Psycho' and 'Sex and The City'.
Christina Hendricks appears as Trudy Fawst, Hap's ex-wife. She is a six-time Emmy nominated actress who is best known for her role in AMC's 'Mad Men'. She has also appeared in 'Beggars and Choosers', 'Drive', 'The Neon Demon' and 'Good Girls'. She also gave voice to the character of Gabby Gabby in 'Toy Story 4'. Additional cast includes Enrique Murciano as Raoul, Tiffany Mack as Florida Grange, Cranston Johnson as Detective Hanson, Brian Dennehy as Sheriff Valentine Otis, Ron Roggé as Bud Collins, and Trace Masters as Little Hap.
Hap and Leonard Plot: What's it about?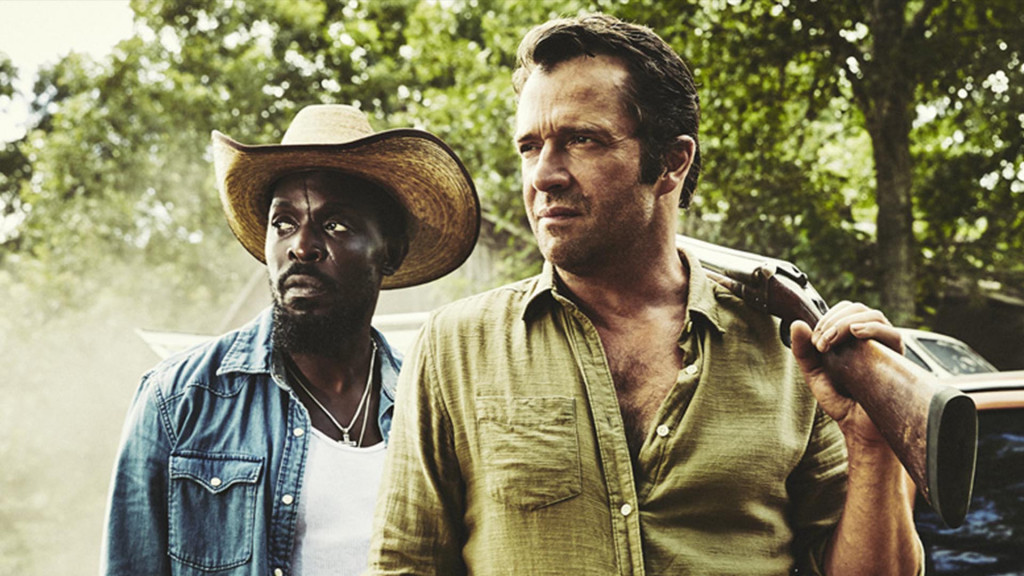 Hap and Leonard are two fictional amateur investigators and adventurers on the show, inspired by the characters in a series of novels written by American author Joe R. Lansdale. Going by their characteristics, they happen to be two very different men and the best of friends who work together as private investigators attempting to solve various unpleasant and brutal crimes. They always find themselves in a lot of trouble as they get involved with various criminals in the fictional town of LaBorde, East Texas.
The first season is a witness to the backstory of both our heroes and introduces Trudy, who, in turn, introduces them to a scheme to make quick money, a deal they find too good to reject. Leonard is not fond of Trudy as she broke Hap's heart once and he fears that she will do the same again. Leonard's care and affection for Hap go beyond friendship despite their differences. Hap had refused to serve in the Vietnam War and hence, spent his young years in prison, while Leonard served in the jungles of South Asia.
The second season kicks off with both the lead characters being investigated for a crime they didn't commit. They try to prove their innocence by undertaking different missions and solving mysteries that the local police had neglected. The third season starts with Leonard in jail for burning down his neighbour's house where the contents of the house were not public-friendly. They also encounter the infamous Klan leader while searching for Florida.
Hap and Leonard Season 4 Release Date: Will it Happen?
'Hap and Leonard' season 3 premiered on March 7, 2018. The show received critical acclaim throughout its three-season run. It received applause from critics for its taut storytelling and the charismatic leads with incredible chemistry. The characters and the plot are well-thought-out and the adaptation does justice to its source.
The show was one of the highest rated and most watched shows for the network, which is why the decision of its cancellation came as a shock to the fans as well as the critics. Lansdale made the announcement of the cancellation on social media, where he wrote, "'Hap and Leonard' officially canceled. Sundance's highest rated show, 100 percent on Rotten Tomatoes. Three Seasons wraps it up, dudes. It was an honor to have worked with the folks on the show, actors, crew, writers…". To the fans' woe, Sundance TV never really gave a solid reason as to why they had decided to not continue with it. As for now, there is no season four in sight. However, with popular streaming services like Netflix and Amazon Prime picking up ill-fated shows from other networks, there is hope for 'Hap and Leonard' as well. No announcements have been made yet, but fingers crossed! If we come to know about 'Hap and Leonard' season 4 release date, we will update this section.
Hap and Leonard Trailer
If you love 'Hap and Leonard' and are not happy with the network's decision to cut it so short, we have some things that can help with the recuperating process. You can always turn towards the source material, the novels written by Lansdale. Where else will you find your favourite characters in the purest form? If you are into reading, then you can always revisit the series. All seasons of the show are available on Netflix. Here is the trailer of the third season, if you haven't yet caught up with it.
Read More: Best Military Movies on Amazon Prime